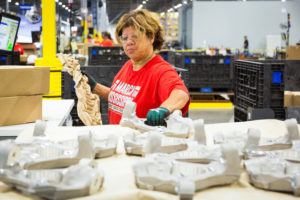 The General Motors UAW strike has highlighted the issue of OEM parts shortages and best practices for the collision industry.
GM said Thursday the issue has less to do with a lack of inventory and more to do with the lack of staff to ship parts to body shops.
On Friday, the Flint Journal/MLive reported that auto supplier layoffs produced the majority of the 3,000 unemployment claims filed with the state of Michigan since the beginning of the strike.
The suppliers have apparently cut jobs in response to a perceived lack of GM demand. This could further affect the number of parts which are in short supply.
A recent CollisionWeek survey found reports of parts issues.
However, we also encountered shops who still find the situation relatively benign.
Gerber Collision parent company the Boyd Group last week said it didn't expect a significant enough impact to matter to investors, though it didn't rule out the possiblity.
Fellow national chain CARSTAR said Thursday the company didn't really have any comment. However, it said wasn't concerned given speculation at the time the the strike would end over the weekend.
Michigan newspaper chain MLive on Monday cited a source as saying the GM-UAW talks over the weekend did produce "positive signs that they are discussing solutions to complex issues."
---
Improve shop operations with Repairer Driven Education courses
Many practices besides 100 percent disassembly can help your shop improve. Learn some of them at "Completing 'Thorough and Workmanlike' repairs" on Nov. 5 with David Smith of Auto Damage Experts; "Offset tech shortages with improved efficiency" on Nov. 6 with Shelia Principio of BASF, DeWayen White of Tom Bush Auto-Plex and Tommy Daniels of BMW; and "Capturing Every Procedure: What are you missing?" Nov. 6 featuring Toby Chess of Kent Automotive, Ron Reichen of Precision Body & Paint and Danny Gredinberg of the Database Enhancement Gateway. The sessions are part of the Society of Collision Repair Specialists Repairer Driven Education Series running Nov. 4-8. Register here for individual courses or the series pass package deal.

---
"We've been lucky so far," Clinton Body Shop (Miss.) owner John Mosley said Monday. He's had no issues obtaining OEM parts, speculating that this might be attributable to a large warehouse nearby.
However, he said he attended last week's Texas Auto Body Trade show and talked to repairers there stalled by inability to obtain GM parts.
"We've been luckier than most," Mosley said.
Bruce Halcro, owner of Capital Collision Center (Mont.). said the first time his shop encountered an issue was last week, with a van. A necessary inner panel brace would take longer to obtain, he said.
Other than that, it's had no problems attributable to the strike.
"I can't say that it's slowed us down on anything," Halcro said.
LaMettry's Collision (Minn.) director of operations Darrell Amberson said Monday his regional MSO performs 100 percent teardowns. However, for GM vehicles, it's also gauging potentially needed parts and checking on their availability even prior to that point, he said. If a part wasn't available and the vehicle was driveable, the customer holding off on bringing it in might be a better bet.
Nevertheless, "at this point, we haven't had any issues," Amberson said.
Statesville Collision Center (N.C.) general manager Chris Hedrick said Monday morning "we have had a couple," though he said his parts manager would be more familiar with the issue.
"We have had delays for sure," Hedrick said. He said a 2017 Silverado came in that day needing a windshield. Normally, it'd be a next-day delivery, but this time, it's going to be a four- to five-day delay, according to Hedrick and Statesville parts manager Todd Cash.
Cash said the Charlotte, N.C., dealership typically providing the shop with GM parts has been buying the components from other dealers.
"The other dealers are running out," he said.
Cash said the only reason the Silverado windshield was available that quickly was that a dealership in Tennessee had it, and he mentioned buying a part from a source in Virginia as well. He also mentioned that the shop has been waiting on some moisture barriers since Sept. 17.
It's "all kinds of little stuff," he said.
He said the shop had purchased two fenders last week for a Chevrolet Tahoe only to find both had damage. Substitutes weren't available. The shop ultimately fixed at least one of them instead of returning it the way it normally would have done.
Hedrick said they have seen some dealerships have the parts Statesville needs but "won't sell them to us." He said he wasn't sure of the reason, speculating one possibility might be the dealer hoping to sell it at a retail rather than wholesale price or, he joked, "because they don't want to go get it."
Burl's Collision Center (Tex.) owner Burl Richards said Friday that so far, none of their repairs have been delayed due to parts, but it was "kind of early in the game."
He said "so far," the shop's vendor can track down a part from another GM vendor if the component wasn't in stock.
Richards did note that some dealers were "kind of holding on to them (parts)," particular if the dealership had a body shop.
The UAW could still strike other automakers, and it's possible for shops to encounter a part on back order during an OEM's regular course of business. It's important a shop be prepared for either scenario.
"No shop should change how they will repair a vehicle because of a parts strike," P&L Consultants co-owner Larry Montanez wrote in a response he said was jointly developed with Collision Hub CEO Kristen Felder. "If it needed OEM new before then it still needs them now. To make changes would be a major error and assumption of legal liability."
A repairer should also be thorough enough to identify parts issues up front, according to Montanez and Felder.
"What's most important is that the shop have a dedicated blueprinting process that identifies ALL required parts and confirms availability, BEFORE a repair begins." the email from Montanez stated. "When an OEM is on parts strike you can not afford a surprise part at the end that may render the vehicle non-repairable and or non-deliverable because of (availability)."
Richards' shop's follows a similar SOP: 100 percent disassembly and a single parts order. If a part is reported to be on back order, the shop will still work the phones — for about 30 percent of the time, it can be found at a nearby dealer, he said.
Burl's Collision notifies the customer about parts issues then.
If the customer is notified of a delay up front, "they handle it pretty well," Richards said. However, "they're not really happy" if the shop informs them at the "12th hour." He said customers don't like a situation where the vehicle has been at the shop a week before they're alerted to a problem.
"The best way to confront it is to address it immediately," he said.
If it was something like an emblem or molding and not a critical component, the shop might fix the vehicle and have the customer return to receive that last piece later, he said.
"That does happen occasionally," Richards said.
More information:
General Motors UAW strike webpage
Featured image: A General Motors employee works at the brand-new ACDelco and GM Genuine Parts processing center in Burton, Mich., on Aug. 9, 2019. August 5, 2019 in the Flint, Michigan, suburb of Burton. GM says the facility would employ more than 800 and process as many as 120 million service parts annually. The Flushing View newspaper reported Sept. 19, 2019, the plant is affected by the strike. (Jeffrey Sauger/for General Motors)
Share This: