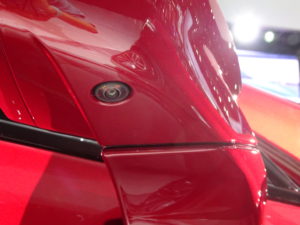 Nineteen percent of second-quarter noncomprehensive appraisals in CCC included the removal and replacement or installation of a sensor  — a percentage that rises to 38 percent when one looks at the current model year.
Cameras grew to be an R&R or R&I on 1.3 percent of appraisals between April and June, more than doubling to 3.3 percent of current model-year appraisals, according to new CCC research posted Sept. 4.
Both are up from the same time in 2017.
Calibration operations could only be found on 2 percent of all repairable appraisals, and only 5 percent for the current model year. It's an increase from the 0.9 percent and 2.2 percent, respectively, found for the first quarter of 2017.
"What I think is most important is the increase directionally in the % of claims with these charges over the last 2-3 years – that's what really illustrates the increase in the vehicles needing this additional work as part of the repair," research author Susanna Gotsch, a CCC director and analyst, wrote in an email Tuesday.
R&Is and R&Rs of a sensor or camera can trigger a need for recalibration under OEM procedures. But calibrations can also be required just if the vehicle itself was involved in an accident or received a wheel alignment.
So the disparity between calibration and removal might be cause for concern here. However, Gotsch pointed out that a shop might be completing and billing for the work without it appearing in the appraisals studied.
"I think it's important to note, that just like with the scan entries – there may be instances where fees for scan or calibration are added to a claim folder or charges submitted to a carrier from a shop, but not entered as lines in the appraisal, so the data would not be captured in our analysis," she wrote. (Emphasis Gotsch's.) "The percentage of claims with those types of entries is likely higher for both scan and calibrate type operations."
It's also possible that repairers and insurers are using terms for calibration which were overlooked by the analysis. (For example, the prior "Crash Course" study looked for words like "flash" but didn't check for the term "test.")
Gotsch said the new research kept the definition of sensor broad enough to capture new tech like ADAS radar devices and older devices like TPMS sensors. This was similar to how CCC handled earlier calibration research published in the 2019 "Crash Course."
She said CCC also expanded its methodology to capture operations available in CCC, rather than relying solely on manual entries as in the 2019 "Crash Course" study.
"This time we did modify the query to search for 'database' add-on operations," Gotsch wrote, giving the examples of "aim distance sensor" and "aim camera."
"Reviewing prior data pulls revealed these were among the most common – so it captured many, but not necessarily all," she continued.
CCC revised all of its data going back to the first quarter of 2017 with the new methodology, according to Gotsch.
Billing for the work
Gotch wrote that calibration operations typically see an addition of 0.2-0.6 hours of labor.
"When a part such as a distance sensor is replaced, additional database labor time of 0.2 to 0.6 hours is commonly added as an entry such as 'FRONT BUMPER Add for distance sensor'," CCC wrote. "In addition to this, some repairs include separate manual entries for calibration, depending on the components damaged or the vehicle repair requirements. The specific parts requiring calibration are not always identified clearly or at all but, not surprisingly, the majority identify a specific ADAS feature such as blind-spot monitoring sensor, distance sensor, camera, parking sensor, lane departure, adaptive cruise control, as well as mechanical parts such as occupant sensors, steering angle sensors and tire pressure monitoring sensors, and finally parts such as headlamps."
The 2 percent of vehicles with entries for terms like "'calibration', 're-program', 'flash', etc." was up from 0.9 percent in the first quarter of 2018, according to Gotsch.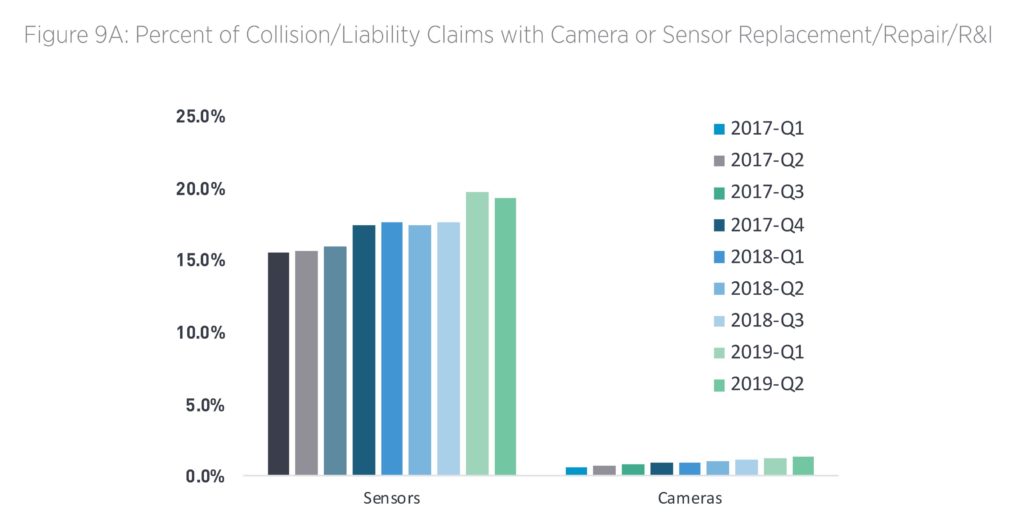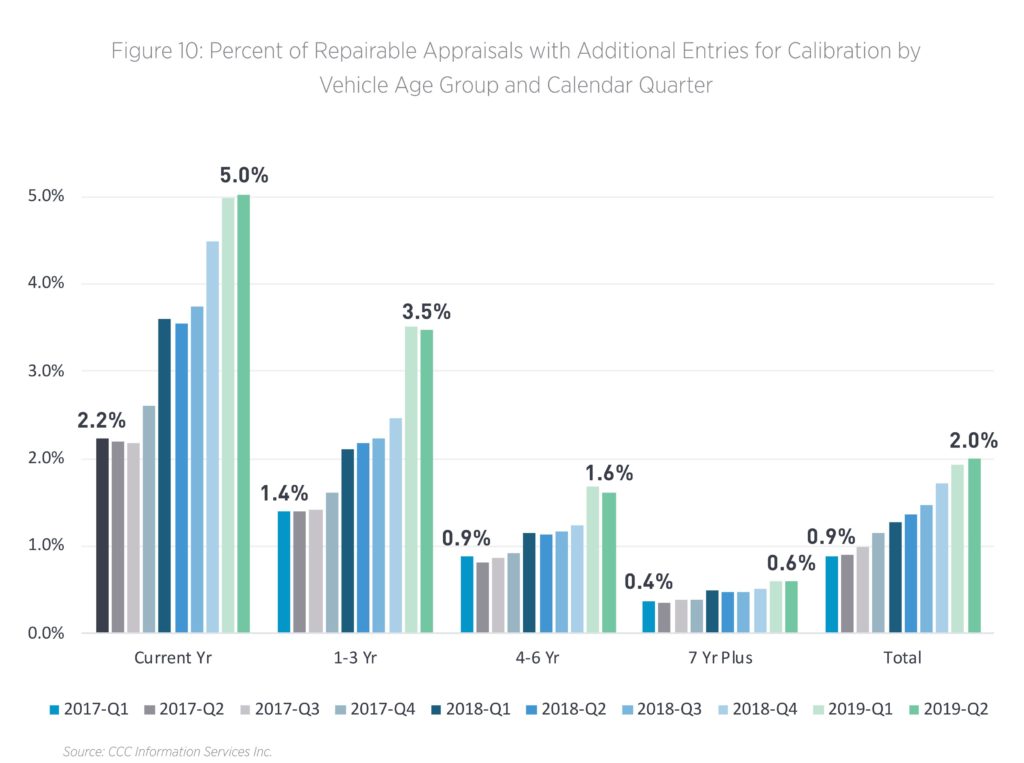 As noted in the 2019 "Crash Course," the cost of a calibration was all over the place in the second quarter of 2019. Gotsch reported that some line items involved "not just the cost of calibration, or a fee to 'Drive to and from calibration', but the cost of additional components that may have been found to need replacement during the calibration."
The average second-quarter calibration fee was $219 — up from $172 in the second quarter of 2017. The standard deviation two years prior was $214, compared to $236 today. The maximum fee between April and June of this year was $5,316 for "Dealer Distance Sensor Reprogram," compared to a peak of $6,250 for "Reprogram Headlamps at dealer" in the second quarter of 2017.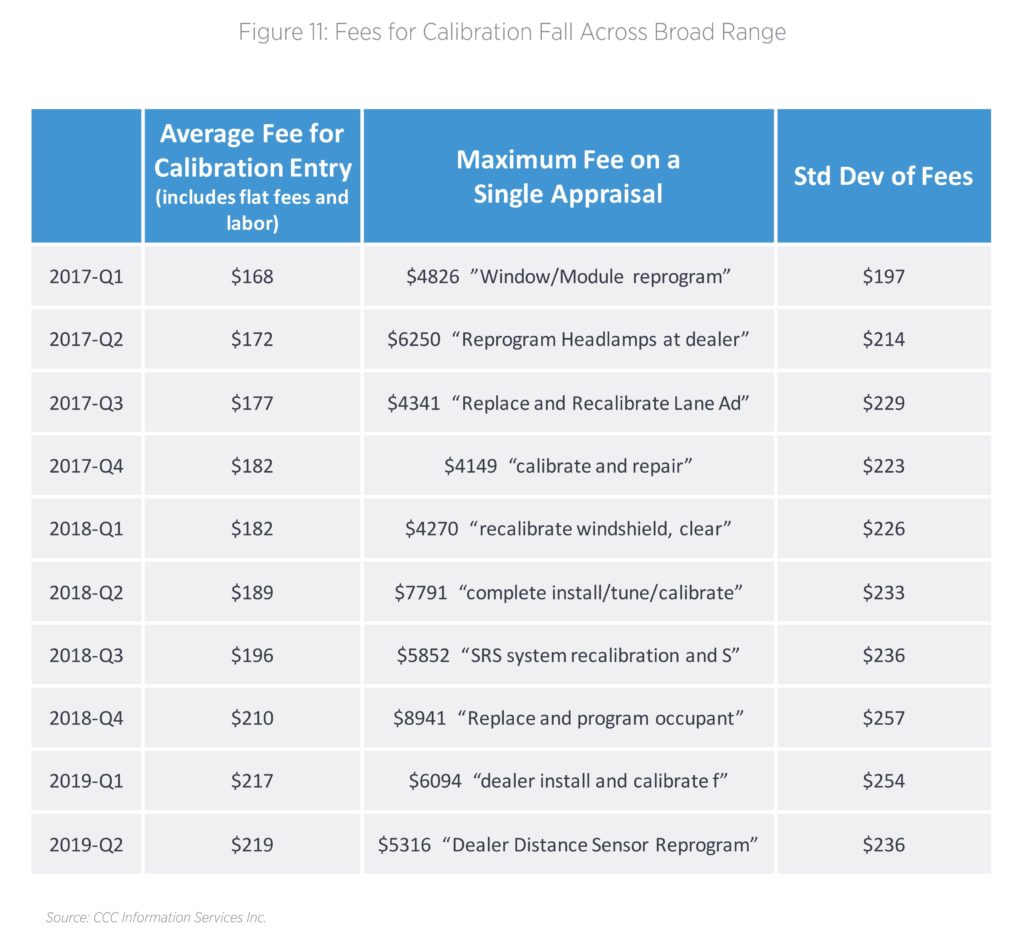 The cost of the average replacement camera has risen from $222 to $247 between the second quarters of 2017 and 2019. However, the average sensor fell from $124 to $121, according to Gotsch.
Also of note in the CCC report: Vehicles 7 years of age or older even saw calibration operations, so repairers and insurers shouldn't jump to any conclusions based on vehicle age. The percentage of repairable 7+ vehicles with recorded calibration operations rose from 0.4 percent in the first quarter of 2017 to 0.6 percent in the second quarter of this year.
HLDI projections 2016-21
A look at ADAS and backup camera data alone suggests calibration might be required more frequently than the CCC data indicates. (One wonders if OEM procedures or painting best practices also suggest camera and sensor R&R and R&Is should be more common, regardless of calibration.)
Backup cameras, which are required on every new vehicle as of May 1, 2018, and parking sensors showed the greatest penetration of the U.S. fleet in 2018 Highway Loss Data Institute projections for 2016 and 2021.
Nearly a quarter of all vehicles in 2016 had backup cameras, and that number was expected to grow to more than half of the fleet in 2021, the IIHS' sister HLDI said then. Rear parking sensors had spread to an estimated 17 percent of the fleet in 2016. They were projected to reach 39 penetration by 2021 and to crack 50 percent sometime after 2025.
Since it's September 2019, we're closer to 2021 than 2016.
HLDI predicted that autobraking, which might also come with a collision warning system as well, would grow the fastest of all the ADAS systems in the five-year study period.
Autobraking existed on just 1 percent of the fleet in 2016, but was expected to spike to 5 percent by 2021. OEMs have committed to make the technology standard by 2022, and the IIHS predicts it'll crack 50 percent sometime after 2026. The technology relies on items like cameras and sensors.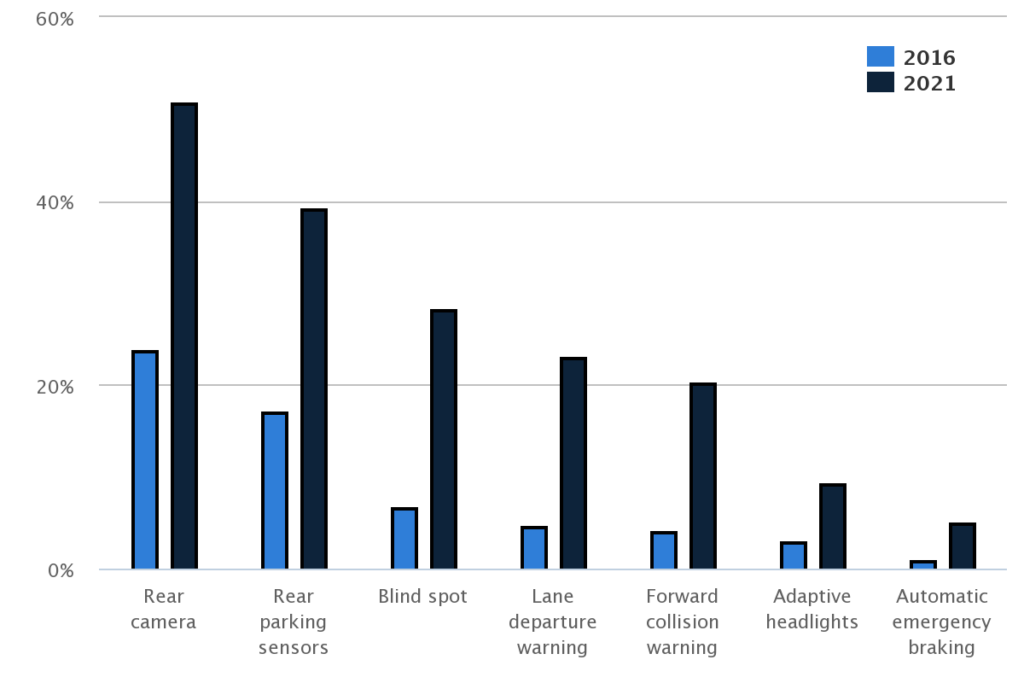 Other ADAS systems studied were projected to reach notable levels by 2021. Blind-spot monitoring was estimated on only 7 percent of the fleet in 2016, lane-departure warning on 5 percent, and forward-collision warning on 4 percent. Yet all three were forecast to spread to 20 percent or more of the vehicle population by 2021. Again, the systems rely upon cameras and sensors.
The IIHS and NHTSA reported in March that about half of the vehicles produced by 20 key OEMs between Sept. 1, 2017, and Aug. 31, 2018, came with autobraking standard or ordered by the customer — up from less than a third the year before.
More information:
CCC, Sept. 4, 2019
"Industry Trends with Susanna Gotsch – September 2019"
CCC YouTube channel, Sept. 4, 2019
Images:
A camera on a side-view mirror of a Cadillac XT4 at the 2019 North American International Auto Show is shown. The model year is unknown. (John Huetter/Repairer Driven News)
The Insurance Institute for Highway Safety's Highway Loss Data Institute has estimated the percentages of vehicles on the road today bearing certain crash-prevention technology. (Provided by Insurance Institute for Highway Safety)
Nineteen percent of second-quarter 2019 noncomprehensive appraisals in CCC included the removal and replacement or installation of a sensor  — a percentage that rises to 38 percent when one looks at the current model year. Cameras grew to be an R&R or R&I on 1.3 percent of appraisals between April and June, more than doubling to 3.3 percent of current model-year appraisals, according to new CCC research posted Sept. 4, 2019. (Provided by CCC)
Calibration operations could only be found on 2 percent of second-quarter 2019 repairable appraisals, and only 5 percent for the current model year. That's an increase over the 0.7 percent of appraisals with calibration CCC earlier reported in a 2019 "Crash Course" analysis of a year of data (November 2017-October 2018). (Provided by CCC)
The average second-quarter 2019 calibration fee found by CCC was $219 — up from $172 in the second quarter of 2017. (Provided by CCC)
Share This: