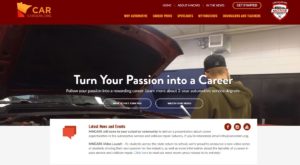 Touting repair careers to youth already interested in cars and focusing on a message of passion seems more likely to bear future technicians, the head of a trade group aggressively encouraging car careers said Thursday.
The Alliance of Automotive Service Providers of Minnesota has for three years attacked the technician shortage through the supply side with its Minnesota Careers in Automotive Repair and Service (MNCARS) initiative, launched jointly in 2016 with the Minnesota State Transportation Center of Excellence to promote automotive aftermarket jobs.
The 501(c)6 initiative launched in summer 2016 as a two-year, $250,000 effort, but it's now entering its fourth year of life.
This week, it announced the rollout of multiple quick-hit videos emphasizing different aspects of automotive work, as well as an overarching 2-minute promotion.
With collision repairers across the country hurting for employees, we took this week's announcement as an opportunity to speak with AASP-MN Executive Director Judell Anderson and find out what's worked and what hasn't over the past three years.
Her insights offer other trade groups, individual body shops and vo-tech educators a means of refining their own sales pitches.
"The alternative is to do nothing," Anderson said of the initiative. She said they knew there wouldn't be a "short-term payback."
She said repairers just have to "go out there and do something," for the labor shortage issue was too significant not to do so.
"You have to start somewhere," she said.
Try students with pre-existing interest
MNCARS organizers have been learning more about students and target audiences to hone in with a message that will resonate.
They learned that the notion that an auto repairer could make a good living wasn't what drove students into the industry. First and foremost was an "interest and passion for cars," Anderson said. The money was a "bonus," she said.
Someone not interested in cars wasn't going to join the aftermarket just because you could make $100,000 in the field, she said.
It also was thought that more complex vehicle electronics would make robotics and computer classes good targets for pitching automotive careers, but "that ultimately didn't make a whole lot of sense," she said. The interest in cars had to be present for the message to work.
That said, Anderson said organizers did feel like stressing the changing nature of vehicle repair — there's high-tech work, not just wrenching — was still an important message.
---
Learn tech shortage solutions during Repairer Driven Education
Find out more about solving your tech shortage — or at least compensating for it — during the upcoming Las Vegas SEMA. Tim Ronak, Charlie Whitaker and Jeff Baker of AkzoNobel will present "Create an in-house technician development program" on Tuesday, Nov. 5, and Shelia Principio, BASF; DeWayen White, Tom Bush Auto-Plex; and Tommy Daniels, BMW, will share "Offset tech shortages with improved efficiency" on Wednesday, Nov. 6. The sessions are part of the Society of Collision Repair Specialists Repairer Driven Education Series running Nov. 4-8. Register here for individual courses or the series pass package deal, which includes the entire week of classes, all three parts of the OEM Summit, IDEAS Collide and the Nov. 7 Sky Villa afterparty.

---
Anderson said the initiative also evolved to incorporate a greater emphasis on hands-on work compared to book learning, she said.
"That's what they were drawn to," she said — learning in a shop versus "passively learning" at a desk.
The MNCARS initiative includes focus groups of students. Anderson said such interactions have confirmed what she said AASP-MN had suspected after more than 15 years of reading student essays for its scholarship program.
There was "always this recurring theme" of being introduced to cars by a family member as well as constant references to a love of working with one's hands, according to Anderson.
Students all think they're going to own their own shop, she said. "That is definitely something that we kept hearing again and again," she said.
Those three sentiments were found in both the scholarship essays and through the MNCARS program, according to Anderson.
The videos released this week also feature all three.
Do your part
MNCARS also offers a significant number of resources for repairers to use at a grassroots level as a "Motormouth."
Anderson there's have a small staff and a handful of key volunteers, and just a few really engaged people spreading the word "isn't gonna make a difference." It was felt the message could be amplified by collision repairers going out into the community and promoting carers in auto repair, and those materials — tips, posters, a PowerPoint and template social media posts — are meant to help them do that.
Unfortunately, "it hasn't taken off," Anderson said. She likened it to the other benefits and resources AASP-MN offers that repairers in the state fail to capitalize upon.
Resources also exist for counselors and teachers to promote such careers. However, Anderson said vo-tech instructors aren't taking advantage of the effort either.
She hypothesized that educators were caught off guard by low enrollments. "The students just automatically came to their door," Anderson said.
However, she thought that some teachers were starting to realize the issue, and some have embraced the MNCARS materials. Unfortunately, they tend to solely promote their own program and school, which narrows the reach of the campaign, she said.
On the positive side, Anderson has observed a "larger shift" in society to view technical school and careers more favorably. She said she's "definitely" seen guidance counselors grow more open.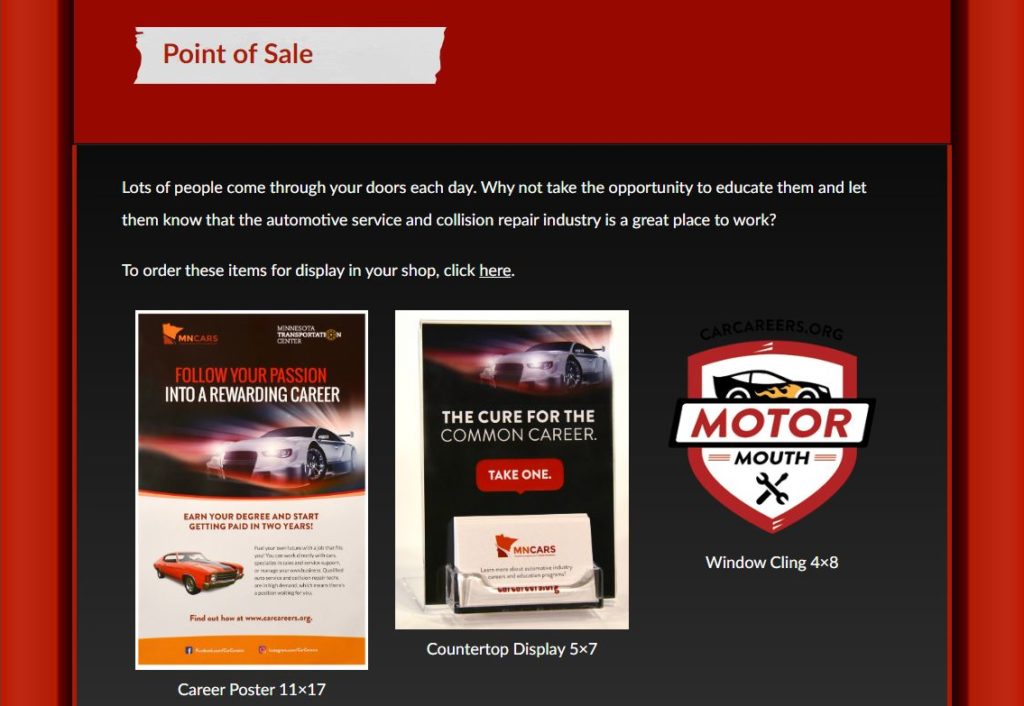 Targeted marketing
MNCARS has learned through focus groups and surveys which media formats work well for its target youth audience. But it doesn't just throw up a post or video in a vacuum on those sites.
Anderson said the initiative taps those companies' options to have a message pushed to a specific audience. For example, she said the YouTube films are pushed to people searching for DIY videos.
The initiative has hired a professional marketing firm, which offers guidance on this and other strategies.
MNCARS also targets specific audiences in the real world, by going to what Anderson said were "tons" of car shows.
Ultimately, the initiative's definition of success is "'Did somebody enroll in a program?'" Anderson said.
Unfortunately, "that's really difficult to track."
But the campaign can get some sense through engagement online. The MNCARS carcareers.org website averages nearly 1,200 unique users and visitors a month.
"I think that's pretty darn good," Anderson said.
More information:
"MNCARS Expands Efforts to Promote Automotive Education & Careers"
MNCARS, Sept. 24, 2019
Images:
The Alliance of Automotive Service Providers of Minnesota has for three years attacked the technician shortage through the supply side with its Minnesota Careers in Automotive Repair and Service (MNCARS) initiative, launched in a joint effort with the Minnesota State Transportation Center of Excellence. The homepage of the website is seen here. (Screenshot from MNCARS carcareers.org website)
MNCARS also offers a significant number of resources for repairers to use at a grassroots level as a "Motormouth." (Screenshot from MNCARS carcareers.org website)
Share This: