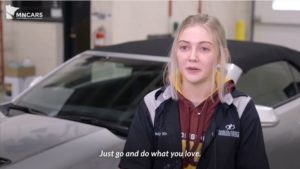 The Minnesota Careers in Auto Repair and Service initiative on Tuesday announced new videos promoting automotive aftermarket jobs to young people, and repairers nationwide might wish to emulate or just outright use the new resources in their states.
The videos on MNCARS' YouTube channel all are under 30 seconds except for a more overarching 2-minute promo, and nearly all are closed-captioned — perfect for viewing on a silenced phone or tablet social media feed. MNCARS said it plans to use them on its Facebook and Instagram pages too.
(FYI: The Pew Research Center in 2018 found YouTube, Instagram, Snapchat and Facebook to be the most commonly used social media sites among teens 13-17, in that order. The poll found 35 percent said they use Snapchat most often, followed by YouTube at 32 percent ranking it No. 1, Instagram at 15 percent and Facebook at 10 percent. So MNCARS seems to have the right idea about how to reach its target audience.)
"The new videos feature students who are currently enrolled in automotive programs telling their stories about how they got there and what they love about the industry," MNCARS wrote in a news release. "These students are the future of the industry and they share their passion and excitement about the opportunities in front of them."
MNCARS is a joint effort between the Alliance of Automotive Service Providers-Minnesota and the Minnesota Transportation Center, an organization of technical colleges and partners.
Besides the videos, collision professionals and educators can also leverage from the MNCARS website what's been branded as a "Motormouth" kit of resources to promote automotive jobs.
The movies announced Tuesday do a good job of selling the industry and emphasize different elements of the trade, including:
Follow a passion
MNCARS said the initiative's 2019 ad campaign message is "Turn Your Passion into a Career," and many videos support that message.
"I just like the way it looks and how it feels" to drive something "you have done work on yourself," Rosemount High School student Solomon says in one video. He says working on cars and "making cars look cool" and different is a hobby and passion.
"It's my passion," he said.
Dakota County Technical College's "Haiden P." — whose clothing indicates she's in the body shop program — encourages the same.
"If you're looking to go into cars, do it," she says in a video. If you love it, "go for it," she said, and reassures viewers that they don't need to know precisely which job they'd like the automotive aftermarket.
"You're young; you have time to figure it out," she said. "Just go and do what you love."
Both of their voice-overs were used in additional videos with titles hammering home the concepts of "Do what you love" and "Follow your passion."
DCTC student Adair A. in the longer 2-minute film notes the satisfaction of collision work.
"I like how it looks like when it's primed, ready for paint," Adair says. When one can feel that what had been a dent is now smooth, it makes a technician smile and feel "'I did that,'" he said.
In another video promoting body technician careers, Adair observes that while his father likes working on cars, his mother wanted him to be a doctor.
"I'm not really a doctor kind of person. I'm more of a car guy," he says. He said he hopes to graduate as a body technician, join a body shop and in a decade or so have his own collision repair facility.
Girls can do it too
DCTC student Andrea in another video notes that not many girls go into automotive, and she likes it because "its a challenge."
"And when you can outshine the boys, it's always a plus," she notes later.
A two-year program offers benefits
Andrea also says she recommends her program at DCTC because it's short.
"You don't have a lot of debt because it is a tech school," she said.
Haiden makes the same point in the overarching 2-minute video. Society focuses on the message of a four-year program after college, she says but a student can go to a technical college and save money on general education classes or go to a technical school to focus on a "hands-on trade"
"You can go anywhere with it," she concludes in the video.
Good jobs await
Rosemount High Class of 2019 graduate Michael says in another video "every kid in the program has a job lined up."
That's got to make parents sit up and take notice.
"I have potential to become something in this industry, and I'm really looking forward to seeing what that is," he said.
Rosemount High vehicle services teacher Ian Rabanus in another video says technicians are aging out, and "great open positions" exist for today's youth. The jobs are complicated, "good-paying" and challenging — demanding "smart technicians."
Repairers are "making well into the six-figure range" at both the dealership and independent shop level, he says.
DCTC instructor Gerry Rainford says in the 2-minute video he knows of 25 open jobs at body shops in a south metropolitan area (likely a reference to the Twin Cities).
The films also stress that the jobs aren't necessarily "grease monkey" positions. Rabanus' video mentioning the need for "smart technician" shows multiple images of tablets being used.
In the 2-minute video, he says that the old days might have seen repairs of tires, brakes, the battery and valves. Now, challenges might entail fixing infotainment systems or reprogramming a computer. The video cuts to Michael, who notes, "Older people, they're not gonna want to do that."
In her solo video, Haiden stresses that you don't need to know your exact automotive job right away to enter a program. In the longer video, she mentions the variety of jobs which are available when it does come time to make a decision.
Rosemount Class of 2019 graduate Kim T. says in the 2-minute video that from her perspective, "there's endless possibilities, basically."
More information:
"MNCARS Expands Efforts to Promote Automotive Education & Careers"
MNCARS, Sept. 24, 2019
Featured image: Dakota County Technical College's "Haiden P." encourages people to study automotive repair in a new video from the Minnesota Careers in Auto Repair and Service initiative. (Screenshot from MNCARS YouTube video
Share This: