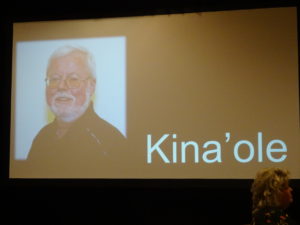 The Society of Collision Repair Specialists on Tuesday honored the late Canadian collision repair leader John Norris with its March Taylor Kina'ole Award.
Norris, executive director of Collision Information and Industry Assistance and of the Hamilton District Autobody Repair Association, died suddenly May 28 at age 66.. He was returning from the Automotive Technology Summit at Skills Canada, according to Automotive Service World.
SCRS Chairman Brett Bailey (A&B) in announcing Norris as the 2019 Kina'ole honoree said all SCRS board members shared the sentiment of "'Damn. We missed the opportunity to do this while he was still here.'"
The Hawaiian word kina'ole represents "doing the right thing, in the right way, at the right time, in the right place, to the right person, for the right reason, with the right feeling, the first time."
"March was kina'ole," Bailey (A&B) said Tuesday in explaining the award named after Taylor, the late owner of Auto Body Hawaii, a Hall of Eagles member and a former SCRS board member. Taylor died in 2007, and his legacy was his "spirit."
Bailey described himself as not as close to Taylor as other SCRS leaders were, but "I could always feel his impact."
Norris was "another great friend," Bailey said. Norris was gentle and eloquent, but "he was a soldier for this industry," consumers and "what was right," he said.
Bailey said you always knew Norris had the best interest of the industry in mind, and "all of Canada" should be proud of the work Norris had done.
Western Canada Automotive Business Association CEO Dale Finch accepted the award on behalf of Norris' family, who could not be present. Norris was survived by his wife, Annette; children Teresa, Richard and Jeffrey; and a brother, Robert.
Finch said he and Norris worked together from 2005 until Norris' death.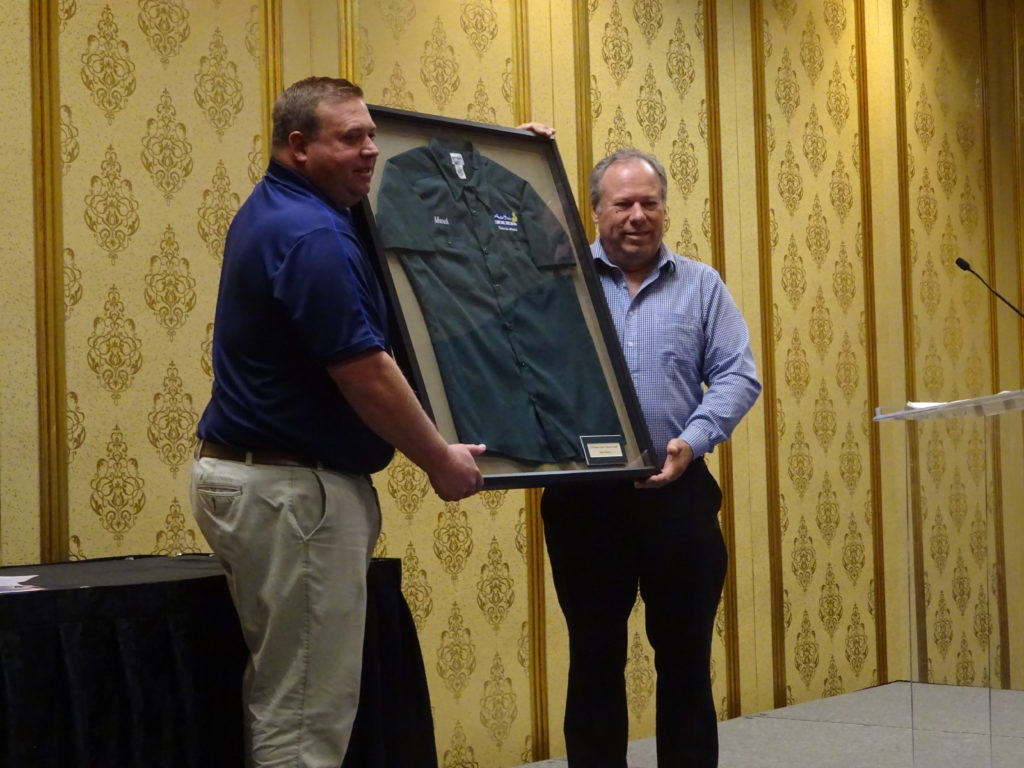 "John was always the consummate professional," Finch said. He also described Norris as humble, with a dry sense of humor, and "fearless."
Finch recalled being present at a Toronto meeting Norris also attended and asking an assistant, "'Who is that guy? He makes a lot of sense.'" The assistant replied, "'I knew you guys would like each other.'"
Norris always worked for the "purity" of the association and collision industry, according to Finch.
Finch said Norris' HARA was delegated authority by Ontario on many projects, describing the province as thinking so highly of Norris it let him tell them what was right.
Norris' true passion was apprenticeship, and he worked tirelessly with colleges, trade schools and the collision industry to add new blood to the trade, according to Finch.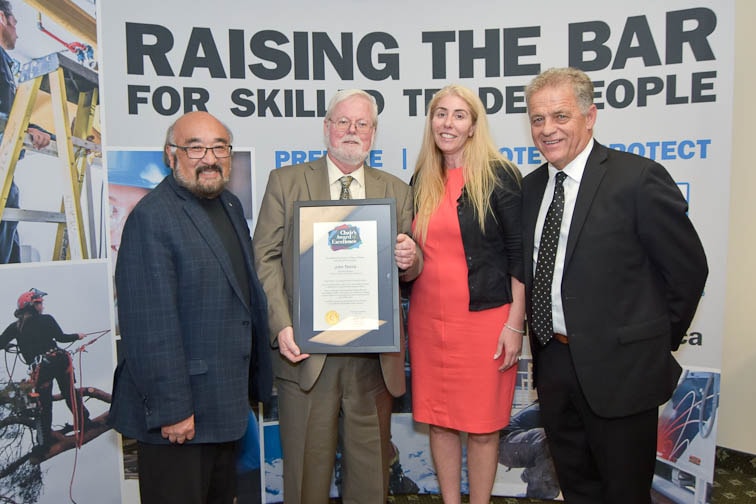 He said Norris also was dedicated to I-CAR Canada and had run the vehicle security professional program for CASIS — Canada's version of the "Right to Repair" agreement.
Finch called the Kina'ole Award a special recognition for Norris.
"He lived it," Finch said. "He breathed it from the moment he woke up."
Finch said Norris' family didn't always understand him, but "they'll be very, very proud of him."
Individual Service Award
SCRS presented another major honor Tuesday in surprising attorney Patrick McGuire (Law Offices of Patrick J. McGuire) with its Individual Service Award.
"Patrick has also built a national reputation as an expert on the intersection of insurance and automotive laws," McGuire's "of counsel" bio with Clausen Miller states. "He regularly assists clients with the design and implementation of compliance programs and provides strategic advice as to the practical impact of existing or proposed regulations or legislation to entities ranging from small businesses to trade associations to Fortune 50 companies. As a legislative consultant and subject-matter expert, he has helped clients develop lobbying strategies, drafted proposed bills and amendments, and has testified before numerous state legislatures and the National Conference of Insurance Legislators (NCOIL).
Automotive Industry Consulting President and former SCRS Chairman Lou DiLisio in presenting the award noted that McGuire's articles like "Keep this Job" and "Every Claim is Not the Same" are still being referenced today. He said McGuire has helped auto body shops with issues like labor rates and steering but also modern questions like data ownership and privacy.
"I adore this industry," McGuire said.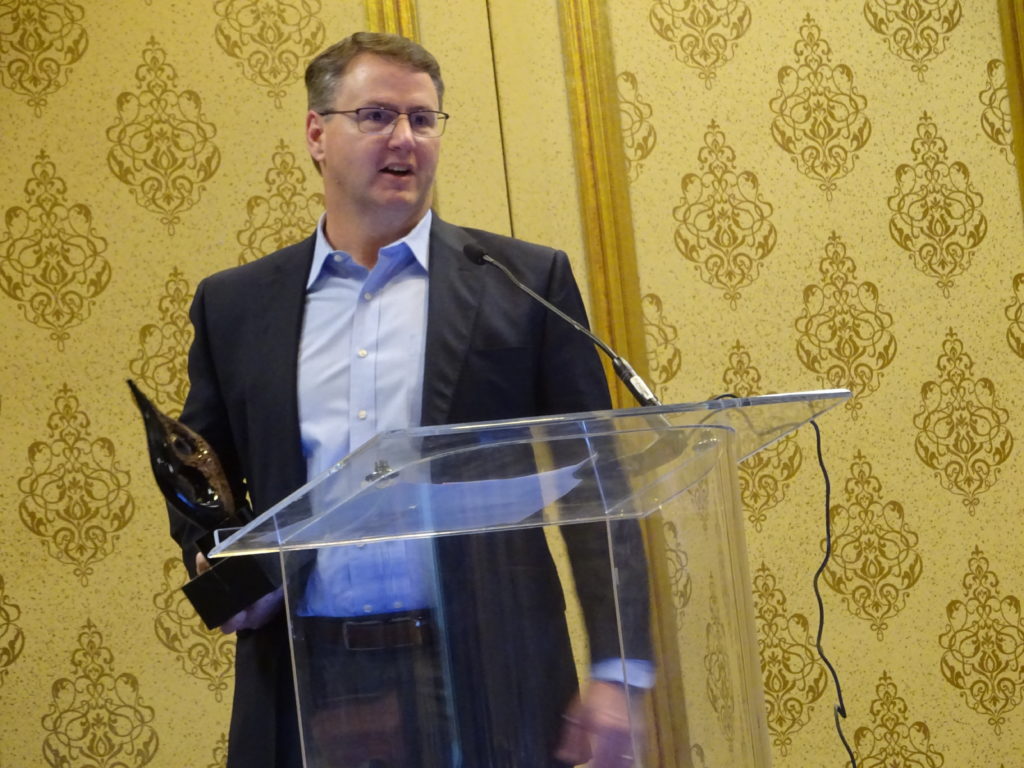 He said he was motivated by seeing the industry's activity over the past 50 years fighting against bigger interests and "to do right" and properly repair vehicles.
"It's a really good time in the industry; a lot of things are coming together," McGuire said.
Images:
The Society of Collision Repair Specialists on Nov. 6, 2019, honored the late Canadian collision repair leader John Norris with its March Taylor Kina'ole Award. (John Huetter/Repairer Driven News)
SCRS Chairman Brett Bailey (A&B), left, and Western Canada Automotive Business Association CEO Dale Finch hold up the SCRS March Taylor Kina'Ole Award on Nov. 6, 2019. Finch accepted the award on behalf of the family of honoree John Norris, the late Canadian collision industry leader. (John Huetter/Repairer Driven News)
From left, former Ontario College of Trades Registrar and CEO David Tsubouchi, former Collision Information and Industry Assistance Executive Director John Norris, former Ontario College of Trades board member Catherine Poultney and former Ontario College of Trades Chairman Pat Blackwood are shown. Norris won one of the college's Chair's Awards of Excellence in 2017. (Provided by Ontario College of Trades)
SCRS presented another major honor Nov. 6, 2019, in surprising attorney Patrick McGuire (Law Offices of Patrick J. McGuire) with its Individual Service Award. (John Huetter/Repairer Driven News)
Share This: