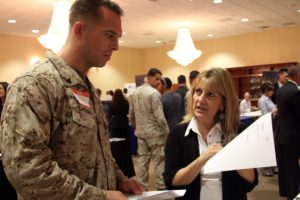 Collision repairers willing to meet veterans halfway might find a tremendous pool of candidates to fill open jobs — and the government covering the bill for connecting with them.
Department of Labor Office of Strategic Outreach regional veterans employment coordinator Roxann Griffith this summer revealed a gold mine of resources available to the industry to hire veterans and others.
Griffith said she jumped at the chance to speak to the July Collision Industry Conference because "your industry was a little bit more underserved than most."
She's among those in the government charged with connecting veterans to employers. The Department of Labor and her DOL VETS program served more than 565,000 veterans, reservists and guardsmen in 2018.
Talk to veterans
Griffith said most veterans want to help a company reach another level. Employers just need to understand how to connect with them, she said.
Discuss where a veteran fits in an organization, Griffith said. "I don't care" if it's a position like a  janitor or busboy — an employer should still do so, according to Griffith. Explain why their job is important to the overall mission of the company, and "they tend to want to stick with it," she said.
Employers don't always show employees a growth path, and that's a mistake, according to Griffith. In the military, you know how you can advance — starting out as an E-1 enlisted recruit, you could be an E-9 chief if you're willing to work for it, she said. An O-1 lieutenant could be a top general someday.
"We all know this," she said.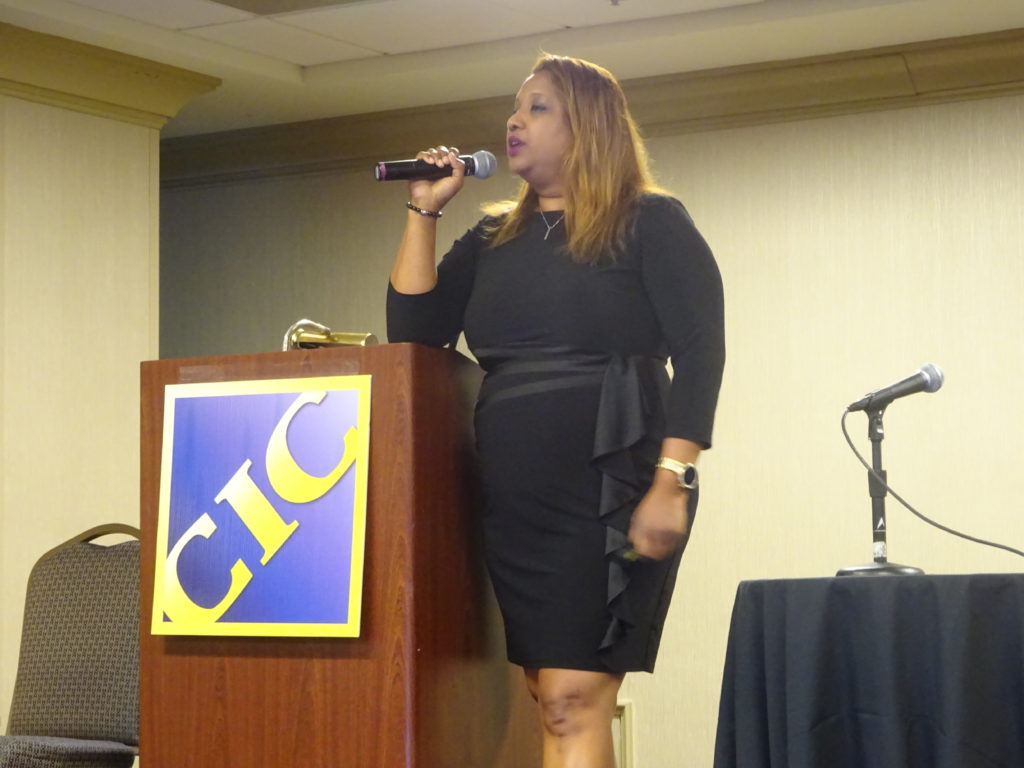 Griffith encouraged employers to ask veterans about military experience not found on their resume or DD-214.
Throughout her time in the Air Force, "I got voluntold" for a variety of tasks, she said.
A trained electrical engineer, Griffith said was commanded to be an aerospace electrical engineer and wound up on the flight line. Then they made her run the Personal Reliability Program, she said.
"That's every veteran," she said. She also noted how she used to have stage fright, but was ordered to brief an entire squadron.
Resources
While veterans tend to have lower unemployment rates than non-veterans, about 326,000 veterans were still unemployed — 6 percent of which were less than 25 years old, according to 2018 Bureau of Labor Statistics data contained in one of her slides.
About 180,000-200,000 troops transition out of the military every year, according to the BLS.
Griffith asked how many in the audience used their state's workforce system, also known as American Job Centers.
"That's not good," she said of the response.
The federal government sends money to all 50 states to fund workforce programs, she said. Each state offers employers a means of posting a job for free — and will even organize a free job fair for you, according to Griffith. It also permits employers to conduct interviews at the state offices, also free.
The government also offers states money under the the Workforce Innovation and Opportunities Act of 2014 for need-based workforce development, according to Griffith.
When someone shows up at a state office seeking a job, the agency will determine if they qualify for the WIOA and, if so, place them in a registered apprentice program or send the candidate back to school, she said.
"They only do that if there's a need," Griffith said. If employers don't explain their industry's need to the agency, the money will be directed at some other sector of the economy.
Employers should also recognize veteran demographics and incentives, she said. Noting that 2010-11 saw an "insane" unemployment rate for Gulf War veterans, she said that demographic tends to be in the 45-55 age range. (The median veteran is 64 years old.)
Employers might wish to hire 18- to 24-year-old veterans instead, but the military already is fighting hard to keep them with retention bonuses, according to Griffith.
It costs the military $500,000 for the six months to a year to train any recruit, she said.
"It's easier for us to keep those bodies," she said
However, the military also looks out for the veterans who do leave the service by connecting them with employers in the months leading up to their honorable discharge, according to Griffith.
All troops nearing the end of their service are offered an option of taking a one-week course how to transition to civilian life — and they can repeat it as frequently as they wish.
Outgoing troops must register for the American Job Center Network, no exceptions, which means "you can find 'em," she said. Anyone employer working with a state workforce agency will have access to the list of pending veterans, she said.
Though it tends to be most used by the U.S. Army, all branches of the military offer Career Skills/SkillBridge programs, according to Griffith. Six months before a service member is scheduled to become a civilian, they're permitted to come to a private sector company and work, she said.
The would-be employers doesn't have to pay the service member anything, for the troops are still active duty military paid by Uncle Sam, she said.
Under the U.S. Chamber of Commerce's Hiring Our Heroes program (funded also by the DOL and Small Business Administration), the military also brings employers onto bases to pitch workplaces to the troops.
All of the Hiring Our Heroes events are completely free to employers — all you have to do is show up, she said.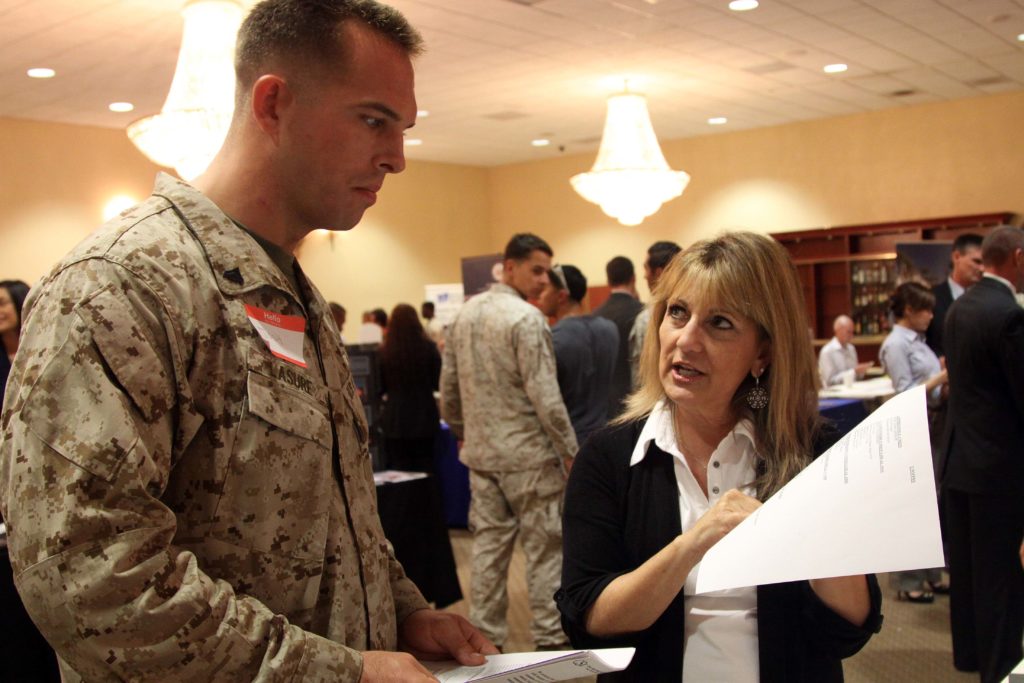 One of Griffith's slides also encouraged employers to try the 165,000 National Guardsmen and Army Reservists turning over each year. The Guard also allows any business to attend its national convention and talk to troops for free, she said.
She also referred shops to organizations such as Soldier for Life (which is technically Army but accepts other branch members), Marine for Life (which only accepts Marines) and Citizen Soldier for Life (for guardsmen and reservists).
Training a veteran through a registered apprenticeship program tends to have high retention. Griffith said. Veterans tend to be loyal and appreciate the employer having taken a chance upon them, she said.
Be military friendly
Veterans also are more likely to consider jobs at companies who showcase their friendliness to the military, she said.
She gave the example of an airline program offering free flights to service members looking for a job in another city or who had experienced a death in the family.
And then there was Service King. The company came to Griffith desiring to create veterans initiatives and predicting it would hire 500 veterans in five years.
She said the Service King Super Bowl ads featuring a veteran praising the company prompted about 400-500 veterans to apply for jobs. The company has hired 700 veterans in just four years, she said.
Griffith said the federal government has worked with Service King on workforce development activities like having veterans visit shops and talk to staff. She said a Service King hiring manager reports they receive applications "'like crazy.'"
The company also asks about military service on its job applications. When the candidate's answer is yes, Service King kicks the application to two veterans within the company's recruiting department, according to Griffith.
Those veterans conduct a phone interview with the candidate, assessing qualifications and offering Service King notes about where he or she would fit in the company, she said.
"It sounds like a lot of work," but it made Service King stand out, Griffith said.
Employers also can command a closer look from veterans by winning an award from the American Legion, Disabled American Veterans, Veterans of Foreign Wars or the Department of Labor itself.
The Department of Labor's HIRE Vets Medallion Award includes a small employer category relevant to many of the industry's shops. There's a small feet to cover the cost to examine all 6,000 HIRE Vets Medallion Award applications,
The agency generates a list of all award winners and sends it to every base and government agency, according to Griffith. The awards signify a company which obviously was "very veteran friendly," and veterans will apply there before the competition, she said.
Griffith's presentation also made an interesting point about "Speaking Military" in recommending a company build a "military translator" into its jobs page or use the one at ONETOline.org. The idea seems to be to connect the dots on which Military Operational Specialty would fit well with the jobs open at an organization. We noted that Service King offers a more generalized version of this concept on its "Mission 2 Hire" website.
More information:
"Department of Labor Apprenticeships, Veteran Programs"
Collision Industry Conference, July 24, 2019
"Employer Guide to Hire Veterans"
U.S. Department of Labor, Sept. 19, 2019
Images:
Terry Coulson of Granite Construction, right, discusses careers with Josh Lasure at a Hiring Our Heroes job fair at Camp Pendleton on Sept. 19, 2013. (Marine Cpl. Brianna Christensen)
Department of Labor Office of Strategic Outreach regional veterans employment coordinator Roxann Griffith on July 24, 2019, offered ideas for the collision repair industry to hire veterans. (John Huetter/Repairer Driven News)
Department of Labor Office of Strategic Outreach regional veterans employment coordinator Roxann Griffith on July 24, 2019, offered ideas for the collision repair industry to hire veterans. (DOL slide provided by Collision Industry Conference)
Maj. David L. Baril, right, discussed the Marine for Life program during a Hiring Our Heroes job fair at Camp Pendleton on Sept. 19, 2013. (Marine Cpl. Brianna Christensen)
Share This: