Department of Labor Office of Strategic Outreach regional veterans employment coordinator Roxann Griffith said companies tell her they can't find the talent they need.
"'Build your own pipeline,'" she said she frequently advises businesses.
Griffith earlier this year taught the Collision Industry Conference how the federal government facilitated that process through its registered apprenticeship program. According to Griffith, the system was viable for mom-and-pop companies, could be used to hire veterans and regular civilians, and yielded a return on investment for businesses.
A registered apprenticeship had to offer structured on-the-job training, provide a job at the end of the training process and pay apprenticeship graduates the same as they'd pay a non-apprentice hired for that job, according to Griffith. However, the system offered employers flexibility as well, she said.
The employer didn't have to be the party training the technician; they could use a third-party such as a local vo-tech, she said.
The employee didn't have to start out at the wage needed upon their graduation, nor would their boss have to pay the tech for training at the local vo-tech. However, the employee must still receive training from a master on-side and be on the company's books at some point, she said.
Griffith said the company can opt not to hire an apprentice who doesn't work out — there's no "backlash."
State-level personnel also exist to consult with a body shop struggling with the program, she said.
She said that from her perspective, an apprenticeship was "one of the best programs out there."
The program's a good deal for technician and employer.
Griffith said most college graduates who work in an industry reflecting their bachelor's degree average $65,000-$70,000. Registered apprentices average the same amount, she said. (A slide put it at $60,000). The apprentice's program is also nationally recognized — their credential is transferrable to any state, she said.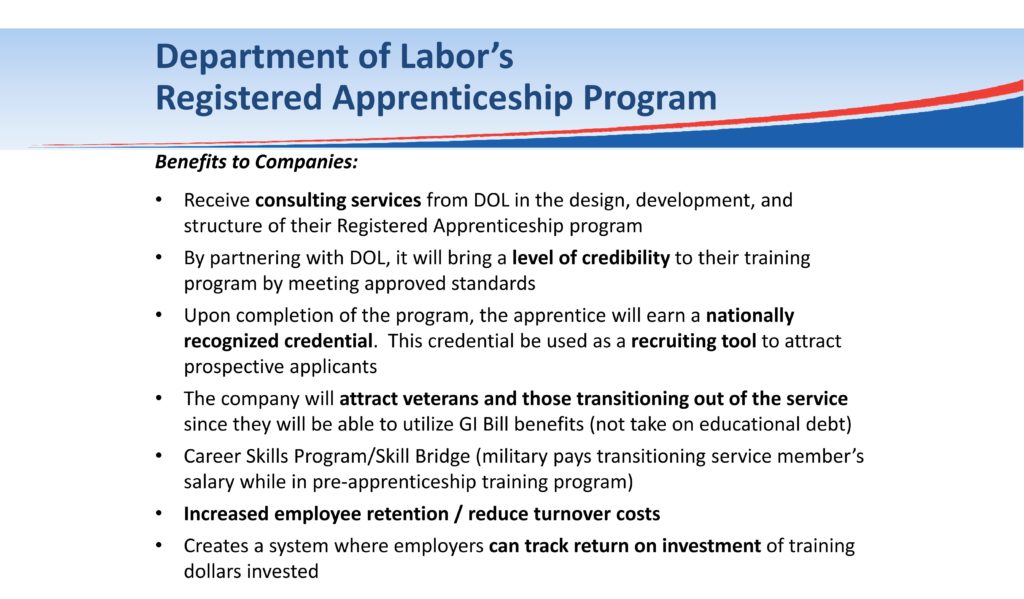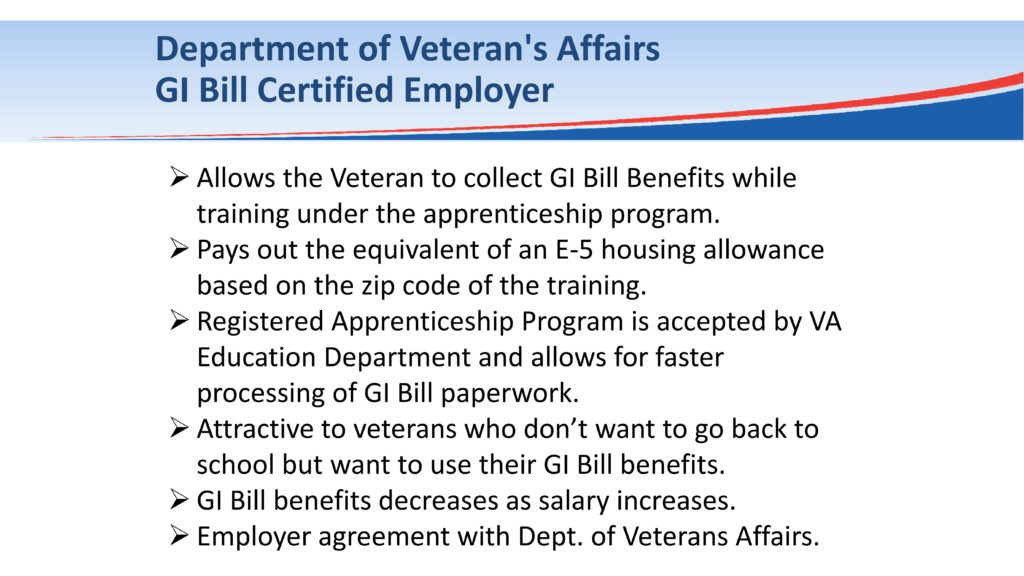 Veterans tend to like apprenticeships because they're drawn to training, having entered such an environment at age 17-18, Griffith said. Joining a registered apprenticeship also qualifies the veteran to collect under the G.I. Bill, which is also attractive for veterans.
The Department of Labor asks apprenticeship creators to be recognized for the G.I. Bill, and it recommends employers first register the apprenticeship before contacting the Veterans Administration to seek G.I. Bill recognition, according to Griffin. Otherwise, the company will have to complete two sets of paperwork, she said.
The employer tends to come out ahead on the deal — perhaps way ahead.
In 2018, every $1 spent on the apprenticeship program (on training costs, salary, etc.) saw the company making $1.47.
"The return on investment is there for your company," Griffith said. After all, the apprentice is contributing to productivity, just not to the level of a traditional new hire, she said.
For its part, the government invests $10 for every $1 a company spends on the apprenticeship program, Griffith said. The first budget under the Trump administration had $300 million for apprenticeships, she said.
If an industry is flagged as high-need under the federal WIOA program, the government will offset the cost of training the apprentice and even their salary.
It is absolutely possible for a mom-and-pop company to participate in the program, according to Griffith, who said she built 168 apprenticeship programs last year herself and estimated she and her team combined worked on 500.
The agency has apprenticeship templates for all kinds of professions and will help a shop create the curriculum, according to Griffith. However, it won't give a shop the specific package developed by a competitor, she said.
Apprenticeships tend to foster loyalty. Griffith recalled a company in a different industry with a 23 percent retention rate on hires. After two years of its apprenticeship program, it's up to 94 percent.
"It makes a difference," she said. Employees are loyal to a company which took a chance on them, according to Griffith.
A Dallas aerospace company even took on apprentices who hadn't even graduated high school, conditioning finishing the apprenticeship on obtaining a GED. It has a 98 percent retention rate, and people who never thought they could have worked for such a company are now aerospace equipment technicians.
Take a chance on someone, and they "tend to want to stick," Griffith said.
On the whole, apprenticeship sees a 97 percent completion rate and a 94 percent retention rate, according to Griffith.
More information:
Department of Labor Apprenticeship portal
"Department of Labor Apprenticeships, Veteran Programs"
Collision Industry Conference, July 24, 2019
Images:
Department of Labor Office of Strategic Outreach regional veterans employment coordinator Roxann Griffith on July 24, 2019, offered ideas for the collision repair industry to hire veterans and others. They included apprenticeships. (John Huetter/Repairer Driven News)
Department of Labor Office of Strategic Outreach regional veterans employment coordinator Roxann Griffith on July 24, 2019, described ways in which the government supported the federal apprenticeship program and veteran apprentices. (DOL slides provided by Collision Industry Conference)
Share This: