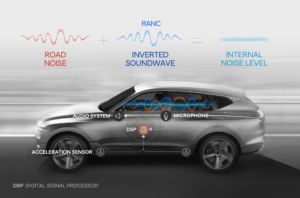 Hyundai on Tuesday announced "the world's first Road Noise Active Noise Control (RANC) system," calling it good enough to possibly cut back on some of the existing insulation and damping found within a vehicle.
Hyundai (like other OEMs) already had the capability for Active Noise Control, a technology which analyzes sound in an area and spits an inverse soundwave at it to cancel it out.
"The existing noise insulation method involved sound insulations and dynamic dampers, which not only increased weight but also failed to block the buzzing infrasound completely," Hyundai wrote. "In contrast, ANC utilizes much lighter parts like microphones and controllers to control the noise and reduces infrasound more efficiently. The technology is already available in some Hyundai Motor Group vehicles."
However, the system only worked if noise was constant and predictable; Hyundai noted that it most often used the existing technology to block out engine noise. (Which makes sense. Presumably, if your engine works as intended, it's emitting constant and predictable sounds.)
"Given that it only takes about 0.009 second for road or engine noise to reach the passenger, the current technology was limited," Hyundai wrote.
Hyundai said its new RANC noise control could work in real-time and handle sounds that wouldn't have been doable before.
"For example, there are different types of road noises that the new technology can process, such as resonant sounds created between tires and wheels or rumble sounds coming up from the road," the OEM wrote.
"… Using an acceleration sensor, RANC calculates the vibration from the road to the car and the control computer analyzes road noise. As its computation and signal transfer speeds are optimized, it only takes 0.002 second to analyze the noise and produce an inverted soundwave, generated by the DSP (Digital Signal Processor). The microphone constantly monitors the road noise cancelation status, and sends the information to the DSP. RANC is able to conduct accurate noise analysis and rapid computation to combat road noise for the driver's seat, the passenger seat and rear seats separately."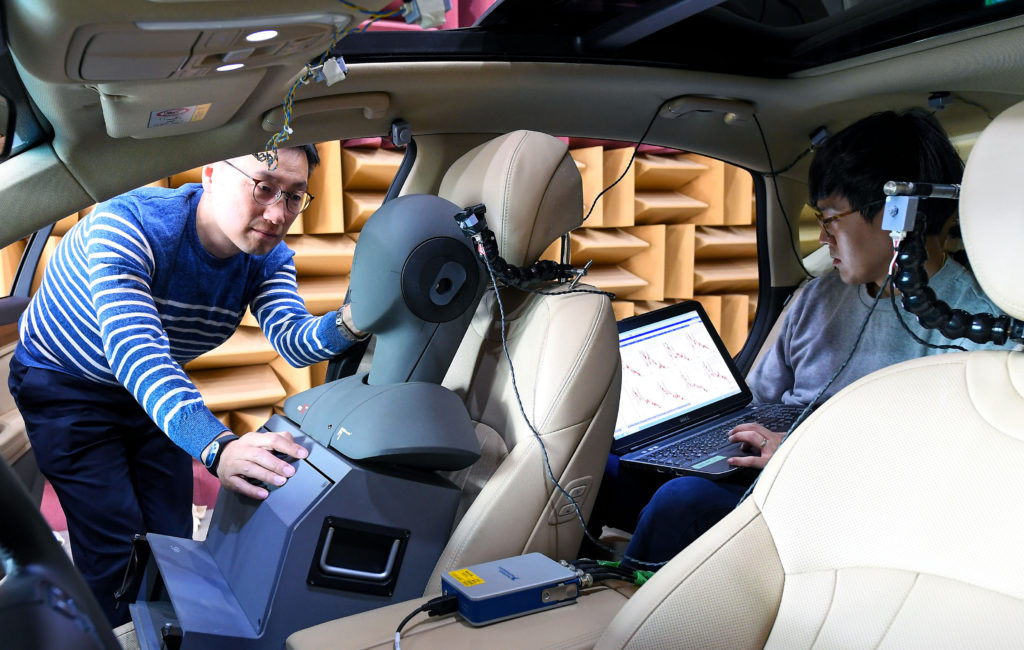 Which sounds pretty impressive and begs the question of what level of precision or calibration will be needed from a collision repairer to ensure the sensor function and placement is correct. Hyundai said it had applied for Korean and American patents "about the location of sensors and signal selection method."
The good news for Hyundai and a repairer here is that if everyone can keep the new system working right, cars won't need as much insulation and dampers. That could make life easier for both Hyundai repairers and shops fixing cars from other OEMs developing competing technology.
Hyundai said RANC let it cut another 3 decibels — half of the noise it would have had — out of the cabin.
"Thanks to this achievement, the Group can potentially decrease the amount of unsprung weight in a vehicle, utilizing fewer sound-insulating parts and dampers as compared with before,"
Hyundai Motor Group went through six years of research and development for the mass production of RANC. Especially, the pre-production phase involved an open innovation between industry and academia, with participation by Korea Advanced Institute of Science and Technology, WeAcom, ARE, BurnYoung and more.
Hyundai said it took six years to get RANC ready for mass production, and it partnered with Harman once it reached that point. The company plans to introduce the technology first on a Genesis.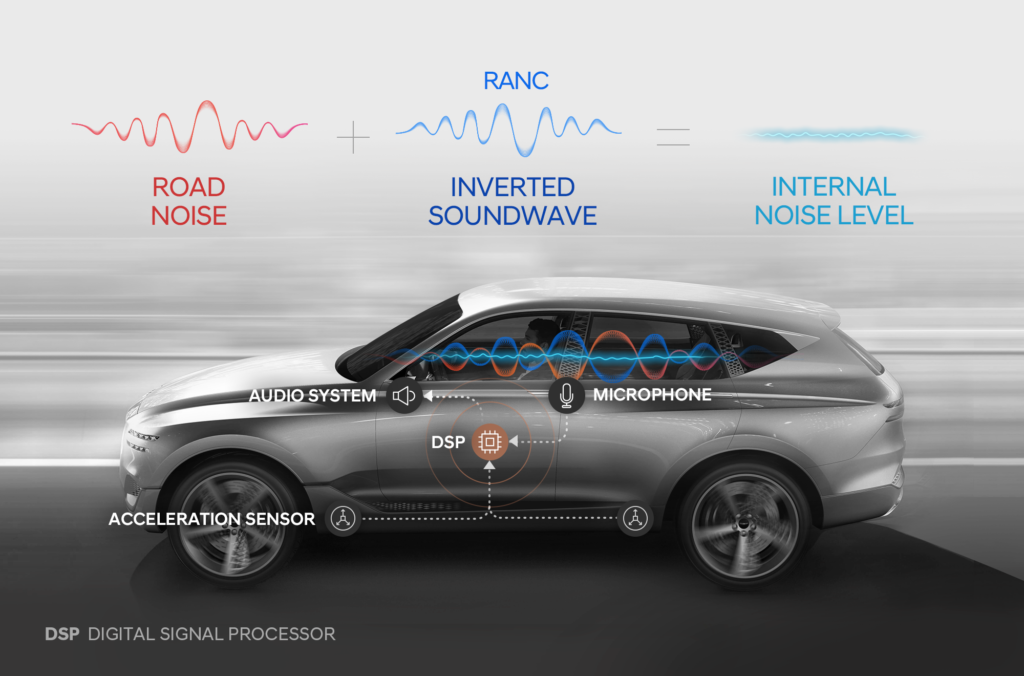 Hyundai makes an interesting observation about the need to cut noise during an increasingly electrified automotive future.
"Vehicle interior noise primarily comes from three sources: vehicle powertrain noise, road noise, and wind noise," Hyundai wrote. "There is almost no powertrain noise from electric and fuel cell electric vehicles, so quelling road and wind noise becomes even more imperative. Utilizing RANC can significantly reduce road noise and create a serene cabin for future electric and fuel cell electric vehicles."
Production Engineering Solutions on Thursday carried an article examining that issue too. The piece appears to have been written by World Car Awards Executive Manager Beth Rhind, though it's a little unclear from the magazine's presentation.
"Electric motors themselves create their own noise, particularly at high frequencies, and electronic controllers emit their own sounds," it states. "In addition, eliminating typical combustion engine noise at lower frequencies can make other sounds, such as tire and aerodynamic noise and that from air conditioning and other ancillary systems, even more apparent. It's a different set of challenges."
Teslarati also recently noted that Tesla CEO Elon Musk had promised cabin noise was now "significantly improved" on the Model 3. The website observed, "Electric vehicles, unlike a traditional combustion engine car, do not have an engine, transmission, and tailpipe noise that assist in eliminating the common sounds of the road."
More information:
"Hyundai Motor Group Develops World's First Road Noise Active Noise Control Technology"
Hyundai, Nov. 12, 2019
Hyundai OEM repair procedures (Note: Historically, only mechanical has been available)
Featured images: Hyundai on Nov. 12, 2019, announced "the world's first Road Noise Active Noise Control (RANC) system," calling it good enough to possibly cut back on some of the existing insulation and damping found within a vehicle. Hyundai already had the capability for Active Noise Control, a technology which analyzes sound in an area and spits an inverse soundwave at it to cancel it out. The new tech works even better and can knock out another 3 decibels. (Provided by Hyundai)
Share This: