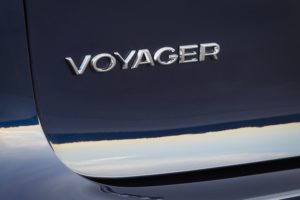 Despite it debuting as a new model, FCA descriptions suggest body shops might not see a significant difference between the 2020 Chrysler Voyager minivan and the lower-trimmed Pacificas it'll replace.
Car and Driver in August called the Voyager "(e)ssentially a rebadged version" of the lower-end Pacificas. The grille found on the 2019 Pacifica L and LX trims appears to return for the Voyager versions replacing them.
"Exterior modifications include a Voyager liftgate badge; interior updates on the Voyager LX include satellite radio and second-row quad seats and in-floor storage bins," FCA wrote of the 2020 Voyager.
The Voyager starts at $26,985 for the L trim and rises to $29,795 for the LX trim. The 2019 Pacifica L started at $27,235, and the LX cost $30,045. The 2020 Pacifica now starts at $33,495 and will be available in Touring, Touring L, Touring L Plus and Limited trims. FCA will also release a fleet-only Voyager LXi trim.
FCA sold 118,322 Pacificas last year.
"Designed with budget-friendly family and fleet customers in mind, the Voyager delivers an exceptional driving experience," FCA wrote in June.
FCA describes a mixed-material Voyager structure featuring varieties of higher-strength steels, aluminum sliding doors, and a tailgate made of both aluminum and magnesium — all of which sounds fairly similar to the current-gen Pacifica.
It's unclear if the Voyager's hood and front bumper beam are aluminum like the Pacifica.
A specification sheet calls the 2020 Voyager "Steel unibody with hinged front doors; aluminum-skinned sliding left- and right-side doors — power available; magnesium-structured/aluminum-skinned rear liftgate with gas props — power available."
A FCA spokesman hadn't yet been able to confirm if the body was basically identical to the Pacifica.
FCA last week boasted that the 2020 Voyager had achieved five-star NHTSA ratings, attributing it in part to various steel body-in-white structures.
It said 72 percent of the minivan is "(h)igh-strength steel," a reference which probably encompasses steels classified as high-strength, advanced high-strength and ultra-high-strength. FCA in 2016 called the 2017 Pacifica 72 percent high-strength steel as well.
"The 2020 Chrysler Voyager's crashworthiness benefits from thoughtful application of steel shaping technologies such as hydroforming, a process that transforms steel tubes by injecting them with fluid at extreme pressures," FCA wrote in a news release Nov. 6. "The result: intricately molded load beams that afford greater strength and stiffness than welded components.
"In addition, the new minivan's door ring is assembled from tailor-welded blanks – sections of hot-stamped steel that vary in thickness. This strategy helps maintain structural integrity in certain crashes.
"High-strength steel (HSS) accounts for 72 percent of the new Voyager's body structure. Its cradle and front rails are made of Advanced High-strength Steel (AHSS) and are configured to help steer crash energy away from the passenger compartment."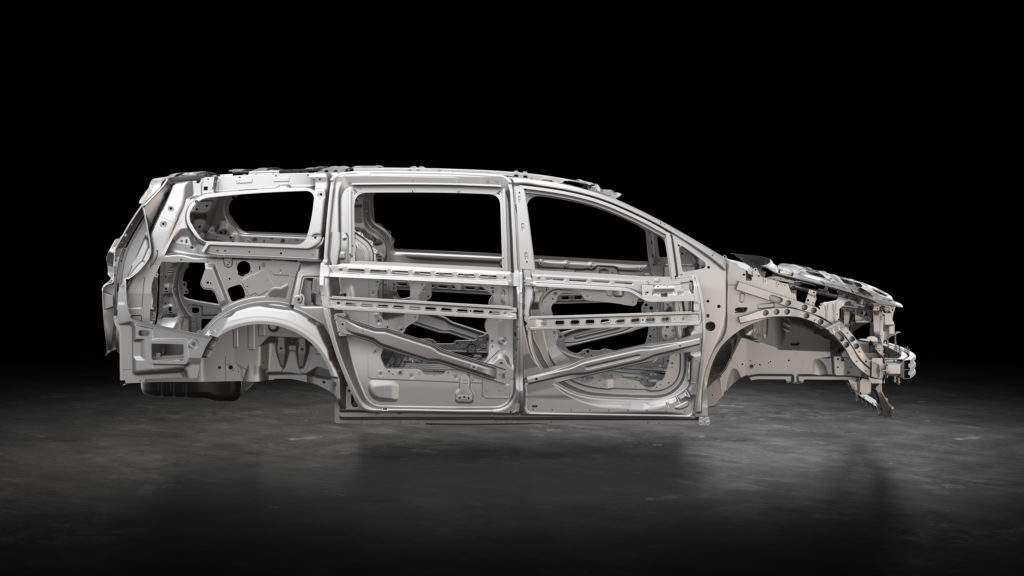 Auto body shops are still going to have to consult the FCA repair procedures for the Voyager separately despite the likely similarities to the Pacifica. But at least it doesn't look like FCA is throwing the industry any serious new curves with what was already an advanced mixed-material structures.
Shops might still wish to take the debut of the Voyager as an opportunity to ensure they've got the necessary FCA tools, training and equipment, and read up on FCA's aluminum and magnesium guidelines. For example, the OEM has in the past instructed repairers not to grind on the Pacifica's magnesium liftgate (you'll potentially ignite your shop). It also has demanded dedicated gear to avoid aluminum-steel cross-contamination.
As noted before, you'll still have to consult the actual live procedures online when it comes time to do any Pacifica or Voyager, but this way, there's less chance you'll be caught off guard by something unexpected and potentially blow your delivery date.
Other possible items of interest to collision repairers:
Accessibility: FCA will offer an official wheelchair conversion. "BraunAbility rear- and side-entry conversions offer a wider entryway and more interior space, with an enhanced ramp securement system, passenger seat flexibility and plenty of room for even the largest power wheelchairs and scooters," the OEM wrote.
Refinishing: Fewer exterior and interior colors will be available for the Voyager than the 2020 Pacifica. The Voyager can be had in "Billet Metallic Coat," "Brilliant Black Crystal Pearl Coat," "Bright White Clear Coat," "Granite Crystal Metallic Coat," "Jazz Blue Pearl Coat" and "Velvet Red Pearl Coat."
ADAS: Based on FCA's news release, the 2020 Voyager won't have anywhere near the advanced driver assistance systems found standard or optional on the 2020 Pacifica. The flagship minivan offers what the OEM says are "more than 100" safety and security features standard or as options.
The news release for the Voyager says a customer can upgrade to the SafetyTec Group, which "includes ParkSense rear park assist with stop, Blind-spot Monitoring and Rear Cross Path detection." However, frontal collision prevention and lane keeping don't appear to be available at all.
NVH: The Voyager will have active noise cancellation standard.
Seating: The fleet LXi version has an option to seat an eighth passenger.
Pacifica plug-in hybrid
In other FCA minivan news, the OEM in June announced that the plug-in hybrid Pacifica sells pretty well, at least for that powertrain niche.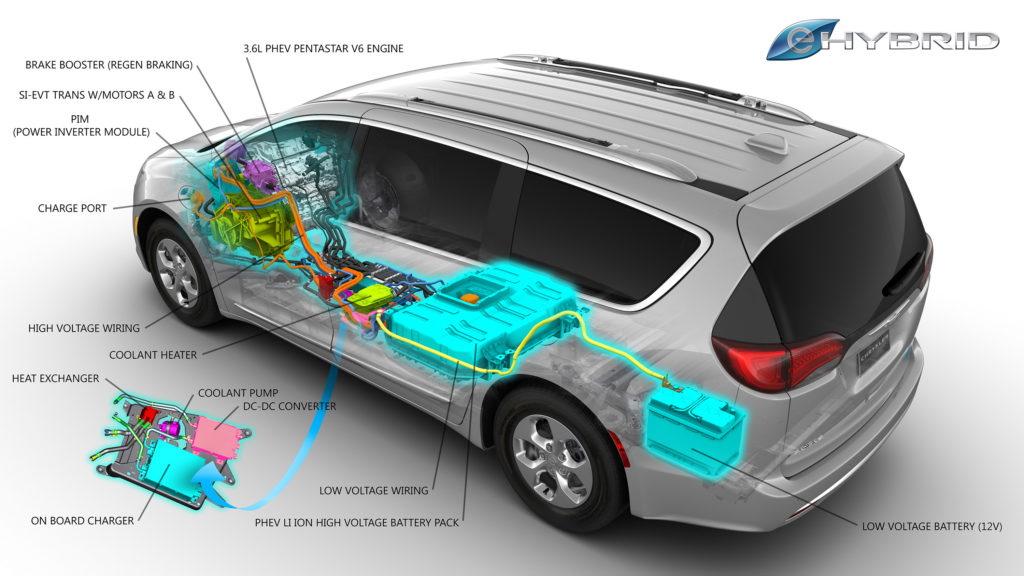 "The Pacifica Hybrid is America's first and only hybrid minivan. It is the fourth best-selling plug-in hybrid vehicle (PHEV) from the 30 PHEVs available in the market, and the #1 seller among the 20 vehicles that offer PHEV as an option," FCA wrote in June. "Pacifica Hybrid achieves more than 80 miles per gallon equivalent (MPGe) in electric-only mode, has an all-electric range of more than 30 miles and a total range of more than 500 miles."
Unfortunately, FCA sales figures don't break out plug-in hybrid sales separately, so it's hard to know how many are out there.
Still, it's kind of an interesting piece of trivia and reminder of electrification as a trend. The latter might demand special equipment, training and infrastructure on a shop's end on top of close attention to repair procedures.
More information:
"2020 Chrysler Voyager Launches With Five-star Safety Rating"
FCA, Nov. 6, 2019
"2020 Chrysler Voyager Fact Sheet"
FCA, June 27, 2019
"2020 Chrysler Pacifica and Pacifica Hybrid Fact Sheet"
FCA, June 27, 2019
Images:
The badge of the 2020 Voyager might be one of the few differences between it and the 2019 Chrysler Pacifica L and LX it will replace. (Provided by FCA)
The body of the 2020 Chrysler Voyager is 72 percent high-strength or stronger steel. (Provided by FCA)
Aspects of the 2020 Chrysler Pacifica Hybrid (technically, a plug-in hybrid) powertrain are shown. (Provided by FCA)
Share This: