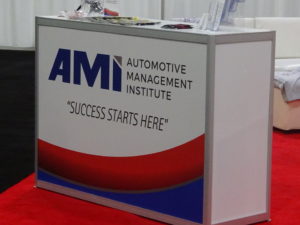 The Automotive Management Institute announced Tuesday it will host FCA training courses on topics like scanning and repair procedures for the OEM's certified auto body shops and anyone else in the industry who wants the education.
AMi in a news release called the classes "highly recommended or recommended" for FCA Certified Collision Network participants.
AMi will partner with Collision Advice CEO Mike Anderson on the classes. Anderson in 2018 hosted a webinar on using the FCA repair procedure website Tech Authority, one of the topics covered in the new courses.
"It is an honor to have FCA as our first OEM partner and have tremendous appreciation for their determination to ensure the FCA customer has a great collision repair experience and receives a safe and proper repair. The AMi next generation project positioned AMi to support organizations interested in improving their customers' satisfaction," AMi President Jeff Peevy said in a statement. "I also want to acknowledge the incredible leadership and work Mike Anderson has provided on this project. The positive impact this initiative will have on the FCA Certified Collision Network and its customers will be substantial."
Peevy said AMi was talking with other automakers about handling courses for them too.
Effective January 2019, it will be "Highly Recommended" that someone at a certified shop completes "Leveraging your FCA Certification" and "Navigating Tech Authority Repair Procedures" and "recommended" that "all administrative, management, estimating, and repair planning personnel" finish both of those. (Emphasis AMi's.)
It is also "Highly Recommended" that "technicians and repair planners" take "Flashing an ECU," "Flight Recordings" and "wiTech 2.0 Fundamentals." (Emphasis AMi's.)
Finally, it is "Recommended" that "all administrative, management, estimating, and repair planning personnel" take "Improving CSI – Check-In and During Repair," "Improving CSI – During the Sale," "Improving CSI – On the Phone" and "Management's Guide to Scanning and New Technologies." (Emphasis AMi's.)
"The goals of the training program are to improve the return on investment for the FCA certified network shop, support accurate and safe repairs, and improve the FCA customer experience," AMi wrote in a news release. "The online courses will be available through AMi's learning portal and will focus on specific topics such as, the proper use of Tech Authority, how to leverage the FCA certification, and more."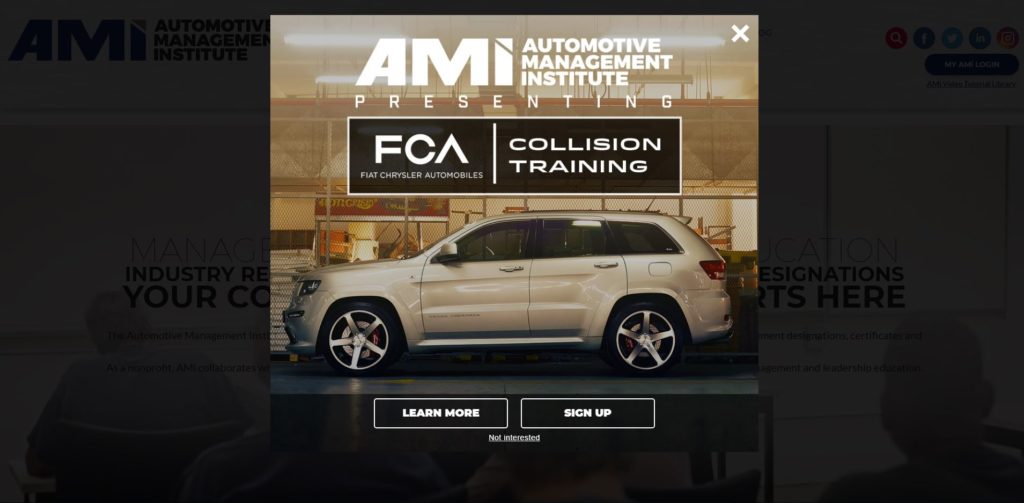 We reached out to FCA to learn if it planned to eventually require the courses or give extra credit to shops who had taken them. We'll update the story if we hear back.
FCA joins fellow Assured Performance OEM in partnering with Anderson. In November 2018, Nissan collision parts manager Mark Zoba said certified shops would starting that December be able to take a two-day collision estimating essentials class developed by Collision Advice. It would offer a "deep dive" on producing better Nissan and Infiniti estimates and using OEM repair procedures, according to a slide Zoba presented during SCRS' Nov. 1 OEM Collision Repair Technology Summit.
AMi wasn't involved in that course, though it will offer AMi credit to anyone that takes it, according to Peevy.
Peevy said AMi about 3.5 years ago decided to concentrate on the customer experience, a topic which certainly is reflected in the FCA classes. However, some of the other courses announced this week seemed to be highly technical (for example, "wiTech 2.0 Fundamentals") and unusual for AMi.
Peevy said his organization wasn't planning to get into technical training. Rather, those offerings simply came as part of the package FCA wanted to offer through AMi, he said.
"We're just simply the host," he said.
AMi had the system and specifications to transfer the Mopar courses, he said. "That's how we have those," Peevy said.
The FCA courses won't be discounted for certified shops; they'll be offered to the entire industry at AMi's regular $41.50 credit-hour rate, according to Peevy.
OEMs have in recent years also offered technical courses relevant to certifications through another third party, I-CAR.
Zoba, for example, said last year Nissan was launching a module with I-CAR to correspond with the next-generation 2018 Nissan Leaf. All network shops must take the class. Ford worked with I-CAR on the FCA06 course for the aluminum 2015 F-150; the class is a prerequisite to Ford certification. Honda-specific courses are required for ProFirst certification — some of which were at least initially developed solely by Honda. These classes are also open to anyone who wants to enroll, regardless of certification status.
More information:
"AMi to Host FCA Certified Collision Network Online Training"
Automotive Management Institute, Jan. 8, 2019
"FCA Certified Collision Network Training Support"
AMi, January 2019
Images:
The Automotive Management Institute logo appears on its booth at NACE 2018. (John Huetter/Repairer Driven News)
An ad on the Automotive Management Institute's website Wednesday promoted its classes meant for FCA-certified shops but open to the entire industry. (Screenshot from www.amionline.org)
Share This: