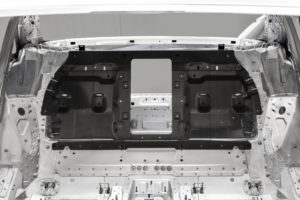 Audi's carbon-fiber bulkhead on the 2019 A8 adds 33 percent to the vehicle's torsional rigidity, but a collision trainer said it also adds more time to the repair.
The information was one of a few interesting tidbits about reinforced polymer composites shared during the 2018 Society of Collision Repair Specialists OEM Collision Repair Technology Summit on Nov. 1, 2018, at SEMA.
Audi bulkhead
Shawn Hart, Audi curriculum designer and collision instructor told the audience that the composite partition between the rear seats and trunk contributes "a lot of complexity," and it requires a great deal of tooling to remove and replace it properly.
"It's pretty much an entire day," he said. "… I know. I did it."
A shop uses a VAS 852 011 thermal cutter, which runs a timed heating program involving seven heating pads, Hart said. Each pad has a temperature sensor and goes through a 45-minute heating cycle controlled by the thermal cutter.
Once the heat has been properly applied by the device, a technician merely has to use a plastic wedge to "literally pop the panel loose," Hart said.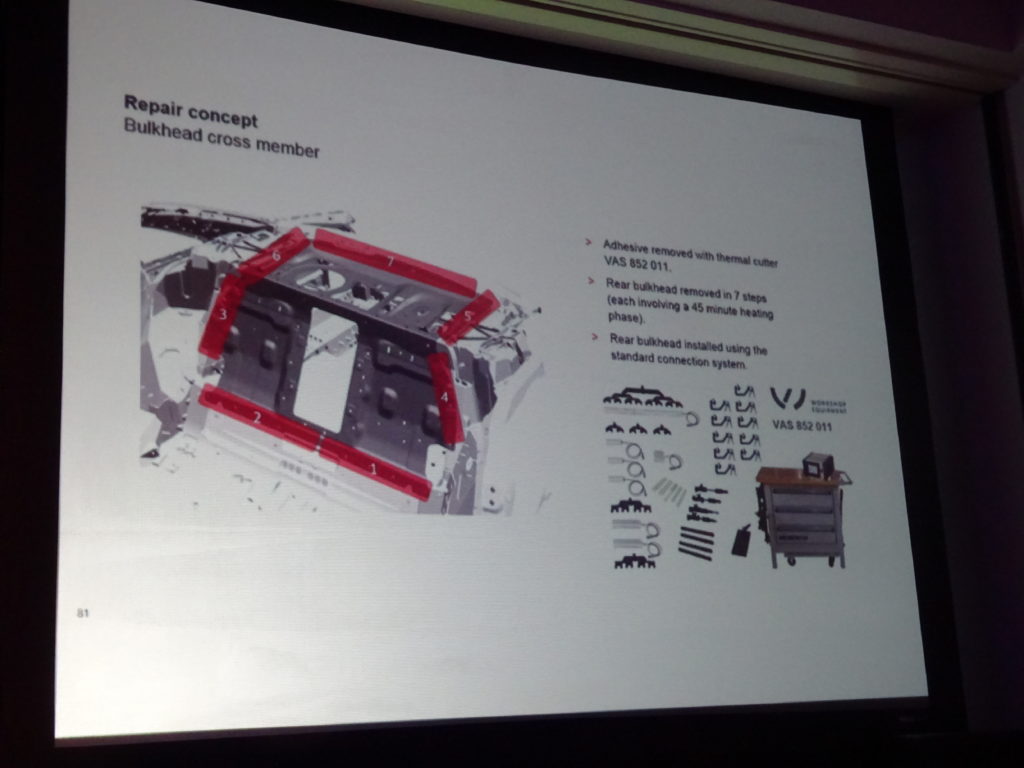 "In terms of its overall dimensions, an ultra-high-strength, torsionally rigid rear panel made of CFRP is the largest component in the occupant cell of the new Audi A8, and it contributes 33 percent to the torsional rigidity of the total vehicle," Audi wrote in 2017. "To optimally absorb longitudinal and transverse loads as well as shearing force, between six and 19 fiber layers are placed one on top of the other, ensuring a load-optimized layout. These individual fiber layers consist of tapes 50 millimeters (2.0 in) wide and can be placed individually in a finished layered package, with any desired fiber angle and minimal trimming of the fibers. The innovative direct-fiber layering process specially developed for this purpose makes it possible to entirely dispense with the normally needed intermediary step of manufacturing entire sheets. Using another newly developed process, the layered package is wetted with epoxide resin and sets within minutes."
Audi described torsional rigidity as "the critical parameter for precise handling and pleasing acoustics," and the 2019 A8 was able to improve it over the old model by a fourth.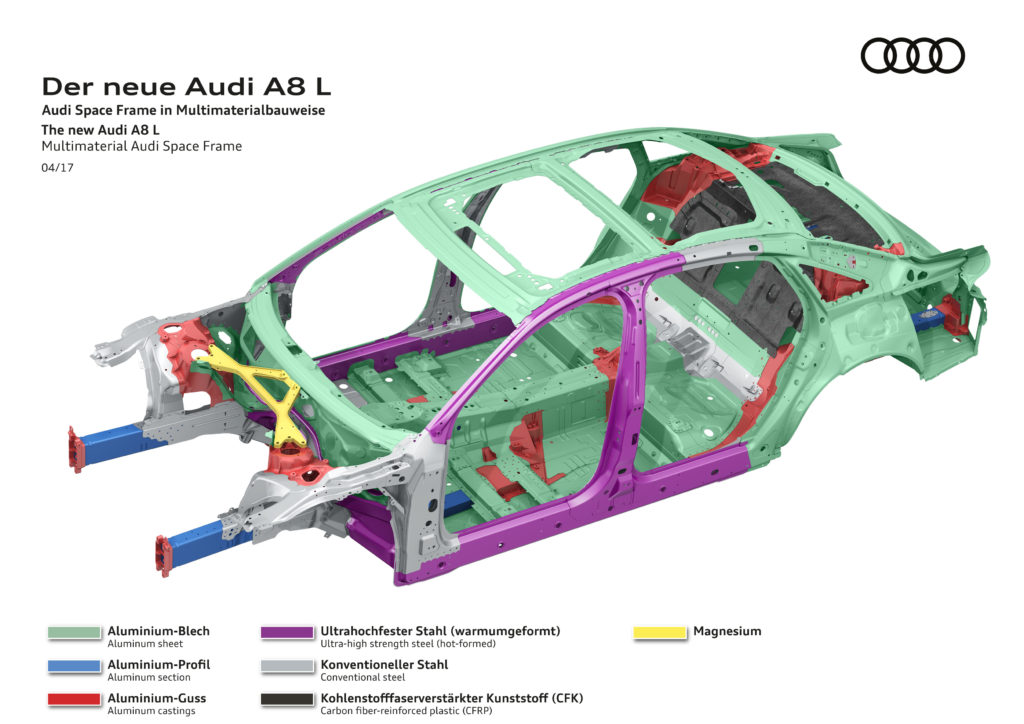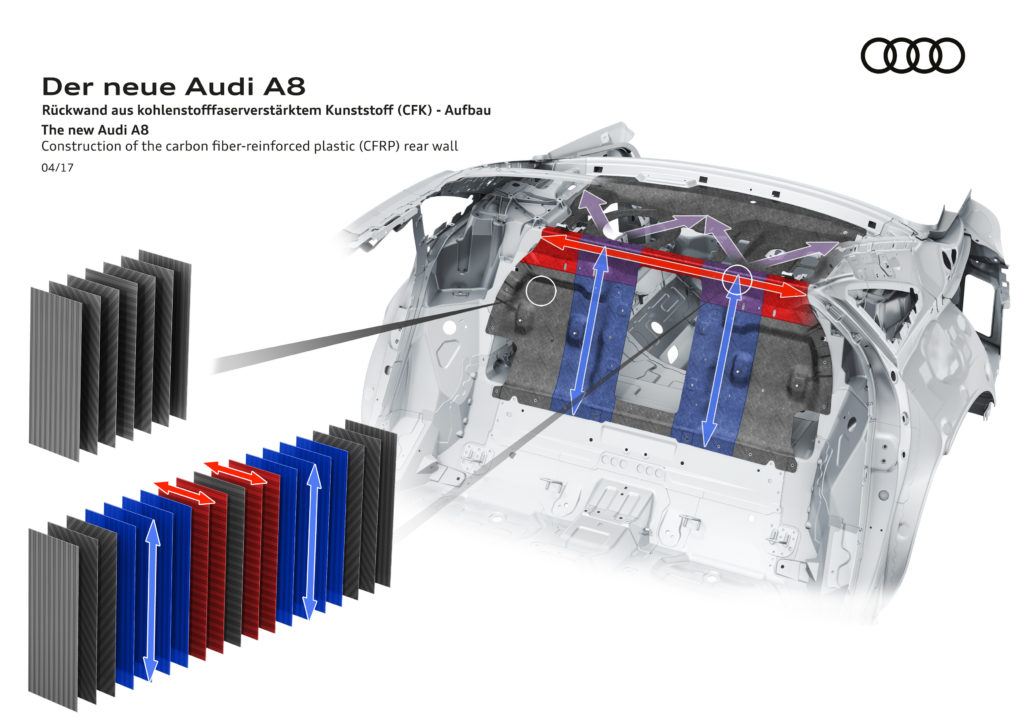 Porsche wheels
Porsche has created 20-inch carbon fiber wheels 20 percent lighter but 20 percent stronger for the 911 Turbo S Exclusive Series, a technology Porsche aftersales technical training collision repair technology instructor Mike Kukavica showed off with a video.
The tire actually "weighs more than the wheel," he said.
Replacement wheels come in at $9,500 for the front, $10,500 for the rear, according to Kukavica. However, you can mount and balance them with standard equipment, he said.
Kukavica said repairers would begin to see much more carbon fiber on Porsches, but on hang-on parts rather than structural ones.
Plastic inserts
Asked about plastics, Kukavica also mentioned a new Porsche magazine referencing plastic inserts in the A-pillar stronger than steel tubes and said repairers might see something along those lines. He likened it to the BMW "Carbon Core," which used carbon fiber to reinforce steel in the 7 Series. However, Kukavica noted that steel and plastic together raised repairability heat issues.
The first 2018 issue of Porsche's Christophorous magazine appears to describe the technology Kukavica mentioned. The publication discusses a "thin-sheet steel profile" A-pillar containing a high-strength steel profile, a likely reference to an inner and outer.
The high-strength steel component is encased in black plastic "with rhomboid struts," and a similar structure braces it internally.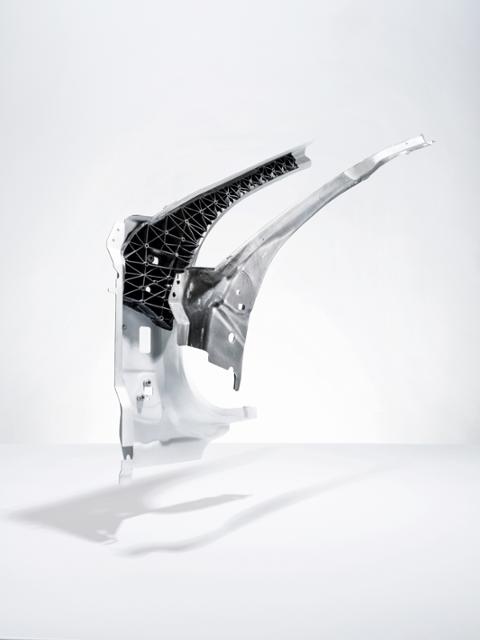 "What you don't see here," Philipp Kellner of the Porsche Structure Predevelopment told Christophorous, "are the two additional layers of thermoplastic glass-fiber plastic panels between the liquid-injected, short glass fiber-reinforced plastic and the metal. We call them organic sheet composites."
Christophorous called the design the "3-D Hybrid A-pillar" and wrote it weighs more than 11 pounds less than than a convertible A-pillar but still doesn't buckle in a rollover.
"With the optimized brace structure made of plastic ribs, it doesn't buckle but instead yields elastically and springs back," Christophorous reported. "Before the year is out, research into this new technology will wrap up, removing the final hurdles to its being used in the Porsche lightweight body of the future."
According to Christophorous, this style is "barely more expensive" than "all other solutions" but is lighter.
Honda has used a similar concept to reinforce some of its fleet. For example, similar to Porsche's hybrid A-pillar, the next-generation Honda Pilot contains a "composite body inner structure" extending down part of its B-pillar (among other locations).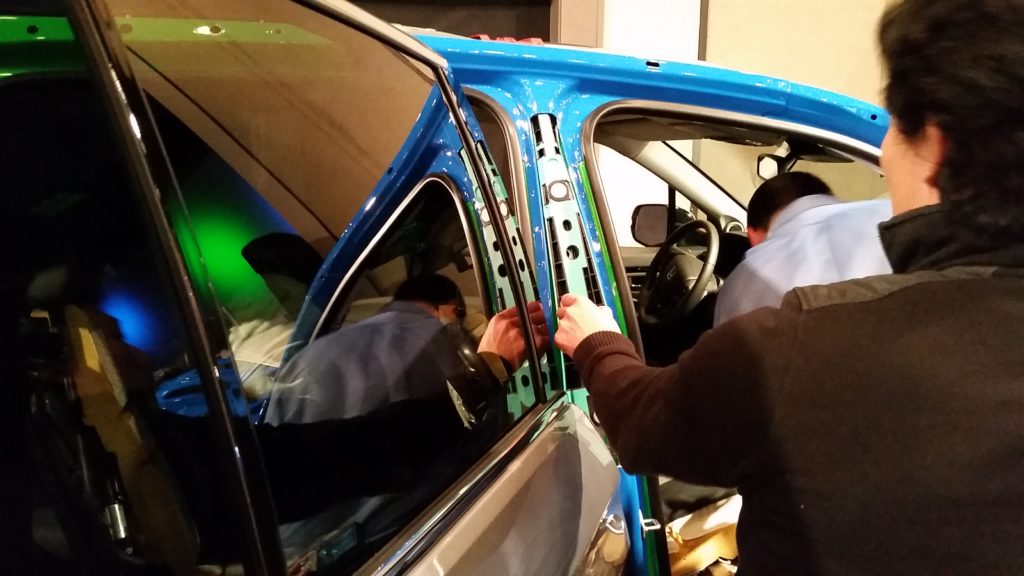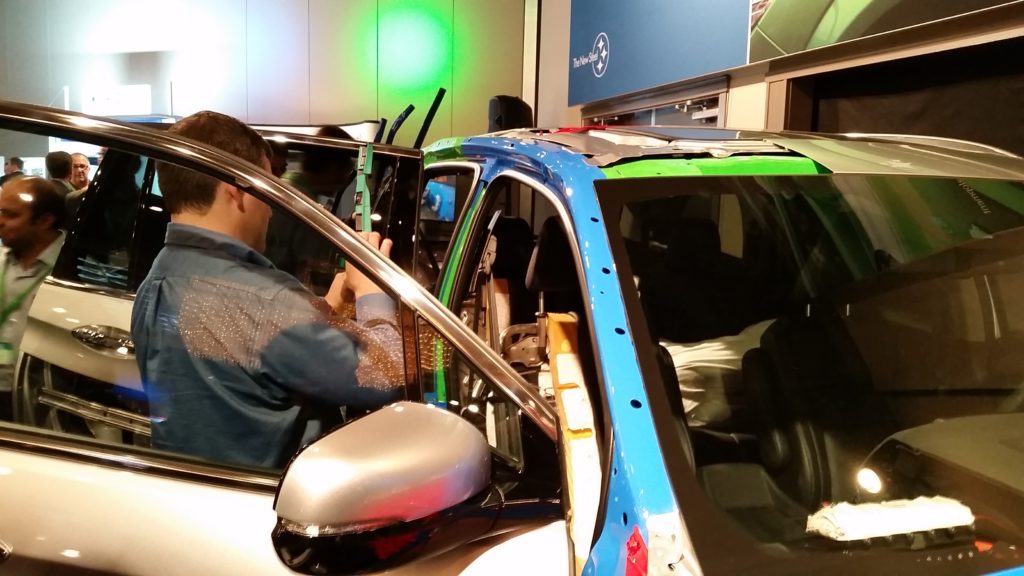 More information:
Christophorous, 2018
"Looking ahead to the new Audi A8: Space Frame with a unique mix of materials"
Audi, April 5, 2017
"The new 20-inch 911 Turbo Carbon Wheel for the 911 Turbo S Exclusive Series"
Porsche, Aug. 18, 2017
Images:
The carbon-fiber rear wall of the next-generation Audi A8 body-in-white is shown. (Provided by Audi)
Audi on April 5, 2017, showed off the "Space Frame" for its upcoming next-generation A8, announcing a body-in-white that used more unique classes of materials than any other A8. (Provided by Audi)
Porsche's Christophorous magazine in 2018 discussed a "thin-sheet steel profile" A-pillar containing a high-strength steel profile, a likely reference to an inner and outer. The high-strength steel component is encased in black plastic "with rhomboid struts," and a similar structure braces it internally. (Provided by Christophorous)
An attendee at the 2016 Great Designs in Steel handles one of the composite body inner structures inside the 2016 Honda Pilot. (John Huetter/Repairer Driven News)
Share This: