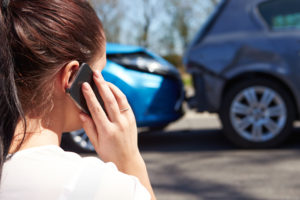 J.D. Power last month announced consumers have reached a new height of satisfaction with auto insurance claims, powered by year-over-year increases in every one of six metrics studied.
Customer satisfaction rose 7 points overall to 868 out of 1,000 in the survey, which polled 11,186 people who filed a claim in the six months before the November 2018-September 2019 study period. J.D. Power excluded anyone who merely had a glass or roadside assistance claim.
J.D. Power solicited consumers' views on repair process, estimation process, settlement, first notice of loss, rental experience and claim servicing.
"Overall estimation, repair and settlement have remained consistent over the past few years," J.D. Power's David Pieffer, who led the study, wrote in an email provided Oct. 28.
Repair has grown by 10 points to 877 since 2017, "and is consistently the highest rated component of the index model," according to Pieffer, J.D. Power's vice president of property and casualty insurance intelligence. "… Estimation is up 10pts. since 2017 to 868 and Settlement has seen the smallest increase at 7pts to 865."
Pieffer also observed J.D. Power tracked a 3 percentage-point increase in the use of direct repair programs, "which now stands at 78%" of repairs.
Nine points of the gain in estimating satisfaction came over the past year, according to Pieffer. He attributed this somewhat to quicker sheets made possible in part by photo estimating.
Insurers finished 20 percent of estimates in a day or less last year, Pieffer said. "This is a 40% improvement in the time it has taken to conduct the estimate," he wrote. "The introduction of photo estimation is driving some of this improvement."
J.D. Power's Oct. 24 news release noted cycle time (defined as first notice of loss to vehicle delivery) had dropped by more than a half-day, from 13.5 days in 2018 to 12.9 days in the new study.
"We have also seen a steady drop in the time it has taken to bring the vehicle to the shop and the time to repair the vehicle," Pieffer also wrote.
Time for a vehicle to reach the shop after first notice of loss fell from 5.61 days in 2018 to 5.11 days in 2019, he said..
"The investment is paying off," Pieffer said in a statement within the news release. "The investments made by insurers in claim digitization and internal process improvements are resulting in shorter cycle times and an improved overall claim experience. Despite this strong performance, there is still some room for improvement, particularly in the area of helping claimants feel more at ease during the first notice of loss."
Photo estimating
J.D. Power last year said photo estimating "can be a double-edged sword." Satisfaction in the 2018 study rose from the 861 industry average in 2017 to 871 if "insurers use those photos or videos."
If customers shot photos or video but carriers "still need to send an adjuster," customer satisfaction in 2018 fell from the 861-point 2017 industry average to 842, J.D. Power wrote in 2018.
"Currently, insurers rely on claimant-submitted photos and videos 53% of the time they are submitted," J.D. Power wrote last year.
Customers got even more upset this year if insurers took photos but had to send an adjuster, according to Pieffer.
"Submitting photos for estimation is a big improvement provide no additional estimate is required," he wrote in the Oct. 28 email. "If the vehicle still requires a physical estimate there is a negative impact on satisfaction.  Asking the customer to take photos and then not using the photos results in a 50pt drop in the overall settlement satisfaction.  When the photos are used there is a lift in satisfaction for repair, estimation, settlement and overall satisfaction for the claim increases by 9 pts."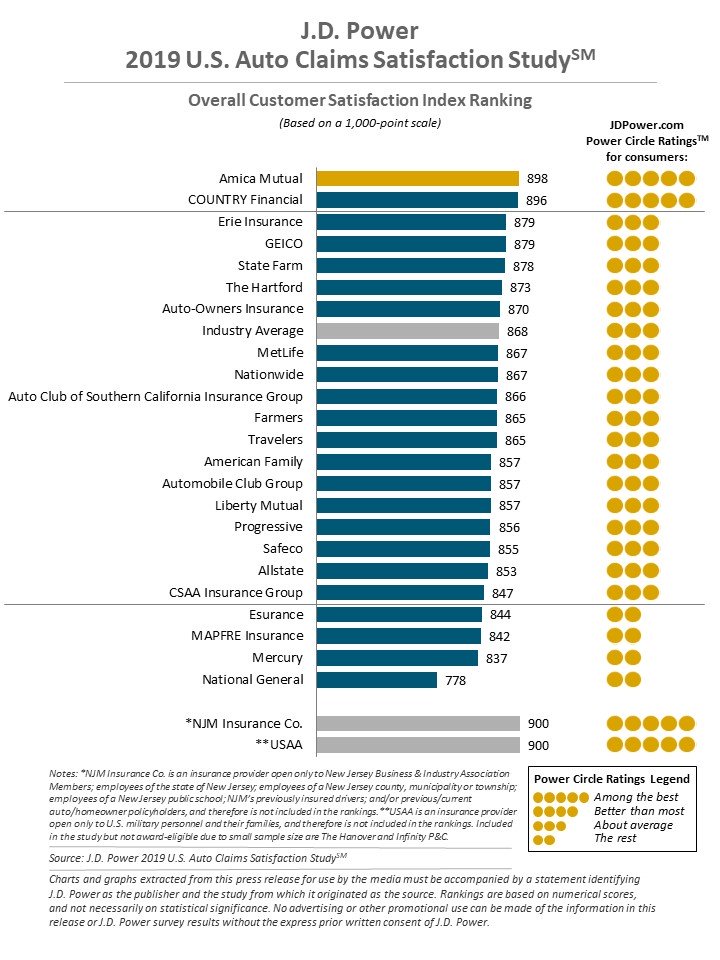 Most satisfied policyholders
In terms of individual insurer satisfaction rankings, Amica placed first (898). The carrier ranked No. 2 in 2018 (887) and No. 1 in 2017 (892).
Second place this year went to Country Financial (896), which didn't make the cut on J.D. Power's "Top 20-odd carriers" graphic in 2018 and ranked 23rd in the 2017 study (837). Third place in 2019 went to Erie, which took first in 2018 with 891 and was third in 2017 with 881.
Auto-Owners, which made the Top 3 in 2017 and 2018, fell to sixth at 873.
Technically, USAA and NJM Insurance tied for first this year with 900-point scores, but J.D. Power doesn't fully count them since they only serve specific populations.
Communications with customers
J.D. Power also made a couple of interesting points regarding insurer and repairer interactions with customers. It called the insurer's handling of the customer at the first notice of loss the most important factor for customer satisfaction.
"The single performance indicator with the largest overall effect on customer satisfaction and brand advocacy is making the customer feel at ease during the first notice of loss," J.D. Power wrote. "On average, the industry meets this challenge just 64% of the time. Younger claimants are significantly less likely than their older counterparts to say they are at ease after initially reporting their claim."
Nationwide usage-based insurance spinoff Spire made a similar point in a recent interview. The company seems to be embracing technology and the idea of discarding traditional insurance practices. However, lead executive Scott Liles also said the company heard "pretty clearly" that the first notice of loss was the "one time" — and the "only time" — that customers "really want to talk to a human." Ideally their mother, he joked. They need a "hug," he said.
And despite other research suggesting consumers love text messages, J.D. Power found "a majority of claimants still prefer proactive, non-digital status updates."
"Preference for digital status updates during the course of a claim has increased 6% over the past two years of the study. However, a majority of claimants still prefer proactive, non-digital status updates, such as calls from the repair facility, calls from the agent and calls from the insurer. When these types of personalized communications are used, customer satisfaction with claim servicing is significantly higher than the baseline factor score."
In other insurance polling news, CRASH Network is running the latest version of its "Insurer Report Card" survey. Take the anonymous, quick study to help customers learn which insurers might be easiest to deal with during claims.
More information:
"Auto Insurance Claims Satisfaction Reaches Record High as Carriers Refine Time-Consuming Processes, J.D. Power Finds"
J.D. Power, Oct. 24, 2019
Images:
J.D. Power in October 2019 announced consumers have reached a new height of satisfaction with auto insurance claims, powered by year-over-year increases in every one of six metrics studied. (monkeybusinessimages/iStock)
2019 auto insurance rankings from the J.D. Power U.S. Auto Claims Satisfaction Study are shown. (Provided and published by J.D. Power)
Share This: