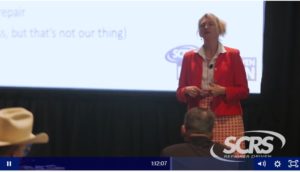 A newly released Society of Collision Repair Specialists video announced Thursday offers shops who missed this year's Repairer Driven Education series a consolation prize: a chance to "attend" a fantastic class from last year.
"(T)here are still plenty of opportunities to take in leading educational sessions through the association's digital platforms," SCRS wrote Thursday in announcing the release of video from "More than Just a Hand Shake:  The Professional Administrative (Legal) Documents You Really Need to Operate a Successful Shop."
The class featured collision attorney Erica Eversman of Vehicle Information Services and Wade Ebert, former owner of American Auto Body, presenting documents a collision repairer could use in their business. (Note: Eversman stressed that the educational session was not intended as legal advice, only as ideas, and the same applies to this coverage of the talk. Anything you see here or in the video and the actual sample documents should be modified in consultation with a qualified state-licensed attorney to fit the laws of your state.)
"Session participants were guided through a series of documents, hand-crafted by Erica and designed to ensure repairers are complying with federal and state consumer protection law requirements; and other documents that will provide powerful offensive and defensive counters to insurer interference and lawsuits," SCRS wrote on the webpage housing the video of "More than Just a Hand Shake:  The Professional Administrative (Legal) Documents You Really Need to Operate a Successful Shop."
"More than Just a Hand Shake" was an entertaining and enlightening class, so good we ended up covering it with three articles. Check out our print coverage through the links below and watch the SCRS video of the full class on the SCRS.com website.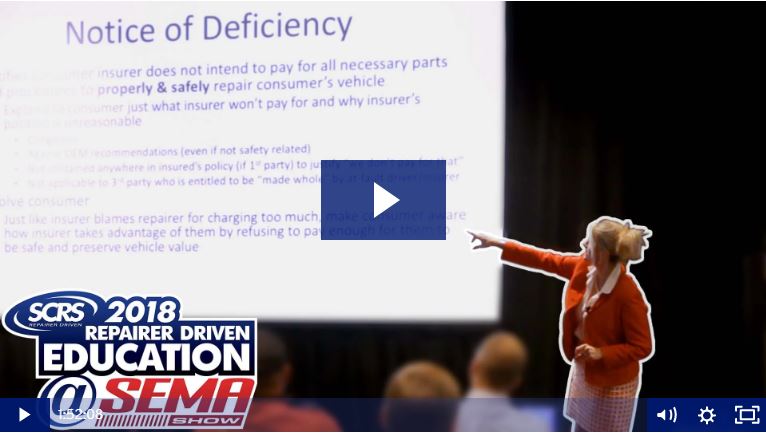 "Solid contract with customer might firm up auto body shop's ability to be paid": Properly establishing a contractual relationship with a customer can strengthen a collision repairer's ability to collect payment for its work, according to Eversman. "Too many people" still rely on a handshake and oral agreement, according to Eversman. Some repairers say they have a good authorization — which won't necessarily suffice, she said. Read more.
"Having right portfolio of documents on hand might counter insurer issues during auto body repair": Notice of additional damages, notice of deficiency, notice of insurer delay, assignment of proceeds, termination of repair, affidavits: Here's some of the other highlights from the documents Eversman described. Read more.
"Eversman, Ebert: Auto insurers can dictate repair or pay for it, but not both": Insurers attempt to play both sides of the fence and dictate both how a repair is done while electing to reimburse the customer for the loss, but the two are actually separate, mutually exclusive choices on first-party claims, Eversman and Ebert said. Read more.
SCRS also delivers educational content through its SCRSCollision YouTube channel, and last week released footage of another 2018 Repairer Driven Education class there.
"Facing Increased Complexity and Liability – How to Protect Your Collision Repair Business!" was led by Intrepid Direct Insurance aftermarket general manager David Willett. It featured a panel of body shop owners Burl Richards (Burl's Collision Center) and Ron Reichen (Precision Body and Paint) and Intrepid Direct customer success adviser Shaughn Kennedy, who holds ASE Master and Tire Industry Association certifications.
Willett's company insures auto body shops, and we discussed liability with him through the lens of the tire repair industry he's also covered during his career. The collision repair industry today stands where the retreading industry did two decades ago, Willett said prior to the course in 2018. He said he feels like "I know what's going to happen." See that coverage here.
More information:
"Attorney Erica Eversman and former shop owner Wade Ebert present "More than Just a Hand Shake" at 2019 Repairer Driven Education (RDE)"
Society of Collision Repair Specialists, Nov. 14, 2019
"Repairer Driven Education: Legal Documents For Collision Repair" video
Society of Collision Repair Specialists, November 2019
"SEMA 2018 RD9 Facing Increased Complexity and Liability"
SCRS YouTube channel, Nov. 7, 2019
Featured images: The Society of Collision Repair Specialists on Nov. 14, 2019, released footage of "More than Just a Hand Shake:  The Professional Administrative (Legal) Documents You Really Need to Operate a Successful Shop." from the 2018 Repairer Driven Education series. (Screenshot from scrs.com)
Share This: