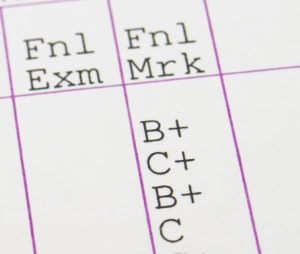 CRASH Network on Tuesday urged collision repairers to take the latest version of its anonymous "Insurer Report Card" survey, calling it a chance to educate consumers.
"The opinion of collision repair professionals, who deal with auto insurers every day, sends a powerful message to insurers and consumers about which insurance companies demonstrate a commitment to quality repairs and service for customers," CRASH Network editor John Yoswick said in a statement. "The highest-graded insurance companies in our previous 'Insurer Report Card' advertised the ranking they earned through their traditional marketing and social media networks. We believe that message of repairer approval not only distinguishes those high-ranking insurers from the companies that earned lower grades, but also gives lower-ranked companies incentive to improve."
Acuity, for example, touted its 2016 third-place A- from repairers within a 2017 blog post.
"At Acuity, we pride ourselves on how our claims department does business with collision repair shops and on providing exceptional service and features for our auto policyholders," the carrier noted. Largely echoing a CRASH Network quote seen in this BodyShop Business, Acuity noted the ability of shops to know "which insurers pressure them to use cut-rate parts, which refuse to pay for necessary work to ensure high-quality repairs, or which add unnecessary delays to the whole repair and claims process."
The 2019 survey takes about three minutes. It asks shops about insurers relevant to their state from a nationwide pool of more than 85, which means consumers can find out how smaller carriers behave too.
"Because each state has a different mix of insurers, the 'Insurer Report Card' allows repairers to grade insurers specific to their state," Yoswick said in a statement. "As in the past, we're asking about more than 85 different insurance companies, making it far more extensive than any similar surveys, which have generally focused on only the 10 largest insurers in the country. The results of the 'Insurer Report Card' can help consumers know, for example, if some smaller, regional insurers they may not be as familiar with are really great at taking care of customers."
Shops are asked to give insurers between an A+ and F "based on how well each carriers' policies and practices ensure quality repairs and customer service," according to CRASH Network. Participants will be kept anonymous and get a free copy of the results.
The survey might also help repairers decide which insurers' direct repair programs to join.
For example, Acuity's blog post quoted DRP Vogel Chevrolet's body shop manager Chris Brunner, who said, "Working with Acuity, they make it hassle-free for the insureds as well as the body shop. The employees are great to talk to if any problems occur and are quick to solve the issue."
More information:
Take the 2019 Insurer Report Card survey
"Help educate consumers by grading the performance of insurers in your state"
CRASH Network, Nov. 12, 2019
Featured image: Take the 2019 CRASH Network Insurer Report Card survey at www.crashnetwork.com/irc. (rjp85/iStock)
Share This: