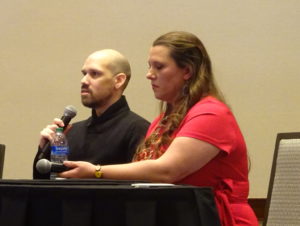 Marcia and Matthew Seebachan last week recounted how a body shop's incorrect repair of their 2010 Honda Fit ended professional and personal dreams, affected family relationships and continues to inflict physical pain.
Their dramatic appearance before the Nov. 5 Collision Industry Conference conveyed what Chairman Jeff Peevy said he intended: the "human impact" of bad decisions.
The car and the crash
Seven years ago, John Eagle Collision Center attached the Fit's roof with adhesive during a 2012 $8,500 hail repair for the vehicle's prior owner. Honda repair procedures called for more than 100 welds.
The Seebachans bought the car six years ago in August 2013, its CARFAX seemingly clean except for a mention of upholstery work, according to their attorney Todd Tracy.
Marcia last week described the couple doing their homework prior to buying the car. She said both sets of parents taught them to look for a vehicle averaging 15,000 miles or less a year, and the couple also researched safety ratings. They evaluated both variables based on the commute Matthew would have to his college.
They settled on the Fit, which had just one previous owner, good mileage and safety ratings and Honda's reputation, she said.
In Marcia's family, it's a rite of passage to drive a new car to her grandfather, "Papa," who had worked for Buick and would check it out, she said. They decided to take the Fit to a family gathering, and called the family earlier that day to let them know.
When the couple didn't show, the family started to make inquiries. The highway patrol ultimately called them back to report the couple had been involved in a crash.
The Seebachans had been traveling on a 75 mph stretch of road on Dec. 21, 2013 when a 2010 Toyota Tundra in the other lane hydroplaned into their path, leading to the Fit striking the right front quarter of the Tundra in a T-bone collision.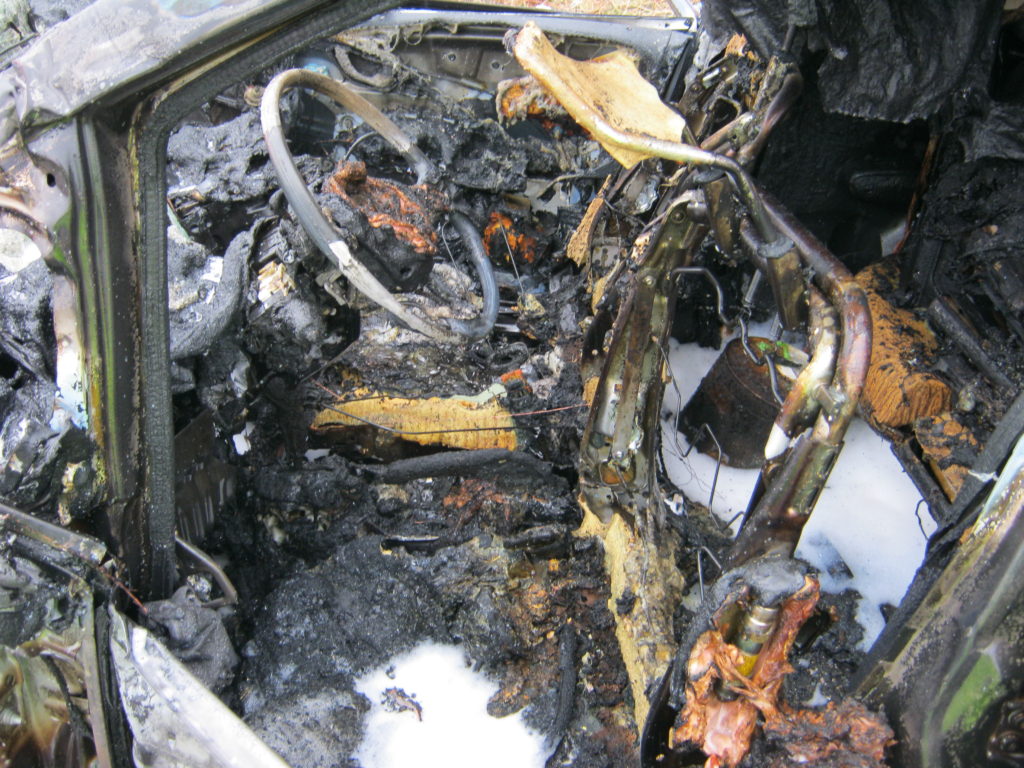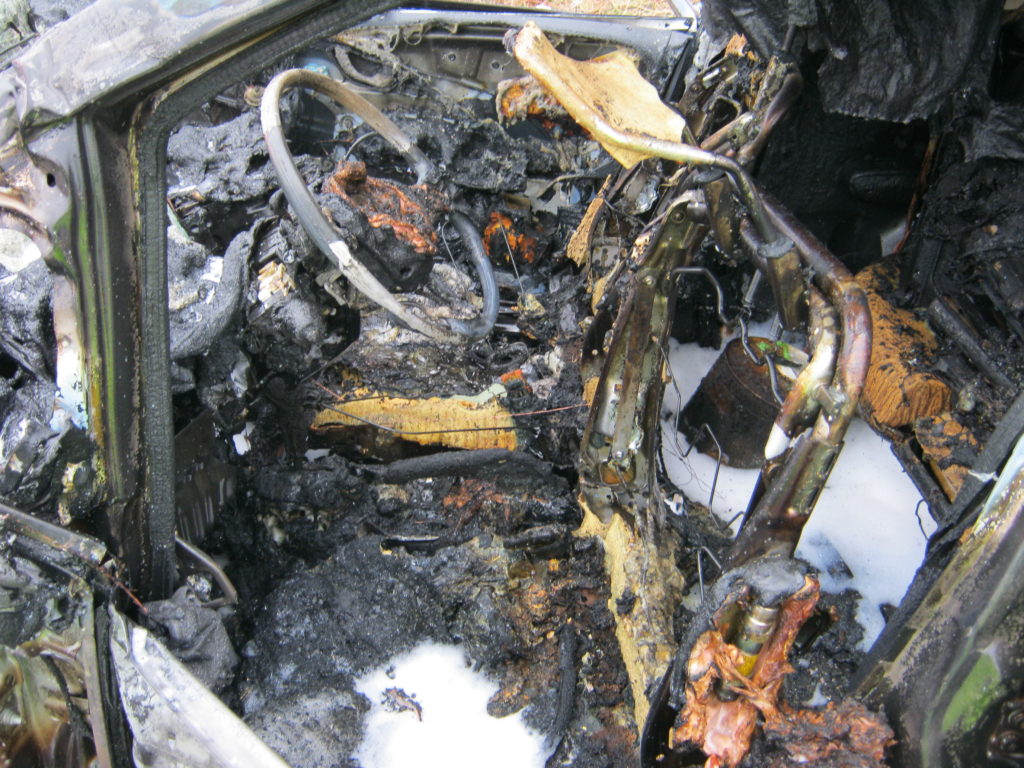 Matthew, who was driving, recalled seeing a pickup truck seemingly "parked sideways" across the highway and filling up the windshields.
After that came a "blank space." He remembers waking up to the smell of rubber, Marcia not in the vehicle and someone trying to free him from the Fit. The vehicle had caught fire in the collision.
Marcia said their rescuers were a man picking up his son from Ford Hood; they saw the wreck and stopped to try and help. Other onlookers had told them to get away, for the vehicle was burning.
She called them "very important people" to the couple, and they keep in touch.
After being extricated, he remembers the car "smoking" and the "flickering of the fire," he said.
Marcia only remembers the night before the accident. She was unconscious when the rescuers found them and pulled her out; they thought she was dead. The next thing she recalls was waking up four days later and learning Matthew had been transferred to a hospital specializing in burn victims.
She said she thought her parents were lying and her husband was actually dead. She didn't believe he was alive until the next day when her sister-in-law visited and confirmed it.
Both Matthew and Marcia suffered significant injuries because of the crash. He said he specifically remembers being able to see the muscles and tendons exposed by his burns, a "pretty bad" gash on his forehead, and a left elbow broken so severely it "felt like a bag of rocks."
Matthew's burns required two full years to heal, with the couple forced to clean them that entire time, Marcia said. Matthew called it a "big part of my day."
Both of Matthew's heels were broken in addition to his burns, which he called "an issue on top of an issue." His most recent surgery was in December 2017 — four years after the crash.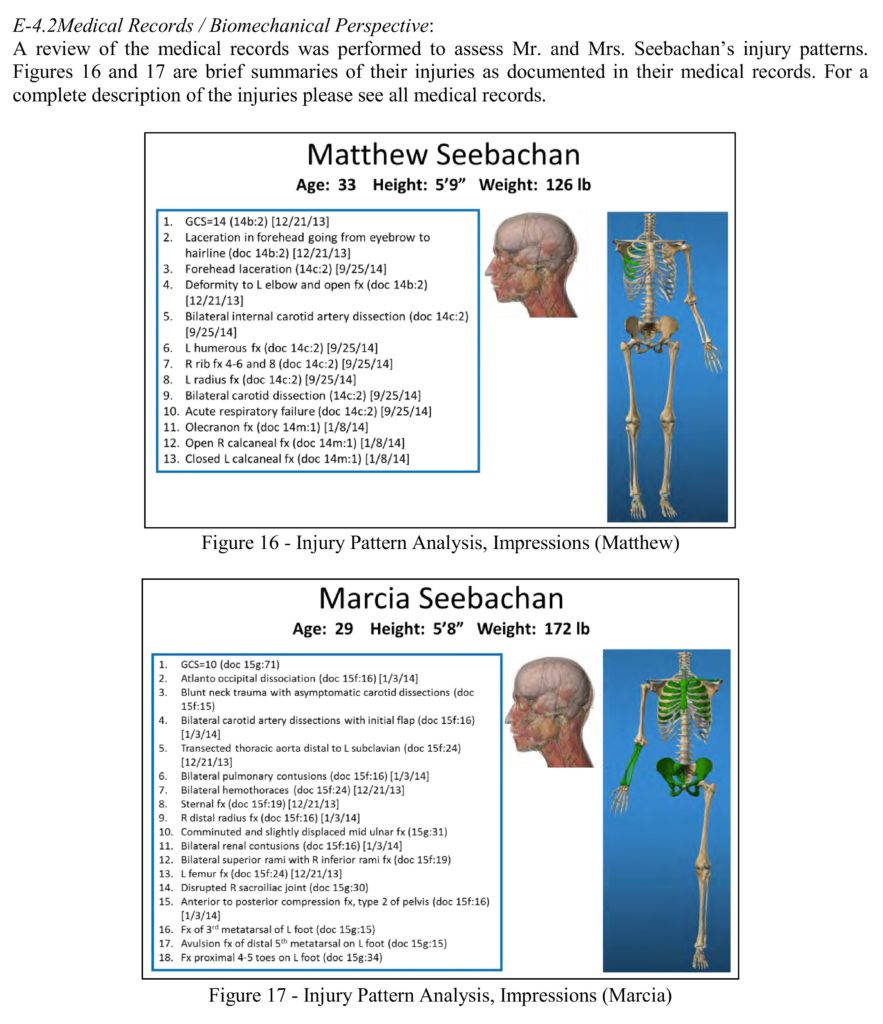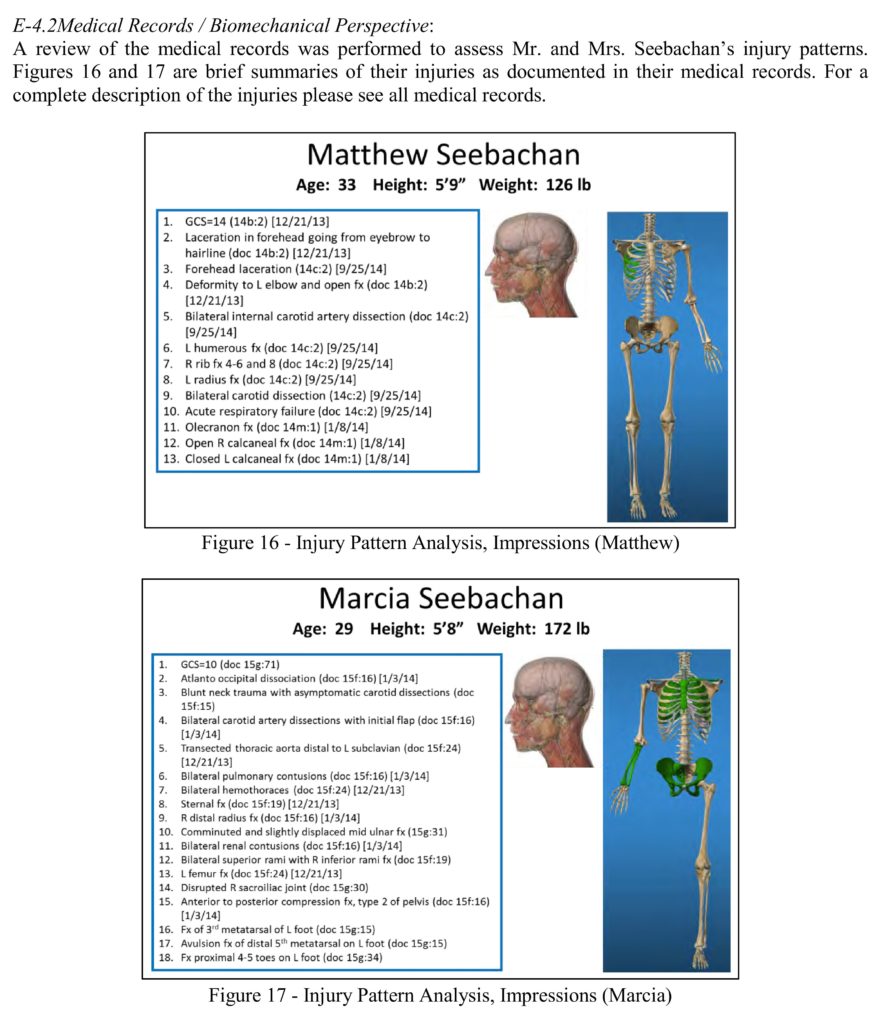 Marcia said the collision tore the tendons between her spine and skull — and had the crash occurred two years prior, she would have been paralyzed given the state of medical science. Both had damage to their carotid arteries, and her pelvis was shattered.
Had the OEM procedures been followed, Marcia said she thought the predictable crash outcome had been determined to be just "one broken leg" for Matthew.
The 2010 Honda Fit has a "good" rating on the IIHS' 40 mph moderate-overlap crash test — which an engineer appearing for the Seebachans called "virtually identical in terms of crash forces."
"The Seebachan's would likely have had only minor injuries if not for the faulty repair," wrote Neil Hannemann, an engineer who has worked on the Ford GT and Mercedes SLR.
Getting an answer
Marcia said began to consider the possibility of a flaw in the vehicle while discussing Matthew's burns with a friend.
The friend wondered why the car caught on fire. Marcia said she had thought a crash starting a blaze was inevitable.
The friend pointed out that cars are designed specifically not to catch fire. Marcia said she realized it didn't make sense either, but being in the hospital, she couldn't really consider it.
Because both Matthew and Marcia were recovering, an attorney handled all of their insurance issues. Marcia said her father played "42" with a woman whose son was an attorney in East Texas and connected the couple with the man.
The attorney handling the insurance looked at the Fit and said,"'This just doesn't look right.'" He asked if he could tow it to Tracy, who he said he'd known for a while and who was more versed in such matters. (The Tracy Law Firm specializes in vehicle liability and has a crash lab.)
"I said, 'I don't care. Do whatever you need to do,'" Marcia said. She was focused on physical therapy.
That investigation determined something was off, and the repair history of the vehicle needed to be checked, she said.
That was the first indication something had been done incorrectly, Marcia said.
Tracy in 2017 said he originally looked at Honda's engineering as a culprit, but eventually traced the roof failure back to work by John Eagle Collision.
Marcia said they realized it wasn't just "a series of unfortunate events," but "something intentionally chosen to have been done to the vehicle," she said.
It was one thing to deal with trauma which was "unraveling your life," but to learn that someone's choices increased the likelihood it impacted you was "retraumatizing," she said.
Two years ago, a jury ordered John Eagle Collision to pay the Seebachans $31.5 million, ruling the repair 75 percent responsible for the Seebachans' ordeal. They later settled with the shop for an undisclosed amount.
A subsequent lawsuit alleged the improper repair was due to State Farm's pressure on the hail repair, citing testimony by a John Eagle Collision body shop manager. However, the manager in the same deposition described the adhesive on the Fit was the repairer's call and a better repair than Honda's welds. That litigation was ultimately dropped, with both sides agreeing to pay their own legal fees. "The case has been resolved satisfactorily to both sides," Tracy wrote in an email.
Peevy said the Seebachans' appearance at the CIC wasn't about individuals or companies involved. It was about the "human impact" of bad decisions. Everyone in the gathering of insurers, vendors, collision repairers, OEMs and others made decisions, and choices could affect the safety of others.
Matthew said he was struck during the CIC discussion by the "domino effect" from a specific improper repair. It affected the vehicle in the crash, he said. But another domino was finding the attorney and having someone to fight for them, which he called "unusual." The outcome of the case was also "unusual," he said.
"But there's so many people that this probably happens to that either … don't know what the domino effect that caused the issue was, or they don't have the help," Matthew said.
Marcia said they were "fortunate" in receiving answers.
"I think it would be intentionally naive" to pretend their situation hadn't happened to someone else, resulting in injury or death.
"It would just be naive," she said.
She said "it was so helpful" to have answers, in "even just the healing process, to understand better that there was an actual series of things that contributed to this."
"Most people don't get to know" the reasons behind blows like the death of a family member or other traumatic events, she continued.
"We were fortunate to get that answer," she said.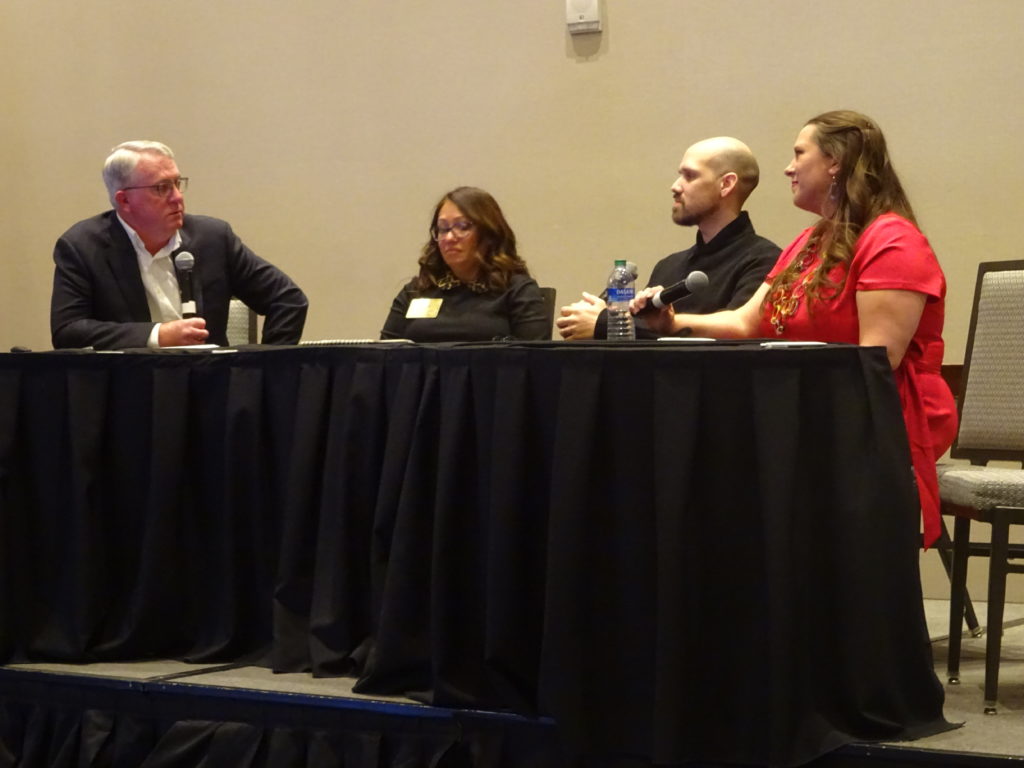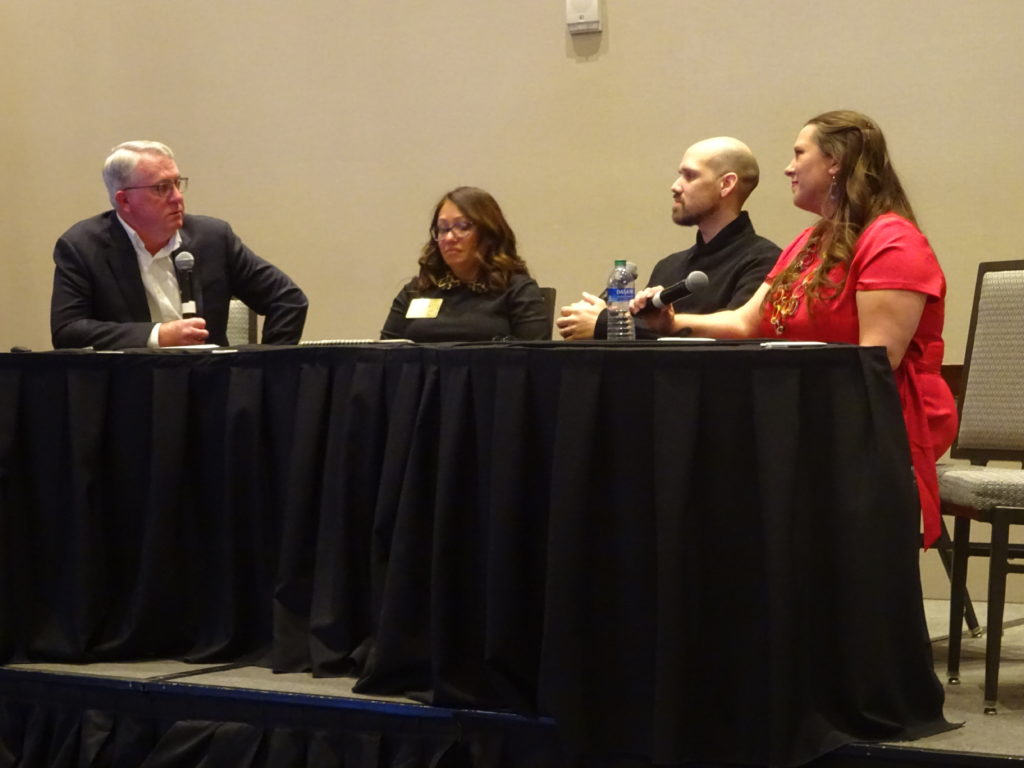 Lives changed
The Seebachans have answers and won their case. But they continue to suffer because of the incident.
Matthew was in college with a 4.0 when the couple wed. His goal was to work in health care, and ultimately decided to be a registered nurse, Marcia said.
Marcia had met him as a customer at his work and "was immediately impressed by his customer service" — he went the extra mile to help people without any sign they were a chore. Nursing seemed like a perfect fit for him, she said.
But he will never be able to return to school or work because of his physical condition, she said. The couple had to revise their hopes and "grieve those parts of our lives" and how they had seen their future.
Both Matthew and Marcia are close to their siblings, and she used to be a social worker. They hadn't decided on biological children, but they knew they wanted to foster siblings so as to keep families together.
That's a plan they "kind of had to grieve and let go of," Marcia said.
Because of the limitations on Matthew, "any opportunity for parenting is just kind of gone," she said.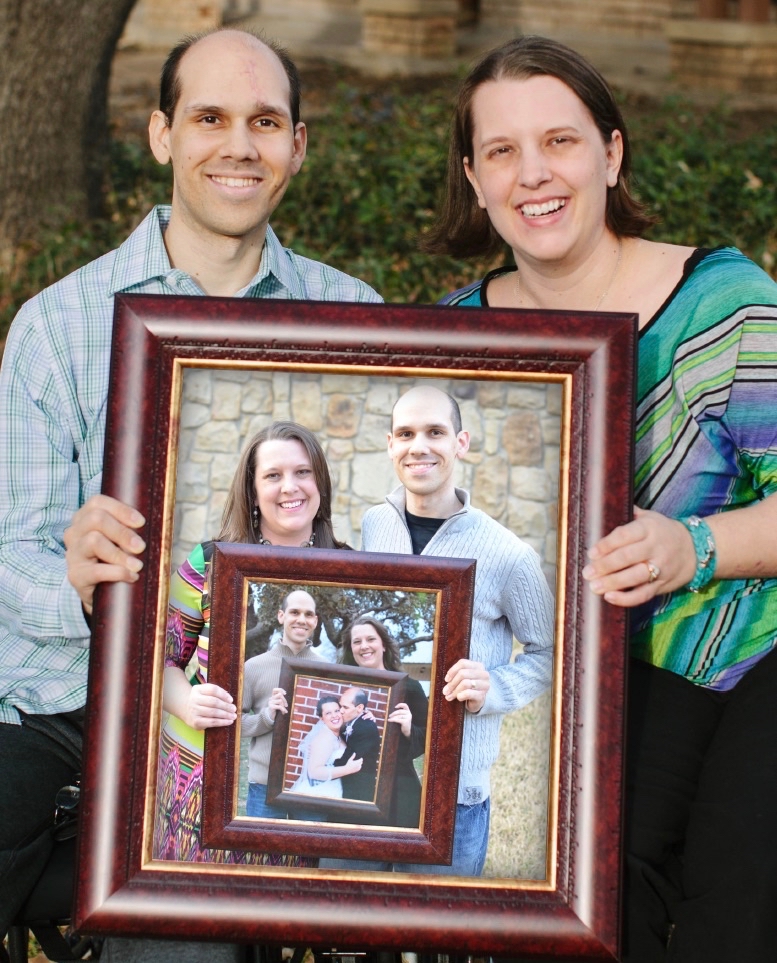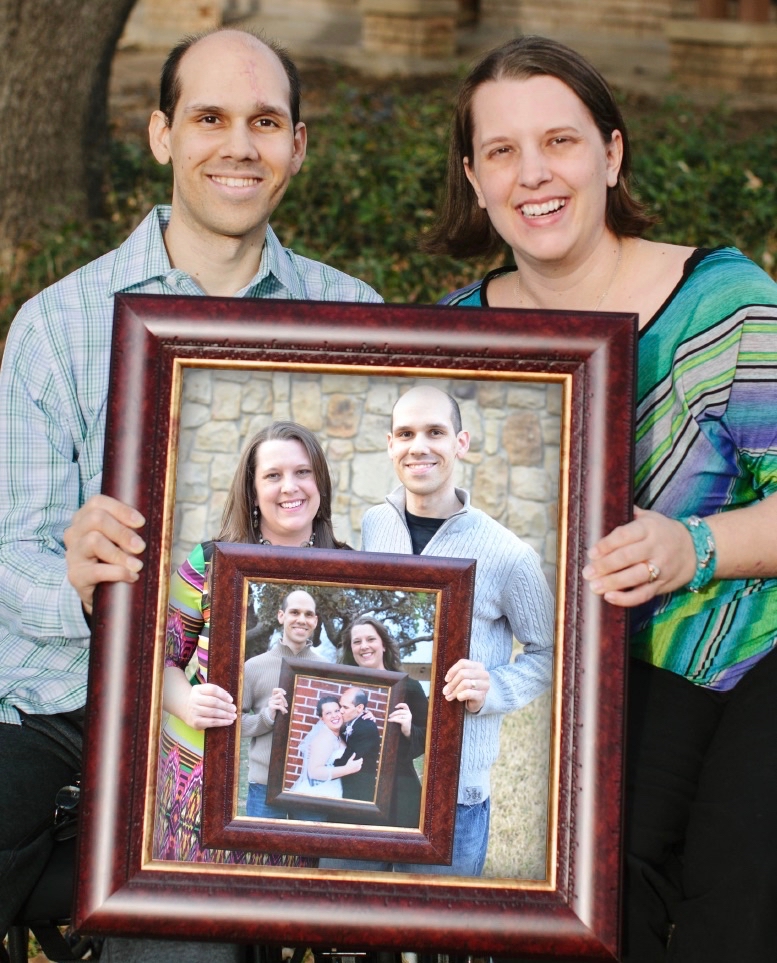 Marcia said "pain is constant" for both of them, though hers is more manageable. Matthew said his is so severe that sometimes he can't focus and must curl up in bed.
Marcia agreed, calling Matthew's ability to function "very inconsistent." Thirty hours before they prepared to depart, he was bedridden, and they couldn't have a meaningful conversation.
"Everything is hour by hour," she said.
The couple's relationship with extended family has been compromised because of the repair as well.
Their oldest niece was a toddler when the incident occurred and has a good relationship with both of them, Marcia said. She recalled the niece curling up in her hospital bed, and said the girl will say hi to "Aunt Marcia" and then immediately ask "'Where's Uncle Matt?'" at visits.
But their child relatives born after the crash don't have that kind of relationship with Matthew, though they do somewhat with Marcia. "They haven't had us in their lives as much," Marcia said.
Matthew's pain also prevents him from going to family functions, and planning one is on how they're feeling, Marcia said. Any function needs a "backup plan" Matthew said. There must be a place to sleep, rest and take medication, according to the couple.
Marcia said she thought while preparing for the CIC about how many decisions they had to make were based upon their injuries, and it was "just impossible" to count them all.
Shoes, clothes, airlines, flights, "everything," was governed by injuries," she said.
"It's like having a third person traveling with you," she said.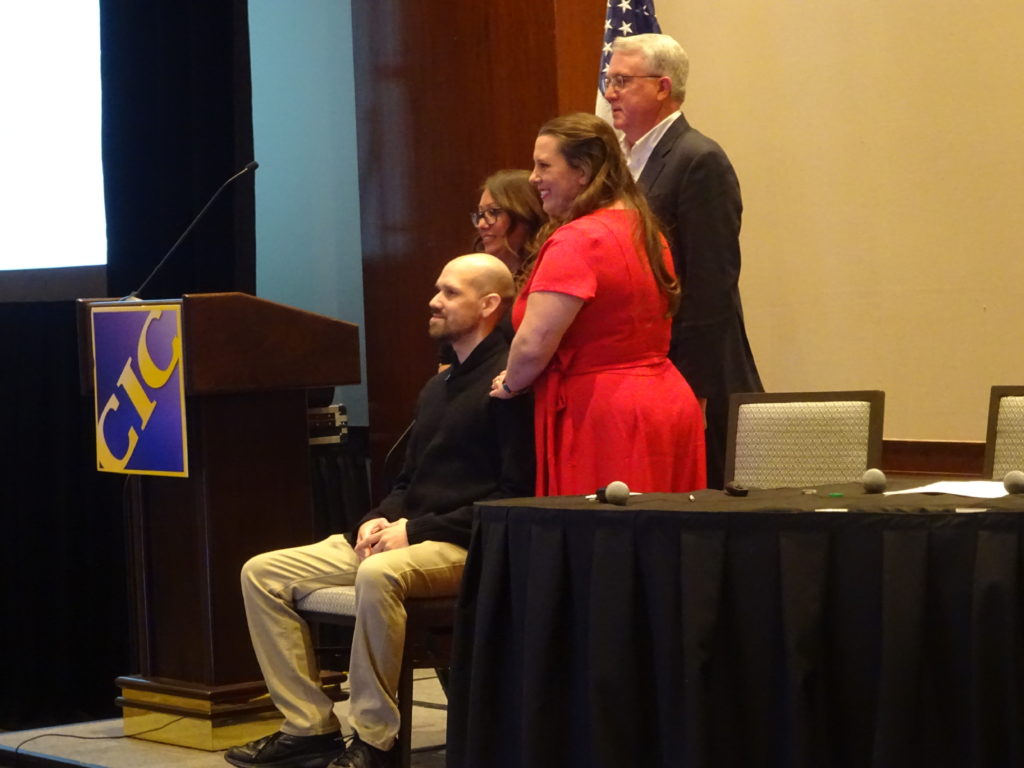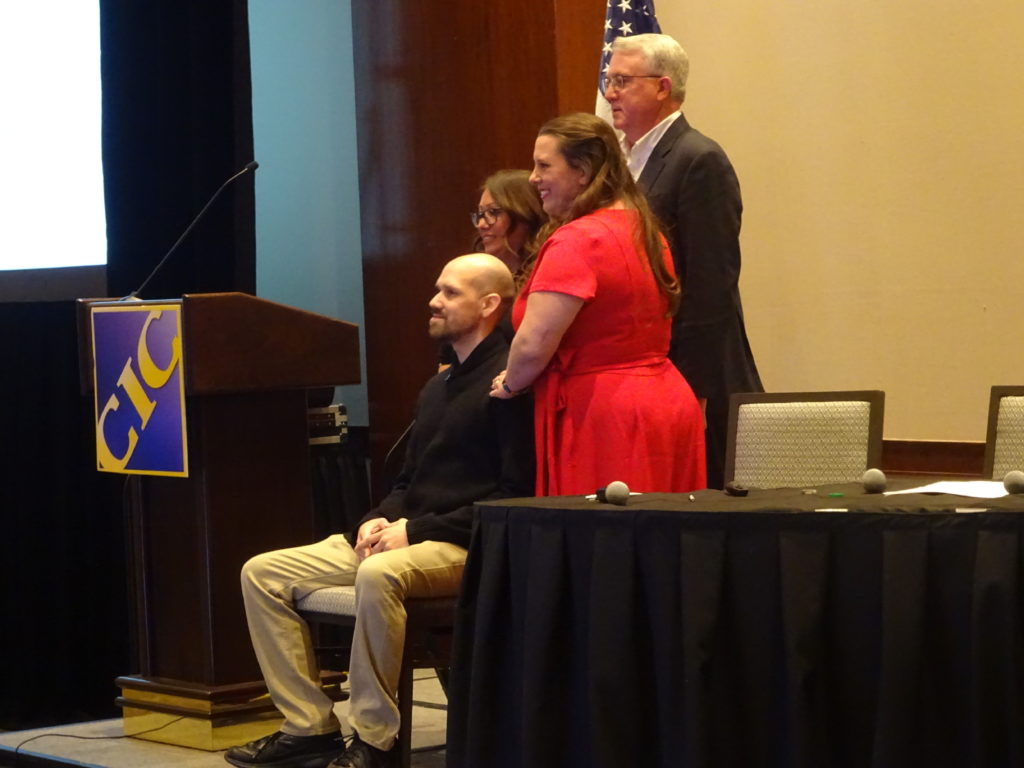 Going forward
Peevy said the couple were saving lives through their strength and by courage and by sharing their story with the CIC (and a subsequent video).
Marcia said the couple would never pretend other people have had trauma upend their lives, but not everyone has an opportunity to do something good with it. She said she felt they had received an opportunity to do that, and that was the "most meaning" they could obtain from the experience.
"We're very grateful for that," she said.
Peevy has throughout his tenure as CIC chairman placed an "empty chair" on the stage of every session, meant to remind the gathering of insurers, vendors, OEMs and auto body shops of the customer. He said he promised to fill it, and did so with the Seebachans.
"I would like to fill it some more," he said.
Peevy also said he would like to see the industry "put the value of a human life ahead of everything else. And to me that changes the conversation."
More information:
NASTF OEM repair procedure portal
Images:
Matthew Seebachan, left, and Marcia Seebachan appear before the Collision Industry Conference on Nov. 5, 2019. (John Huetter/Repairer Driven News)
North Dakota State University Impact Biomechanical Laboratory director Mariusz Ziejewski evaluated the injuries of Matthew and Marcia Seebachan following the crash of their 2010 Fit. (Provided by Tracy Law Firm)
From left, Collision Industry Conference Chairman Jeff Peevy (Automotive Management Institute) and his wife, Marie (Automotive Training Coordinators), interviewed Matthew and Marcia Seebachan on Nov. 5, 2019, during the Collision Industry Conference. (John Huetter/Repairer Driven News)
Matthew and Marcia Seebachan were seriously injured after their 2010 Honda Fit collided with a hydroplaning 2010 Toyota Tundra. (Provided by Tracy Law Firm via PRNewsFoto)
Seated, Matthew Seebachan sits in the symbolic "empty chair" used by Collision Industry Conference Chairman Jeff Peevy, standing, at CICs to symbolize consumers. Second from left is Peevy's wife, Marie, who helped interview Matthew and Marcia Seebachan, second from right, during the Nov. 5, 2019, CIC. (John Huetter/Repairer Driven News)
Share This: