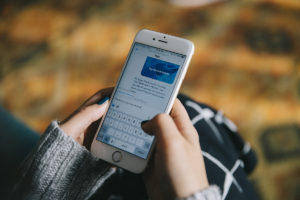 Text messaging can help a body shop catch and keep customers and move them through the process faster, a Podium executive said Wednesday.
"More and more people are putting the priority of convenience higher … than even loyalty," Podium auto services division director Brett Steele said in an interview.
Steele will make the case for "Why your collision center should be texting" to shops next month from 9:30-11:30 a.m. on Tuesday, Nov. 5, during the Society of Collision Repair Specialists' Repairer Driven Education series at SEMA. His company is among the many providers offering business text messaging management services.
Steele said a customer might select a shop based on reviews and certifications, but "if it takes me a day and a half" to get in touch with the repairer, "someone else may get back to me faster."
Twilio and Vanson Bourne's study of 6,000 people in seven countries released in 2016 found 89 percent would like to message a business to communicate. 85 percent would like to respond to a business' message that way as well.
"Messaging is also 3-8x more preferred than face to face communication across all generations," Twilio wrote.
Texting also could help shops beat out their rivals by allowing customers to make an appointment after hours.
Steele said 36 percent of collision repair customers try to contact the shop outside of regular business hours, and CCC in 2017 reported its Carwise data found 37.8 percent of visitors looking for a body shop outside of normal hours.
"That initial contact is a big part of their decision process," Steele said. Does the consumer have to fill out a lengthy form or play phone tag to get a message to the shop, or can they just shoot over a text?
Asked how shops manage such communications since it's still after hours, Steele said some use call centers. Others might have an automated reply acknowledging they received the message and promising to follow up, setting customer expectations, he said. Some might rotate which employee shares the responsibility for responding after hours and "share the weight," Steele said.
We asked if consumers texted rather than called during business hours too. "We do see that," Steele said. He mentioned that customers might want to "get the box checked off" that they reached off, and he also mentioned a desire not to be put on hold.
Consumers tend to initiate text messages from a repairer's website, whether through a web chat that transfers the conversation to an SMS text message or a link to text the shop, according to Steele. He said they seem to prefer texting to messaging through Google, Facebook or Instagram, and described customers progressing through a research stage (reviews, etc.) to find a shop and but then still visit the repairer's website.
Body shops also can decrease cycle time by following up with a customer and getting them into the facility quickly to pick up their vehicle, Steele said.
"About 90% of all text messages are read within 3 minutes of their delivery – and over 99% of all text messages are read by the recipient," MobileSQUARED wrote in a June 2010 report commissioned by SinglePoint.
Gartner in 2016 cited "various sources" to call the SMS text message open rate 98 percent, compared to 20 percent for email. It said text messages have a response rate of 45 percent, versus 6 percent for email.
"This is partly due to the number of messages a typical user receives for each type," Gartner wrote. "Users need to wade through far more email noise than SMS."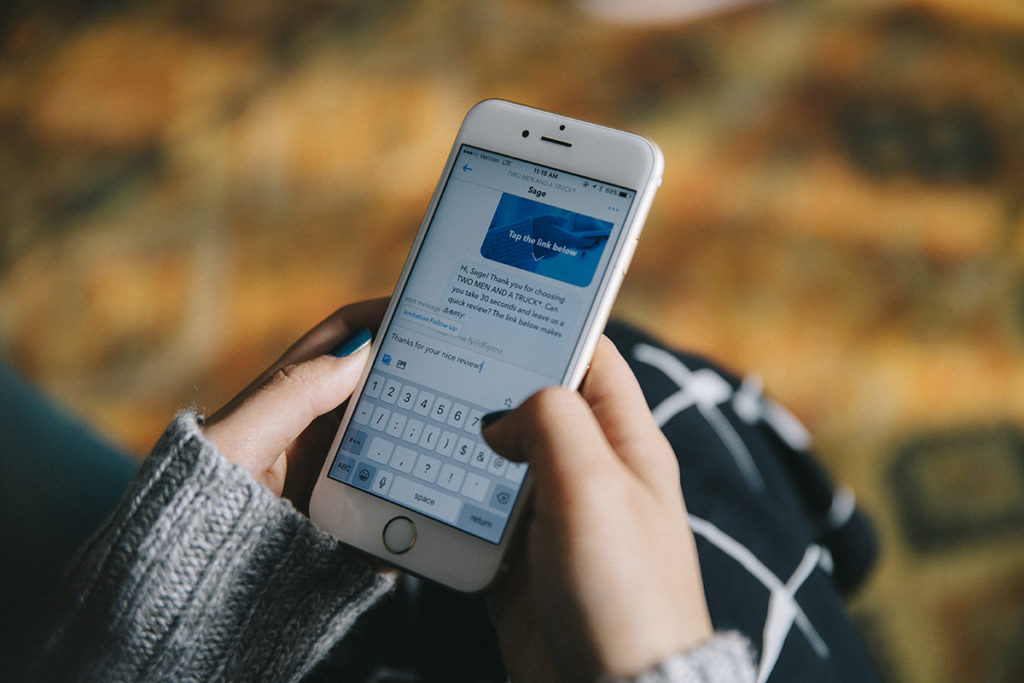 Steele also said customers might not expect to get a speedy response to an email. "We have so many unopened emails," he said.
Steele offered the following scenario for how texting such a customer could help with cycle time. The shop calls the customer to notify them the vehicle is done. The customer is at work, and because they don't recognize the number, they let the call go right to voicemail. They don't listen to the voicemail until 6 p.m., and "now you're closed." They can't pick up the vehicle until the next day.
But with a text, the customer is more likely to see the message and might make the effort to get in that day.
Steele said Podium has found texting a customer with a request to hold a phone call has been a successful way to get them on the phone. The company has seen an increase in calls answered through such a technique. He also suggested a repairer leave a text with a callback request instead of a voicemail.
Podium also pitches using a text message to solicit reviews, which is a clever idea given the customer already would be operating a smartphone.
"Instead of focusing on slides, this session will feature a highly interactive learning experience that will educate shop owners on how to modernize their communication channels," a course description for Steele's Repairer Driven Education class states. "This will help shop owners to earn and retain new customers, improve online reputation, and ultimately strengthen the business."

Personal touch
Podium sells means of automating texting to customers, but Steele and Podium public relations coordinator Karen Rodriguez both advised repairers apply a personal touch. This could be as simple as spending a minute and a half to personalize a templated response, such as calling the customer by name, Steele said.
Any "personal touch" will increase customer satisfaction, he said.
You want to reassure a customer that you're not a bot, according to Rodriguez.
"People are just tired of that," she said.
Completely automated answers to purely routine questions such as store hours or directions are OK, but nothing beyond that "would be well-received," Steele said.
Sign up for Steele's Nov. 5 class individually for $85, or get access to it and everything else in Repairer Driven Education SEMA Week by purchasing the $400 full series pass. The latter lets you into any every class Nov. 4-6, the OEM Summit and Sky Villa afterparty Nov. 7 and the IDEAS Collide Showcase on Nov. 8. Learn more at www.scrs.com/rde.
Images:
An example of an interface used to manage text/SMS messaging with customers. (Provided by Podium)
Text messaging can be used to solicit reviews. (Provided by Podium)
Share This: