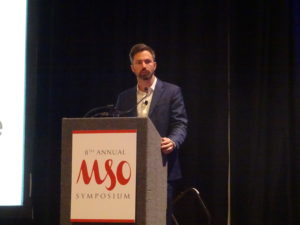 Uber last month made a pitch to collision repairers that it could replace traditional industry transportation methods like rental vehicles and chase cars.
Uber for Business general manager Neal Watterson told the MSO Symposium on Nov. 4 that his speech marked the first time someone from Uber addressed the body.
"It's been a long time overdue," Watterson said.
On Nov. 5, Uber in a news release said it "announced several updates to Uber Central and Uber Vouchers, including new functionalities that significantly speed up the process of coordinating courtesy rides for customers and guests, especially for companies in the automotive space."
Watterson called ridesharing a platform businesses could build upon. He said Uber for Business offered options for both employee travel and for serving a company's customers, and it could reduce complexity and cost. Some Uber clients were able to reduce travel costs 5-10 percent, he said.
Use cases include OEMs increasing brand loyalty by offering vehicles and dealerships increasing CSI with promotional rides, Watterson said.
"Since launching Uber Central in several of our dealerships, I can't even imagine having to switch back to just a shuttle service! It comes down to ease of use and customer satisfaction," Larry H. Miller Dealerships fixed operations Vice President Dan Johnson said in a statement. "Customers appreciate that each ride is custom suited for them. Many of them find it inconvenient to sit through 3 or 4 other customer pickups or drop-offs before it's their turn. Customers also prefer rides from Uber to receiving a loaner vehicle because it is quicker and easier, with no liability or stress."
Roadside assistance companies could dispatch an Uber immediately after a collision and avoid the customer riding in a tow truck, Watterson said.
The major roadside assistance provider Agero in June announced a similar system in partnership with Lyft, which means repairers who run tow services definitely should pay attention to this customer service trend in particular.
"One in three drivers will have a breakdown event each year and approximately half of those breakdowns require a tow," Agero product marketing and innovation Vice President Luis Quiroga said in a statement then. "While it has always been Agero's mission to get consumers back on the road safely and effectively during these stressful times, our partnership with Lyft further enables us to deliver a differentiated, on-demand and convenient experience consumers expect, while also helping our insurance and automotive clients increase their customers' satisfaction and drive brand affinity."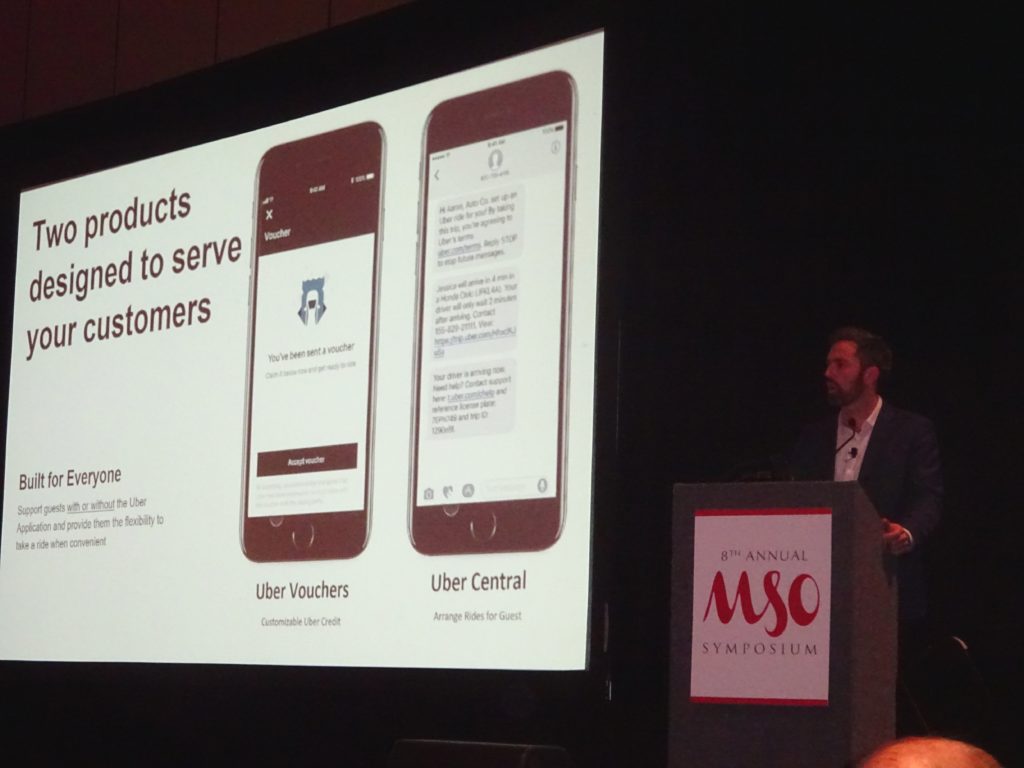 "With roadside assistance, time is of the essence, and our partnership with Uber for Business addresses this priority," Urgent.ly CEO Chris Spanos said in a statement.  "In a recent survey, nearly two-thirds of motorists expressed the importance of having a rideshare available in the event of a breakdown, with convenience as the most important factor. Urgent.ly's partnership with Uber for Business allows motorists to opt for a ride with Uber that allows them to go directly to their next destination, rather than riding in a tow truck to where their car is being repaired."
Collision repairers could offer customers an Uber instead of a rental car or shuttle, according to Watterson. He said the service also could remove the need for dispatching a second employee in a chase car.
Tesla jettisoned nearly all of its loaner fleet by switching to Uber credits, Watterson said, describing these as $100 worth of Uber rides each day the customer's vehicle is in a shop. Tesla had "tremendous" success with this, he said.
Insurers could offer more roadside assistance and avoid rental cars as well, he said.
The longer duration required for a collision repair compared to a mechanical service and repair operation raises the question of whether Uber would be more cost-effective than a rental or loaner since the customer would be looking at more trips.
According to Enterprise collision industry relations Assistant Vice President Dan Friedman in the latest Mitchell Industry Trends Report, the average length of rental in the third quarter rose 0.4 days to 12.4 days.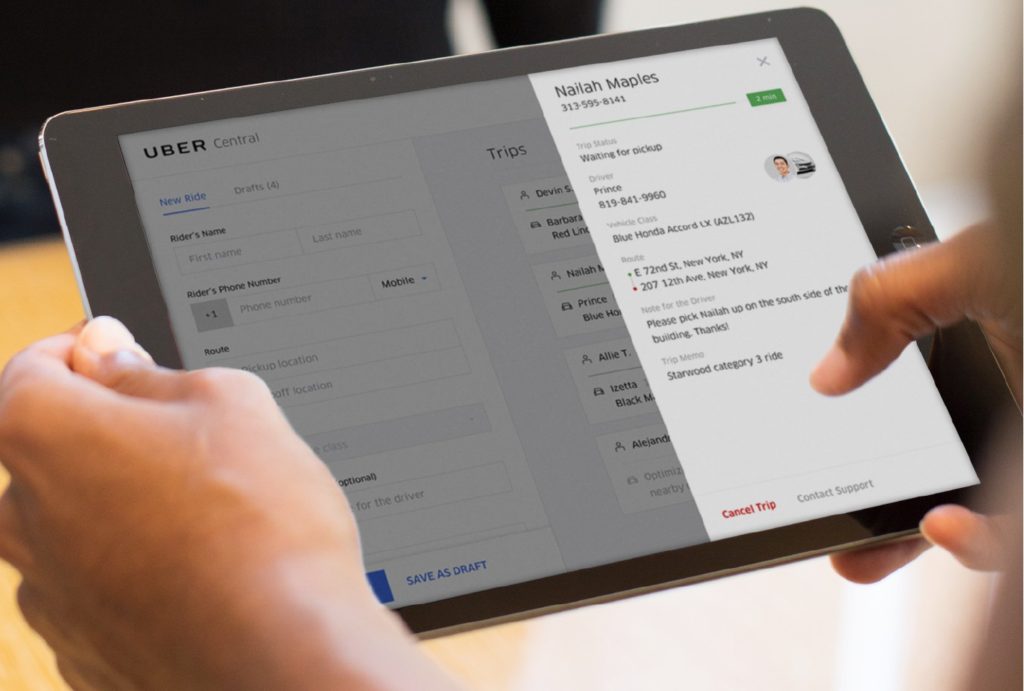 Uber's pitch is that the customer might not need enough rides to push the cost of an Uber over the price tag for a rental or in-house loaner. If the customer's only travel is to and from work at $15 each way, buying them $30 in vouchers might be cheaper to the shop than paying for a day of a rental car that's mostly sitting unused.
Businesses who use Uber might see a value in their ability to keep the "breakage," according to Watterson. If you gave a customer $20 in Uber vouchers and the customer only used $10 worth, the shop only owed Uber $10.
Watterson said Uber offered businesses two options. A company could obtain Uber vouchers and provide them to customers who would arrange their own rides. A company could also use Uber Central, which permits the business to dispatch rides on behalf of others. Watterson said vouchers could be tied to geographic locations, such as your shop.
Agero described a similar set of options available through its partnership with Lyft. Either an Agero agent sets up the ride and texts the details to the consumer, or the consumer receives a voucher and can just schedule their Lyft ride themselves.
Uber provided an "elegant" way of addressing a major pain point with customers scheduling automotive repair, AutoGuru CEO Eden Shirley said in a video Watterson showed the audience. The video depicted a customer receiving a text message with a link that loaded an Uber voucher right into the Uber app.
Another video described how a business set up a ride for a customer on Uber Central using just the patron's name, phone number and destination. The customer didn't need the app; it's handled by text messages, according to the video and Watterson. Watterson said a text would mention your business name for brand reinforcement.
As you only paid for the rides you ordered, a business could save the costs of a shuttle or courtesy car, the video said. Uber wouldn't charge a setup fee or demand a minimum level of spending, its narrator said.
Watterson said Ryder Fleet Management Solutions has been able to cut the company's transportation cost per unit 4.7 percent to date in 2018.
Safety
Watterson called safety the company's "No. 1 priority" and reassured the audience that their customers and employees would be safe in an Uber.
The company monitors its drivers' speed and will notify them to slow down if their vehicle appears to be traveling recklessly, he said. Uber also will contact both the driver and passenger and check on their well-being if it looks like something unexpected has occurred, such as a crash.
It also uses facial detection to verify the driver's identity through periodic selfies.
The company offers $1 million in liability coverage per incident and $250,000 in uninsured bodily injury, he said.
More information:
"Uber for Business Makes It Easier to Manage Courtesy Rides and Enhance Customer Experience"
Uber for Business via GlobeNewswire, Nov. 5, 2019
"LEADING ROADSIDE AND TRANSPORTATION NETWORKS PARTNER TO TRANSFORM THE BREAKDOWN EXPERIENCE FOR CONSUMERS"
Agero, June 18, 2019
Images:
Uber for Business general manager Neal Watterson speaks to the MSO Symposium on Nov. 4, 2019. (John Huetter/Repairer Driven News)
Uber for Business can allow a company to order Uber rides or provide Uber vouchers for customers. (Provided by Uber)
Share This: