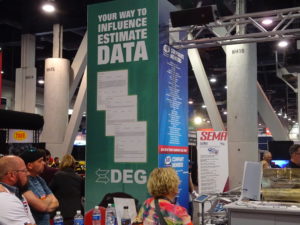 The Database Enhancement Gateway, which allows repairers and insurers to make inquiries and suggestions of the estimating providers at no cost, offers weekly tips for repairers on the Audatex, Mitchell and CCC programs online and through the Society of Collision Repair Specialists' email list.
If you haven't used the free service before to submit questions about estimating collision repair work or just browse responses to other carrier and shop questions, check it out. It's a good way to find IP best practices and help write the most accurate estimates or appraisals possible.
Here's our latest monthly roundup of areas spotlighted as tip-worthy by the DEG. To receive the tips as soon as DEG releases them, like/follow the DEG's Facebook and Twitter feeds. (It also posts videos to a YouTube channel once in a while.) Or just browse the more than 15,000 inquiries and responses in the database and see what else you learn.
Headliners: What is and isn't included in CCC
Database Enhancement Gateway Administrator Danny Gredinberg helped out with our Dec. 3, 2019, coverage of CCC's November 2019 P-pages updates, which included CCC clarifying what was included in its headliner times.
His DEG then discussed the change further in a tip tweeted out Dec. 9, 2019.
"CCC/MOTORS updated the 'HEADLINER' section of the Guide to Estimating P Pages specifically calling out 'Interior lower moldings/trim' being NOT INCLUDED as well as 'weatherstrip r/I'," the DEG wrote.
"Scenarios where this would be factored is if the lower trims overlap the upper trims touching the headliner. Additionally, some surround weather strips around door openings may be overlapped with additional trims to gain access to the upper trims touching the headliner. This would be NOT INCLUDED as per the GTE.
"Lastly, H notes/ footnotes of specific operations would take precedence over the GTE pages."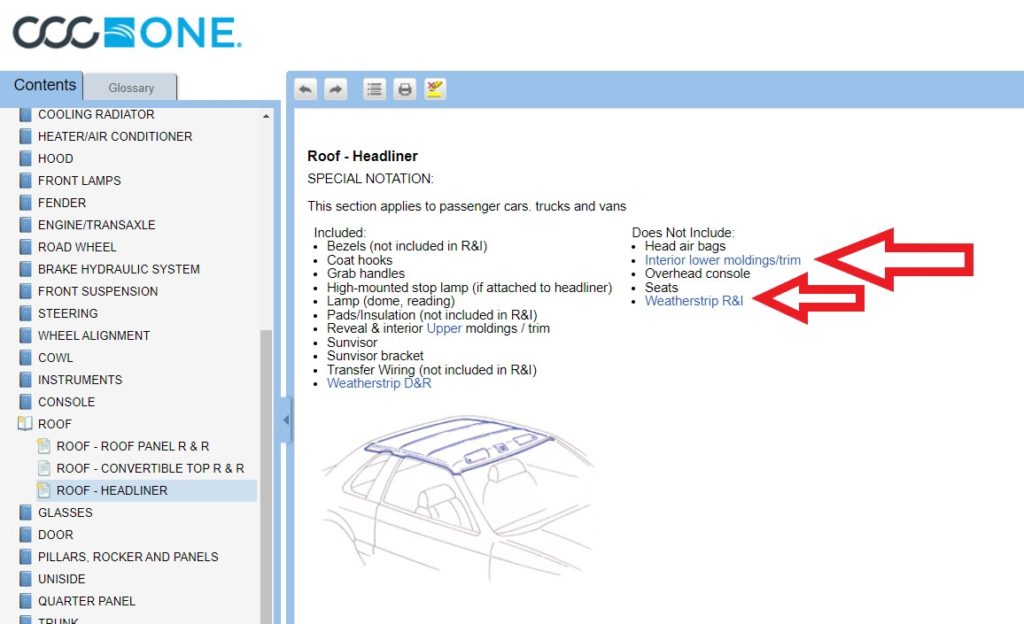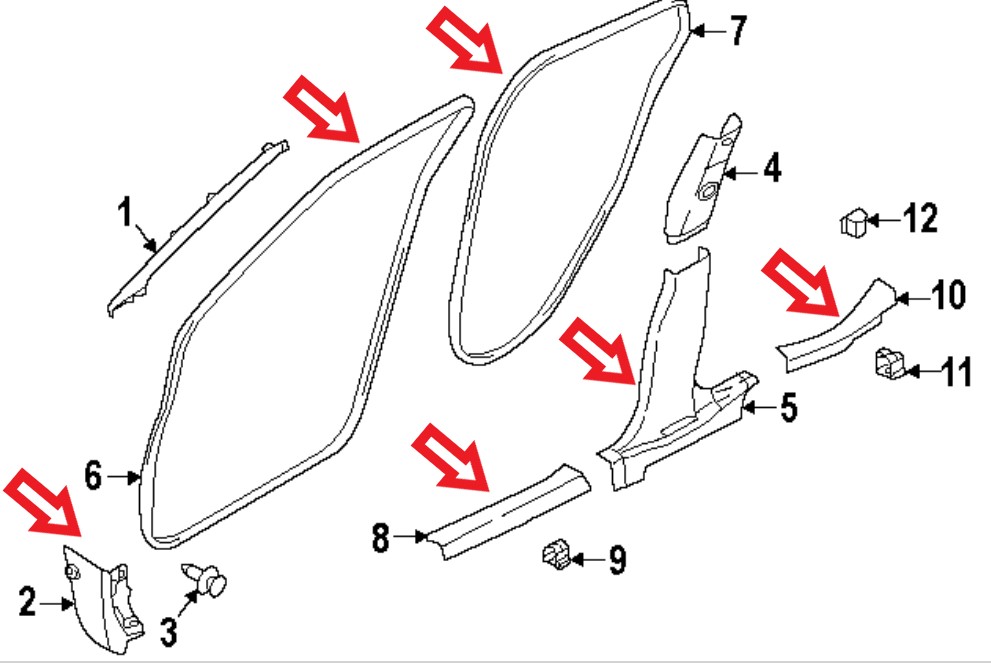 Readers interested in the CCC might also wish to consult DEG inquiry No. 12716 on a 2015 Chevrolet Silverado. Gredinberg directed us to it during our prior conversation.
Removing e-coat in Audatex
Some OEMs might wish repairers to remove the e-coat on a part before joining it to another, while others might not. The DEG explained in a tip tweeted Dec. 23, 2019, such a removal would not be included in an Audatex labor time.
"Replacement panels which may require e-coat (protective coatings) to be removed prior to welding, bonding, riveting process are NOT INCLUDED per Audatex DBRM Section 4-2, page 44," the DEG wrote. "The labor (to remove) any coatings required by the OEM prior to installing the replacement part will require an on the spot evaluation.
"Material / supplies used to remove coatings is NOT included in any Audatex labor times."
Page 44 of the Audatex P-pages counts "Removal of debris, grease, corrosion, protective coatings, or other materials impeding replacement, R&I, or refinishing of parts" and "Removal of protective coatings from replacement parts" as not-included procedures. The page also classifies "Restoration of corrosion-protective coatings (e.g., galvanizing, zinc coatings, E-coat 'equivalent,' and other like materials). (Standard Manual Entry M14 is available)" as not-included.
A March 2019 inquiry on removing the seam sealer from a 2016 Chevrolet Malibu raised a similar issue.
"Page 97 Of Audatex DBRM includes Seam Sealing to create a water tight seal," the DEG replied. "Removal of the Seam sealer is NOT INCLUDED. Duplicating the OEM Appearance is NOT INCLUDED."
Manufacturer versus IP on paint stages
Repairers and insurers might need to disregard an estimating service's projection of the number of stages in a refinishing process and rely instead on the paint manufacturer's description, based on a DEG tip tweeted Monday.
"CCC, Mitchell, and Audatex may suggest a certain paint code to be a single-stage, base coat / clear coat or three-stage based on major paint manufacture suggestions," the DEG wrote. "Ultimately the type of paint process and paint product used at the repair level needs to be accurately selected from the database for the system to accurately reflect correct labor and material calculations."
The DEG referenced a December 2019 inquiry on a Velocity Blue-colored 2019 Ford Fusion. (The color is metallic, according to Ford.)
"Vehicle paint code indicates this is a 3 stage color," the DEG user wrote. "Mitchell system does not reflect this. Our Cromax program notes that this color is only 3 stage with no 2 stage (variants)."
The user asked the DEG to call the color three-stage.
"We are unable to confirm Ford Velocity Blue codeE7 as a universal 3-stage application," Mitchell wrote.
"We have seen cases where a specific paint supplier may recommend a unique process for a certain color formulation. Therefore, legitimate considerations can exist on a case-by-case basis for certain colors.
"Depending on the paint system used, a 3-stage formula may be available. In these instances, it is our recommendation to defer to formula for the paint system being used."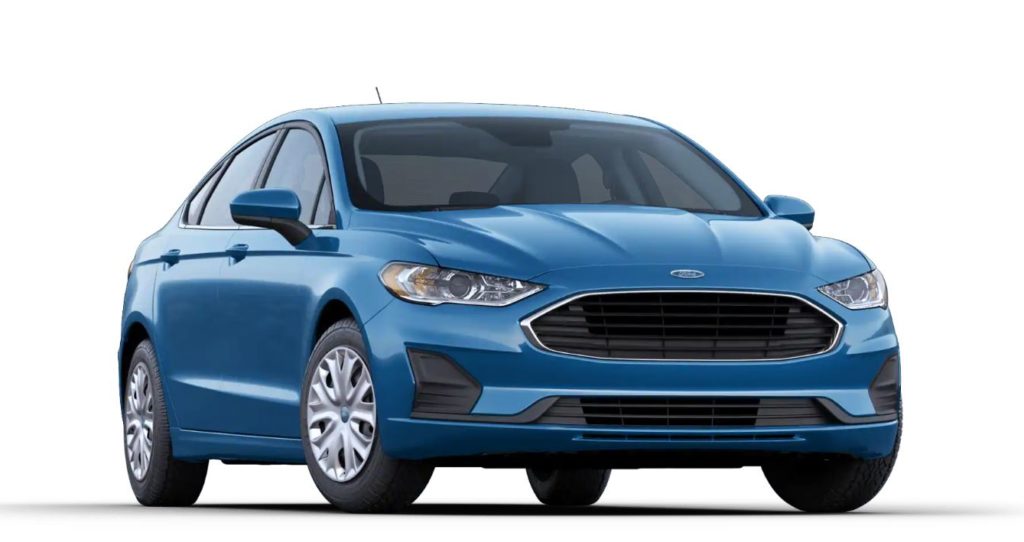 Filling transmission, other fluids in CCC
The DEG in a Dec. 16, 2019, tweet advised that removing and replacing or removing and installing a radiator or condenser didn't include fluids associated with a built-in cooling system.
"Some radiators/condensers have built-in cooling systems for transmissions, power steering systems," the DEG wrote.
"Labor to replace these cooling units (radiators/condensers) does not include any additional labor that may be needed to fill additional fluids (transmission/power steering/Oils) when being R/I or R/R.
"Fluid cost is NOT INCLUDED in CCC labor values."
The issue arose in a January 2019 inquiry regarding a 2018 Chevrolet Colorado. 
"The A/C condenser part #84273780 has an integral transmission cooler built into it," the user wrote. "… When replacing the A/C condenser, transmission fluid will be lost every time. This vehicle does not have a transmission fluid level dipstick. GM has a very lengthy transmission fluid level fill process."
The user had suggested CCC tack on another 1.8 hours mechanical to add transmission fluid.
"Add 1.8 mechanical to A/C condenser R&R or Additional Operation line to database for transmission fluid refill," the user wrote. "Whether the vehicle needs 1/2 pint or 7 quarts of transmission fluid added, its still the exact same procedure."
The user explained the "very lengthy" process behind that 1.8 hours.
"On top of A/C condenser R&R and evacuate, recharge and recovery (.9 + 1.4 +.4=2.7hrs) add 1.8 hours mechanical to add transmission fluid to appropriate level," they wrote. "Steps: Acquire correct transmission fluid Dexron HP transmission fluid, scan tool, had tools, torque wrench and DT-45096 fluid pump. Start vehicle and attach exhaust tube to outside, attach scan tool to check TFT (transmission fluid temperature) as it must be between 95-113 Fahrenheit, depress brake pedal and move shift lever through each gear range. Pause for at least 3 seconds in each range. Move the shift lever back to PARK. Ensure the engine RPM is (500-800 RPM). Allow the engine to idle for at least 1 minute. Raise vehicle on lift. The vehicle must be level, with engine running and the shift lever in PARK range. Remove the fill tube plug, remove the transmission oil level check plug, add fluid until fluid drips out of oil level check plug, reinstall the transmission oil level check plug and tighten to 9 nm (80lbin), reinstall fill tube plug, lower vehicle and put all tools and equipment away."
CCC replied by boosting its condenser with auto transmission time from 0.9 hours to 1.1 hours. However, it indicated that it would keep the fluid time something that must be manually added.
"The estimated work time applied to the Condenser does not include 'Fluids (drain, fill or top off),'" CCC wrote.
Have a question?
Have a question about AudaExplore, Mitchell or CCC? Submit inquiries to the DEG here. Inquiries, like answers, are free.
More information:
Images:
The Society of Collision Repair Specialists booth at SEMA 2019 promotes the Database Enhancement Gateway. (chat9780/iStock)
The Database Enhancement Gateway examined CCC's November 2019 clarification to its headliner times with a tip tweeted out Dec. 9, 2019. (CCC screenshot from DEG)
A 2020 Ford Fusion in Velocity Blue is shown. The color first appeared on the 2019 Fusion. (Screenshot from www.ford.com)
Share This: