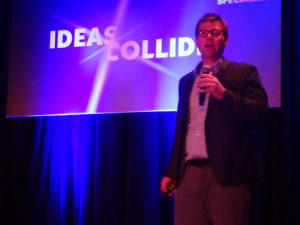 A system where auto body shops filed claims on behalf of their customers could improve life for the repairer, consumer and insurer, Bodyshop Booster CEO Ryan Taylor proposed recently.
It was no different than what already occurred in the dental field, Taylor argued at the Nov. 8, 2019, SCRS IDEAS Collide event at SEMA.
Taylor said shops were in a race to the customer with parties like dealers, OEMs and insurers, calling such parties "influencers."
The trick was to get repairers "as far upstream as possible," he said.
Taylor said Bodyshop Booster started noticing that customers "more and more" were contacting body shops before filing a claim. He listed potential reasons like rising deductibles, fear of premiums increasing with a claim or a collision appearing on CARFAX.
The company had a call center in Toronto, Canada, contact a few thousand shops pretending to be a customer seeking an estimate, Taylor said.
For 94 percent of repairers, the first question was "'Is this going through insurance?'" he said.
When told it was, 83 percent told the customer to call their insurer first, according to Taylor.
"We just relinquished the race," he said.

Taylor said a trip to the dentist after a hockey slap shot to the teeth gave him an "'aha' moment" on the topic. The dentist asked Taylor if the visit was going through insurance. Then it said it would ask a few questions, file a claim with the carrier and fix his teeth.
Taylor never spoke to his insurer. "It was all done for me," he said.
Why couldn't collision repairers handle the process like that, Taylor proposed: Just ask a few questions and file the claim for the customer.
Immediately, repairers think of reasons why not — variables like third-party, acts of God, training staff, fraud and personal injury — according to Taylor. But he likened it to breaking the 4-minute mile barrier once deemed impenetrable.
"It's not supposed to be easy," Taylor said.
About eight months ago, Bodyshop Booster started working on the problem with legal experts, OEMs and former insurance executives. The vision would be for a shop to transfer the customer to a knowledgeable party, perhaps with an adjuster license, who could take the first notice of loss, execute power of attorney, get a signed authorization and file the claim.
Customers would face a more convenient process, according to Taylor. "One call does it all," he said.
Insurers would have a more desirable outcome. Taylor said Bodyshop Booster noticed customers were upset by the process of filing a claim, a process that might involve talking to a third-party, perhaps one located in another country.
It also noticed that when a customer spoke first to a collision repairer, they focused on their vehicle — not on injuries. Personal injury claims decrease, Taylor said.
"This allows the insurance companies to close claims faster" with less turnover, he said.
OEMs see benefits like more parts sales, brand integrity, a higher-quality repair and increasedloyalty, according to Taylor.
And for body shops, being the point of contact for the claim means the repairer doesn't have to worry about steering, can install more OEM parts and encounter less insurer oversight or a need for direct repair programs, Taylor said.
"Wouldn't that be a powerful thing?" he asked.
How the doctors do it
We decided to contact the health insurance industry and learn more about how the "repairer" starting the claim worked there. A trade group dedicated to dental plans didn't respond, but a spokeswoman for America's Health Insurance Plans was available to provide insight on typical health claims Monday.
AHIP communications Senior Vice President Kristine Grow tied the difference in the claims process to the direct relationships between health insurers and their networks of medical professionals. It's an "integrated process" between the carrier and in-network medical professionals, she said.
However, go out of network, and the process might more closely resemble collision repair: The customer files the claim and seeks reimbursement from the carrier, according to Grow.
We asked who appeals in the instance of a health insurance denial when the claim is initiated by the medical professional. Is it the patient or the doctor? "It can happen either way," Grow said.
Grow said those in-network denials don't occur very often, and only about 15 percent of drugs and procedures even require prior authorization. This often is because of safety concerns, such as an opioid prescription, a cancer drug prescribed to a patient without cancer, or the possibility of negative drug interactions, she said. The insurer serves as a "check and balance" on that.
Even if a claim is denied, it's often a matter of incomplete information, Grow said. The doctor submits more details and then the matter is approved, she said.
More information:
Join the Bodyshop Booster "Race to the Customer" discussion
Featured image: Ryan Taylor, CEO of Bodyshop Booster, speaks to the SCRS IDEAS Collide crowd on Nov. 8, 2019. (John Huetter/Repairer Driven News)
Share This: