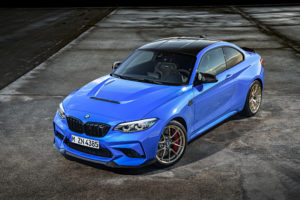 BMW last year described three 2020 M models and a limited-run MINI which indicate the OEM continues to be a fan of carbon fiber.
2020 M2 CS
The 2020 M2 CS Coupe, which starts at $83,600 and will arrive in dealerships in the second half of this year, incorporates carbon fiber-reinforced polymer into the roof, hood, center tunnel, front splitter, rear spoiler and diffuser and sideview mirrors.
It also has a 3.3-pound carbon-fiber front brace which "ties the front strut towers to the bulkhead, increasing front end stiffness and improving turn-in response and steering precision," according to a Nov. 5, 2019, BMW news release.
Other materials of note mentioned by BMW on the M2 CS Coupe include aluminum and steel.
"The rear five-link suspension's control arms and wheel hubs are made from forged aluminum," BMW wrote in the news release. "The rear, lightweight, steel subframe is bolted directly to the body frame without any flexible rubber bushings to improve rear wheel direction and stability."
BMW said carbon fiber cut weight, aided cooling and aerodynamics.
"The new CFRP hood weighs half of the weight of a similar steel hood while incorporating functional air vents, finished in High-Gloss Black, which help increase front end downforce and aid in engine cooling," the OEM wrote.
"The CFRP roof, offered for the first time on the M2, is made from a rigid, sandwich construction which requires no roof bow components nor insulation while still providing the required acoustic properties. Together, the new roof and hood help lower the M2 CS's center of gravity for improved agility."
It said the carbon fiber diffuser, spoiler and splitter "optimize air flow underneath the car and to further increase downforce."
Using carbon fiber for the transmission tunnel made the component more than 6 pounds lighter than a regular 2 Series center console, BMW said.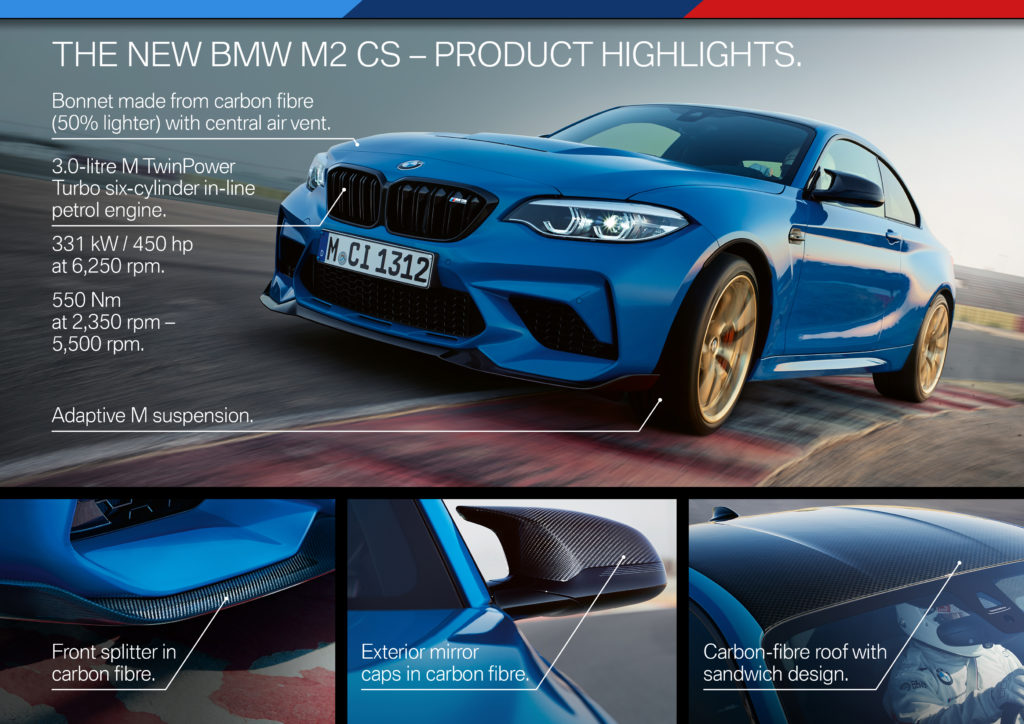 2020 M8 Coupe and Gran Coupe
The two-door 2020 M8 Coupe uses a carbon fiber roof, BMW reported in June 2019.
"An optional M Carbon package replaces kidney grille surrounds, mirror caps, side gills, rear spoiler and rear diffuser sections with carbon fiber components for a more motorsports oriented appearance," BMW also notes.
M8 Coupe production was slated to begin in July 2019, with the vehicle starting at $133,000.
BMW in October 2019 said the four-door M8 Gran Coupe also had a carbon-fiber roof. The OEM also described a wider mix of lightweight materials than it did months earlier for the M8 Coupe, though it's unclear if this detail was merely left on the cutting room floor for the M8 Coupe or a genuine materials difference between the Coupe and Gran Coupe.
"An intelligent mix of lightweight materials helps to reduce weight in the BMW M8 Gran Coupe," BMW wrote of the Gran Coupe in October 2019. "Aluminum construction is used for the doors, hood, roof, front bulkhead, engine subframe and rear bumper support. The trunk lid is made from dent-resistant plastic while the cabin dashboard support is made from magnesium and parts of the center driveline tunnel are made from carbon-fiber reinforced plastic."
BMW also said an M Carbon Package option existed for the M8 Gran Coupe, though it didn't elaborate.
The M8 Gran Coupe was slated to start production in November 2019 and open at $130,000.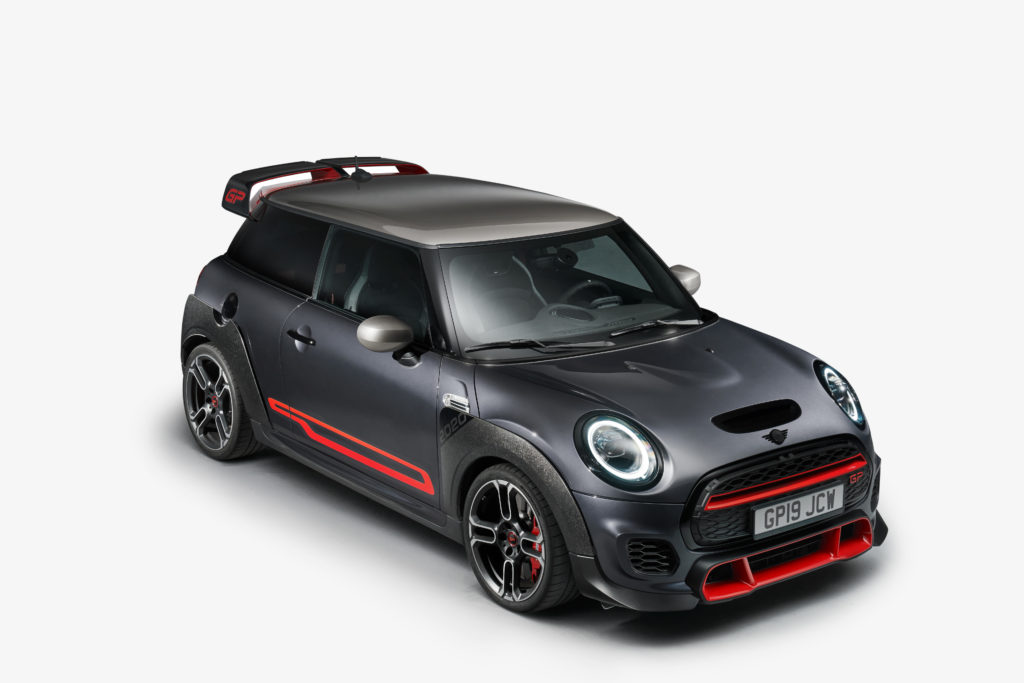 MINI John Cooper Works GP
BMW continued to tie carbon-fiber to performance models with its plans to incorporate the substance into the MINI John Cooper Works GP scheduled to start delivery in March 2020.
The limited-run (3,000 units for the entire world) MINI John Cooper Works GP — which the OEM calls the fastest street-legal MINI ever — features "a body that is optimised in terms of lightweight construction, torsional stiffness and aerodynamics," MINI wrote Nov. 19, 2019.
MINI didn't elaborate on lightweighting other than on the John Cooper Works GP's wheel arches. But it did provide a nice amount of detail on those parts.
"The wheel arch panels are manufactured by means of a special process and with a material combination used for the first time by the BMW Group consisting of a thermoplastic substructure and an outer shell made of carbon fibre-reinforced plastic (CFRP)," MINI wrote. "Intelligent lightweight construction goes hand in hand with the sustainable use of resources. The raw material for the outer shells, which are made of a particularly lightweight CFRP fleece, is a refined material that is recycled from the production of the BMW i3 and the BMW i8. The four CFRP components required for each individual vehicle are produced using a shared wet-pressing tool. In this way, a highly efficient production process can be applied that was previously only implemented in high-volume production. In addition, the wheel arch covers with their hexagonally sewn CFRP structure, double matt finish and consecutive numbering give each of the 3,000 vehicles produced a unique visual highlight. The new MINI John Cooper Works GP is the BMW Group's first production vehicle to feature an exposed matt CFRP coating. The individual numbering with the numbers '0001' to '3000' is applied to the surfaces of the front wheel arch panels by means of a newly developed paint transfer process."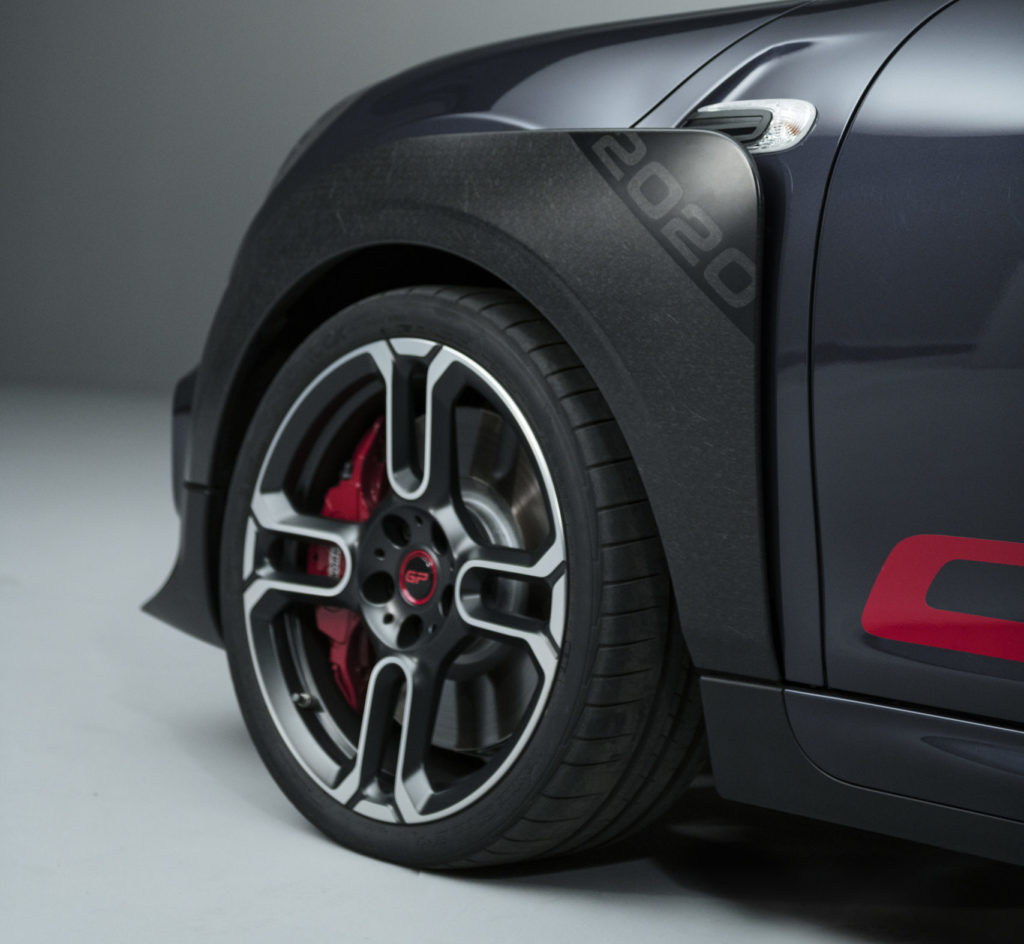 In other recent BMW carbon-fiber news, the OEM in September 2019 announced it would cease production of the plug-in hybrid BMW i8. Road & Track on Wednesday reported the run would officially end in April.
More information:
"The New 2020 BMW M8 Coupe and Convertible"
BMW, June 4, 2019
BMW, Nov. 5, 2019
"The New 2020 BMW M8 Gran Coupe and M8 Gran Coupe Competition"
BMW, Oct. 8, 2019
"The new MINI John Cooper Works GP."
MINI, Nov. 19, 2019
Images:
The 2020 BMW M2 CS Coupe has a carbon-fiber roof, hood, center tunnel, front splitter, rear spoiler and diffuser and CFRP sideview mirrors. (Provided by BMW)
Elements of the 2020 BMW M2 CS Coupe. (Provided by BMW)
The wheel arches on the limited-edition MINI John Cooper Works GP are part thermoplastic and part carbon-fiber. (Provided by MINI)
Share This: