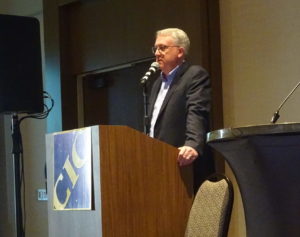 Both Collision Industry Conference Chairman Jeff Peevy and the CIC Estimating Committee on Thursday demanded better of the industry, with Peevy promising to challenge CIC committees to produce different conversations at the summits.
Peevy said he felt people lost perspective at the level of the Collision Industry Conference audience. He called the difference between representation and the real world the undiscussed "elephant in the room."
Peevy cited the Carl Sandburg World War I poem "Buttons":
I have been watching the war map slammed up for
advertising in front of the newspaper office.
Buttons–red and yellow buttons–blue and black buttons–
are shoved back and forth across the map.
A laughing young man, sunny with freckles,
Climbs a ladder, yells a joke to somebody in the crowd,
And then fixes a yellow button one inch west
And follows the yellow button with a black button one
inch west.
(Ten thousand men and boys twist on their bodies in
a red soak along a river edge,
Gasping of wounds, calling for water, some rattling
death in their throats.)
Who would guess what it cost to move two buttons one
inch on the war map here in front of the newspaper
office where the freckle-faced young man is laughing
to us?
The young man moving the button didn't feel the reality of what was being conveyed, according to Peevy. "That's happening with us today," he said.
He said he wanted to bring the topic out in the open and raise the level of awareness through the rest of the year, the second of his two-year term.
Sometimes, we get into a "representation position," Peevy told the audience. They didn't feel the daily reality of the topics for the individuals working on cars or managing businesses, he said.
"I think it is on us" to challenge themselves to "find a better way," he said.
Peevy said that when he worked at I-CAR 7.5 years ago, the organization used the term "Technical Tsunami" to signify what was happening to the automotive fleet. The phrase is outdated, he argued — the sea level had "completely rose," according to Peevy.
Yet the industry continued to seek to live at the pre-tsunami sea level.
"We're drowning," Peevy said.
Peevy said he wanted to discuss this and seek solutions the remainder of the year. While he respected history, CIC, its committees and every segment of the collision ecosystem still continued to look at doing things the old ways — without recognizing this.
"We're still living at the original sea level," Peevy said of the industry. It was becoming "almost too late" if they failed to change or or challenge their behavior, he told the audience.
The CIC body needed to embrace disruption and find solutions, and he said he would challenge the committees.
CIC might even need to task someone to look even further into the future than what the Emerging Technologies Committee already was tasked with, according to Peevy.
The industry needed to stop being blindsided, Peevy said. "It's a habit," he said.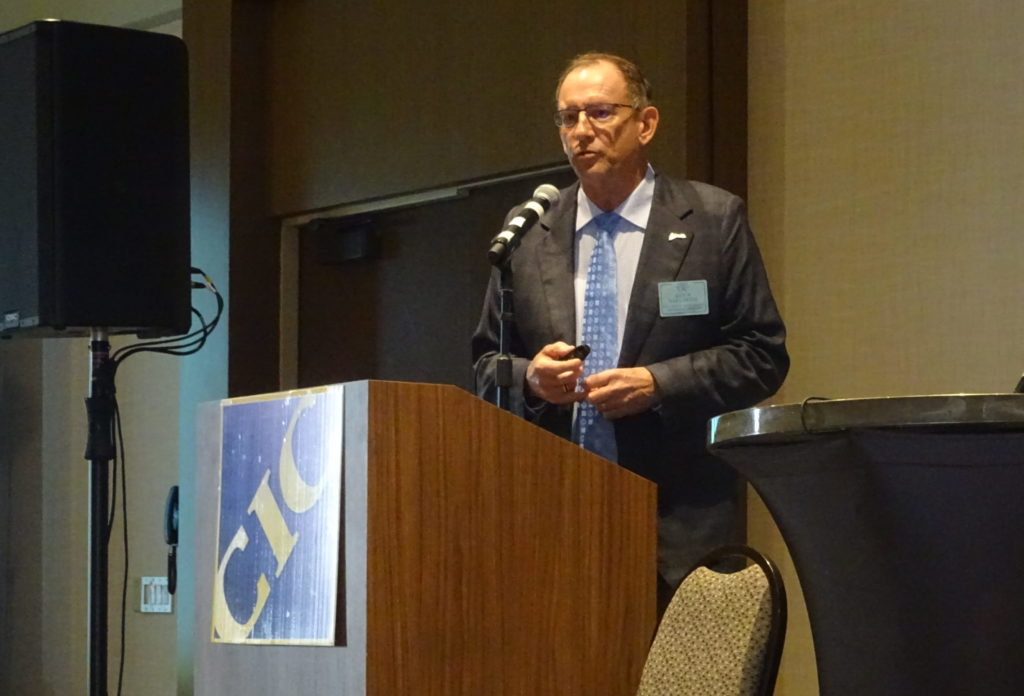 Majority of shops still 'cowboys'
Estimating Committee member Kevin Earlywine (Full Impact Technologies) offered a similar challenge to collision repairers in particular.
Last year, the CIC asked in an informal poll if estimators were always referencing OEM procedures. Only 39 percent reported doing so every time.
If repairers weren't accessing repair procedures, they probably weren't fixing the vehicle correctly, Earlywine said. Perhaps that's why insurers were resistant to  legitimate operations — the majority wasn't asking for it, he said.
"It's not their fault," he said.
Another CIC informal poll found only 19 percent confident they'd identified all OEM proecedures.
"This was really an eye-opener for me," Earlywine said.
Yet another informal question asked if the respondents had sleepless nights wondering if they'd identified every procedure. 58 percent of the respondents said yes.
"After I saw this, I didn't sleep," Earlywine said.
Shops are creating incomplete estimates, according to Earlywine. He brought up the computer concept of "garbage in, garbage out."
"You're gonna get faulty output as well," he argued of repairers' estimates.
He said shops erroneously felt lessons from a wreck like the one in the image on the left should be applicable to the vehicle seen on the right.

He also pointed out that estimators historically had been taught to write for damages they could see and document, yet damage to vehicle electronics couldn't be seen.
Estimates needed to align with current technology and repair procedures, Earlywine said. Without a proper estimate, how could a shop expect a technician to complete a proper repair, he asked.
"We can't have opinions anymore," said Earlywine, who called the majority of shops "cowboys" who think they know what's best.
Subjectivity needed to end, and the OEM repair procedures needed to be the industry standard, according to Earlywine.
Earlywine said that all he hears from shops are complaints that insurers don't pay. "I'm tired of it," he said.
Any time lost negotiating was the result of one party without the right knowledge, Earlywine said. If everyone had the same knowledge, perhaps negotiating wouldn't be necessary.
He also argued that basing repairs on price put a consumer at risk. Something would be shortcut, Earlywine said.
Process had to take priority over cost, Earlywine said. Process was the "objective," while price was the "outcome."
Repairers also demonstrated no accountability to vehicle owners, Earlywine said. "There's none," he said.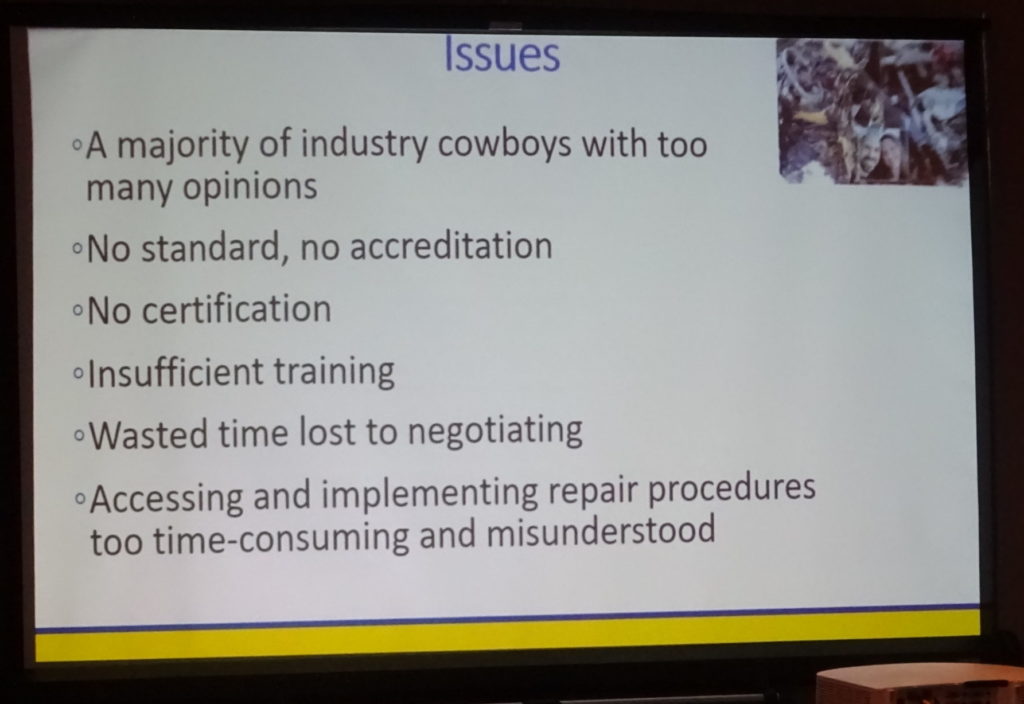 After Earlywine's talk, Vehicle Collision Experts CEO Mark Olson asked the audience to examine collision industry net profit and average severity. If average severity was $3,500 and the shop netted 6 percent, "you are not fixing cars right." He used the example of aiming a Ford Focus headlight, which he said takes 2.1 hours if done correctly and following all operations.
An industry conducting proper repairs should produced average severity of $5,500-$6,000, based upon research he said VECO conducted.
At 6 percent net on $3,500, "we're skipping steps," he said.
Earlywine argued for education of everyone in the entire process, from FNOL to delivery, and knowledge validated by industrywide certification. Standards also needed to be established for damage discovery and documentation, he said.
He said many conscientious shops are losing sleep out of fear of lawsuits. But even their attention was misplaced, according to Earlywine — at the end of the day, the human lives at stake were what mattered.
What if the industry took no action? Earlywine referred the audience to the Seebachan interview. He said he felt more such situations would arise. "I really do," he said.
He said "naysayers" argued their shop hadn't experienced any comebacks and that the Seebachan case was an isolated incident.
"I just believe that two and two hasn't been put together yet," Earlywine said.
More information:
NASTF OEM repair procedure portal
Images:
Collision Industry Conference Chairman Jeff Peevy (Automotive Management Institute) speaks to the body on Jan. 16, 2020. (John Huetter/Repairer Driven News)
Estimating Committee member Kevin Earlywine (Full Impact Technologies) speaks to the Collision Industry Conference on Jan. 16, 2020. (John Huetter/Repairer Driven News)
Collision Industry Conference Estimating Committee member Kevin Earlywine (Full Impact Technologies) presented these as issues facing the collision industry. (CIC slide; photo by John Huetter/Repairer Driven News)
Share This: