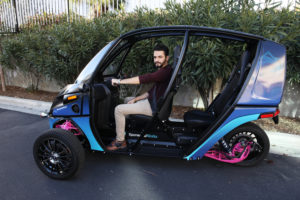 XponentialWorks last month announced a project with Arcimoto to 3D-print parts for its $19,900 electric "Fun Utility Vehicle" — with an initial effort lightweighting suspension components by more than a third.
"If successful, the new parts may take the place of heavier, regularly manufactured parts and may enable Arcimoto's electric vehicles to drive farther distances on a single charge, improve acceleration, and deliver better handling – all while parts costs are reduced during production," XponentialWorks wrote in a news release Jan. 21. "The lightweighted designs were made using artificial intelligence and computer generated design by ParaMatters."
XponentialWorks described an upper control arm lightweighted by up to 52 percent (though a project description puts the amount far less), a knuckle reduced by up to 36 percent and a rear swing arm cut by up to 34 percent. It also shaved up to 49 percent of weight off a brake pedal.
The project description describes a one-piece cast-aluminum and 3D-printed rear swing arm weighing nearly 13.9 pounds — compared to a baseline mild-steel swing arm weighing more than 20.9 pounds and built from 11 pieces welded together.
The mild steel baseline steering knuckle weighed nearly 6 pounds, involved nine pieces. The XponentialWorks version only required a single piece, weighed more than 3.7 pounds, and was 3D-printed out of "MS1 Steel."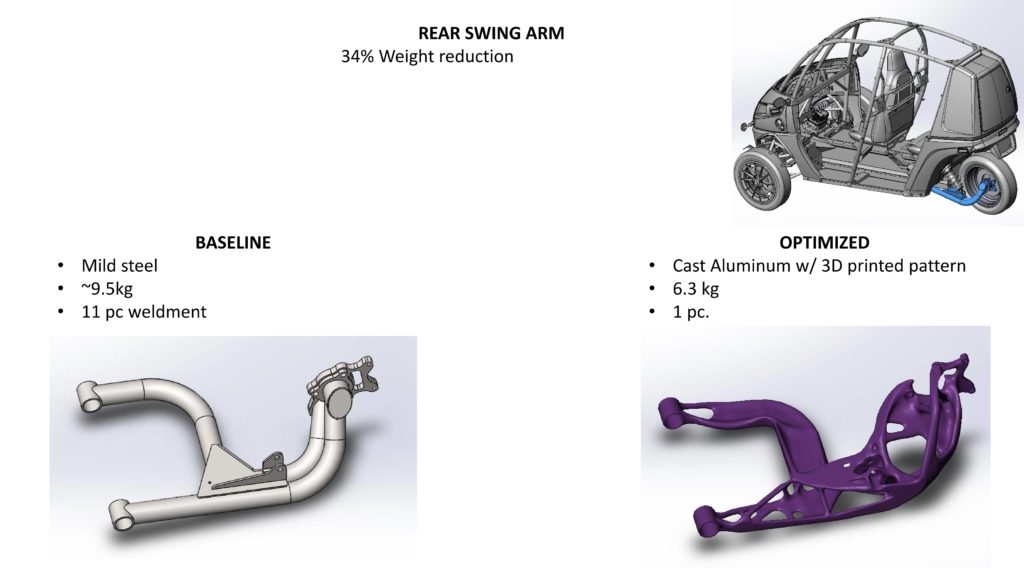 As noted above, the project description differs from the news release on the upper control arm. It describes a single-part cast aluminum, 3D-printed part weighing nearly 5.1 pounds, compared to the baseline mild steel, eight-piece and more than 5.5-pound arm.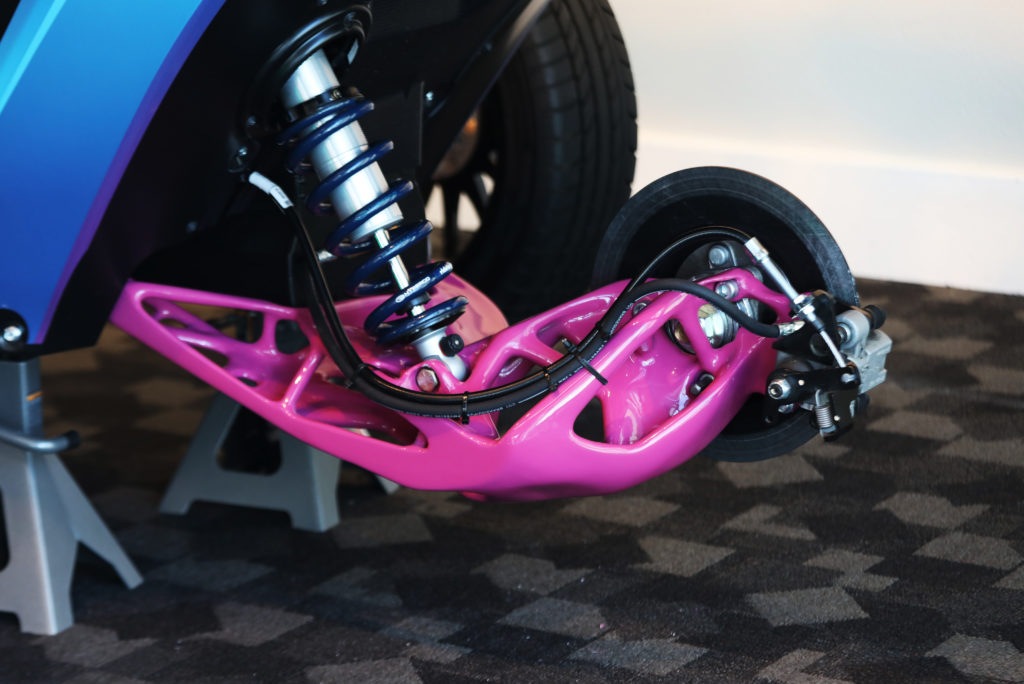 ParaMatters' CogniCAD software gives an artificial intelligence design and materials targets and lets the computer run wild with it until it produces an optimized part shape.
Components devised under such generative design might look bizarre, but they can get the job done while using less material — which means weight savings. The shapes might be too difficult to produce under traditional manufacturing but present no issues for a 3D printer.
"CogniCAD can also automatically combine all the different parts into one homogeneous assembly instead of creating multiple parts that need to be manufactured – a time consuming activity that also leads to heavier components," XponentialWorks wrote. "Arcimoto FUV's lightweighted parts can then be 3D printed to produce the final product."
XponentialWorks founder Avi Reichental said his company went from concept to parts in four weeks.
"With the powerful combination of AI-generated designs and ultra-fast 3D printing processes, we are now able to create complex geometric structures which substantially lightweight vehicles, improve performance, lower production costs and save on battery power," Reichental said in a statement. "We welcome this opportunity with Arcimoto to provide their drivers with the best possible in-vehicle experience."
We asked the company to elaborate on the cost and efficiency savings described in the news release.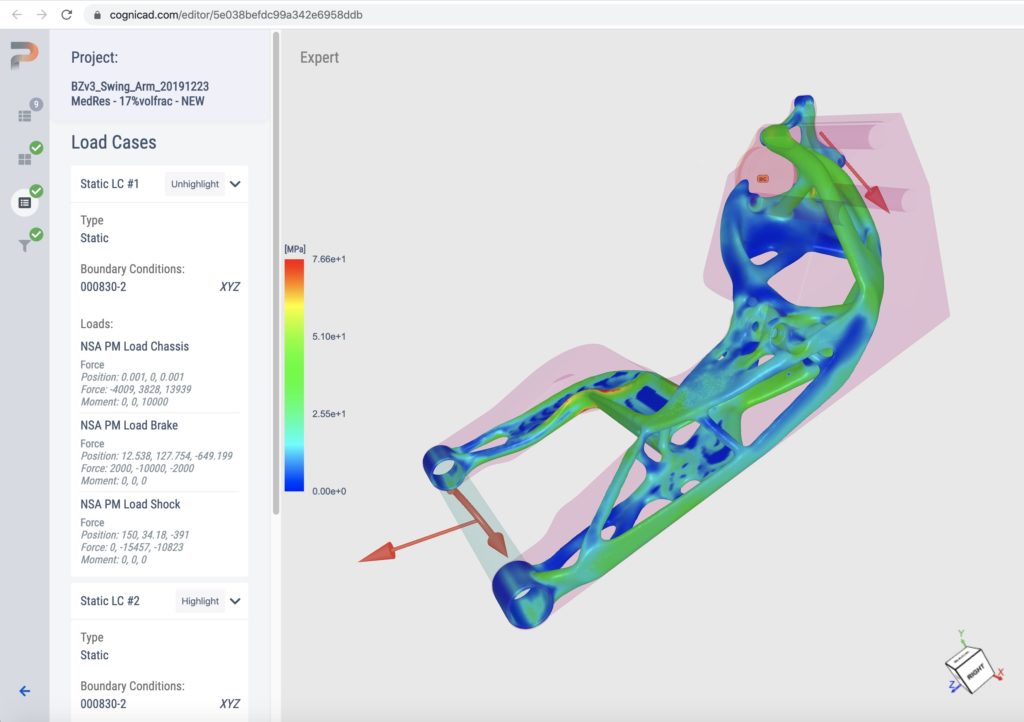 "In response to your questions, once the component is designed the machines can print the part much quicker than a regular designed part (in a matter of hours) and with quantity comes efficiency of costs," spokeswoman Oshy Ellman of Silicon Valley Communications wrote in an email.
The price also drops because less material is necessary, according to Ellman.
"The cost is reduced because one doesn't use as much material as you would do with regular manufacturing," she wrote in another email. "You also don't spend time connecting many parts to create the bigger part. With 3D printing you can make one connected part (due to the complex structures) so a lot of time and effort is saved."
Let's say XponentialWorks and Arcimoto's project goes the distance and finds a home on the retail FUVs now being produced. That means the 3D-printed suspension parts would be placed on an sub-$20,000 electric vehicle with a top speed of 75 mph and a range of 100 miles.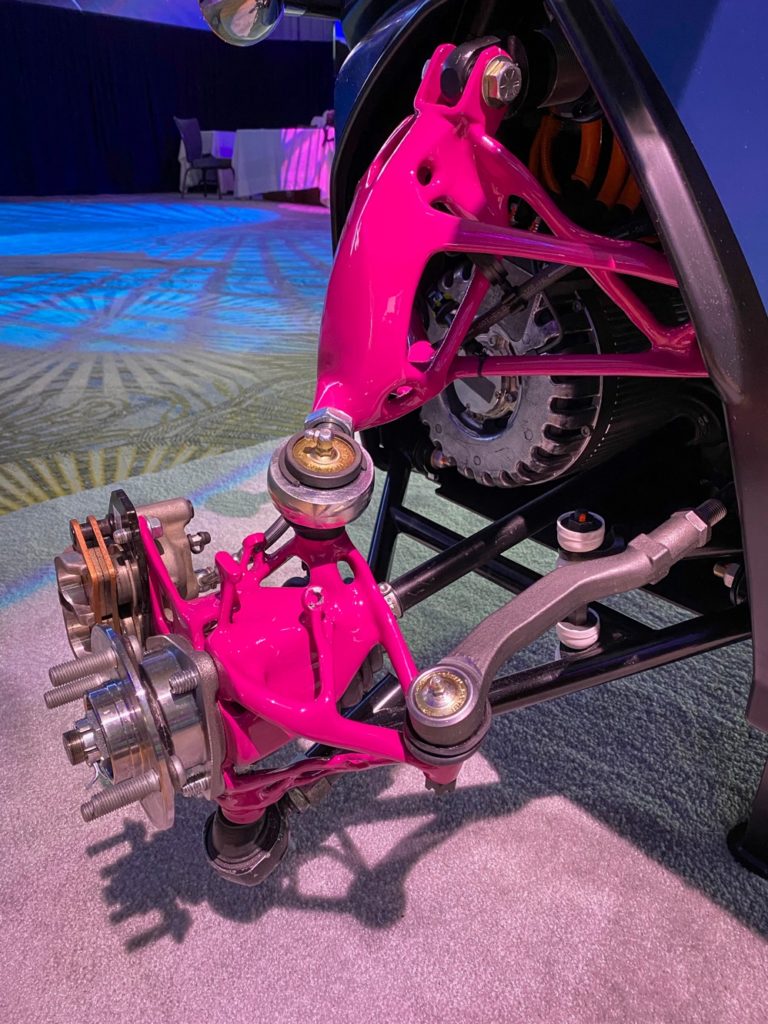 Affordable, mission-critical rather than cosmetic 3D-printed factory and replacement parts might be sooner in the future than one would expect.
The project also offers another interesting example of generative design's potential. More adoption of that engineering technique that might further restrict part repairs by producing shapes so optimized that any alteration would compromise part or all of its function.
More information:
"Arcimoto Pure Electric Fun Utility Vehicle Lightweighted Using XponentialWorks Generative Design and Additive Manufacturing Capabilities"
XponentialWorks, Jan. 21, 2020
"Making One of the Smallest (and Funnest) Cars Even Lighter"
XponentialWorks suspension parts project summary
Images:
XponentialWorks has engaged in a project with Arcimoto which resulted in 3D-printed upper control arms, swing arms and steering knuckles for Arcimoto's "Fun Utility Vehicle." (Provided by XponentialWorks)
XponentialWorks has engaged in a project with Arcimoto which resulted in this 3D-printed swing arm for Arcimoto's "Fun Utility Vehicle." (Provided by XponentialWorks)
XponentialWorks has engaged in a project with Arcimoto which resulted in this 3D-printed swing arm for Arcimoto's "Fun Utility Vehicle." Parts were designed using ParaMatters artificial intelligence software. (Provided by XponentialWorks)
XponentialWorks has engaged in a project with Arcimoto which resulted in this 3D-printed upper control arm and steering knuckle for Arcimoto's "Fun Utility Vehicle." (Provided by XponentialWorks)
Share This: