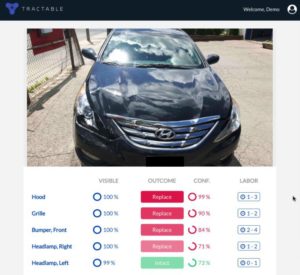 Insurtech startup Tractable on Thursday announced it had raised another $25 million, money it planned to use to enter new markets and for R&D on its AI vehicle photo estimating software.
Tractable currently operates in nine countries, serving clients including United Kingdom insurer Ageas, Covéa in France, Polish carrier Talanx-Warta and Japan's Tokio Marine. It says it's "helped hundreds of thousands of people worldwide" since its founding in 2014.
Tractable already had raised $30 million. The new Series C round was led by Georgian Partners, and prior investors Insight Partners and Ignition Partners put additional money into the company.
Tractable CEO Alex Dalyac said his company will hold a second closing to allow a little additional investment.
"Tractable's sophisticated approach to computer vision applied to accident recovery is resonating with the largest players globally, who are using the platform to make real-time, data-driven decisions while dramatically improving the customer experience," Georgian Partners principal Emily Walsh said in a statement. "We're incredibly excited to partner with the Tractable team to help them move even faster on bringing the next wave of technological innovation to accident and disaster recovery across the world."
Dalyac called the new $25 million a testament to the company's strong growth. He said that while he couldn't share more, the company's enterprise value, customer base and revenue were multiples of where they were at the prior funding round. "That's super-exciting," he said.
"Tractable has achieved tremendous scale in the past year with a customer base across nine countries, a differentiated data asset, and the expansion of their team to over 100 employees across London, New York, and now Tokyo," Insight Partners managing director and Tractable board member Lonne Jaffe said in a statement. "We are excited to continue to invest in Tractable as the team brings its powerful AI technology to many more countries."
The company has described work or conversations with insurers, the salvage industry and collision repairers in the past. Tractable North America head Julie Kheyfets said Thursday the company's customers were "scaling up" in North America. "That's all kinds of players," she said.
Some are even running their "full repairable vehicle volume" through the technology, she said.
Kheyfets said Tractable pays close attention to return on investment when a company reaches that full-volume stage, and some customers were achieving a 3X return there in three months.
This meant the product wasn't simply a "shiny AI. … It's a real tool."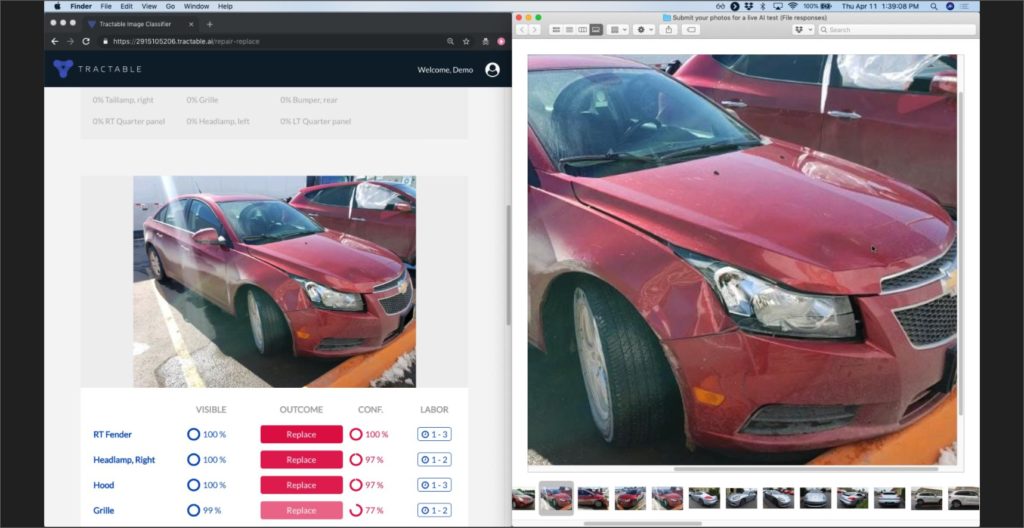 The company began to seek business in Canada last year, and it is now working with insurers there as well as in the U.S., according to Kheyfets.
Tractable in 2017 told us some of the U.S.' Top 6 insurers were testing out the software. However, the company still hasn't publicly announced any big names here, despite confirming major clients in other regions.
Asked about the absence of big-name carriers revealed in the U.S. compared with other markets, Kheyfets said that "if I'm candid," it's a matter of American carriers moving more slowly than counterparts abroad. In Europe, insurers are also smaller, which means they can more quickly approve an announcement, Kheyfets said.
However, some major announcements should arise "in the coming quarters," she said.
The company was working with some of the big names, but it just couldn't announce them yet, Dalyac confirmed.
"It's just more political in the U.S.," he said.
Dalyac called the U.S. "a huge area of focus" for Tractable and said he spends about 40 percent of his time there.
Kheyfets said Tractable typically pursues the Top 10 insurers in a market, but in the U.S., they've expanded this to the Top 20-30.
Spokesman Ahmed Zifzaf said one major Canadian insurer is running its entire repairable vehicle volume through the system. U.S. insurers are "slightly earlier" in their Tractable use case journey, he said.
Kheyfets said U.S. insurers are using Tractable for three purposes: auditing the quality of the company's human-generated estimates, triage (for example, repairable/total loss decisions) and full-on estimating.
Most carriers historically started by using Tractable for audits and progressed from there, according to Kheyfets. However, some new customers today jump in right at the triage or estimating stage, she said.
Dalyac said Tractable has been successful in its nine countries because its technology works. "It's actually a really, really difficult task," he said of AI.
In the U.S., there's a "lot of smoke and mirrors," he said. Companies might be great at marketing, but lack the money to invest in R&D, he said.
However, he customers are realizing that "'I can run a live bake-off.'"
We participated in two such live demos in April and May 2019, submitting real-world photos provided by collision repairers to see how well the A.I. assessed them. Afterwards, we compared the software's estimate to both the initial human insurers' estimates and the final damage assessments developed by the body shops and reimbursed by the insurers.
Dalyac said "major" U.S. insurers — Top 5, Top 15 range, he said — have told him that when they hold their own live bakeoffs, "most players don't even show up. … I'm not joking."
"… Once they go in, that's when it's real," he said. He said insurers are impressed by Tractable's ability to calculate items like blending and labor hours instead of merely repair and replace.
Dalyac said the company would continue to invest heavily in automotive, and there was "lots more R&D to be done"
Most of the investment should be expected to be put in that direction, he said.
We asked if the R&D here meant improving the existing product or taking it into a new direction. Dalyac noted that when the company started, it was making make repair-replace decisions. Now, it was predicting "pretty much" every operation on an estimate, he said.
"We want to continue to refine that" so it was extremely robust and accurate under different conditions and vehicles, Dalyac said. The company wanted to keep adding the "smaller, smaller parts," he said.
However, he did note that the company's work with the salvage sector was exciting because of the "AI training potential" there. Getting a better idea from salvage yards of what happened underneath a vehicle surface could help Tractable predict total losses sooner.
Correction: An earlier version of this article cited Tractable CEO Alex Dalyac as describing a Top 30 U.S. insurer running its entire repairable vehicle volume through Tractable. Tractable clarified Friday that this example actually referred to a major Canadian insurer. U.S. carriers are "slightly earlier" in the journey through Tractable use cases, according to the company. The article has since been corrected to reflect this.
More information:
"Tractable raises $25m in Series C investment round"
Tractable, Feb. 27, 2020
Images:
Tractable's artificial intelligence photo estimating software is seen in an April 2019 demo. (Screenshot of Tractable webinar; redaction by Repairer Driven News)
Artificial intelligence photo estimating service Tractable on April 11, 2019, tested its software on photos submitted by participants in what the company called a live demo. This was the A.I. demo's analysis of a 2013 Chevrolet Cruze LT1 image provided by a body shop. (Screenshot of Tractable webinar; redaction by Repairer Driven News)
Share This: