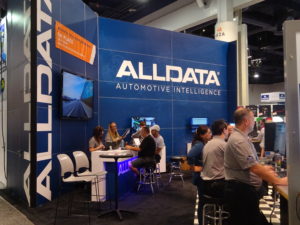 Several hours after the Database Enhancement Gateway announced ALLDATA as its newest Gold sponsor Thursday, we took a call from an East Coast body shop.
The repairer was investigating a discrepancy in CCC and Audatex labor times, for his shop used one estimating service, but the insurer he was interacting with used the other.
We directed him to the Database Enhancement Gateway website for a link to the Audatex P-pages. We noted the repairer could also submit an inquiry and get an answer that way. The shop could also contact DEG Administrator Danny Gredinberg for help, we suggested.
This anecdote demonstrates the value of the Database Enhancement Gateway — and why sponsors like ALLDATA deserve the industry's gratitude for helping to keep it available and free to all.
"We are all really proud to recognize ALLDATA for sponsoring the DEG and their support of this free resource for the Collision Repair Industry," DEG Administrator Danny Gredinberg said in a statement Thursday in the news release announcing the sponsorship. "In a push for using documented repair procedures, collision estimating information providers acknowledge the cost and labor associated with repair research, information retrieval is NOT INCLUDED in their systems. Many of the automakers individually provide the DEG with access to their repair procedure resources, and the added support from Alldata provides increased coverage to repair information that provides the DEG with a better understanding of the vehicle repair procedures utilizing OEM repair information."
ALLDATA and the Silver-level supporter Washington Metropolitan Auto Body Association signed on as sponsors this year. They join a group of benefactors which include the Platinum-level Automotive Service Association and PPG and the Gold-level Spanesi.
The DEG is a joint effort of the national AASP and the Society of Collision Repair Specialists. We provided a sense of it above, but here's a description straight from the DEG itself:
"The DEG is an initiative designed to help improve the information in collision repair estimates through proactive feedback about vehicle-specific errors, omissions and inaccuracies in the database and labor times. …
"DEG users have the ability to help identify and fix omitted and inaccurate information found in the estimating programs through a standardized inquiry process for all three estimating systems. The database can also be utilized to verify and document necessary operations that have been addressed by other users, and confirmed by the information provider."
Feel like supporting the DEG and the industry yourself? Sponsor the nonprofit at the company/group level or as an individual. Alternately, consider buying an ad on the site. The site also takes donations through PayPal.
More information:
"Database Enhancement Gateway Welcomes ALLDATA as GOLD level Sponsor"
Database Enhancement Gateway, Feb. 27, 2020
Featured image: The ALLDATA booth at SEMA 2017 is shown. (John Huetter/Repairer Driven News)
Share This: