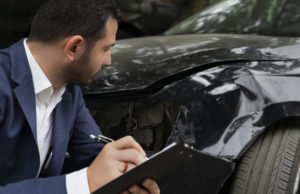 The Top 4 auto insurers in the country recently released 2019 financial data collision repairers can use to evaluate business strategy — and to make a case to an adjuster or customer if the carrier is being difficult.
Here's some highlights from No. 1 State Farm, No. 2 Berkshire Hathaway (GEICO), No. 3 Progressive and No. 4 Allstate's annual reports. The four carriers together controlled 50.69 percent of the auto insurance market in 2018, according to the NAIC. State Farm isn't publicly traded, so unfortunately there's not as much data available there. But it did also provide the infographic you can see below.
Frequency
State Farm didn't release data on frequency, but GEICO, Progressive and Allstate all saw fewer claims in 2019.
Considering that those three represent 33.64 percent of the entire auto insurance market by themselves, the frequency decreases indicate repairers might have experienced a lower volume last year. This might particularly be the case for direct repair program facilities tied to one of the three.
No. 2 GEICO saw a 2-4 percent decline for auto damage coverages.
"Claims frequencies in 2019 declined compared to 2018 for property damage and collision coverages (two to four percent range) and personal injury protection coverage (one to two percent range) and were relatively unchanged for bodily injury coverage," Berkshire Hathaway wrote about GEICO in a Feb. 22 annual report.
Progressive said personal auto frequency on the whole fell 3 percent.
"Frequency decreased 5% for our PIP coverage, 4% for our collision and property damage coverages, and 3% for our bodily injury coverages," Progressive wrote in its 10-K.
Allstate said its gross auto property damage claim frequency fell 0.7 percent, while paid claim frequency dropped 2.2 percent. Its bodily injury gross claim frequency fell 1.8 percent.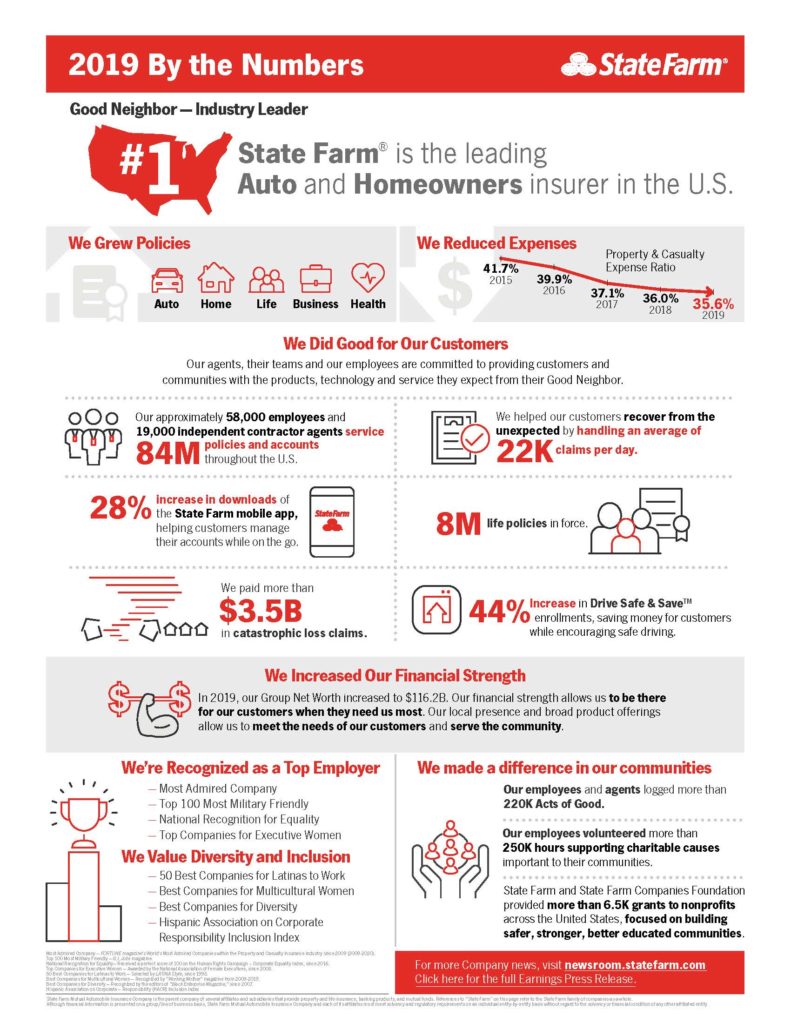 Severity
Severity rose for GEICO, Progressive and Allstate. Again, we don't know what happened with State Farm.
"Average claims severities in 2019 were higher versus 2018 for property damage and collision coverages (four to six percent range) and bodily injury coverage (seven to nine percent range)," Berkshire Hathaway wrote of GEICO.
Progressive said personal auto severity overall was up about 7 percent. Auto property damage and collision severity climbed 6 percent, compared to 8 percent for bodily injury and personal injury protection.
Allstate said auto property damage claim severity rose 6.5 percent.
Profitability
Progressive suggested its severity didn't rise enough to overcome the effect of lower frequency.
The insurer posted an 9.5 percent personal lines profit in 2019, up from 9.7 percent in 2018 and 6.6 percent in 2017. It attributed the jump between 2017 and the company's 2018 results to "decreased claims frequency and catastrophe losses, as well as higher earned premium per policy in both the Personal Lines and Commercial Lines businesses, as a result of increases in rates and shifts in the mix of business during 2018."
Progressive reported a personal lines underwriting profit of more than $1.5 billion last year.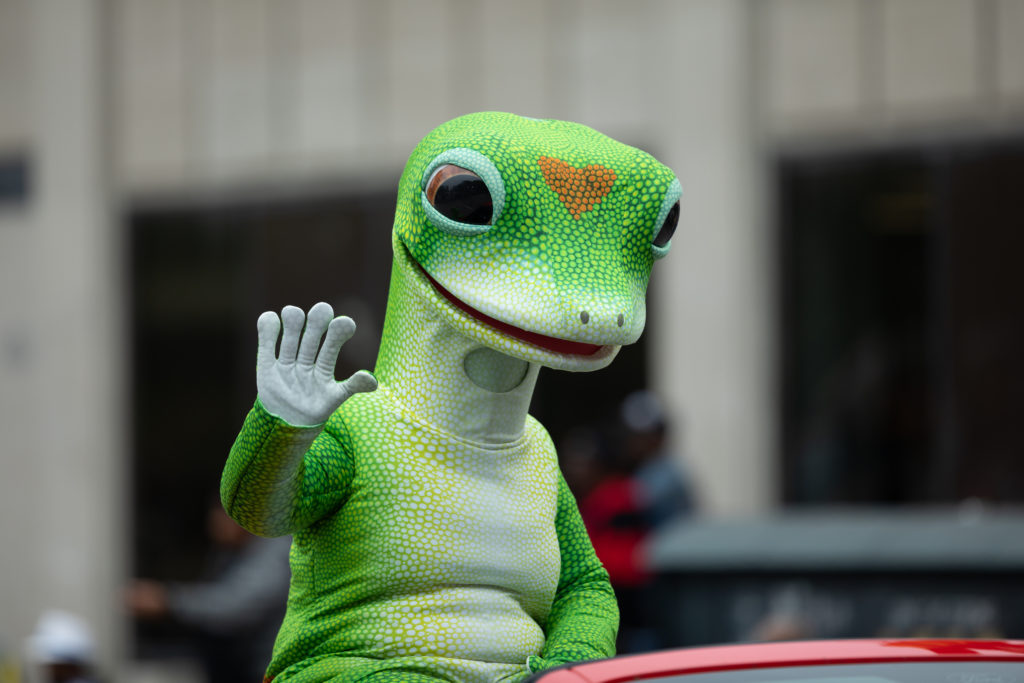 Howver, Berkshire Hathaway cited severity when explaining GEICO increased claims spending compared to premiums (loss ratio).
"Losses and loss adjustment expenses in 2019 increased 10.1% to $28.9 billion," Berkshire Hathway wrote. "GEICO's losses and loss adjustment expenses ratio in 2019 was 81.3%, an increase of 2.5 percentage points over 2018. The loss ratio increase in 2019 reflected continuing increases in loss severities, slightly offset by lower storm-related losses."
Still, GEICO wound up making an underwriting profit of more than $1.5 billion in 2019.
It wasn't clear if higher severity outweighed lower frequency as a loss cost consideration for Allstate. We do know the company made nearly $1.3 billion in profit off of underwriting auto.
"Allstate had excellent operating results in 2019 while pursuing long-term profitable growth," Allstate CEO Tom Wilson said in a statement Feb. 4. "Revenues reached $44.7 billion and net income was $4.7 billion for the year due to strong operating results. Adjusted net income* was $3.5 billion ($10.43 per share) for 2019 and $1.0 billion ($3.13 per share) for the fourth quarter, both substantially higher than the previous year, reflecting excellent underlying auto and homeowners insurance profitability and lower catastrophe losses."
"Auto and homeowners insurance profitability generating excellent returns," an Allstate presentation slide states.
State Farm lost $764 million on its auto business. Yet it still came out $777 million in the black when policies, claims and expenses all property and casualty lines were considered. The carrier in the past has suggested the notion that auto insurance might be a loss leader, getting customers in the door to buy other more profitable insurance lines.
State Farm said it spent $32 billion on claims and loss expenses, compared to $31.2 billion last year.
Ads
Progressive told investors it spent 29 percent more on advertising in 2019 after a 41 percent increase in 2018. The company is reaching a $2 billion ad spend — it paid $1.84 billion in advertising last year — after being at a little over $1 billion in 2017.
GEICO also spent more on ads last year, according to Berkshire Hathaway.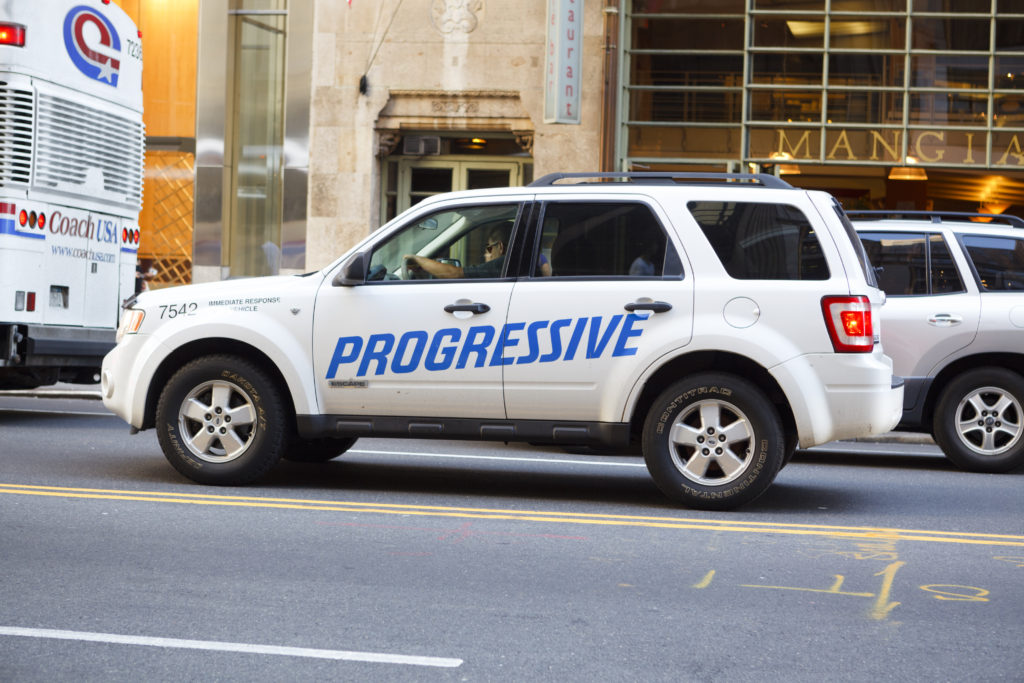 "Underwriting expenses in 2019 were $5.1 billion, an increase of $493 million (10.6%) over 2018," Berkshire Hathaway wrote. "GEICO's underwriting expense ratio in 2019 was 14.5%, an increase of 0.6 percentage points compared to 2018. The underwriting expense increase was primarily attributable to increases in advertising expenses and employee-related costs, which reflected wage and staffing increases."
Allstate said its ad spending contributed 2.2 points to the company's combined ratio. If we're reading their financial data correctly, that should work out to about $750.9 million in ad buys last year, an increase over 2018.
All we know about State Farm is that it spent $10.3 billion on underwriting expenses, down from $10.4 last year. But there's no way of knowing if ad spending rose or fell as a proportion of these amounts.
Granted, the ads seem to be working.
"Significant advertising campaigns and competitive rates contributed to a cumulative increase in voluntary policies-in-force of approximately 35% over the past five years," Berkshire Hathaway wrote of GEICO.
Progressive raised premiums last year but grew new auto customers 9 percent in the direct channel and 7 percent in the agency channel.
Premiums
And speaking of premiums, any body shop getting hassled over higher labor rates should know that both No. 4 Allstate and No. 3 Progressive raised premiums last year.
Progressive said it raised the average policy cost 3 percent for agency auto customers and 2 percent for customers who bought direct (e.g. off the Progressive website).
Allstate said its average annualized auto premium rose 3.4 percent to $1,063.
GEICO said its average auto premium fell in 2019. State Farm also appears to have done so.
The nation's No. 1 insurer said it took in $41.5 billion in premiums compared to $42.7 billion in 2018. It also referenced "growth in policies" among its property and casualty arm, which is 64 percent reliant on auto insurance for premiums.
"The Bloomington-based insurance giant cut auto rates in 2019 to slow a marked erosion in market share at the expense of lower-cost insurers like Geico," Crain's Chicago Business wrote Feb. 28. "But it didn't add enough customers to keep revenue from declining. At the same time, the rate cuts led State Farm to swing to an underwriting loss in its auto business.
"The decrease in property-casualty (P-C) earned premium reflects a focus on returning value to customers in the form of lower premiums when appropriate," State Farm wrote in a news release Feb. 28.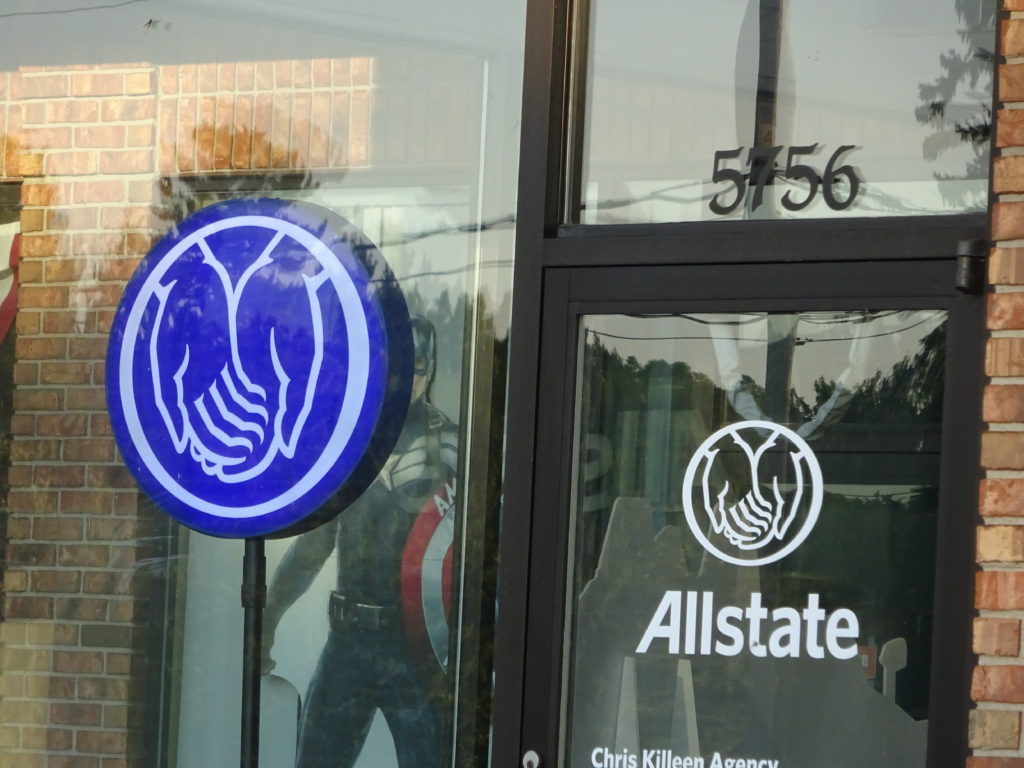 Commitment
Here's a little extra ammo to pull out next time two insurers treat your shop or a customer badly: Their bosses have committed to being good to customers.
State Farm: "Our focus of putting customers first for nearly 98 years continues to underscore our position as the national leader in protecting people. Each year we help millions of our customers recover from the unexpected and live life confidently with the protection we provide," State Farm Chief Financial Officer Jon Farney said in a statement. "… Our agents, their teams and our employees are committed to providing customers and communities with the products and service they expect from their Good Neighbor."
Progressive: "In more recent years, we have hired ahead of need in order to make sure that we have enough time to thoroughly train our claims associates, so they are able to serve our customers in the way they have become accustomed," Progressive CEO Tricia Griffith wrote. "That is a more expensive model, but we believe it is just the right thing to do. …
"The truly amazing part about this graph is that the claim handling quality has stayed relatively flat (per our internal audit quality score), which is incredible with so many new people and a tribute to how much each person cares about settling each claim fairly. It should be noted that the claims organization (the largest part of Progressive as far as employees) also had the highest Culture and Engagement scores in 2019. It's all about balance."
Griffith also wrote that they "revere honesty" at Progressive. "We adhere to high ethical standards, provide timely, accurate, and complete financial reporting, encourage disclosing bad news, and welcome disagreement," she wrote.
Allstate: Allstate said it net promoter score was one of its 2019 goals; presumably it doesn't want that to decline too much even if it's not a 2020 focus. A case might be able to be made to the carrier about not stepping over dollars to pick up pennies based on a 2020 emphasis on lower expenses.
"We also accelerated the Transformative Growth Plan … The plan's three components of increasing customer access, enhancing customer value and investing in growth will be a core part of 2020's Operating Priorities," Wilson said in a statement. "Increased customer value will be provided by lowering expenses to improve affordability while investing in technology and marketing."
GEICO: "Insurance is a business of promises, and Berkshire's ability to honor its commitments is unmatched," Berkshire Hathaway Chairman Warren Buffett wrote in his annual letter to shareholders.
The company also put service as a pillar alongside price in its annual report: "Competition for private passenger automobile insurance, which is substantial, tends to focus on price and level of customer service provided."
More information:
Progressive, March 4, 2020
2019 Progressive shareholder report
Progressive, March 4, 2020
Allstate, Feb. 4, 2020
Berkshire Hathaway (GEICO) annual report
Berkshire Hathaway, Feb. 22, 2020
"State Farm® Announces 2019 Financial Results"
State Farm, Feb. 28, 2020
Images:
State Farm released this graphic along with its 2019 financial results. (Provided by State Farm)
The GEICO mascot appears in the Circle City Classic Parade in Indianapolis, Ind., on Sept. 22, 2018. (Roberto Galan/iStock)
A Progressive Insurance vehicle drives along West 57th street in Manhattan on June 2, 2011. (wdstock/iStock)
An Allstate agency in Acme, Mich., is shown. (John Huetter/Repairer Driven News)
Share This: