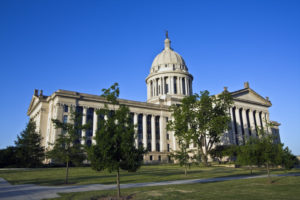 The Oklahoma state Senate this week approved a bill limiting collision repairers to the maximum and fees determined by the state Corporation Commission "for the storage and after-hours release of nonconsensual towed vehicles."
Senate Bill 1314 adds "repair facilities as defined in Section 953 of Title 15 of the Oklahoma Statutes" alongside any "wrecker or towing service licensed by the Department of Public Safety" as businesses held to the commission's rates. The bill passed the Senate on Tuesday in a 45-2 vote.
"No wrecker or towing service or repair facilities shall charge any fee for nonconsensual towed vehicles and storage which exceeds the maximum rates established by the Commission," the bill also states.
Section 953 of Title 15 defines repair facility as "any motor vehicle dealer, garage, body shop or other commercial entity which undertakes the repair or replacement of those parts that generally constitute the exterior of a motor vehicle."
The Oklahoma Corporation Commission limits outside storage to $18 and indoor storage to $30 for any vehicle less than 20 feet in length.
"Nonconsensual tow" is defined by Oklahoma Revised Statutes Title 47, Section 951 as "the transportation of a vehicle without the consent or knowledge of the vehicle's owner, possessor, agent, insurer, lienholder, or any other person in possession of or in charge of any vehicle and includes the transportation or towing of the vehicle under lawful circumstances or necessity for the public interest including removing from the roadway for public safety or public convenience, or accidents, by any law enforcement officer or property agent or removal from public or private property as a result of abandonment or unauthorized parking by the property owner, agent, possessor, or other legal entity for the property owner."
So it seems like the bill might be meant to reflect situations in which a collision repairer behaves more like an impounder (for example, towing an abandoned or improperly parked vehicle). It might not be intended to refer to "consensual" storage like that agreed to by a collision repairer's customer up-front. (For example, agreeing to pick up a finished vehicle in X number of days before storage rates of $Y begin to accrue.)
47 O.S. 2011, Section 953.2 would continue to state:
The operator is authorized to collect all lawful fees from the owner, lienholder or agent of the towed vehicle or insurer accepting liability for paying the claim for a vehicle or purchasing the vehicle as a total loss vehicle from the registered owner for the performance of any and all such services. An operator shall release the vehicle from storage upon authorization from the owner, agent or lienholder of the vehicle or in the case of a total loss, the insurer accepting liability for paying the claim for the vehicle or purchasing the vehicle where the vehicle is to be moved to an insurance pool yard for sale.
More clarity might be necessary as to the scope of the bill. Otherwise, the bill might create confusion and friction between customers, insurers and auto body shops as to which storage charges are acceptable. Founded or unfounded, concerns over losing productive, money-making indoor workspace for $30 a day might also lead collision repairers to store more in-progress or totaled vehicles outside. That might not be an attractive option to a shop, insurer, vehicle owner or garagekeeper's carrier.
Senate sponsor Sen. Lonnie Paxton, R-Tuttle, and House sponsor Rep. Avery Frix, R-Musckogee, have not yet replied to our requests for clarification on the measure.
Drue Tomlinson, collision director for Don Thornton Certified Collision and one of the industry professionals working to relaunch the Oklahoma Auto Body Association, on Thursday said he had left messages with Paxton and Frix as well.
Tomlinson said his initial assessment was that SB 1314 appeared to reflect nonconsensual tows only. However, he said he'd still like to know more about the measure.
The measure has been sent to the House. It had not yet been referred to a committee as of early Thursday evening.
Be heard: Oklahoma lawmaker contact information can be found here.
Featured image: The Oklahoma Legislature is shown. (benkrut/iStock)
Share This: