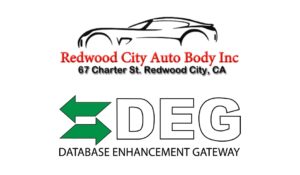 Calling it an "invaluable tool" that "helps provide a neutral ground for negotiations," a California auto body shop has sponsored the Database Enhancement Gateway at the Gold Level.
The DEG offers a free way for collision repairers and insurers to ask questions about and suggest changes to the Audatex, CCC and Mitchell estimating services. It's quick — either the DEG or the information providers will have answers for you potentially as early as that day. All but one February inquiry were knocked out in less than a week, with many responses in a day or less.
"DEG users have the ability to help identify and fix omitted and inaccurate information found in the estimating programs through a standardized inquiry process for all three estimating systems," the DEG wrote in a news release Wednesday. "The database can also be utilized to verify and document necessary operations that have been addressed by other users, and confirmed by the information provider."
The nonprofit service is a joint effort of the national AASP and the Society of Collision Repair Specialists that's also supported by sponsors and advertisers.
On Wednesday, the DEG recognized Redwood City Auto Body as its newest Gold sponsor.
"We are all really proud to recognize Redwood City Autobody for sponsoring with a generous GOLD level contribution to the DEG. Redwood City Autobody's support of this free resource for the Collision Repair Industry is a true testament to the success of their business!" DEG Administrator Danny Gredinberg said in a statement.
The Redwood City, Calif.-based shop joins fellow new 2020 sponsors ALLDATA (Gold) and the Washington Metropolitan Auto Body Association (Silver). Other benefactors include the Platinum-level Automotive Service Association and PPG and the Gold-level Spanesi.
"DEG is an invaluable tool for the auto body repair industry" Redwood City Auto Body owner Alex Kuang said in a statement. "DEG is bridging the gap between estimating databases and collision repair facilities by correcting inaccurate or missing information. This platform helps provide a neutral ground for negotiations.  I am proud to support DEG as an advocate of information sharing within the repair industry."
Not only can any repairer or insurer submit a free inquiry, they can also search the DEG's database of nearly 16,000 past questions and answers for free.
For example, here's an inquiry resolved the same day as the DEG announced Redwood City's sponsorship.
A DEG user asked Tuesday about their inability to calculate stone guard on a 6-foot 2019 Toyota Tacoma 4WD Double Cab.
"CCC One version 8.0.00.01170 With the stone guard option selected, the 'add for stone guard' calculation is not populating (or even an option as an add-on) in the 'pick up box 6 foot bed' group," the user wrote. "This appears to be restricted to the 6 foot bed components only since the 5 foot bed works just fine."
CCC agreed and announced a fix Wednesday.
"After review, in the Pick Up Box 6 Foot Bed group, Front & Side Panels subgroup, a 'Y' or Yes coding for 'Stone Guard Required,' was applied to the Left and Right Side Panel records," CCC wrote.
Feel like supporting the DEG and the industry yourself? Sponsor the nonprofit at the company/group level or as an individual. Alternately, consider buying an ad on the site. The site also takes donations through PayPal.
More information:
"Database Enhancement Gateway Welcomes REDWOOD CITY AUTOBODY as GOLD level Sponsor"
Database Enhancement Gateway, March 4, 2020
Featured image: The Database Enhancement Gateway on March 4, 2020, announced Redwood City Autobody as its newest Gold sponsor. (Provided by the DEG)
Share This: