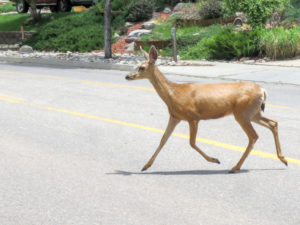 Artificial intelligence object recognition company StradVision on Thursday announced it would add animal detection as a standard feature in its SVNet software.
The company said that the capability could power advanced driver assistance systems to the point that vehicle-to-animal crashes are nearly eliminated.
"With the addition of Animal Detection, SVNet will have the ability to almost completely end the tragedies and property damage caused by vehicle incidents involving animal collisions," StradVision CEO Junhwan Kim said in a statement. "Upon detection of an animal, SVNet will be able to assume control of the vehicle virtually at the speed of light, in scenarios where human reactions are not going to prevent the collision. We are truly excited about the possibilities for this technology in the U.S., where car-deer collisions are a problem, and in areas of Asia where animals are a common road obstacle."
StradVision said its technology could permit for autobraking or autosteering around an animal.
In August 2008, the Federal Highway Administration estimated the number of animal-vehicle crashes rose from less than 200,000 in 1990 to 300,000 in 2004.
"For vehicle owners, the most common direct cost incurred from a (wildlife-vehicle collision) is damage to their vehicle. Most research indicates that more than 90 percent of collisions with deer result in damage to the driver's car or truck. Nearly 100 percent of collisions with larger animals—such as elk or moose—end with substantial vehicle damage.
"Due to the size and weight of the animals, damage to the vehicle can be costly. Based on numerous studies, the average cost of repairing a vehicle after colliding with a deer was estimated at $1,840. For collisions with elk and moose, the averages increase to $3,000 and $4,000, respectively."
$1,840 in August 2008 works out to $2,166.58 as of January 2020. $3,000-$4000 back then would be $3,532.36-$4,709.95 in January.
The Highway Loss Data Institute last year said animal strike insurance claims average 6.6 per insured vehicle years. The average animal strike severity in 2018 was $3,875, up from $2,424 in 2006, according to HLDI. ($2,424 in January 2006 dollars works out to nearly $3,030 in January 2018 dollars.)
State Farm last year put the odds of crashing into an animal at 1 in 116.
According to Stradvision, its competitors get tripped up distinguishing animals from environmental items. It said its software could handle "difficult conditions such as rain, snow, fog, darkness, and urban situations" that might stymie its rivals' AI.
"We have also considered environmental conditions. Even in a road next to trees and branches and other conditions that could hide animals, SVNet maintains a high level of accuracy," Kim said in a statement. "Other perception solutions are often confused in these situations and accuracy goes down, and you don't want that when there's a deer about to pop out of the woods."
StradVision said it already has "ADAS vehicles" on the road in China and has mass production efforts in China and Europe "in partnership with leading global OEMs and Tier 1 suppliers." It predicted millions of vehicles would be using its technology for either self-driving vehicles or advanced driver assistance systems by 2021.
The company already offers traffic light and sign detection, lane detection, and "Free Space Detection."
More information:
"StradVision Developing Groundbreaking Animal Detection Software for ADAS Systems and Autonomous Vehicles"
StradVision via PR Newswire, March 5, 2020
StradVision AI image recognition demos
Featured image: A deer in a street in Durango, Colo. (KaraGrubis/iStock)
Share This: