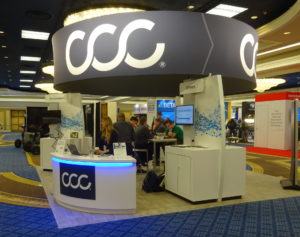 Using the parts "Compare" tool in CCC identifies the body shop and vehicle information number in question to the participating parts vendors, CCC confirmed last week.
This degree of data sharing might come as a surprise and raise privacy concerns for some auto body shops.
CCC explained its "Compare" data practices following a body shop's report to the Society of Collision Repair Specialists of a sales cold call from LKQ.
According to the shop's report to SCRS, the LKQ representative had knowledge of parts from non-insurance, "off the street" estimates which were neither locked nor exported in an EMS file. (EMS files can be transmitted by business partners' data pumps without a shop realizing.)
LKQ could see a vehicle VIN and parts the shop had desired and gave the shop a screenshot demonstrating this. The LKQ sales representative said she could see the estimates and meet or beat the part prices, according to the shop's report.
This knowledge was ultimately traced to the shop's use of the "Compare" button, which lets repairers see which parts are available to replace a component on a customer's vehicle and the prices associated with each one.
SCRS asked CCC about the anecdote and received this statement last month:
For parts quoting, writing an estimate, or ordering parts, CCC repair facility customers access live supplier inventories to obtain electronic quotes containing part availability, final prices, and delivery times.  Quote requests reach active suppliers integrated in the system and when a supplier provides an  electronic quote, they may retain a record of the quote to ensure quoted pricing is honored when parts are ordered.   CCC only provides the supplier with minimal data in order to provide an accurate quote, and suppliers do not see parts on which they do not quote.
"We would contend that there is a HUGE difference between the perception of where a shop would expect data to go (and how it would be used) when comparing a needed part listed on an estimate, via a user interface that pings a live database to confirm available options in the database in real time, in contrast to the examples provided from the repair facility where a list ended up on the desktop of an employee at a vendor that provided them with enough information to be able to call the repair facility and solicit additional parts sales for each estimate that the shop had recently written and contained parts compared against the parts database," SCRS Executive Director Aaron Schulenburg wrote in an email Monday.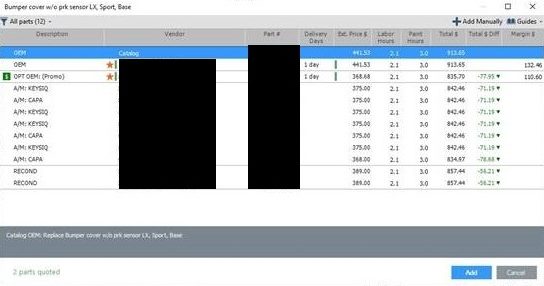 CCC provided us with more context into the process in a March 4 email.
"Shops using CCC for parts quoting create and configure their system profile to identify and select the suppliers with which they want to do business," CCC wrote. "During the estimating process, shops will use the Compare feature to request quotes on parts needed for that specific repair. Only the shop's selected suppliers will receive the quote request and have the opportunity to respond. Quote requests include only the information needed for the supplier to provide an appropriate quote, not the full estimate. This includes vehicle information, part information (to help the supplier understand what parts are needed for the repair), and shop information, which is important so any pre-negotiated discounts and delivery information can be factored into the quote. As you likely know, not all suppliers deliver all parts everywhere. This process works the same as the offline process, but it does a better job in limiting the information the supplier sees – meaning the full estimate is not shared in the electronic process.
"Suppliers who are selected by a shop to receive quote requests all receive the same data for the purpose of supplying a quote – no exceptions.  Suppliers do not see which parts are chosen/purchased unless a part is purchased from them."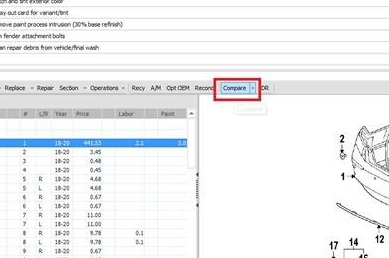 We asked what guarantees collision repairers had that vendors weren't sending information like the VIN to vehicle history databases like CARFAX or somewhere else undesirable for a shop. We also asked about potential exposure to California Consumer Privacy Act issues for larger collision repairers and MSOs.
"Parts suppliers must sign a written contract with CCC in order to use CCC Parts," CCC replied Thursday. "The contract requires parts suppliers to use data, including quote requests, solely for the purpose of completing parts orders within CCC Parts. CCC reserves all rights and remedies against any supplier that misuses data, including but not limited to suspension or termination of services."
We also asked if CCC offered a means to opt-out of cold calls related to Compare parts.
"Repairers and suppliers need to determine how they want to work together. Repairers determine the suppliers with which they want to do business."
CCC's privacy policy can be found here.
We asked LKQ if it would like to comment and about the idea of opting-out from post-Compare sales calls. The company replied:
• Every day we receive part pricing quote requests from multiple sources, including phone calls, emails from shop and garage customers, CCC system requests and many others. 
• We periodically call to follow-up on these pricing request quotes.
• If an individual, on a rare occasion advises us that they do not want to be contacted, we note this on their account and should not call again. (Minor formatting edits.)
We also asked LKQ's privacy policy, noting concerns like the CCPA and vehicle history databases.
"We take the protection of personal information entrusted to us seriously and we do not sell personal information," LKQ wrote.  "Our privacy notice is available at the bottom of our Corporate site.  Here's the direct link: http://www.lkqcorp.com/privacy."
More information:
Images:
The CCC booth at SEMA 2019 is shown. (John Huetter/Repairer Driven News)
Results from a CCC "Compare" parts search are shown. (CCC screenshot provided by SCRS; redactions by Repairer Driven News)
The CCC "Compare" button is shown. (CCC screenshot provided by SCRS; emphasis added by SCRS)
Share This: