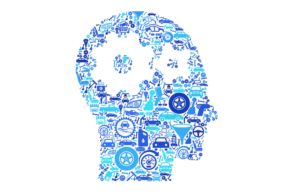 Recently released IMR polling results found training weighed heavily on the minds of mechanical auto repairers.
The study of "independent automotive repair shops" found 42.6 percent of respondents call finding time for hands-on training a key challenge for technicians — the No. 1 response by more than 10 percentage points.
Keeping up with advances in vehicle and diagnostic technology ranked second and third, at 31.1 percent and 30.9 percent, respectively. (Respondents apparently could select multiple challenges.)
IMR President Bill Thompson said the polling of independent facilities involved what would be considered traditional automotive mechanics rather than the entire automotive aftermarket's independents (i.e. not just mechanics, but also oil change facilities, tire shops, body shops, etc.).
Asked about advice for young people considering a job as at technicians, 35.5 percent said "Get the best education/training possible." That was followed by "Take all training available through employer," at 19.6 percent, and "Get hands-on training" at 10.7 percent. "Continually invest in training" ranked No. 6 at 8.3 percent. (Respondents could again select multiple answers.)
The poll data might be relevant to professionals in the sister field of collision repair, and not just those body shops which handle mechanical work in-house. If your auto body shop and technicians aren't taking training and keeping up with vehicle tech seriously, it might be time for everyone to start. And you'll probably want to make sure whoever receives your sublet mechanical work is taking training and vehicle technology readiness as seriously as their competitors.
"Of shop owners who said that staying up-to-date with vehicle diagnostic technology was a major concern, only 18 percent of shops with one to three bays agreed, compared to 37.1 percent of shops with four to seven bays," IMR wrote in a February news release. "38.3 percent of shops with eight or more bays also said that this was a major challenge."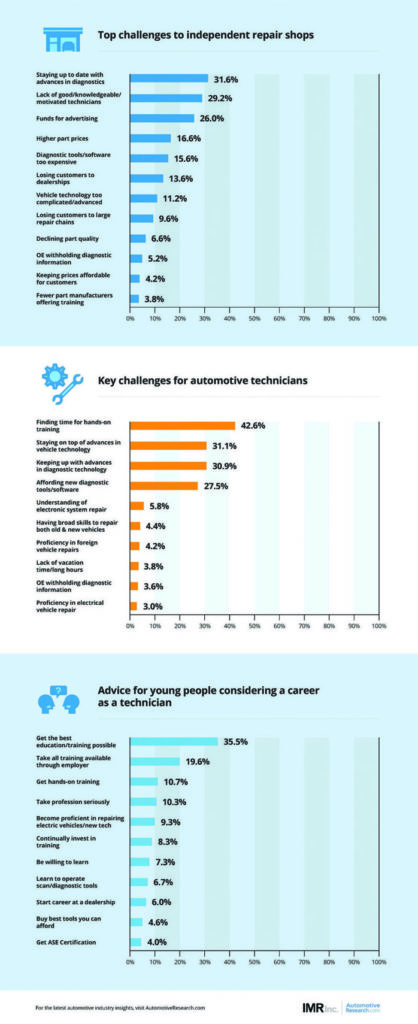 Collision Industry Conference Education and Training Committee survey results released in 2017 found the auto body repair industry might not be training enough.
In January 2017, the committee shared data from a survey of 159 shops, thought to represent some of the most elite shops in the industry. (The CIC audience agreed with that assumption.) Respondents — the majority of which were owners — estimated that technicians had about 11.7 hours of training a year and estimators drew 10.6 hours. "Administration" racked up 7.4 hours, and owners/managers posted about 12.6 hours.
Another CIC study asked OEMs how much training was necessary.
Asian manufacturers felt technicians needed 20 hours of training annually to perform steel structural work on their respective brands, while domestic OEMs felt 27.5 hours would be necessary. European automakers, however, wanted technicians to have a whopping 76 hours of structural steel training, based on results released at another 2017 CIC.
European OEMs felt 50 hours was appropriate for aluminum structural work and 20 hours for non-structural aluminum, while American brands desired 21 hours for structural and 11 hours for cosmetic aluminum. Surprisingly, Asian manufacturers wanted more hours for nonstructural aluminum than they did to repair structural parts made from the metal: 18 hours compared to just six for structural aluminum. This might reflect an absence of structural aluminum among Asian automakers' vehicles, at least based on the past couple of model years.
Asian OEMs did demand the most training out of estimators compared to their rivals across the globe, viewing 23 hours as appropriate compared to the Europeans' 22 hours and the Americans' 13.5 hours.
More information:
"CHALLENGES FOR INDEPENDENT REPAIR SHOPS AND TECHNICIANS IN 2020; ADVICE THEY'D GIVE TO FUTURE TECHNICIANS"
IMR, January 22, 2020
Images:
An IMR survey found finding time for hands-on training was a key challenge for independent shop mechanical repair technicians. (bubaone/iStock)
IMR polling data of independent mechanical repair shops. (Provided by IMR)
Share This: