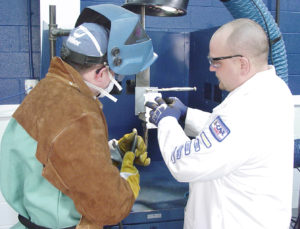 I-CAR last week announced it would permit auto body shops and technicians to repeatedly seek 30-day extensions on Gold Class, Platinum and welding credential renewals as a response to the COVID-19 coronavirus issue.
"​​​​​​​Should you or your business have an upcoming renewal for Gold Class, Platinum or Welding and be unable to complete successful renewal for any reason, please know that I-CAR has your back," I-CAR wrote to the industry on March 18. "Renewals will automatically be extended in 30-day increments until you are able to complete renewal requirements, or until we are past the current COVID-19 situation.  We will continue to monitor the situation and update this policy as necessary going forward."
The educational organization had suspended all live and in-shop events between Sunday and April 5 as a precaution against the COVID-19 coronavirus.
"Our Teams will work to reschedule any canceled events, along with adding new events, hopefully beginning as soon as April 6, or as the situation allows," I-CAR wrote March 18.
"Please know that we will continue to monitor the situation and update this policy as necessary going forward."
I-CAR had already cancelled its March 6-8 2020 I-CAR Conference in Arizona over coronavirus concerns, one of the first industry events to fall. The educational organization said March 19 it would be "Reformatting the I-CAR 2020 Conference to digital delivery and open to the entire Inter-Industry."
A COVID-19 work slowdown might at least offer an auto body shop an opportunity to attend that and catch up on online and virtual I-CAR training. I-CAR said March 18 more than 239 online and 20 virtual classes were available to the industry.
The educational organization said shops should encounter an improved online experience as it continues to work on its platform through April.
"In February, we launched several changes within the LMS environment that have significantly stabilized training requirements for most all customers," I-CAR wrote March 18. "We have been working on remaining lesser issues that are still impacting certain subsets of customers.  This weekend, we have a series of system updates that will be made; most customers will not see any changes, but those that have had remaining issues will see improvements.
"Additionally, we continue to make progress on completing course enhancements to optimize navigation and playability. We are on track with this work planned for completion by end of April.  We are also readying launch of an updated Virtual course delivery systems, enabling non-Flash technology which will make course viewing much easier in modern day browsers that are no longer Flash compatible, this is on track for late April deployment."
Live class processes
I-CAR had left its scheduled live courses March 16-21 intact if repairers who wished to complete them but eliminated rescheduling and cancellation fees for those who "for any reason" didn't. If shops planned to proceede, the I-CAR instructor could screen them for COVID-19 ahead of the course with a questionnaire.
"The questionnaire will ask the scheduled shop a series of questions to screen potential risks associated with COVID-19 to help minimize exposure," I-CAR wrote.
I-CAR discussed its live class process in greater detail March 12:
If any shop employee identifies as potentially exposed, the course/event will be rescheduled. If an instructor arrives and finds that any shop employee is ill or showing symptoms, the instructor reserves the right to cancel the event, and it will be rescheduled at a later time. If an instructor opts to not deliver a scheduled course citing health/exposure concerns, I-CAR will attempt to identify another instructor willing to deliver the course. If no instructor can be identified, I-CAR will reschedule the course. In order to opt out, the instructor must notify their Lead Associate or AVP-Delivery prior to cancelling the event.
I-CAR also at that time described its process for fixed sites and Jaguar Land Rover training.
Other cancellations
In other COVID-19 cancellation news, the Collision Industry Electronic Commerce Association on Tuesday confirmed it had cancelled its April 9 board meeting. "
"We are evaluating new dates but are reluctant to formally plan anything at this time," CIECA interim Executive Director Ed Weidmann wrote in an email. "I will keep you advised as our discussions continue."
Also, Ford on Tuesday announced it was "not planning to restart our plants in the U.S., Canada and Mexico on Monday, March 30 as originally hoped."
"We are assessing various options and working with union leaders – including the United Auto Workers and Unifor – on the optimal timing for resuming vehicle production, keeping the well-being of our workforce top of mind," the OEM continued.
More information:
"March 18, 2020 I-CAR Message to the Industry Regarding COVID-19"
I-CAR, March 18, 2020
I-CAR COVID-19 coronavirus training policy
I-CAR, March 17, 2020
Featured image: An image from I-CAR's welding program. (Provided by I-CAR)
Share This: