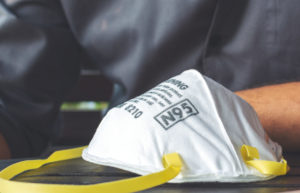 As the nation deals with shortages caused by the COVID-19 coronavirus response, Harbor Freight Tools announced Sunday it would donate its full supply of certain personal protective equipment to hospitals in its markets.
Any hospital with a 24-hour emergency room is welcome to request some of its stock of N95 masks, face shields and 5- and 7-mil nitrile gloves, owner Eric Smidt wrote in an open letter.
"Although we certainly won't have enough of these supplies to fill everyone's needs, we're going to donate everything we've got," he wrote. "We also recognize that there are so many other critically important people responding to this crisis and that there is need everywhere. We've chosen to focus our efforts on hospitals with a 24 hour emergency room with the hope that we can help as many people as possible right now."
Procurement staff at hospitals with 24-hour ERs can contact Harbor Freight here. Laymen can email hospitalhelp@harborfreight.com with suggestions of hospitals meeting the criteria that might need help. (The business asks that you identify the hospital's city and state in the subject line.)
"For hospitals we're able to help, we'll email them a voucher when the supplies are available for pick up at their local Harbor Freight Tools store," Smidt wrote.
Harbor Freight Tools spokesperson Swati Pandey on Tuesday said the company estimated the donation at "45 million pairs of gloves, hundreds of thousands of N95 masks and tens of thousands of face shields."
Pandey said Harbor Freight would keep on donating as it received new supplies.
"We are committed to donating every piece of personal protective gear we receive, as long as the virus is still threatening our frontline healthcare workers," Pandey wrote in an email.
If you work at a hospital with a 24 hour emergency room in need of these items, please ask the office in charge of procurement at your hospital to visit this URL https://t.co/JgPQ0GIOxh so they can provide us with the information we'll need to determine if we can make a donation. pic.twitter.com/RJUOW5z2c8

— Harbor Freight Tools (@HarborFreight) March 22, 2020
The Society of Collision Repair Specialists on Tuesday encouraged similar charity from the industry's body shops following a conversation with a software company seeking N95 masks.
"The CEO of the company has a daughter in school at NYU, and it led him to conversations with Dr. Celine Gounder, Clinical Assistant Professor of Medicine & Infectious Diseases, NYU School of Medicine & Bellevue Hospital and was asking for any assistance to support their efforts in fulfilling her requests," SCRS wrote on Facebook. "As Dr. Gounder shared, New York State and the NYC metro area are ground zero for the COVID-19 epidemic in the U.S. Health care providers are facing a critical shortage of personal protective equipment, especially of N95 respirator masks, but also of gowns and face shields."
SCRS asked anyone with spare PPE to ship it to Bellevue Hospital Center, Department of Medicine, 462 1st Avenue – 16th Floor, New York, NY 10016.
"We recognize that many collision repairers may have these types of supplies in the shop," SCRS wrote. "If you have an excess of masks, or are going to be closed for any period of time where the inventory isn't immediately necessary, there may be ways to support your community through donation – whether to institutions such as the one listed above, or local medical facilities in your own region."
Fenton, Mich.-based Soja's Autobody Services described doing the latter. "We donated our N95 masks to a local ER," the shop commented on the post. "I called ahead and was directed to deliver the masks to the receiving door where someone was waiting to meet me. Every little bit can help, they were grateful and said every single item donated is needed."
In a sign of the healthcare industry's need, the state of New York on Tuesday announced it had been purchasing nearly 2 million N95 masks and other PPE and distributing it to hospitals.
"While the number of new cases continues to increase unabated, we are exercising all options as aggressively as we can including ramping up testing, isolating those who are infected, closing down nonessential businesses and building hospital surge capacity," Democratic Gov. Andrew Cuomo said in a statement. "The State cannot do this alone, and the blunt truth is we need more ventilators and healthcare equipment fast, and we need the federal government to actually use the Defense Production Act to get private manufacturers to help build this critical equipment. I'm not asking the federal government to help New York just to help New York — I'm asking for everyone. New York is the first — if we learn how to blunt the impact here and bend the curve here, we can help other states who are next. Let's learn how to act as one nation."
Cuomo said the state had 25,665 confirmed coronavirus cases.
Personal protective equipment shortages could be an issue for collision repairers as well. Auto Care Association Paint, Body and Equipment Specialists community liaison Paul Fiore shared an account of such a dearth from a committee member.
The PBES committee member noted "Limited distribution of PPE type equipment such as masks, respirators, gloves, etc."
"(A) Distributor I am friendly with would typically buy anywhere from 5-10 cases of masks a week and is now limited to one case per week," the committee member wrote. "Same is beginning to happen with gloves.  Manufacturers are looking at ways to drop-ship on behalf of these warehouses to protect the local inventory but still supply the demand being created at the Jobber and Shop levels of the supply chain."
3M boosts production
There is some positive news. 3M on Friday announced it had doubled its N95 respirator production over the past two months and was now on pace for more than 1.1 billion a year, or nearly 100 million monthly.
"In addition, 3M is increasing its investments, primarily in the U.S., to expand its global capacity by over 30 percent in the next 12 months," the manufacturer wrote in a news release.
"The company is also maximizing production of a wide range of other products used in the COVID-19 response globally including hand sanitizers, disinfectants and filtration solutions as the pharmaceutical industry works to find a vaccine to fight the virus."
It also warned of counterfeits and said it couldn't control price-gouging.
"3M is receiving increasing reports of fraudulent and counterfeiting activities involving 3M products. The company strongly condemns any unethical actions taken to exploit the global pandemic," the company wrote.
"3M has not changed the prices it charges for 3M respirators as a result of the COVID-19 outbreak, but the company cannot control the prices dealers or retailers charge for 3M respirators."
FCA on Monday said it would make and donate more than 1 million face masks a month for health care workers and first responders, but it didn't specify which type of masks.
"Protecting our first responders and health care workers has never been more important. In addition to the support we are giving to increase the production of ventilators, we canvassed our contacts across the healthcare industry and it was very clear that there is an urgent and critical need for face masks," FCA CEO Mike Manley said in a statement. "We've marshalled the resources of the FCA Group to focus immediately on installing production capacity for making masks and supporting those most in need on the front line of this pandemic."
More information:
"3M Outlines Actions to Support Healthcare Effort to Combat COVID-19"
3M, March 20, 2020
Harbor Freight Tools, 2020
Featured image: An N95 mask is seen. (Memorystockphoto/iStock)
Share This: