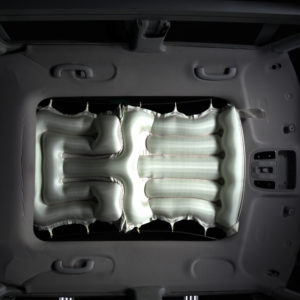 Hyundai Mobis last month described working on the reliability of the "world's first roof airbag."
The project, which dates back to at least 2017, recently saw testing by the National Highway Transportation and Safety Administration.
Hyundai said the airbag would deploy "under the surface side of the vehicle" in a rollover and cover a roof in 0.08 seconds. Hyundai said it was "planning to leverage its differentiated technology to take on the global market."
The Hyundai technology and NHTSA testing offers an interesting look at what repairers could someday encounter as panoramic sunroofs grow in popularity and regulators examine safety implications.
Allied Market Research has estimated the "global automotive panoramic sunroof industry" sat at $1.31 billion in 2018 but would hit $4.26 billion by 2026. The sector would post a compound annual growth rate of 15.7 percent between 2019 and 2026, according to Allied Market Research.
"The market across North America is anticipated to register a CAGR of 16.2% through 2026," the company wrote in a news release. It said the European and Asia-Pacific regions would grow even more.
Glass sunroofs accounted for about 94 percent of the revenue in 2018, according to Allied Market Research.
The New York Times in 2018 cited Wards Auto data to report that 40 percent of 2017 model year vehicles had a sunroof, compared to 33 percent for 2011. The newspaper discussed the risk of ejection and the safety implications of tempered glass versus laminated glass sunroofs. It also quoted Hyundai Mobis as stating its airbag would protect occupants if the sunroof was open.
NHTSA's 2011 Federal Motor Vehicle Safety Standard 226 on ejection mitigation did not enact a requirement for roofs. But the agency was interested in the topic.
"Commenters to the NPRM argued that the PRIA stated that after implementation of FMVSS No. 226, roof ejections are likely to increase from their current level as a result of occupants, contained from side window ejections, being available for ejection from other portals," NHTSA wrote in the 2011 final rule. "The agency agrees this is a reasonable possibility. In fact, our findings in analyzing the RODSS database cases with side curtains are consistent with this conclusion. Commenters also indicated their belief that roof ejections may increase due to more and larger sun/moon roofs in the future. This forecast seems speculative since there was no data provided to support it.
"In any event, we have determined it is not reasonable to expand this final rule to roof glazing. A major impediment is the lack of a proven performance test procedure for roof glazing. The current configuration of an ejection propulsion mechanism and ejection impactor has been years in development and is specially designed for horizontal impacts on nominally vertical surfaces. A comparable performance test will have to be developed that delivers an appropriate amount of impact energy to a pre-broken roof glazing or the opening covered by some other countermeasure. …
"NHTSA is interested in learning more about roof ejections and would like to explore this area further. We plan to examine field data to better understand the current and future extent of roof ejections, and will seek to learn about the future implementation of sun/moon roofs in vehicles and ideas about effective ejection countermeasures through those portals. The results of this work may find that future rulemaking on roof ejections could be warranted."
Hyundai Mobis in 2017 said its airbag deploys from the the rear of the sunroof and extends forward to cover the opening. It deploys based on a change in the turning angle of the vehicle, according to Hyundai Mobis.
"The structure of the sunroof airbag is more complex than that of ordinary airbags," Hyundai Mobis wrote in a 2017 news release. "It has more technological difficulty, so to speak. As this airbag is in the sunroof system, it is important to secure enough space for stable airbag deployment when making the sunroof. What's more, it must be deployed safely in a way that fits the situation, e.g. when the sunroof screen is open or closed in an accident. If the car is overturned when the sunroof is closed, the airbag is deployed across between the sunroof glass and the sun shield."
NHTSA in a recent PowerPoint presentation for the 2020 SAE Government Industry Meeting described testing Hyundai Mobis roof airbags and production and countermeasure sliding panoramic sunroofs on a Lincoln MKZ. NHTSA reported that the former revealed:
• Bag more likely to rip or tear when hit at guide ring attachment
• Excursions less in corners and on lateral edges where more supported by guide rings and rods
• Excursions less closer to center support area
• Delay Timing Effect on Excursion
• Longer delay = greater excursion
• Greater effect of delay differences on front panel than rear (Minor formatting edits.)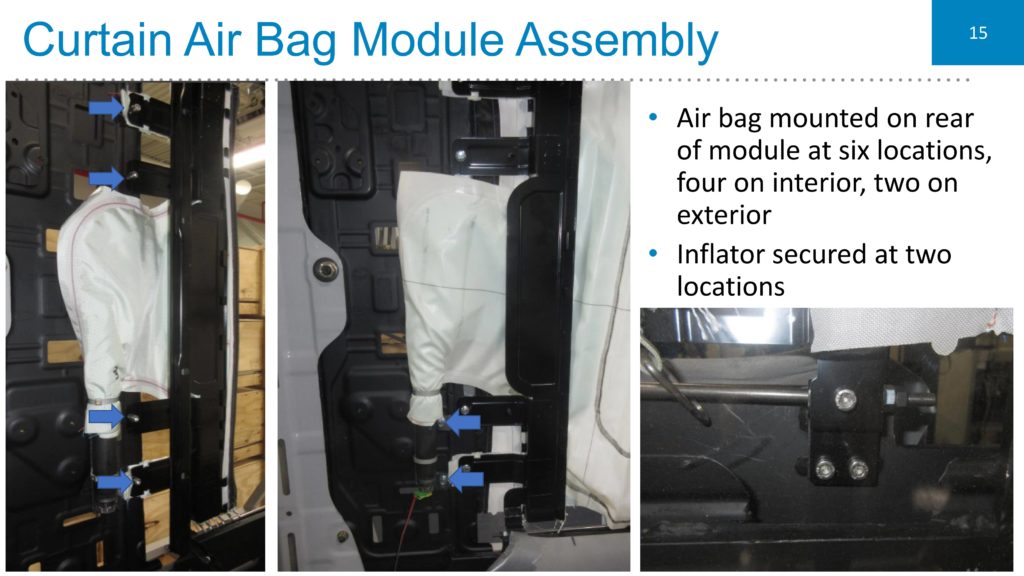 The agency's overall observations reference elements that would seem to command particular care by repairers when restoring a vehicle.
• Movable panels with good attachment designs can perform well (excursion <100mm)
• MKZ had metal rails, pins and cam
• Air curtains feasible for preventing ejection but still in development stages
• Roof air curtain produced similar headform forces and energy as good performing laminate movable sunroofs, higher excursions
• More testing needed on other air curtain setups
• All components in load path need to be designed for occupant containment
• Rail, rail inserts, bonding to glass, glass/plastic strength (Minor formatting edits.)
"In a road test using dummies, when the airbag was deployed, it prevented the passenger from being flung out of the car and cushioned the impact on the head," Hyundai Mobis wrote in 2017. "Serious injuries likely to result in the death of the passenger were reduced to minor injuries."
NTHSA in its presentation slides described having previously testing fixed and movable laminated sunroofs at about 9.94 mph (16 kmh) and 12.43 mph (20 kmh). NHTSA said it also had tested production and countermeasure sunroofs at about 8.7 mph, 9.94 mph and 12.43 mph (14, 16, 20 kmh).
More information:
"Hyundai Mobis makes inroads into the global 'safety technology' market with the world's first roof airbag"
Hyundai Mobis, March 27, 2020
"Hyundai Mobis Develops the World's First Panorama Sunroof Airbag"
Hyundai Mobis via Business Wire, Oct. 19, 2017
"Status of NHTSA's Roof Ejection Mitigation Research" slides
National Highway Traffic Safety Administration, 2020
NHTSA FMVSS No. 226 final rule
NHTSA, January 2011
"Automotive Panoramic Sunroof Market to Garner $4.26 Bn, Globally, by 2026 At 15.7% CAGR, Says Allied Market Research"
Allied Market Research via PR Newswire, Feb. 10, 2020
"Sunroofs Are Growing in Size and Popularity. Rules Haven't Kept Up."
New York Times, Feb. 22, 2018
Images:
Hyundai Mobis is working on what it calls "the world's first roof airbag." (Provided by Hyundai Mobis)
Hyundai Mobis is working on what it calls "the world's first roof airbag." The National Highway Traffic Safety Administration has studied two versions of it. (Provided by NHTSA)
Share This: