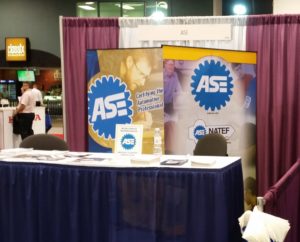 I-CAR last week announced its COVID-19 coronavirus-related live training suspension would extend through at least May 4.
The organization had halted all live classes and certification between March 22 and April 5 but left open the possibility of such training resuming Monday. On March 31, this too was ruled out.
"For the time being, and in the health and safety interest of all our stakeholders, I-CAR will not be delivering Live and In-Shop (WTC/HOSD/ISKA) training events at least until May 4," I-CAR wrote. "Events scheduled Monday, April 6 through Sunday, May 3, will be cancelled and rescheduled for May 4 or later. We will continue to monitor the situation and update this policy as may be required going forward." (Emphasis I-CAR's.)
Critical credentials like Gold Class and welding certification won't expire because of a repairer's inability to obtain the required I-CAR courses or testing, the organization said earlier last month.
"​​​​​​​Should you or your business have an upcoming renewal for Gold Class, Platinum or Welding and be unable to complete successful renewal for any reason, please know that I-CAR has your back," I-CAR wrote March 18. "Renewals will automatically be extended in 30-day increments until you are able to complete renewal requirements, or until we are past the current COVID-19 situation.  We will continue to monitor the situation and update this policy as necessary going forward."
Virtual and online training remain available, I-CAR said March 31.
The educational organization also offers another way for repairers to learn. I-CAR announced Thursday it would provide its "industry-renowned Repairability Technical Support® (RTS) Portal to users for free through May 31, 2020." (Emphasis I-CAR's.)
Repairers who didn't already have access will want to jump on the two free months of rts.i-car.com.
The Repairability Technical Support portal teaches repairers how to use OEM procedure websites and includes the "Ask I-CAR" feature about the content within. The latter involves I-CAR acting as a middleman, taking shops' questions regarding missing or confusing instructions and obtaining an answer from the automakers themselves. You also can obtain other technical guidance from I-CAR, such as this March 18 discussion of Kia spot and plug weld nuggets, and access I-CAR 360 video tours of various vehicles.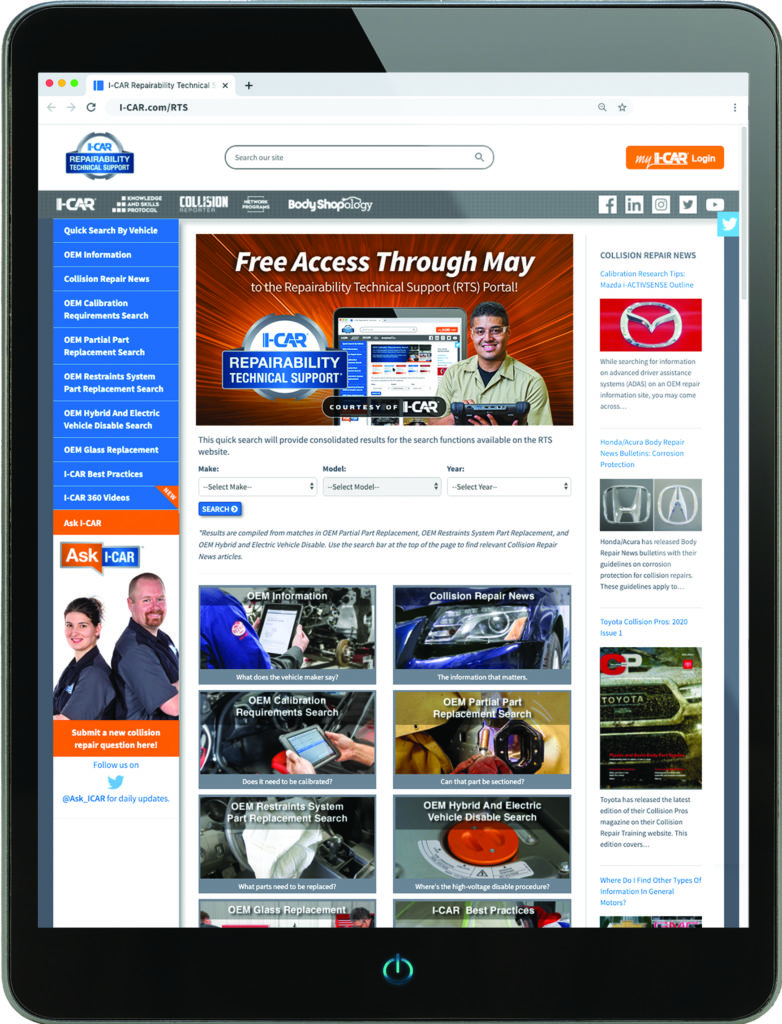 ASE certifications extended
Another major certifying entity announced it would cut repairers a break given the COVID-19 coronavirus.
ASE has announced all Prometric test centers were closed effective March 17 through April 16.
"As the situation with coronavirus (COVID-19) continues to evolve, nothing is more important than the health and safety of our ASE Certified professionals, their families and the ASE staff," the organization wrote.
"… We anticipate re-opening after this date; however, any openings will be dependent on circumstances that are changing daily.
It gave all repairers slated to test between those dates until June 30 to do so.
However, it later announced that all ASE certifications expiring June 30 would stand until Dec. 31.
"During these challenging times, we know you have a lot on your mind, and we don't want you to worry about your expiring ASE certifications," ASE leaders wrote to the industry. "To help ease your mind, ASE has automatically extended any of your June 30, 2020 expirations to December 31, 2020. At a time like this, a professional credential is even more important, so please visit your myASE account to print a certification status letter showing the updated expiration date. If your employer requires a certificate, please reach out to our customer service department at contactus@ase.com for assistance." (Emphasis ASE's.)
ASE staff working from home were still accessible for questions, the organization said.
"We want you to know that ASE, and all our industry partners, appreciate your service and commitment to professionalism as our transportation infrastructure needs you more than ever," ASE wrote.
"Your health and well-being are a top priority for all of us at ASE. So, please stay safe, follow the guidance from the Centers for Disease Control (CDC) at home and work, and know that you have the full support of ASE as you keep the motoring public going."
More information:
I-CAR COVID-19 coronavirus webpage
I-CAR training COVID-19 updates
I-CAR, March 31, 2020
I-CAR Repairability Technical Support portal
ASE announcement of certifications extended to Dec. 31
Images:
The ASE booth is seen at NACE 2016. (John Huetter/Repairer Driven News)
The I-CAR Repairabiliy Technical Support portal is seen on a tablet. (Provided by I-CAR)
Share This: