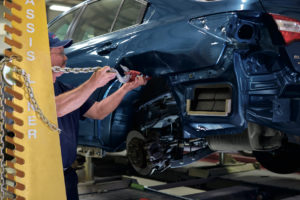 Subaru recently changed its certification agreement to add an unannounced check alongside the audit with advanced notice, national wholesale parts manager John Lancaster said last week.
The surprise audit will focus on quality control, Lancaster said in an interview that described the company's existing audit process.
Subaru's certified collision program debuted in summer 2018 for dealerships and opened to independent auto body shops in 2019. Lancaster said that Subaru wants years 2-4 of the program to "focus more on the quality aspect of it."
Wadsworth International is responsible for Subaru's audits. It has subcontracted the field work to Vehicle Collision Experts, and the OEM meets with the team twice a year to ensure consistency, Lancaster said.
The audits take about 3-4 hours, possibly as long as six hours, Lancaster said. He said repairers often aren't used to such audits. "They're used to quicker ones," he said.
Lancaster said past audits have found "some pretty dumb stuff."
Checking tools is "kind of a formality" in the audits, Lancaster said. The visits instead focus on quality.
Lancaster gave examples of checks involving broad concepts like adherence to a quality control process and technician safety. Auditors also look at finer details like weld quality, taped electrical connectors and parts stored within the vehicle, he said. (The last of these is a "no-no," he said.)
The auditors also look at repair procedures; Subaru doesn't want repairers merely printing out instructions after the work is done, he said.
Auditors also perform a "repair quality analysis" involving examinign three cars in process; if no Subarus are present in the shop, they'll check other makes.
The auditors check the first two vehicles but have the shop audit the third.
"That's the 'aha' moment," Lancaster said.
This format "works so much better" than simply yelling at the shop about its errors, according to Lancaster. Repairers will remark that they never considered a particular item, he said.
"Accidents are unfortunate and unpredictable, but if your Subaru is involved in one, choosing where to have it repaired can make all the difference moving forward," Subaru tells consumers on its certified collision repair website.
"Subaru Certified Collision Centers provide the proper training and equipment necessary to restore your vehicle to its original factory specifications, and this includes the ability to accurately recalibrate the components of Subaru EyeSight® Driver Assist Technology. They also use the proven fit and quality of Genuine Subaru Collision Parts for replacement to help ensure that your Subaru is returned in like-new condition along with the protective capabilities that kept you safe in the first place."
Other recent changes permit Subaru to track more traditional KPIs within its shops.
Lancaster said has Subaru added a data pump vendor to shops' requirements and is pulling basic repair order information to track cycle time.
It also recently launched customer satisfaction surveys delivered by SureCritic.
In an an interview Thursday that brought up the "collision" definition, Subaru national wholesale parts manager John Lancaster
Surveys so far have been "fantastic," yielding good comments and what Lancaster thought was an initial net promoter score of around 93 percent.
More information:
Subaru OEM repair procedures (works best in Internet Explorer)
Subaru Certified Collision webpage
Featured image: A Subaru Legacy is attached to a frame machine. (Provided by Subaru)
Share This: