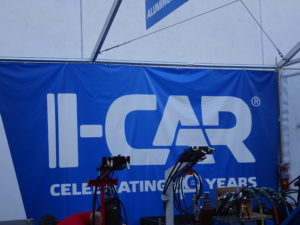 I-CAR announced Friday it would extend its moratorium on live courses, including welding certification, until June 15 due to the COVID-19 coronavirus issue.
However, its curriculum of "Virtual" (webinar-style courses led by an instructor) and regular online classes remains intact for shops to leverage during this slow business time. In fact, I-CAR announced Friday it had bolstered that portfolio by creating virtual editions of four popular, required live classes: "The Art and Science of Estimator Interactions," "Capturing Quality Photos," "Coordinate the Repair Process" and "Understanding the Cycle Time Process."
"Over the past month, I-CAR acted swiftly to convert four high-demand and required PDP Live, instructor-led courses to a virtual format, giving shops continued training options until it is safe to once again deliver live and in-shop training events," I-CAR wrote.
I-CAR also has extended the deadlines to renew Gold Class, Platinum and welding certification credentials.
"I-CAR's COVID-19 Industry Relief Program is grounded in understanding the substantial impact the industry is experiencing as a result of the pandemic, emphasizing the role of ensuring the health and safety of all, while also allowing individuals and businesses to maintain credentialing status in a viable manner and with program integrity," I-CAR wrote in a news release.
Anyone due to renew through April 30 will have until July 31 to finish all courses except for the welding requirement; the repairer will receive until their 2021 renewal date to requalify on that front. I-CAR said any live courses needed have been converted to virtual ones.
Everyone due to renew Gold Class and Platinum between May and September won't need to do so until Sept. 30. Again, the welding requirement has been delayed even further to the 2021 renewal date.
Finally, anyone whose welding certification would have been up for renewal through September can wait until their 2021 renewal date.
"In-shop event delivery levels are expected to accelerate as Q3 progresses, with full capacity in place by Q4 2020, contingent on industry demand," I-CAR wrote in a news release Friday.
I-CAR revealed it too had suffered as a result of the COVID-19 coronavirus threat and response. "We are feeling the impact of the virus just as many of you are," I-CAR sales and marketing Senior Vice President Nick Notte said in a statement.
The organization said it had imposed layoffs and furloughs, paused benefits and "reduced expenses at all levels."
Nevertheless, I-CAR said it had been offering free and discounted training and anticipated "additional relief options over the coming weeks."
I-CAR's "Supporting Every" webpage offers "buy two, get one free" deals on advanced driver assistance systems courses; "Using Vehicle Maker Repair Procedures" and four production management courses for free; free access to the I-CAR Virtual Conference; and free Repairability Technical Support portal access.
"We're here to help, and as you do, we look forward to getting back to business," Notte said in a statement. "We know the industry and I-CAR will come back strong."
I-CAR invited the industry to learn more about its Industry Relief Program and "important updates related to our new and recently launched training, credentialing requirements and customer support systems" in a virtual event featuring CEO John Van Alstyne. Join it here at 4 p.m. ET Wednesday.
More information:
"I-CAR® SHARES SUPPORTIVE INDUSTRY ACTIONS, PLANS & UPDATED POLICIES IN RESPONSE TO COVID-19"
I-CAR, May 1, 2020
I-CAR's "Supporting Every" webpage and deals
I-CAR Repairability Technical Support portal
Watch May 6, 2020, "I-CAR Industry Announcement" virtual event
I-CAR YouTube channel, May 6, 2020 (4 p.m. ET)
Featured image: The I-CAR logo can be seen in the organization's 2019 SEMA booth. (John Huetter/Repairer Driven News)
Share This: