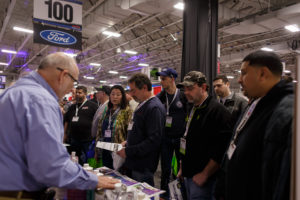 The Alliance of Automotive Service Providers of New Jersey on Wednesday announced it would make NORTHEAST virtual-only.
COVID-19 coronavirus concerns and travel issues in early March — a week before Democratic New Jersey Gov. Phil Murphy had even issued his first major lockdown order — led AASP-NJ to reschedule the March 20-22 NORTHEAST to Aug. 21-23.
But with Murphy still capping gatherings at 10 people as of Monday, AASP-NJ made what it called the "difficult decision" to replace the live NORTHEAST with a virtual version.
"When we first realized the magnitude of COVID-19 and postponed NORTHEAST in March, we hoped we wouldn't be faced with this decision," AASP-NJ President Jerry McNee (Ultimate Collision Repair) said in a statement. "With the uncertainty about what restrictions will be lifted by August, we felt the public health and safety of our attendees, staff and volunteers outweighed any other considerations to go on with this year's event and decided instead to plan for an even greater NORTHEAST in March 2021."
On Monday, Murphy announced New Jersey would roll out a "Phase Two" reopening between June 15 and July 6 — but one that continued to bas mass gathering and permit only "Limited in-person retail."
"While statistical data throughout New Jersey continues to trend in a hopeful direction, the viability of holding NORTHEAST this summer remains too uncertain amidst no short-term timeframe of mass gatherings resuming in New Jersey," AASP-NJ wrote in a news release.
The virtual show will include educational opportunities tied to the "Collision P.R.E.P." sessions hosted by the Washington Metropolitan Auto Body Association, AASP-NJ said. It'll also let people walk a NORTHEAST floor of sorts, according to the trade group.
"The virtual experience will allow attendees to enter an online NORTHEAST floor plan and access exhibitors' products, videos and information, and even schedule a private meeting," AASP-NJ wrote. "… Exhibitors will be contacted by event management ASAP to discuss all options."
Thomas Greco Publishing President Thomas Greco, whose company partners with AASP-NJ to organize NORTHEAST, said the virtual trade show will be free. (The traditional NORTHEAST is free for those who preregister or have a ticket.)
"Vendors will have the option to move all costs forward to 2021 or receive a refund per the terms of their agreement," Greco wrote in an email.
Asked about the Collision P.R.E.P. educational series, which traditionally carries an admission charge, Greco wrote: "We will still have that in some form virtually. We are working with WMABA to finalize. We should have a definitive answer soon."
SEMA, which recently opened registration but acknowledged the show might still look different than prior years, might be the only trade show game in town for 2020. McNee suggested a "pent-up demand" might boost NORTHEAST 2021.
"As shop owners ourselves, we know everyone will be looking to get out and see what they missed," McNee said in a statement. "We know that come March, there will be a pent-up demand to get back out to the NORTHEAST show for all the latest in equipment, technology and education. We look forward to seeing everyone March 19-21, 2021."
Those interested in learning more about the virtual NORTHEAST can join a mailing list here.
The NORTHEAST announcement comes two days after the Collision Industry Conference announced it would replace its July gathering in New Jersey neighbor Pennsylvania with a virtual format. Unlike typical CICs, the event is free for everyone registering with a publicly available promo code.
More information:
"AASP/NJ Cancels NORTHEAST 2020 Due to COVID-19 Concerns and Restrictions"
Alliance of Automotive Service Providers of New Jersey, June 3, 2020
NORTHEAST 2020 updates mailing list
Featured image: The floor of NORTHEAST 2019 is shown. (Provided by Thomas Greco Publishing)
Share This: