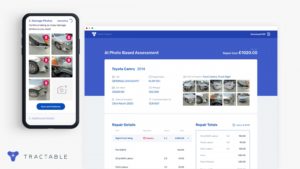 Tractable this spring demoed AI photo estimating going beyond broad repair-replace decisions to include specific body and paint labor times and the replacement of parts like emblems.
An insurer using Tractable could know before the end of the FNOL call if a vehicle is repairable and the cost of the claim if so, according to Tractable automotive head Jimmy Spears.
"It becomes a completely manageable event," Spears said during the demo March 31. A simple claim could be closed in a "very, very short period of time," he said.
Initial estimate depth
Tractable's demo offered a look at what the technology could now produce based upon images of a 2017 Nissan Sentra, a 2014 Ford F-150 and a 2017 Jeep Grand Cherokee.
The initial estimate for the Nissan Sentra came in at $2,814.96, including 6.7 hours of paint and 5.4 hours of remove/install labor.
The AI included replacing a front bumper, grille and hood. The software also wrote for blending labor on the fenders adjacent to the replaced parts — an industry best practice that some non-AI sheets might overlook.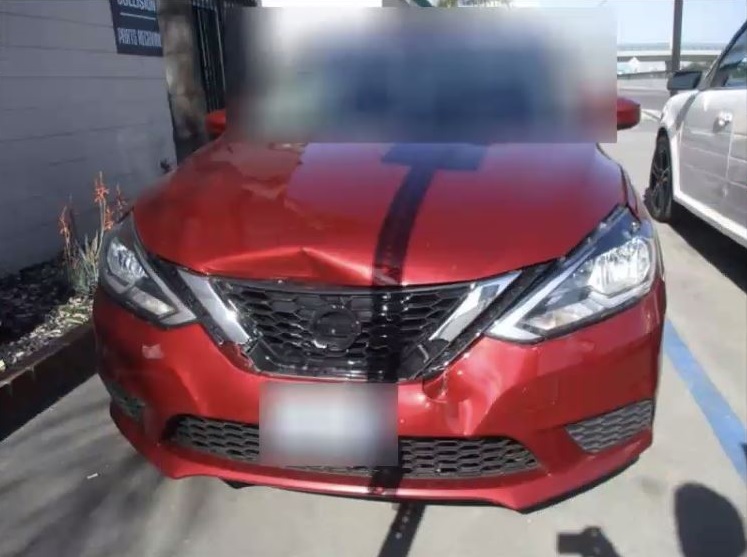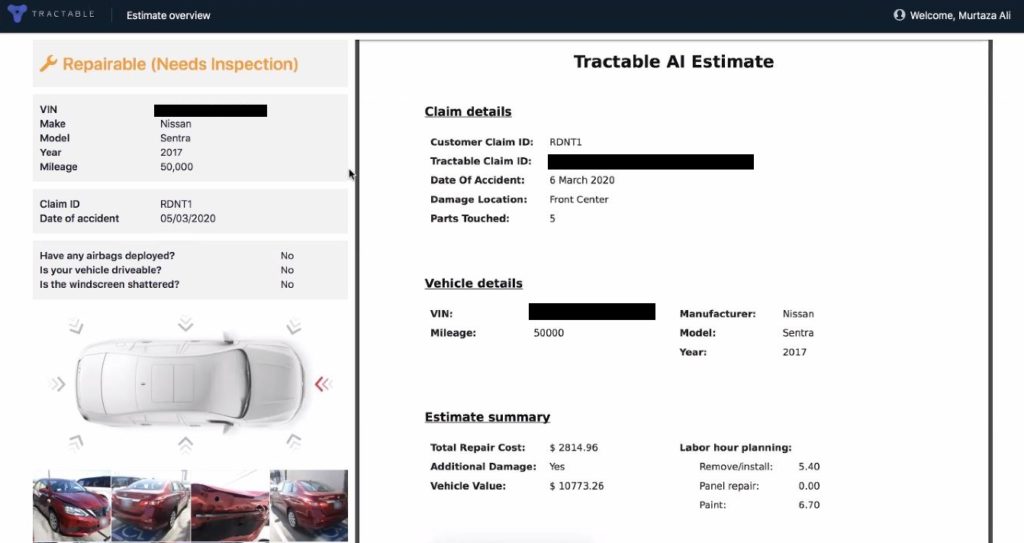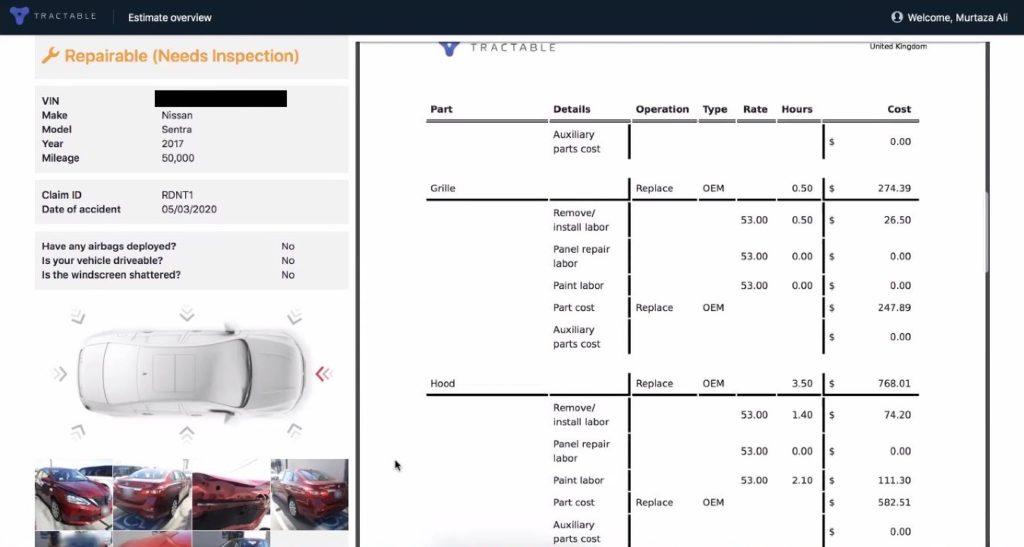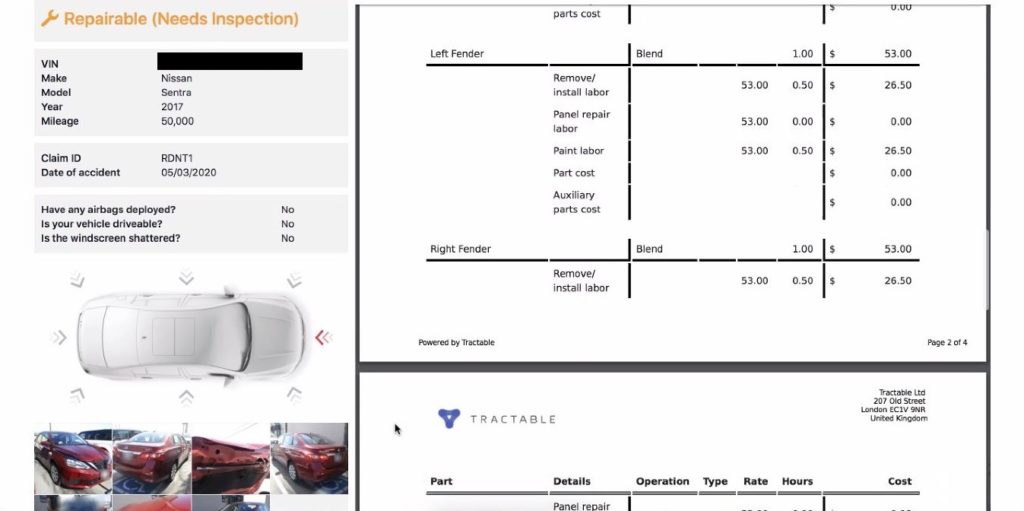 Tractable AI motor engineering operations and development manager Max Ali said that while perhaps "you wouldn't tend to blend" a color like a black, you'd "definitely" blend a metallic like the Sentra's. The software would have made this call based upon the metallic paint, he said.
The system estimated the 2017 Jeep Grand Cherokee to need $2,006.46 worth of repairs, including 7.2 hours of R&I time, 8 hours of panel repairs and 7.3 hours of paint labor. The software marked parts including right rocker panel and both right doors as repairable.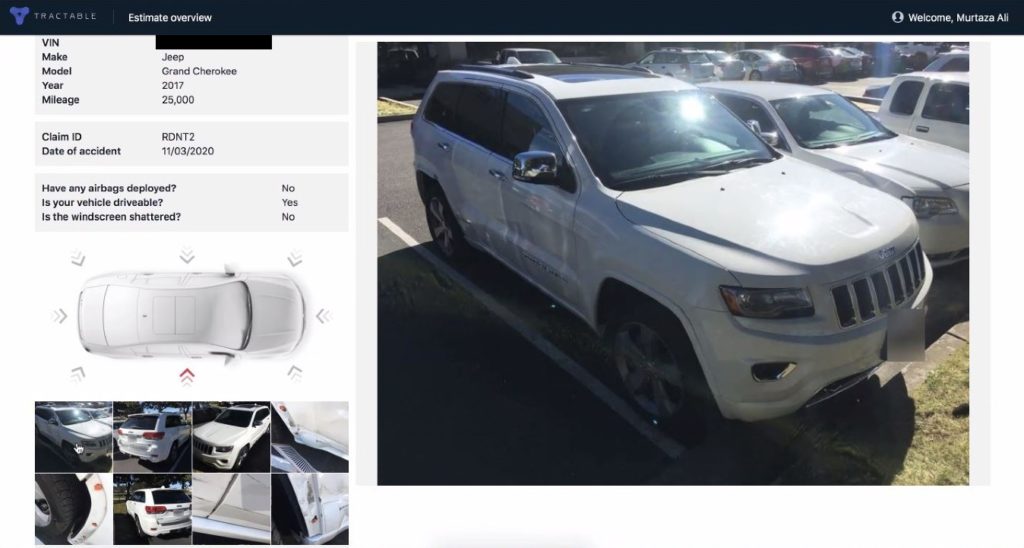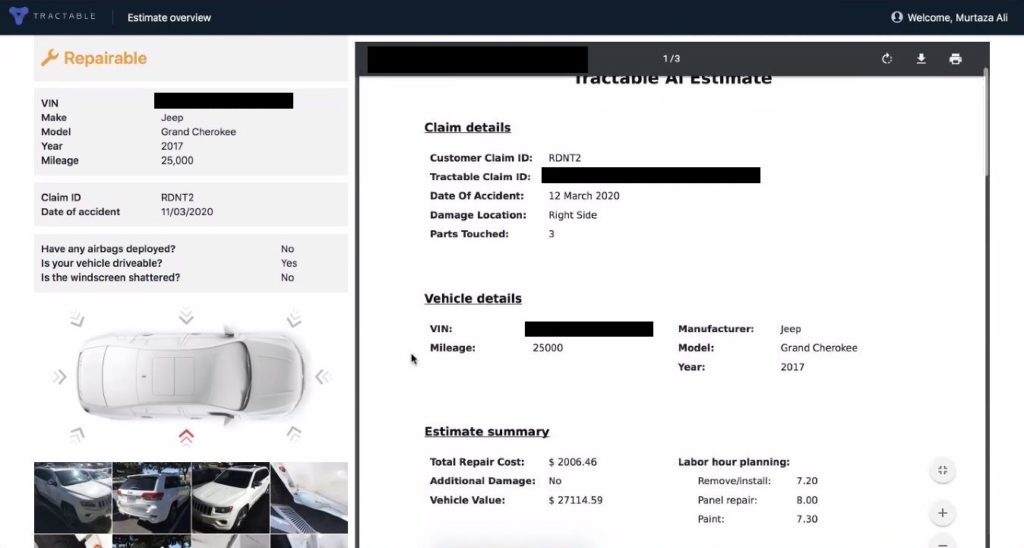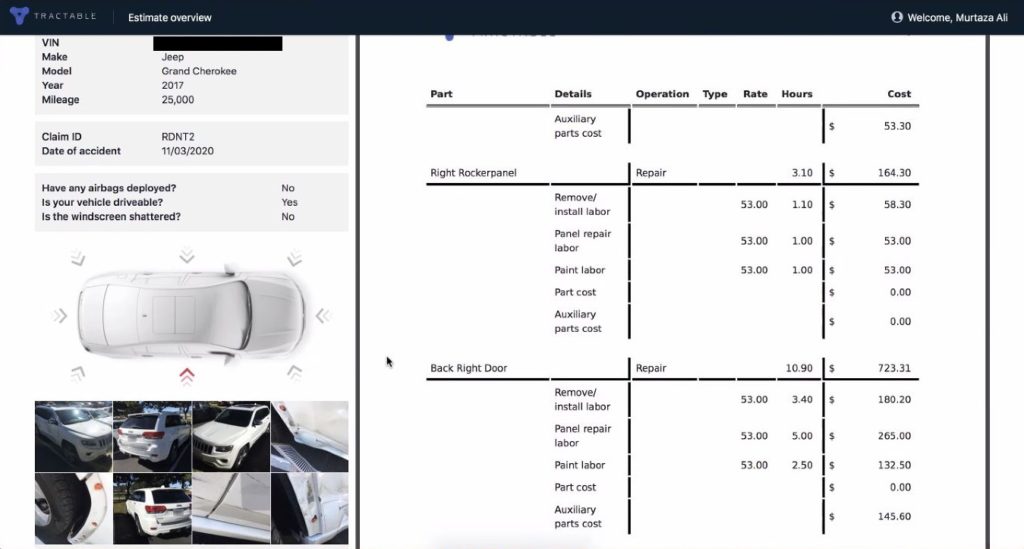 It also flagged $53.30 worth of "Auxiliary parts cost" on the right front door and $145.60 in such parts on the right rear door. Tractable North American head Julie Kheyfets said this category  included components like emblems, bumper beams and door handles. (Ali associated the $53.30 charge on the front door with an emblem that couldn't be reused.) The system could itemize them or lump them together under a single "auxiliary" line item, Kheyfets said.
The estimate for the 2014 Ford F-150 worked out to be $1,930.07, with 2.8 hours in R&I/R&R time and 2.3 hours in paint work. It included both $653 for a new bumper and $614.90 in new auxiliary parts.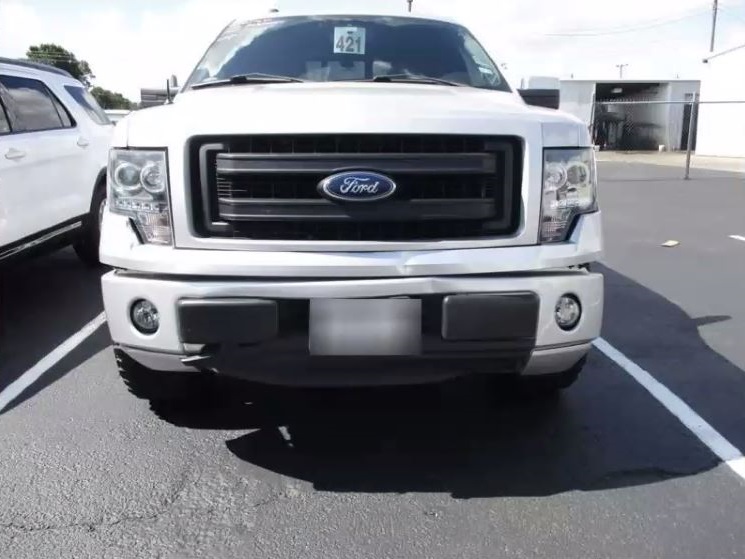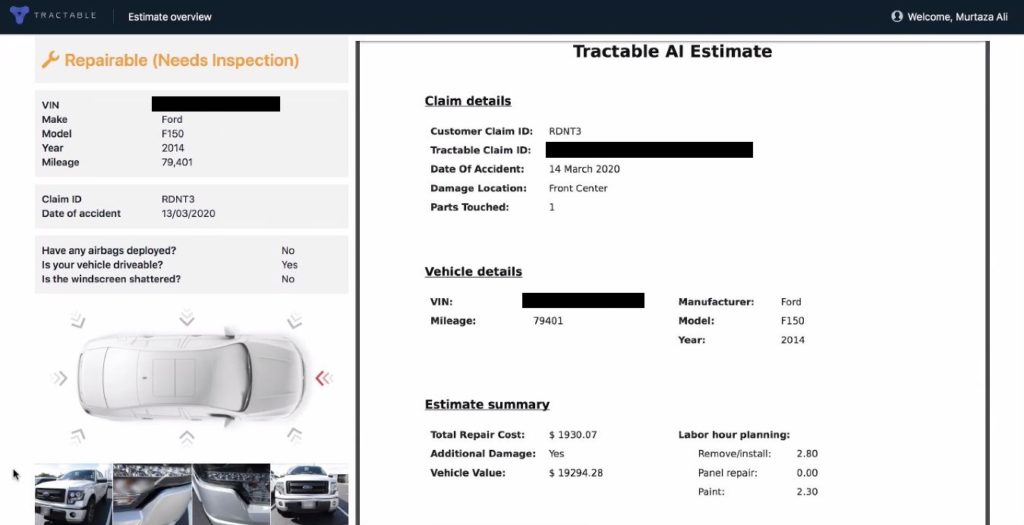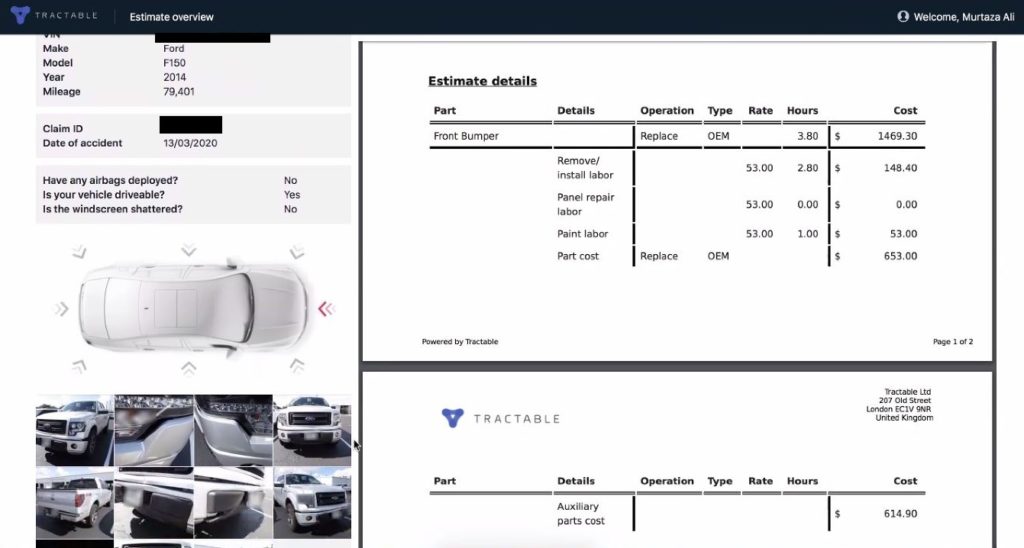 We asked about the software automatically including line items for operations which likely should occur on every estimate, such as measuring or diagnostic scanning.
"It can certainly be done," Spears said. Tractable will adapt the software to a carrier's preferences, he said. Kheyfets gave the example of bumper reinforcement beams, which Tractable can predict as damaged despite being concealed by the vehicle's exterior. Some insurers will declare "'I don't want it on the estimate until a shop sees the vehicle,'" she said.
Supplements
Pointing out that the odds favored an initial estimate missing damage, we asked Tractable if any disclaimer existed to alert a customer that an AI estimate wouldn't be the final repair bill. It would disingenuous to suggest otherwise, after all.
CCC's latest "Crash Course" reported 82 percent of repairs carried at least one supplement in the year ending Sept. 30, 2019, compared to 76 percent two years before.
Spears agreed that Tractable's software only studied external damage, and he said the company wanted to make sure a vehicle went to an auto body shop for further scrutiny.
Unless an appraisal involves a "by-the-book blueprinting" in which the estimate is written during disassembly — a supplement would arise, he said.
Tractable was a platform to bring "repairable cars to shops," not a platform to just pay and close claims, Spears said. He said the company was excited to help make the right decision to transport a repairable vehicle to a shop.
The demo's estimates flagged the Grand Cherokee as "Repairable" but the Sentra and F-150 as "Repairable (Needs Inspection)."
Kheyfets said the "Needs Inspection" tag tells an insurer that the AI has written what it can see, but it feels the carrier should go deeper. It "strongly urges" a carrier to review the vehicle further, she said.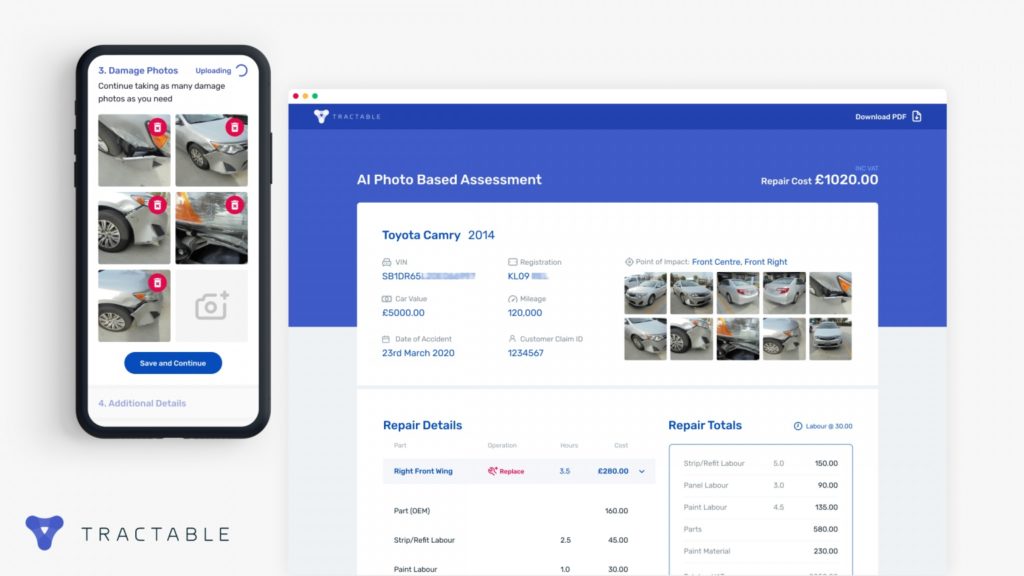 Insurer adoption
Tractable four days before the demo said Ageas had become the first United Kingdom insurer to use "artificial intelligence to create end-to-end assessments and estimates of vehicle damage. …
"For example, the AI identifies which parts of the vehicle have been affected and to what extent, and generates a full estimate including recommended repair, paint, and blend operations, as well as costs and labour hours."
Ageas had conducted trials last year prior to the March 27 announcement of the new rollout.
Tractable wrote in the news release that Ageas would "scale the use of the technology to resolve thousands of claims every month."
Ageas has already seen rental times fall by more than a week by using the system, according to Spears.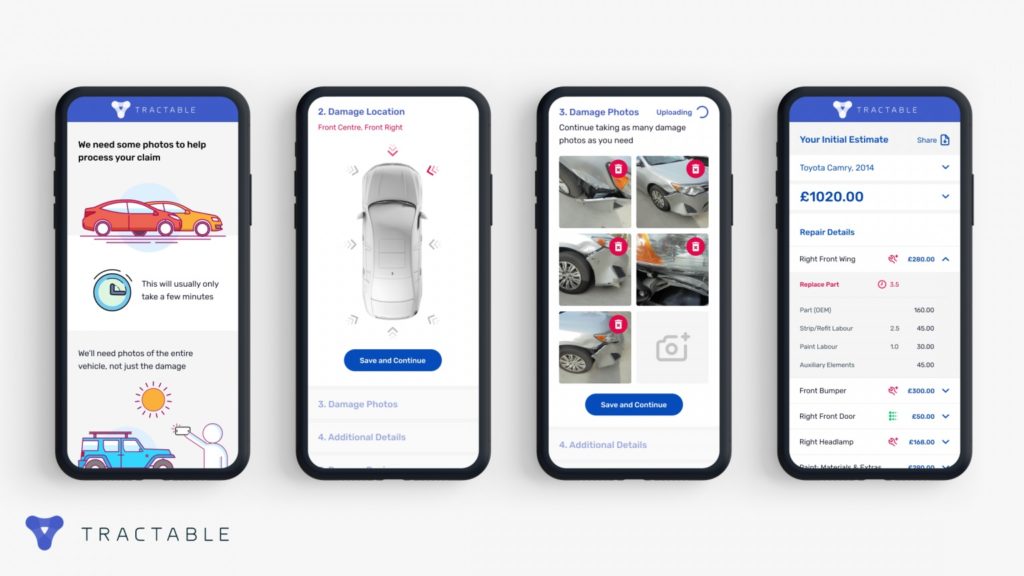 "We realised that Tractable's cutting-edge technology could make a real difference to our customers in the aftermath of an accident and by using Tractable's AI we have improved our claims experience by supporting customers when they report claims and assisting our repairers in the early assessment of what's required," Ageas claims director Robin Challand said in a statement March 27.
Kheyfets said March 31 that the carrier had been using the tool to obtain a preview of the repair, make a total loss decision and channel the vehicle correctly.
Last month, Tractable announced that Japanese auto carrier Tokio Marine was to have adopted the software at a claims service center in April — "with the potential to deploy it across the country." Tokio Marine would use the tool  to "understand the full range of repair decisions available to it, including recommended repair, paint, and blend operations, as well as the labour hours required," according to Tractable.
Tractable called this decision "the first time that a major Japanese insurer has deployed an AI auto damage assessment solution into the claims process."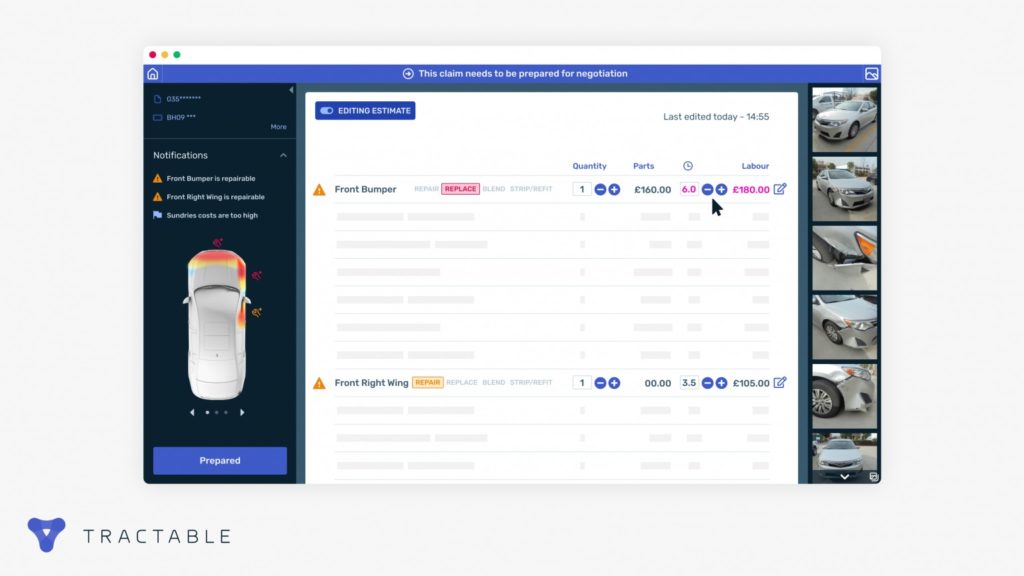 "In Japan, after an accident it can take 2-3 weeks to determine the amount that should be paid," Tokio Marine Group deputy general manager Hidenori Kobayashi said in a statement. "By using Tractable's world-leading AI to assess car damage, we expect to shorten that time considerably, cementing our position as a company proud to pioneer new technology that transforms the claims journey for our customers."
Kheyfets said "very confidently" that various insurers' adoption of Tractable's artificial intelligence hasn't led to a single layoff among claims or FNOL personnel. Instead, insurers and other businesses are letting the software handle simple items and redeploying claims personnel to the "really complex stuff," she said. And AI during FNOL lets those representatives spend more time focusing on the customer instead of minutiae.
Kheyfets said the technology could offer a "big multiplier" to auto body shops as well as carriers. She described a shop taking photos and allowing the AI to examine the vehicle during intake. The collision repairer could instead use those 2-3 minutes to sell the customer on their company, articulating items like the shop's technology and capabilities, she said.
More information:
"Ageas is first UK insurer to use AI to create end-to-end car damage assessments and estimates"
Tractable, March 26, 2020
"Tokio Marine to use Tractable's AI to analyse auto damage across Japan"
Tractable, May 7, 2020
Images:
A screenshot of a Tractable AI photo estimating product is shown. This image was released in a March 2020 news release announcing Ageas would use Tractable in United Kingdom claims. (Provided by Tractable)
Tractable's AI wrote this 2017 Nissan Sentra hood, bumper fascia and grille as a replace, based on a March 31, 2020, demo. (Provided by Tractable; redacted by Tractable)
Tractable's AI calculated R&R and paint labor on this 2017 Nissan Sentra. (Provided by Tractable; redacted by Repairer Driven News)
Tractable's AI wrote this 2017 Nissan Sentra hood, bumper fascia and grille as a replace, based on a March 31, 2020, demo. (Provided by Tractable; redacted by Repairer Driven News)
Tractable's AI wrote this 2017 Nissan Sentra's hood, bumper fascia and grille as a replace and called for blending to the adjacent fenders, based on a March 31, 2020, demo. (Provided by Tractable)
Tractable's AI wrote this 2017 Jeep Grand Cherokee right rocker panel and both right doors as repairable, based on a March 31, 2020, demo. (Provided by Tractable; redacted by Repairer Driven News and Tractable)
Tractable's AI wrote this 2017 Jeep Grand Cherokee right rocker panel and both right doors as repairable but certain "Auxiliary parts" as replace, based on a March 31, 2020, demo. (Provided by Tractable; redacted by Repairer Driven News)
Tractable's AI wrote this 2017 Jeep Grand Cherokee right rocker panel and both right doors as repairable, based on a March 31, 2020, demo. (Provided by Tractable; redacted by Repairer Driven News)
Tractable's AI wrote this 2014 Ford F-150 bumper fascia as a replace, based on a March 31, 2020, demo. (Provided by Tractable; redacted by Tractable)
A screenshot from a Tractable demo of its artificial intelligence estimating technology is shown. (Provided by Tractable; redacted by Repairer Driven News)
Tractable's AI wrote this 2014 Ford F-150 bumper fascia as a replace, based on a March 31, 2020, demo. (Provided by Tractable; redacted by Repairer Driven News)
Screenshots of a Tractable AI photo estimating product are shown. This image was released in a March 2020 news release announcing Ageas would use Tractable in United Kingdom claims. (Provided by Tractable)
A screenshot of a Tractable AI photo estimating product is shown. The image was released in a May 2020 news release announcing Tokio Marine would deploy Tractable software at a claims center in April 2020. (Provided by Tractable)
Share This: