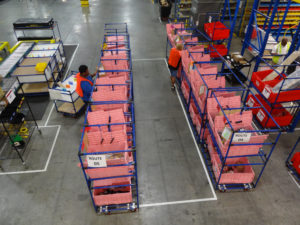 Toyota announced this spring it had succeeded in an effort to better identify one-time-use parts in Audatex, CCC and Mitchell.
Toyota national manager of service and collision operations George Irving Jr. told IBIS USA 2020 on April 2 that auto body shops in the past had to consult the OEM repair procedures to learn which parts were non-reusable.
Irving said this should be described as "'tedious'" — calling "'a pain'" a more likely term.
Toyotas today carry about 5,500 non-reusable parts, according to Irving. Prior to Toyota's effort, no more than 1,500 were appearing in any one estimating system. For one information provider, the number was as low as 300.
These weren't large parts, but they were "vital" components, Irving said.
As always, we'd point out that when installing that part, you'll still need to check the OEM procedures. If Toyota changes its instructions or designs and converts a reusable part to a non-reusable one or vice versa, it's possible the change wouldn't immediately be captured by the estimating system. The official Toyota TIS online OEM procedures are going to take precedence over whatever appears in a third-party option.
Collision Advice CEO Mike Anderson in a 2018 webinar on the TIS website alluded to a Toyota part which began as one-time-use. Later, it received clips and could then be reused, he said.
Anderson on the webinar showed how six parts could be one-time use merely in replacing a door skin, and Toyota Collision Repair and Refinish Training Administrator Agustin Diaz described the importance a one-time-use part can have.
Dual-phase airbags might take their cue from pressure sensors on a door, Diaz said. "They need to be sealed properly" with new parts, he said.
The timing for such airbags could be down to a 100,000th of a second, as opposed to an airbag reliant on the front frame rails, according to Diaz.
"This is a safety issue," Diaz said then. "This is not just cosmetic stuff." It's why a repairer would need to replace parts like glue or butyl tape and a weather barrier, he said.
Toyota discussed the topic further in what appears to be a May 2016 article.
"Non-reusable parts shouldn't be reinstalled because they won't operate as they were originally designed to upon second use," Toyota quoted collision expert Eric Mendoza. "Reusing these parts can lead to customer dissatisfaction and a failed repair. It can cause water or air leakage, rattling, or can accidently damage other nearby parts."
The webinar also drew repairer's attention to CRIB bulletin No. 188, which states that Toyota doesn't recommend reusing non-reusable parts.
More information:
Toyota "TIS" OEM repair procedure website
Toyota TIS tutorial video (no subscription required)
"Collision Advice Learn to Research, Research to Learn – Toyota TIS"
Mike Anderson YouTube channel, Feb. 26, 2018
"Understanding Non-Reusable Parts"
Toyota Collision Repair Refinish Training, May 2016
Featured image: A Lexus parts distribution center in Lithia Springs, Ga., is shown Aug. 26, 2016. (Provided by Toyota)
Share This: