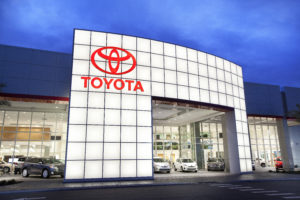 An August 2019 study with IHS Markit found that "believe it or not," the strongest driver of brand loyalty is a collision repair order, Toyota national manager of service and collision operations George Irving Jr. said this spring.
"Bet you didn't know that," he told the IBIS USA 2020 audience April 2.
This came as a major surprise when the results came in, according to Irving.
The impact of a collision repair order "far exceeded" a service RO, which also had a positive result on brand loyalty, he said. However, a warranty repair order "doesn't work" for brand loyalty, he said.
The research about the importance of the collision process gave the OEM a "real vision" into what it should do, Irving said.
Toyota and IHS Markit's findings echo results Ford and FCA shared a few years ago. The new research appears to be the most recent confirmation of the link between repair quality and automaker market share.
Irving said "everything we do" at Toyota surrounds brand loyalty. Handling a collision incident properly, producing quality and safe repairs and satisfying the customer should lead to customer satisfaction and then brand loyalty, he said.
Irving said the certified program would no longer chase satisfaction scores and instead focus on the "customer experience."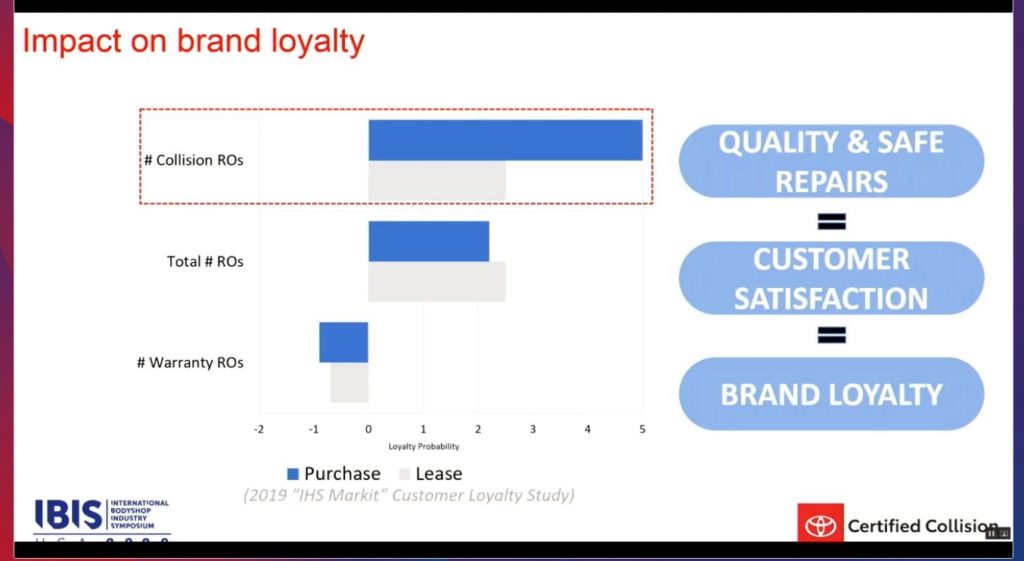 Asked about other parties which could also affect the customer experience, Irving said Toyota needed to expand those relationships and get more cars to certified auto body shops. He said the OEM had "great communication" with insurers and all vendors and was focused on producing a positive experience for consumers.
Irving said Toyota would promote the certified network through what he called its "budding insurance business." Right now, the OEM serves as a master agent employing several different companies to handle its product. But eventually, Toyota would offer the policy to customers through its dealer network at the time a customer buys a car in a "one-stop shop."
These policies will be "100 percent OE parts," Irving said, calling that a "great reason" to be in the network. He said Toyota would also direct those customers to the certified network.
Toyota will also promote its network from vehicles which will be increasingly connected, according to Irving. "The car will help direct the actual collision process," he said.
Asked about Toyota's message when a customer notes cost is increasing, Irving said this was "the nature of the business" and a reason to have good insurance and good insurer partners.
Costs will rise but "transactions" would fall, Irving said in an apparent reference to frequency drop likely by safety features. He said Toyota was working to bring out "value-line parts" when important and had been in talks with Toyota headquarters in Japan on part prices. However, at the end of the day, the point was to fix a vehicle correctly and getting it back on the road, according to Irving.
"That's what really matters," Irving said. He said he'd rather pay a little more to "get it right."
Images:
A Toyota dealership is shown. (Provided by Toyota)
This Toyota slide from IBIS USA 2020 shows results from a Toyota-IHS Markit August 2019 study into brand loyalty. (Toyota slide; screenshot from IBIS USA 2020 feed)
Share This: