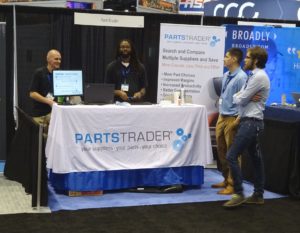 PartsTrader on Tuesday stressed that it did not transmit collision repair data to companies like CARFAX or Auto Check.
"There has been an increasing concern in the collision industry about the use and security of estimate data by various vendors," PartsTrader wrote in a message. "The main concern is around the sharing of data with vehicle history reporting companies.
"Let us be clear: PartsTrader does not and has never provided or sold data to CarFax, Auto Check or any other vehicle history reporting company." (Emphasis PartsTrader's.)
The company said its message Tuesday was derived from a privacy policy in effect since at least 2012.
The Society of Collision Repair Specialists last summer reported a boom in shop tales of customer vehicles mysteriously flagged by vehicle history check companies. Executive Director Aaron Schulenburg said in July 2019 SCRS knew of "countless" examples of independents, MSOs and dealerships writing estimates and seeing the vehicle reflected on vehicle history reporting sites like CARFAX and AutoCheck.
The parts procurement system said it receives shop information after the data had been first encrypted and converted into the CIECA BMS format. The BMS data standard transmits less information than the obsolete but prevalent EMS format, which can reveal to a shop's business partner more estimate information than the recipient actually needs.
"The estimate data we use in our product is limited to the information required for sourcing parts," PartsTrader wrote. "This includes the information relating to the vehicle, the parts that are required and the insurer associated with the estimate. … Unlike other approaches in the industry the original files are not sent to PartsTrader."
"Data pumps" sending all estimates to vendors indiscriminately also can be a concern for repairers.
However, PartsTrader said shops could customize which insurers' estimates flow to the procurement platform "and are free to uninstall the data extract application completely if they so desire."
PartsTrader's fellow software companies OEConnection and CCC also over the past year have reassured the industry they weren't the source of a leak to VIN history companies.
"We don't share data with CARFAX, never have shared data with CARFAX, have no intention of sharing data with CARFAX," CCC quality repair and market development Vice President Dan Risley told the November 2019 Collision Industry Conference. A CCC slide to the forum declared, "CCC does not and has not ever shared data with CARFAX."
"Estimate data received from collision shops is shared with dealerships and OEMs for the purposes of accurately filling part orders and facilitating OEM part programs," OEConnection's CollisionLink software stated to users in October 2019, according to a screenshot provided to Repairer Driven News. "OEC does not and has never provided or sold data to CarFax, AutoCheck or any other vehicle history reporting company." (Emphasis OEConnection's.)
PartsTrader also said it cut the same End User Licence Agreement terms to all auto body shops.
"Additionally, PartsTrader has always believed in a level playing field, so End User License Agreements and Terms are the same for all repairers," the company wrote.
"We at PartsTrader value our customer partnerships and are committed to protecting data privacy."
More information:
PartsTrader, June 9, 2020
PartsTrader, Aug. 22, 2012
Featured image: The PartsTrader booth is seen at NACE 2017. (John Huetter/Repairer Driven News)
Share This: