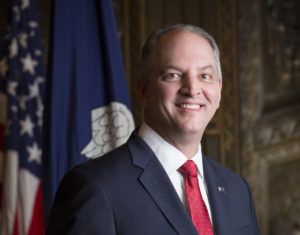 Democratic Louisiana Gov. John Bel Edwards on Friday vetoed a bill which would have eliminated the private right of action for a third-party claimant to sue an auto insurer in many circumstances.
The House approved a joint committee report on proposed Senate Bill 418 language 66-31, and the Senate did the same 28-10.
SB 418 would have made it clear that neither the injured party nor their heirs could sue an insurer except in specific cases — directing them to instead sue the at-fault policyholder.
Current law permits victims to name insurers in lawsuits as long as they sue the insured too. An insurer can be sued by themselves in certain other circumstances, such as an insolvent or untraceable policyholder. An insurance policy can't forbid these lawsuits either.
The bill would have cut all the insurer-plus-insured lawsuits and eliminated the law declaring private rights to exist no matter what an insurer puts in the policy. SB 418 also would have cut the insurance company's name from any lawsuit captions.
However, the bill would have enacted new situations in which an insurer could be sued solo.
SB 418 would permit third-party lawsuits against insurers "When the tortfeasor's liability insurer has reserved the right to dispute whether the policy at issue provides coverage for some or all of the claims asserted in the action, other than limits of coverage provided by the policy."
Third-party claimants also could sue carriers if "the tortfeasor's liability insurer has denied coverage to the tortfeasor for some or all of the claims asserted in the action."
The bill also OKs lawsuits "pursuant to an uninsured or underinsured policy." The current law only mentions an "uninsured motorist carrier."
Of course, it's unclear if a) anyone would know the insurer had been sued due to the anonymous captions; and b) the insurer could preempt these new rights with a policy forbidding such lawsuits.
Edwards didn't discuss these issues in his veto message Friday. Instead, he called it "neither a compromise nor is it a mandate to decrease rates" — and pointed out that insurers couldn't say rates would fall after the "Omnibus Premium Reduction Act of 2020" became law.
"It is important to note that not a single insurance company testified in committee that Senate Bill 418 would actually reduce rates," Edwards wrote. "Further, the rate reduction provision in the bill is permissive, rather than mandatory, and actually allows for rate increases if the insurers are able to demonstrate one would be needed. I remain convinced that if we are truly going to reduce insurance rates, we need to confront all of the underlying factors that lead to high insurance rates, such as distracted driving, poor road and bridge infrastructure, and discriminatory practices based on credit rating and gender that lead to more uninsured or underinsured drivers. I supported efforts in this last regular session that would have addressed many of these issues, and I will continue to advocate for these changes."
SB 418 also dialed back the ban on jury trials, permitting them for cases involving less money. Current Louisiana law generally only permits jury trials on cases above $50,000.
The bill would permit jury trials all cases for more than $10,000 brought under Civil Code Book III, Title V, Chapter 3 (a legislative report said this refers to tort cases). It'd generally allow jury trials on all other lawsuits involving more than $35,000.
Edwards seemed supportive of that idea.
"I worked closely with (sponsor Sen. Kirk Talbot, R-River Ridge) and other legislators and presented a number of areas where compromise could have been reached," Edwards wrote. "My proposals included items such as a reduction of the jury trial threshold, elimination of the seatbelt evidentiary prohibition, and simplification of the collateral source rule in a manner which would prevent the unfair recoveries complained of by many insurers. However, for whatever reason, these efforts at compromise were not successful. However, I remain willing to work with anyone operating in good faith to reach a compromise. Those efforts and discussions have continued into this current extraordinary session, and I am confident that we can reach an agreement on a bill that will have broad support."
At $1,443.72, Louisiana had the highest average auto premium in the nation in 2017, the last year for which National Association of Insurance Commissioners data exists. Its average combined premium of $1,637.57 — averaging everyone who bought the trifecta of collision, comprehensive and liability coverage — also was highest by more than $100.
"The issue of lowering insurance rates should be non-political and bipartisan, so long as those legislators and stakeholders who truly want to arrive at a real solution are able to define the debate and ultimate agreement," Edwards wrote. "I support those efforts and will work diligently to get to that result."
Be heard: Lawmaker contact information can be found here.
More information:
Gov. John Bel Edwards veto message on SB 418
Gov. Edwards' office, June 12, 2020
Featured image: Democratic Louisiana Gov. John Bel Edwards is shown. (Marie Constantin/Provided by Louisiana Governor's Office)
Share This: