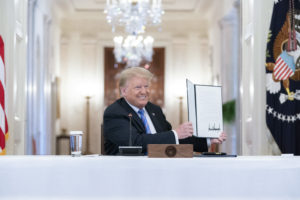 Republican President Donald Trump on Friday ordered the government to quit emphasizing educational level over the skills necessary for the job when hiring.
"Currently, for most Federal jobs, traditional education — high school, college, or graduate-level — rather than experiential learning is either an absolute requirement or the only path to consideration for candidates without many years of experience," Trump wrote in a Friday executive order. "As a result, Federal hiring practices currently lag behind those of private sector leaders in securing talent based on skills and competency.
"My Administration is committed to modernizing and reforming civil service hiring through improved identification of skills requirements and effective assessments of the skills job seekers possess.  We encourage these same practices in the private sector.  Modernizing our country's processes for identifying and hiring talent will provide America a more inclusive and demand-driven labor force."
It's another crack in the "everyone must get a four-year-degree" mentality blamed for a lack of skilled trades workers today, though Trump also told hiring managers not to worry about two-year degrees in many cases either. The executive order defined education using the Office of Personnel Management's definition of post-high school education.
The White House argued that education requirements blocked qualified Americans from government jobs or demanded they pay for college. Such rules "disproportionately harm low-income Americans," it wrote.
"To further expand opportunity, I'm taking a bold action to reform the federal workforce," Trump said at an American Workforce Policy Advisory Board meeting on Friday, according to a White House transcript. "Today I'll sign an executive order that directs the federal government to replace outdated — and really outdated — it's called 'degree-based hiring' — with skill-based hiring.  So we want it based on skill.
"The federal government will no longer be narrowly focused on where you went to school, but the skills and the talents that you bring to the job.  We want that skill to be there.  We want it based on merit.  We've looked at merit for a long time, and we've been able to get that done."
Trump's order said an agency could only establish a minimum education requirement if "a minimum educational qualification is legally required to perform the duties of the position in the State or locality where those duties are to be performed."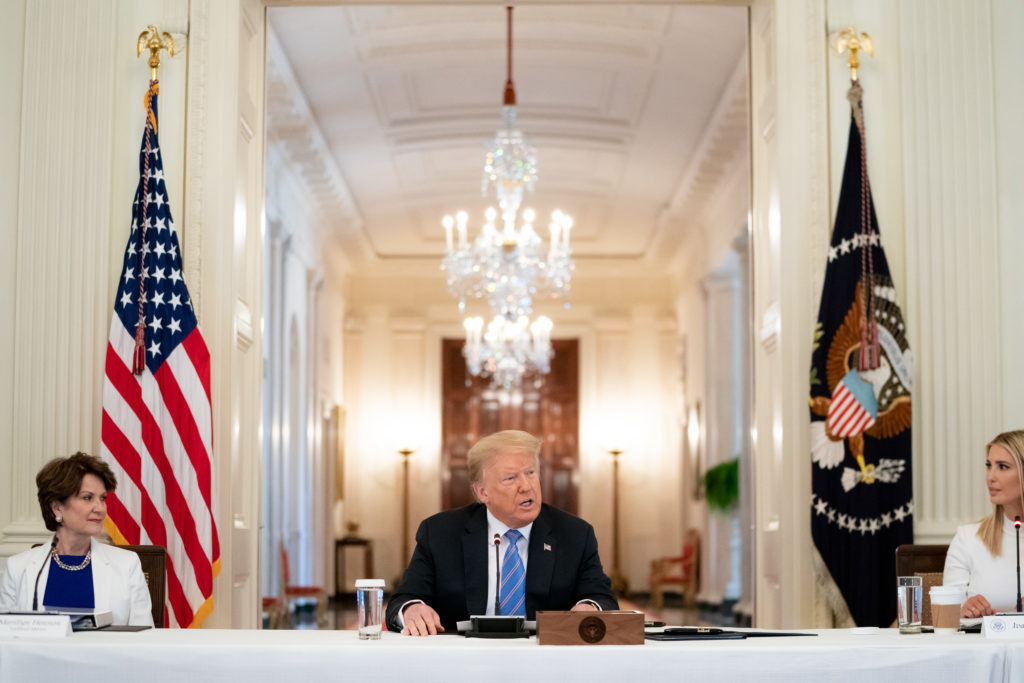 He wrote that agencies also couldn't count education as proof of a separate qualification needed for the job unless "the candidate's education directly reflects the competencies necessary to satisfy that qualification and perform the duties of the position."
He also called for some type of proof that the job seeker had the skills they claimed.
"In assessing candidates, agencies shall not rely solely on candidates' self-evaluations of their stated abilities," Trump wrote. "Applicants must clear other assessment hurdles in order to be certified for consideration." He defined assessment as "any valid and reliable method of collecting information on an individual for the purposes of making a decision about qualification, hiring, placement, promotion, referral, or entry into programs leading to advancement."
Government leaders including agency heads and the director of OPM must rewrite all job requirements within 120 days of Friday and enact the new rules within 180 days.
"This order directs important, merit-based reforms that will replace degree-based hiring with skills- and competency-based hiring and will hold the civil service to a higher standard — ensuring that the individuals most capable of performing the roles and responsibilities required of a specific position are those hired for that position — that is more in line with the principles on which the merit system rests," Trump wrote.
Trump mentioned some of his other employment initiatives, including January's "Principles on Workforce Freedom and Mobility," which sought uniformity or reductions in occupational licensing; and "Industry-Recognized Apprenticeship Programs." He said more employers were adopting apprenticeships, too.
More information:
"Executive Order on Modernizing and Reforming the Assessment and Hiring of Federal Job Candidates"
White House, June 26, 2020
"Remarks by President Trump at the American Workforce Policy Advisory Board Meeting"
White House, June 26, 2020
Images:
Republican President Donald Trump shows his executive order June 26, 2020, calling on agencies to consider skills over education when hiring. (Shealah Craighead/White House)
Republican President Donald Trump, center, speaks at a American Workforce Policy Advisory Board meeting on June 26, 2020. (Tia Dufour/White House)
Share This: