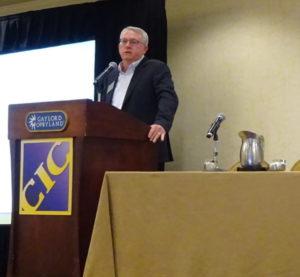 Auto body shop owners and employees can learn about and weigh in on industry topics like ADAS and steering column inspections by attending the free, virtual Collision Industry Conference next month.
The CIC last week announced the agenda — including multiple opportunities to address the industry at open microphone sessions — for its first digital event in history.
Collision repairers and all others connected to the industry — vendors, insurers, OEMs, etc. — are welcome to participate and should take advantage of the opportunity to attend the July 22-23 CIC without having to pay travel and registration costs. (Get the promo code for free attendance here.)
CICs are typically held in person quarterly all over the country and offer an opportunity for all those segments to learn from and debate each other. COVID-19 forced the cancellation of the April gathering, but organizers didn't want to call off another summit.
"After considering the COVID-19 restrictions, organizers and committee members felt the longstanding open forum needed to meet and continue serving the industry," the CIC wrote in a news release earlier this month.
The event will run 11 a.m. to 3 p.m. July 22-23. Register here.
Three hour-long sessions will serve as headliners.
Parts definitions
At 1:40 p.m. Wednesday, July 22, the Parts and Materials Committee will host a parts definition panel featuring Audatex, APU, Car-Part.com, Mitchell and PartsTrader.
"The CIC Parts and Materials Committee has continued to discuss and research what parts are called, how they are defined and what is communicated in and between part systems in the industry," the CIC agenda states. "This panel will include both estimating platforms and parts platforms as we discuss how parts are addressed within each individual system."
The question over what to call certain categories of parts has arisen after the growing use of components dubbed "Opt-OE," a designation whose meaning is unclear.
Both the California Department of Insurance and Bureau of Automotive Repair in 2018 said estimates can't use the nebulous term, triggering the Parts Committee's 2019 quest to better classify components.
Last year, the committee called itself deadlocked, split between two competing sets of definitions for various part categories.
The topic arose again this year when a settlement ending dueling lawsuits between Hyundai and Direct Technologies International saw DTI agreeing never again to classify imported Hyundai parts "as genuine, original, OEM, OE, or Optional/Opt OE, or in any way mispresenting the warranties that apply to or cover in whole or in part, Defendant's Non-genuine Hyundai Parts."
Both Mitchell and PartsTrader have confirmed to us their systems won't permit the term "Opt-OE." It'll be interesting to learn about their competitors' terminology and hear what all five brands have to say in general.
For the record, CCC 2020 "Crash Course" data found parts bills made up 40.2 percent of the average repairable estimate in 2019, up from 38.2 percent in 2010. OEM parts represented 61.8 percent of that parts spend, down from 63.4 percent in 2010.
The averaged repairable vehicle needed 10.5 replacement parts, up from 7.9 in 2010, according to CCC.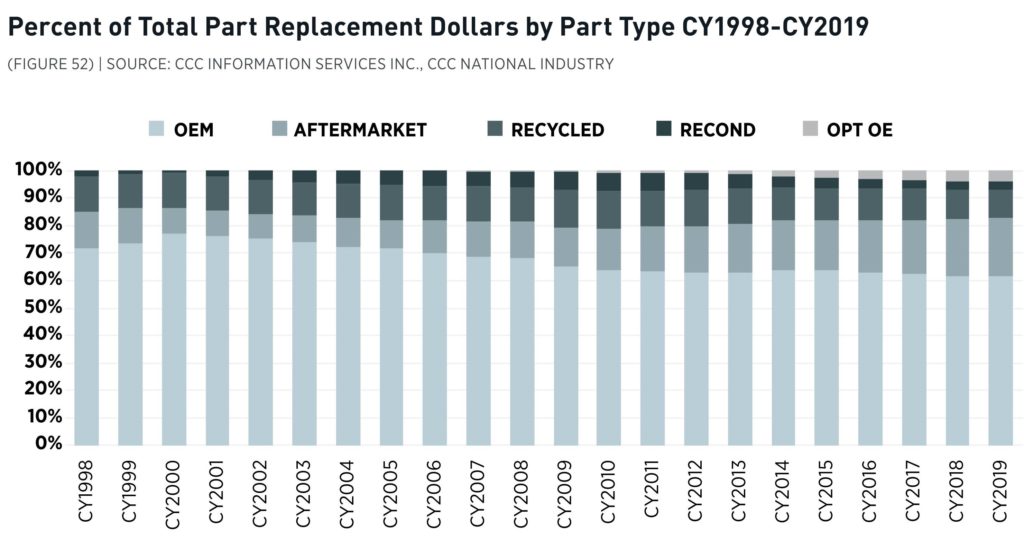 ADAS
The next hourlong session occurs at 11:45 a.m. Thursday, July 23, as the Emerging Technologies Committee offers a special presentation on "ADAS Best Recommended Practices," according to the CIC agenda.
"This presentation will discuss the best recommended practices for servicing ADAS systems and the process a shop should follow for success," the agenda states. Led by Drew Technologies technical systems manager Bob Pattengale, the discussion will include "dynamic and static calibrations," "skills required to perform calibrations," "shop environment requirements" and "the necessary tools for calibrations."
According to a joint November 2019 news release from AAA, Consumer Reports, J.D. Power and the National Safety Council, 93 percent of new vehicles offer at least one piece of ADAS. However, consumers and body shops might misunderstand what the technology does given the number of different names on the market. The average repairable vehicle is just 5.94 years old, according to CCC.
However, only 2.6 percent of all appraisals in the fourth quarter of 2019 carried a manual entry suggesting calibration, according to CCC.
The calibration session July 23 will follow a July 22 Emerging Technology Committee presentation on "the calibration process workflow to assist the industry in understanding the concept." The Emerging Technologies Committee has taken over a project on that process from the Collision Industry Electronic Commerce Association.
Repairers and insurers interested in the calibration sessions likely won't want to miss a presentation on a different technology-related process.
Collision Hub industry relations director Jason Bartanen will on behalf of the Emerging Technologies Committee address steering column inspections at 1 p.m. July 22. The agenda says shops can expect "A discussion on steering column inspections, published inaccuracies, and unintended consequences."
Data and privacy
After a Q&A and open mic session, the "Data Access, Privacy & Security Committee" will propose a set of data best practices for all companies to consider adopting.
"The security and legal protection of repair facility and customer data, especially personally identifiable information (PII) is paramount," the agenda states. "In addition, there is a moral obligation that comes with protecting repair facility information. These guidelines are meant to ensure that companies with access to such information are acting in the best interest of the shops, customers, and the industry."
The committee presented a first draft of proposed data "Golden Rules" during the November 2019 CIC:
1. Never use data against your customers/end users, but rather in their service.
2. Provide clarity and education on what kinds of data are to be used, why and how (e.g., anonymous vs. personalized), with a simple experience in the "terms and conditions" acceptance.
3. Do not misuse and do not allow potential third parties to misuse data, aggressively promote data security and respect of privacy, and be clear on "legal aspects."
4. Give customers/end users the choice of what to share and what not to share and for which purposes (i.e., customers need to be in control of their own data); periodically remind customers that they can revise the parameters of data sharing.
5. Make gathered data available to customers/end users. (Minor formatting edits.)
One frequent industry concern involves a record of customer's repair reaching a vehicle history service like CARFAX or AutoCheck. Major software companies like PartsTrader, OEConnection and CCC have over the past year assured shops they won't sell customer data.
For more information about the Collision Industry Conference, visit www.ciclink.com.
More information:
CIC July meeting details/registration
CIC promo code for free July CIC attendance
"CIC Press Release – CIC Goes Virtual for July Conference, Continuing Open Discussions and Committee Work"
Collision Industry Conference, June 1, 2020
Images:
Collision Industry Conference Chairman Jeff Peevy speaks at the April 2019 CIC. (John Huetter/Repairer Driven News)
"At the close of CY 2019, the industry's share of replacement part dollars was split at 61.8 percent OEM versus 38.3 percent non-OEM," CCC wrote in its 2020 "Crash Course." (Provided by CCC)
Share This: