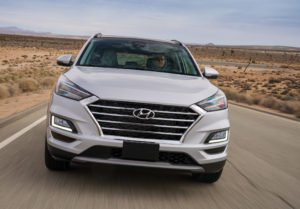 Hyundai claimed victory on Wednesday after it and importer Direct Technologies International reached an agreement to end lawsuits against each other related to a grey-market parts dispute.
DTI had been importing Hyundai collision and service parts from abroad and selling them in the U.S., according to Hyundai. The OEM sued DTI in 2017, alleging that the importer represented the grey market components in a manner likely to create confusion and either steal or harm the reputation the OEM had created with the authorized U.S. parts supply chain.
DTI had originally denied Hyundai's allegations and countersued, alleging counts of illegal restraint of trade, illegal monopoly, exclusive dealing, false advertising and unfair competition at the federal level, and unfair competition under North Carolina statute and common law. Part of its case keyed off of a Hyundai warranty message referencing parts that drew a warning from the Federal Trade Commission.
Hyundai in turn denied those accusations. Under the deal approved Tuesday, DTI agreed that its countersuit had no merit and that it willfully infringed on Hyundai's trademarks.
DTI agreed to pay Hyundai $5 million in attorney's fees and damages, less than the $8.49 million Hyundai had alleged in DTI gross revenues and lost Hyundai profits related to the parts. DTI also said it would quit importing or selling "Non-genuine Hyundai parts," which were "defined as Hyundai-branded parts that are not sourced through Hyundai Motor America and its Authorized Chain of Distribution as defined in the Complaint."
The importer also accepted a ban from representing those unauthorized parts "as genuine, original, OEM, OE, or Optional/Opt OE, or in any way mispresenting the warranties that apply to or cover in whole or in part, Defendant's Non-genuine Hyundai Parts."
DTI admitted to each of the causes of actions brought by Hyundai, which included trademark infringement and dilution, two counts of false designation of origin, unfair competition, interference with contractual relations, and violating the North Carolina Unfair and Deceptive Trade Practices Act.
"DTI has served the automotive community since 2013," DTI attorney Tom BenGera wrote in an email Friday. "DTI is extremely satisfied that the parties were able to negotiate a mutually beneficial settlement agreement, which resolves all disputes between the parties, including DTI's counterclaims against Hyundai for antitrust and anticompetitive conduct.   DTI is not otherwise able to comment on the parties' confidential settlement terms."
The reference to "Opt OE" is interesting in light of the collision repair industry discussion around such parts. Hyundai mentioned the concept again in a news release Wednesday.
"This case is a win for Hyundai owners who want peace of mind that Hyundai-branded parts used on their cars are approved by Hyundai Motor America and have gone through its quality control," Hyundai Motor America Chief Customer Officer Barry Ratzlaff said in a statement. "These days, it is easy for owners and even dealers to be confused by the sales tactics of gray market parts sellers. The internet is filled with examples of listings that appear to be for Hyundai Genuine Parts, but in reality, those parts are not coming from Hyundai Motor America and are subject to unsecure supply chains without appropriate safeguards against introducing counterfeit, reject, and defective parts. Especially in the context of collision parts, we are seeing clever ways of deceiving customers and body shops by companies that describe their non-genuine parts as 'optional OE' or 'OEM surplus.' If the deal looks too good to be true, it is probably an indication to look carefully at whether the parts are truly Hyundai Genuine Parts sold by an authorized Hyundai dealer and backed by Hyundai in the U.S." (Emphasis ours.)
Hyundai's lawsuit and the order suggested that only parts sold through the authorized U.S. supply chain could be considered Hyundai Genuine Parts.
"HMA only sources parts for sale to Hyundai authorized dealers through Hyundai's authorized chain of distribution for the United States, and only those parts sourced through that authorized chain of distribution are recognized by HMA and the industry as Genuine Hyundai Parts, covered by the applicable Hyundai warranties as described below," Hyundai's lawsuit states.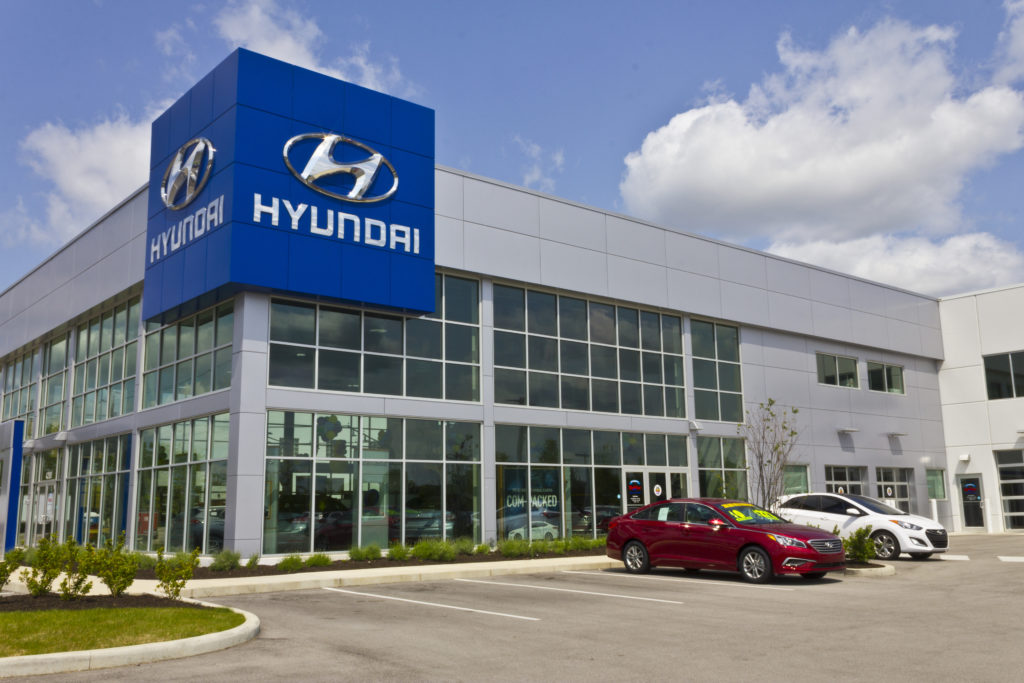 The order locks that definition into place for DTI. It also seems to add credence to a tactic an intellectual property expert suggested can be used against grey market parts.
Supreme Court rulings block a U.S. OEM from using copyright and patent law to check the unauthorized importation and resale of their products. However, a company can still pursue legal action against such unapproved distribution on Lanham Act trademark grounds, according to Boston-based Burns & Levinson LLP partner Mark Schonfeld, whose expertise includes the grey market.
The Lanham Act prohibits describing products in a way that "is likely to cause confusion, or to cause mistake, or to deceive as to the affiliation, connection, or association of such person with another person, or as to the origin, sponsorship, or approval of his or her goods, services, or commercial activities by another person."
According to Hyundai's original complaint:
DTI is intentionally and willfully importing, purchasing, promoting, distributing, advertising, offering for sale, and/or selling in the United States, without Hyundai's authorization and/or consent, the Non-Genuine Hyundai Parts to unfairly and fraudulently compete with Hyundai, and to benefit from the valuable and favorable reputation and goodwill of the HYUNDAI MARKS, the Hyundai products, including but not limited to the Genuine Hyundai Parts, and the Hyundai brand.
DTI has and continues to use the HYUNDAI MARKS in such a fashion as to intentionally create a false impression among the consuming public that its goods originate from Hyundai or are sponsored, approved by, managed, and/or affiliated with Hyundai, and to misrepresent the origin and quality of goods sold.
DTI's acts were and are likely and intended to cause confusion and mistake among the public, customers, prospective customers, creditors, suppliers, dealers, and others and to deceive them as to, among other things, (i) the affiliation, connection, and association of DTI with Hyundai; (ii) the origin, sponsorship, or approval of DTI's goods, services, or commercial activities by Hyundai; and (iii) the nature, characteristics, and quality of Defendant's goods, services, or commercial activities. Defendant's acts were and are for the purpose of enhancing the commercial value of, or selling or soliciting sales of, Defendant's products, goods, or services.
Schonfeld in August 2019 said a product doesn't need to be imported to be eligible for Lanham Act litigation.
"Hyundai Genuine Parts are made to precise specifications and must meet certain quality standards applicable to the Hyundai vehicles in order to be sold in the United States," the stipulation for final judgment submitted by Hyundai and DTI Feb. 11 states. "That is not true for certain Hyundai-branded parts meant for sale abroad. Hyundai-branded parts that are not sourced through Hyundai's authorized chain of distribution for the United States may contain numerous physical and non-physical material differences including, but not limited to, differences in packaging, labels, production methods, weight, and performance characteristics, either as a result of the difference in specifications or manufacturing processes or because parts are not 'first run parts,' are 'seconds,' or are defective or reject parts. Furthermore, Hyundai-branded parts that are sourced outside of Hyundai's authorized chain of distribution for the United States are materially different in warranty coverage and/or protection, quality control, and dealer and customer support. As such, the sales of those unauthorized Hyundai-branded parts in the United States constitute sales of illegal gray-market goods.
"Defendant DTI has imported, promoted, offered for sale, advertised on the internet and through other media, and sold unauthorized Hyundai-branded parts, which were meant for sale abroad, to various Hyundai Authorized Dealers, independent repair facilities, and other third parties or entities in the United States without notifying the dealers, repair facilities, or third parties that these parts were not Hyundai Genuine Parts, were not sourced through Hyundai's authorized chain of distribution, and are not covered by Hyundai warranties or as contended by Hyundai, in some instances falsely indicating to dealers that its Hyundai-branded parts are covered by Hyundai warranties, when they are not."
Hyundai wrote in the news release that "the consuming public … expects Hyundai-branded replacement parts sold in the U.S. to be approved by Hyundai Motor America and backed by its parts warranty."
Hyundai said expert analysis flagged some DTI parts as not just from another country but outright counterfeit or defective. The OEM showed a photo of what it said was a DTI idler assembly part "displaying unsafe corrosion."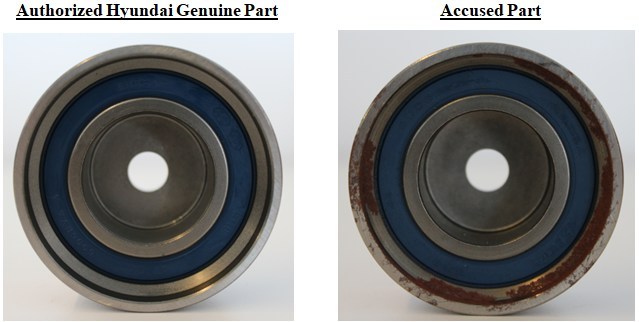 "Despite superficial similarities in the appearance of DTI's non-genuine parts, expert analysis in the case revealed that many of DTI's parts were counterfeits or defective parts that were sourced from unscrupulous trading companies in the Middle East, Vietnam, and Russia," Hyundai wrote in the news release.
"In the lawsuit, DTI admitted that its parts were obtained from trading companies outside the U.S. and did not know where those companies were obtaining the parts. Virtually all of DTI's parts came in containers with identifying labels removed to avoid detection."
More information:
"Hyundai Obtains Victory in Court Against Seller and Importer of Non-Genuine Parts"
Hyundai via PR Newswire, Feb. 26, 2020
Images:
A 2019 Hyundai Tuscon is shown. (Provided by Hyundai)
A Hyundai dealership is shown May 15, 2016. (jetcityimage/iStock)
Hyundai on Feb. 26, 2020, released these images of a Hyundai idler assembly, left, and a Direct Technologies International idler assembly part Hyundai said was "displaying unsafe corrosion." (Provided by Hyundai via PRNewsFoto)
Share This: