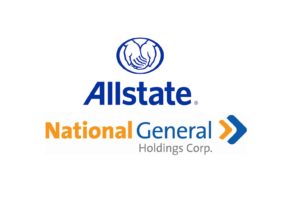 Allstate announced Tuesday it would buy fellow Top 15 auto insurance carrier National General for $4 billion.
"Acquiring National General accelerates Allstate's strategy to increase market share in personal property-liability and significantly expands our independent agent distribution," CEO Tom Wilson said in a statement. "The acquisition increases personal lines premiums by $4.0 billion and market share by over 1 percentage point to 10%. National General's business and technology platforms will be utilized to further strengthen Allstate's existing independent agent businesses. The transaction will be accretive to adjusted net income earnings per share and return on equity beginning in the first year."
Allstate plans to pay $2.2 billion in cash and borrow $1.5 billion to finance the deal. The publicly traded insurer will pay National General shareholders $32 per share and a closing dividend projected to be $2.50 per share. The deal is also associated with a "breakup fee" of $132.5 million.
Allstate said it was paying 1.78 times National General's book value March 31 and 11.9 times the its last year of earnings ending then. It said shareholders were getting a 64 percent premium on where National General stock closed over the past 30 trading days.
Parties controlling 40 percent of National General's common stock have already agreed to the sale.
As Wilson observed, No. 4 Allstate had a 9.33 percent market share in 2019. National General ranked No. 15 with a 1.24 percent share, according to National Association of Insurance Commissioners data.
"National General's operating expertise has enabled us to serve customers and independent agents well as we have grown both organically and through acquisition," National General CEO Barry Karfunkel said in a statement. "We are excited about combining our team's expertise and commitment with Allstate to become a top-five personal lines carrier for independent agents while offering a broader array of products. National General's shareholders are also benefiting by unlocking the value created over the last decade."
Allstate said Tuesday National General had "a significant presence in non-standard auto insurance."
An Allstate slide estimated 44 percent of National General's overall 2019 business was non-standard auto insurance. National General pulled in $3.3 billion in auto insurance premiums last year; 9 percent was standard, and 75 percent was non-standard.
The concept refers to "policies for people with bad accident records, high-performance cars, or who live in high-risk neighborhoods," according to the Insurance Information Institute. So repairers on Allstate direct repair programs might see a different mix of customers after the deal closes in what's projected to be early 2021.
Allstate has not yet responded to inquiries late Wednesday morning into the company's plans for both insurers' DRPs and about the auto claims process following the close. Continue to check Repairer Driven News for updates.
Allstate said it would merge Encompass into National General and use the latter's claims platform instead of Encompass. The carrier also plans to transfer Allstate's 10,100 Encompass and Allstate independent agent relationships to National General and let it take point on that front.
Despite its plans to spend $4 billion on National General, Allstate said it would continue its $3 billion stock repurchase plan, which was announced in 2018 to start after a $2 billion program and is expected to conclude next year. So keep all of that in mind the next time an Allstate adjuster complains about having to pay the cost of an accurate repair plan.
More information:
"Allstate Expands Personal Lines Market Position with Acquisition of National General"
Allstate, July 7, 2020
Allstate slides on National General acquisition
Allstate, July 8, 2020
Featured image: The Allstate and National General logos are shown. (Provided by Allstate, National General)
Share This: