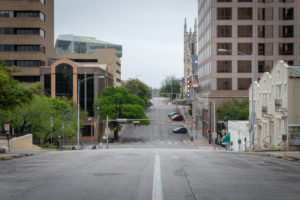 CCC this month examined a couple of trends with ramifications for repairers hurting for business during the COVID-19 economy.
Auto appraisal volume tracked by CCC found June repairable vehicle appraisals at 25.7 percent of June 2019 numbers. But the year-over-year decline isn't nearly as bad as May, which saw repairable appraisals down 34.5 percent. CCC director and industry analyst Susanna Gotsch said in a July 2 video that April noncomprehensive claims were down more than 50 percent.
On the whole, repairable claims are down 23 percent for the first six months of the year, according to CCC.
Second-quarter repairable appraisals — which would span April-June and hopefully represent the worst of the COVID-19 lockdown-related economy — are down 35 percent over 2019.
However, some markets aren't out of the woods.
"As of early July, with the number of daily confirmed COVID-19 cases per 100K residents surging in states such Arizona, Florida, California and more, certain states are starting to see overall non-comprehensive appraisal counts trend down again," CCC wrote July 15. "How far they fall will likely depend on how extensive efforts to contain the virus become. Already numerous areas within Arizona and Nevada have seen claim count declines increase again. The number of areas impacted and their overall volume as a share of the national total will ultimately drive the impact to full year numbers overall."
South Dakota was a notable outlier with 73 percent more claims in June compared to June 2019. However, CCC cited weather and comprehensive claims rather than economic factors in discussing increases over May and June 2019. The state is still down year-over-year in claims when the entire second quarter is examined, according to CCC.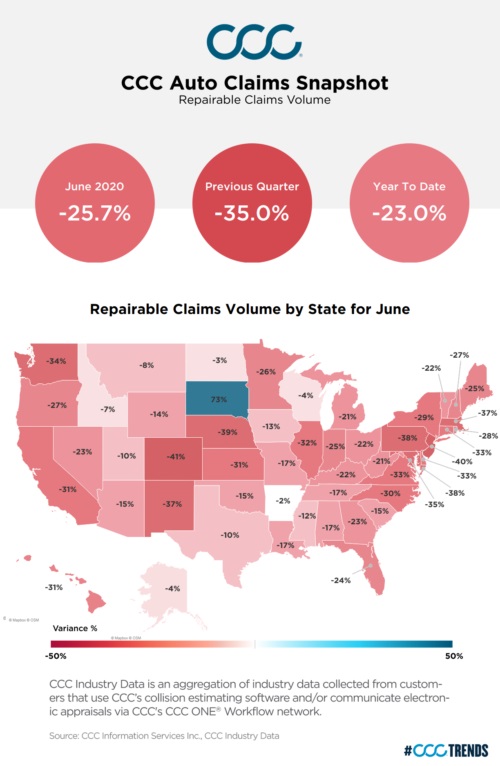 Even if collision volume has decreased, shops at least appear to be making a little more than usual on each job. The average non-comprehensive estimate is up from the prior year, according to a July 1 CCC report.
"CCC reports collision and liability auto insurance claims resulted in a higher number of vehicles flagged as undriveable, with preliminary estimate amounts jumping by nearly 7 percent versus the same time weeks in 2019," CCC wrote.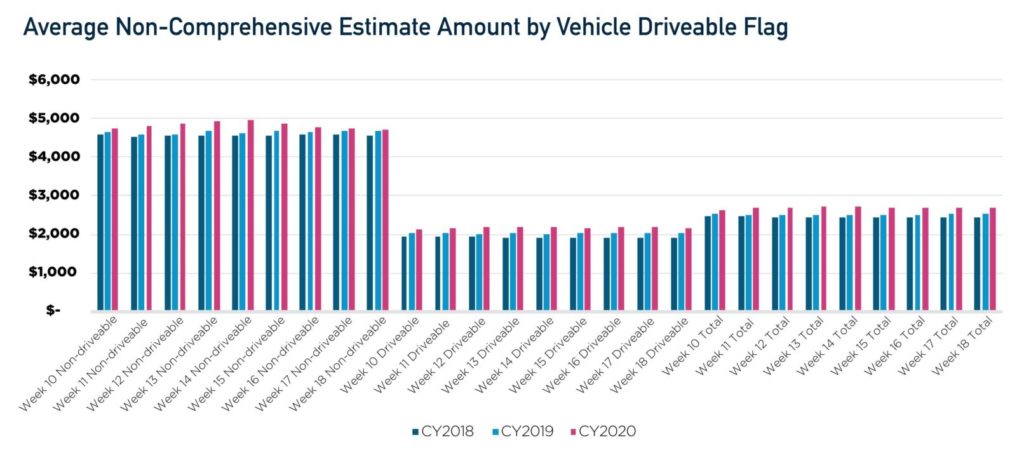 CCC also has been able to track delta-V — the change in a vehicles's velocity due to a crash — and the data suggests motorists are driving at higher speeds on roads emptied by the nation's COVID-19 reaction.
"For both front impact collision losses and rear impact liability losses with moderate to severe impact, the average Delta V has increased to all-time highs during COVID-19," CCC wrote. "Moreover, rear end liability Delta V was far more pronounced."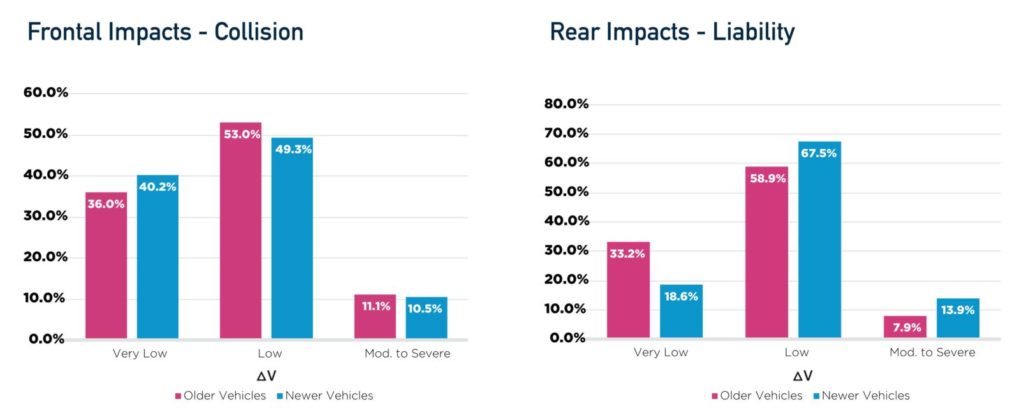 But advanced driver assistance systems might be counteracting bad human driving by curtailing crash speeds. This could be problematic for shops if the net effect on severity is a decline, even with additional repair costs related to the new tech.
"Specifically, newer vehicles commonly equipped with ADAS (i.e., model year 2016 or newer) are seeing a shift in Delta V for frontal collision claims to the lowest Delta V segment when compared to the older car parc," CCC wrote.
"Newer vehicles are also seeing a shift in Delta V for rear end liability claims to higher Delta V segments when compared to the older car parc. This suggests that the ADAS in newer vehicles are indeed mitigating impact energy and subsequent vehicle damage when collisions cannot be completely avoided. The data also suggests that drivers of vehicles driving behind newer vehicles equipped with safety systems may be unable to react as quickly as the technology at work in the vehicle in front of them, more often resulting in ensuing rear end collisions with higher energy impacts for the newer vehicles."
The number of frontal collision impacts also has fallen at a steeper rate than rear-end liability claims during the COVID-19 era, according to CCC. This too suggests ADAS is preventing drivers from running into stuff, even if the tech can't keep motorists with less advanced vehicles from rear-ending the ADAS cars.
CCC proposed that driving trends might never return to the pre-coronavirus status quo.
"None of us truly know what the new 'normal' willl look like. The COVID-19 pandemic has forced businesses to evaluate key issues like supply- chain sourcing, telecommuting, and how they work with other business partners and consumers. Consumers have turned to technology to communicate, grocery shop, shop for a vehicle, teach our children, have a doctor checkup, and more. Technology has come to the forefront as a key enabler.
"Like so many things, how people buy, own, insure, and drive their cars may change. Even vehicle crashes may change as data from vehicle claims during COVID-19 have shown, especially for those vehicles equipped with ADAS.
"While predicting the numbers of road miles in the future is impossible, it is likely that the nature of driving risk forever changed.
More information:
"CCC Auto Claims Snapshot – June 2020"
CCC, July 15, 2020
"Increase Risk of an Open Road"
CCC, July 1, 2020
"CCC Trends with Susanna Gotsch – May 2020"
CCC YouTube channel, July 2, 2020
Images:
Traffic is minimal in this image of Austin, Texas, during the 2020 COVID-19 coronavirus pandemic. (John Davis/iStock)
Auto appraisal volume tracked by CCC found June 2020 repairable vehicle appraisals at 25.7 percent of June 2019 numbers. (Provided by CCC)
The impact of the 2020 COVID-19 coronavirus response on non-comprehensive claims can be seen in this data CCC provided on Arizona and Nevada metropolitan areas. (Provided by CCC)
Even if collision volume has decreased, shops at least appear to be making a little more than usual on each job. The average non-comprehensive estimate is up from the prior year, according to a July 1, 2020, CCC report. (Provided by CCC)
CCC in July 2020 reported finding more vehicles flagged as undriveable in non-comprehensive claims. (Provided by CCC)
CCC also has been able to track delta-V — the change in a vehicles's velocity due to a crash — and based on a July 2020 report, that data suggests motorists are driving at higher speeds on roads emptied by the nation's COVID-19 reaction. (Provided by CCC)
2016-present vehicles likely to be equipped with advanced driver assistance systems appear to be helping mitigate frontal crashes. (Provided by CCC)
Share This: