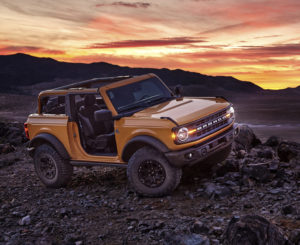 The Ford Bronco returns for the 2021 model year with a new generation sporting significant levels of aluminum and steel, the OEM confirmed last week.
"The doors, hood and fenders are aluminum, along with the control arms on the suspension," Ford product communications manager Mike Levine wrote in an email July 16.
However, the body itself is steel, as is the frame.
"A modern high-strength steel roll cage with integrated side curtain airbags in the upper structure and seats helps protect passengers from side impacts and complements driver and front passenger airbags," Ford wrote in a news release July 13.
Ford said this body rides on "a fully boxed, high-strength steel chassis that delivers available best-in-class suspension travel – 17 percent more both front and rear over the closest competitor."
The vehicles will include an independent front suspension and "a rugged solid axle design featuring coil springs with five locating links." Suspension options include a semi-active hydraulic stabilizer bar disconnect. "This innovative system bests competitors by disconnecting during articulation; it can reconnect under all conditions to improve steering and stability at higher speeds," Ford wrote.
The SUV also incorporates "strategically placed steel shields. … Higher-capability models get an available front bash plate, plus shields for the engine, transmission, transfer case and fuel tank." Ford also will sell the option of "heavy-duty modular steel bumpers" with an integrated Ford winch mount.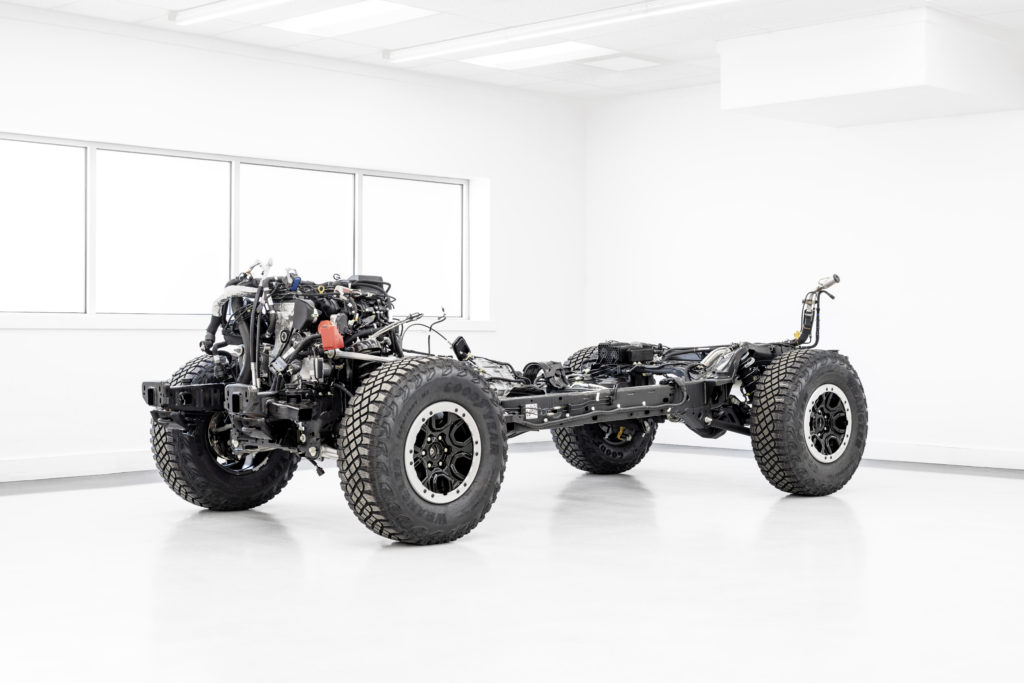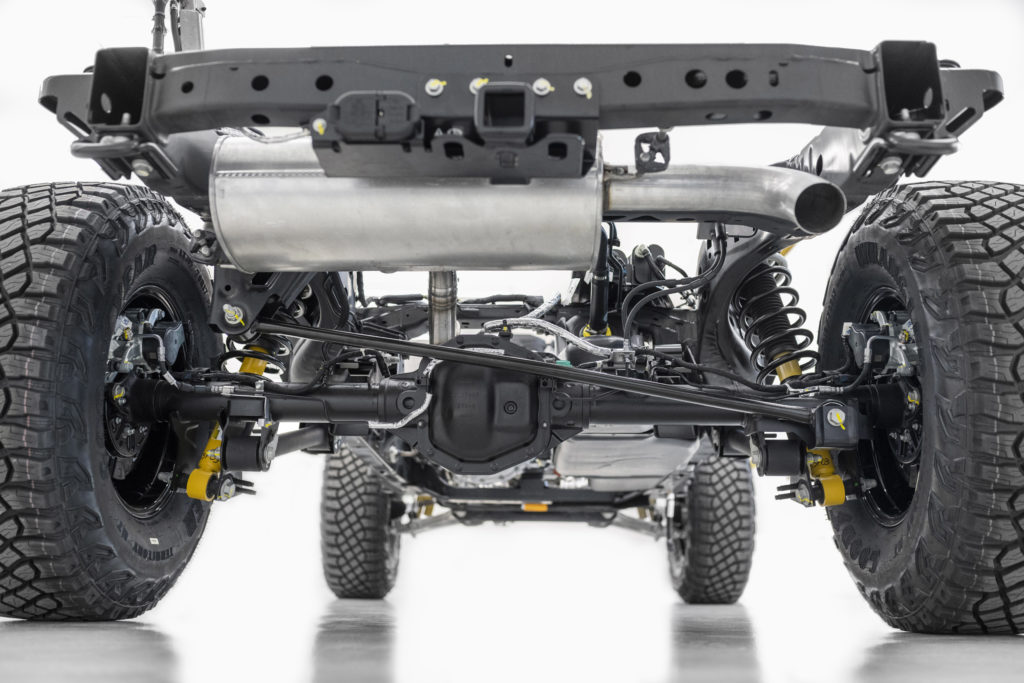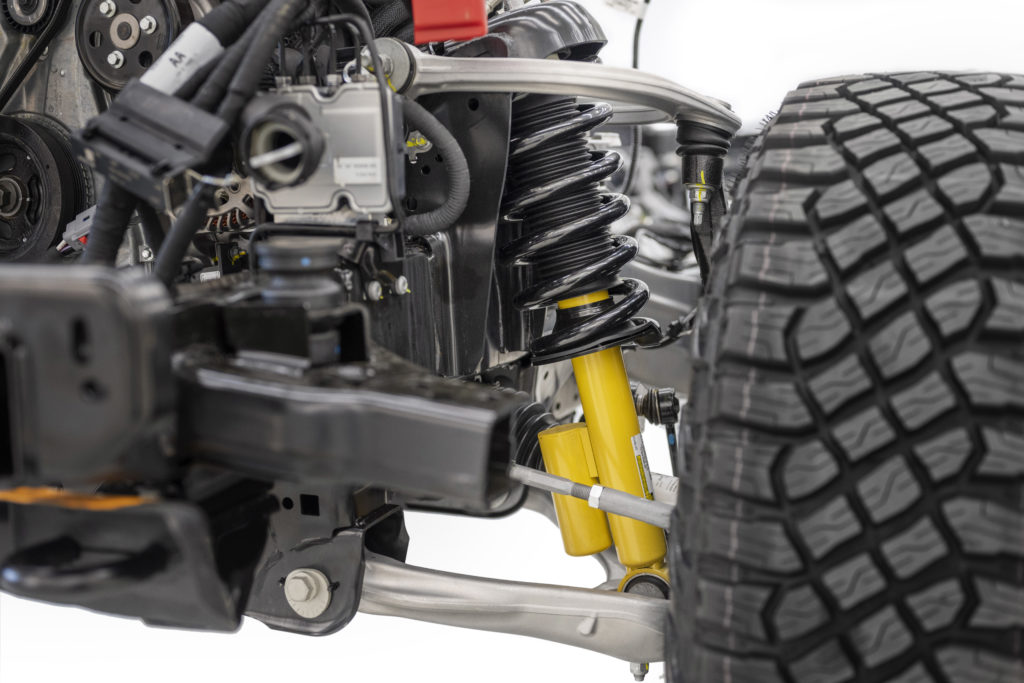 The 2021 Bronco's design might add further complexity to the repair by permitting partial disassembly by outdoorsy vehicle owners.
Ford open-air SUV competitor FCA has in the past discussed how the prior-generation Jeep Wrangler's removable "Freedom panels" and foldable windshield could lead to shops getting tripped up by an out-of-tolerance structure. According to Ford, the 2021 Bronco is also highly modular for a "quick, easy and fun" open-air ride:
Two-door models come with a standard three-section roof system – left and right front sections and a rear section – molded-in color and an available premium painted modular top with four sections that adds a removable panel over the rear seats and cargo area. Four-door models have four removable roof sections – left and right front panels, a full-width center panel and a rear section. Roof panels on all models can be removed by one person by unlocking the latches from the interior. First-row panels stow away onboard on two-door models.
All modular hardtops have rear quarter windows that are removable in three easy steps – snap, push and lift away in a fraction of the time it takes for competitors – without removing the roof panels. By locating the sportbar behind the second row, both Bronco two- and four-door models offer the largest overall open-top view in its class to take in the sunshine or to gaze at the stars at night.
A cloth soft top, standard on four-door models, provides easy access to the open air and a unique tilt-up function for quick access to the rear cargo area. For customers who don't want to choose between a soft or hardtop, the four-door model can be optioned with both.
Every Bronco comes with class-exclusive frameless doors that make them easier to remove than what competitors offer. On four-door Bronco models, all four doors can be stored onboard with protective door bags. Exclusive cowl-mounted mirrors maintain sideview visibility when the doors are removed. Trail sights on the front fenders also serve as tie-downs, reminiscent of the first-generation Bronco, have a 150-pound capacity for securing longer items like canoes.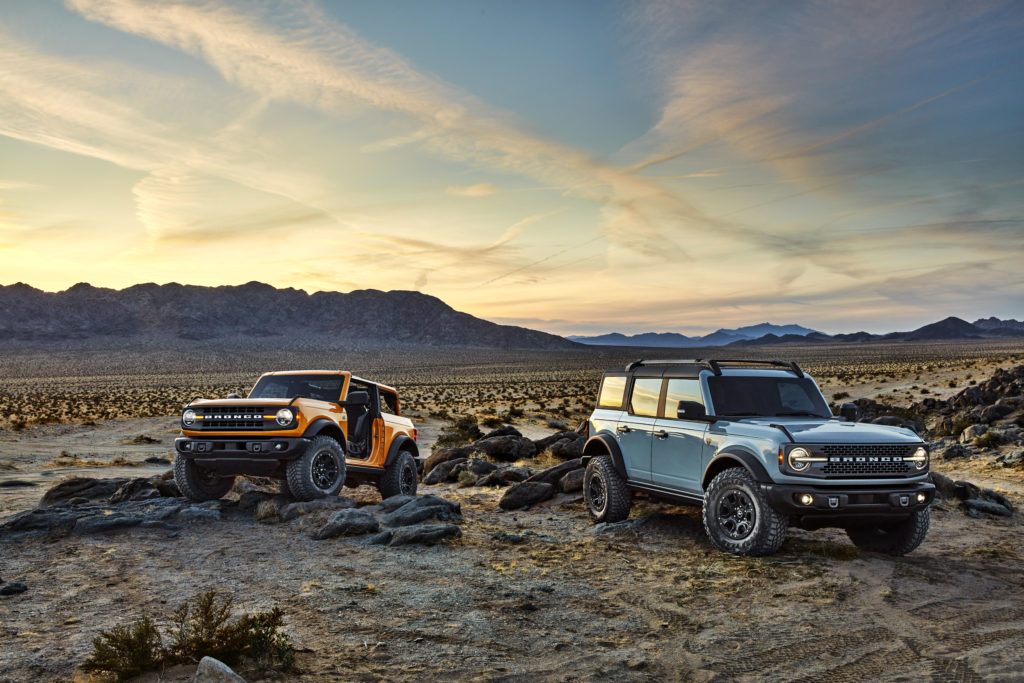 Repairers should expect even further customization, including:
• Bronco owners can add side rock rails "strong enough to support the weight of each side of the vehicle," according to Ford. Bronco chief designer Paul Wraith said the wheel wells are modular include "a quick-release attachment for simple customization."
• Ford sells "more than 200 factory-backed accessories for maximum personalization, enabling dealers to provide outfitting-on-demand for each customer's individual adventure needs." So shops and insurers will want to pay close attention to what came in on the car.
• Besides the potential for a premium painted modular roof, the paint department should prepare for a palette of 11 Bronco colors. The OEM will sell seven Bronco series "with matched color and trim combinations" — not counting the Bronco Sport variant also announced July 13 — and four content packages, plus its 200-plus accessories and variety of options.
• Ford also said the Bronco offers optional "upfitter switches mounted overhead are silicone-sealed to protect against the elements and to make customization easy, with pre-wired leads to key accessory points."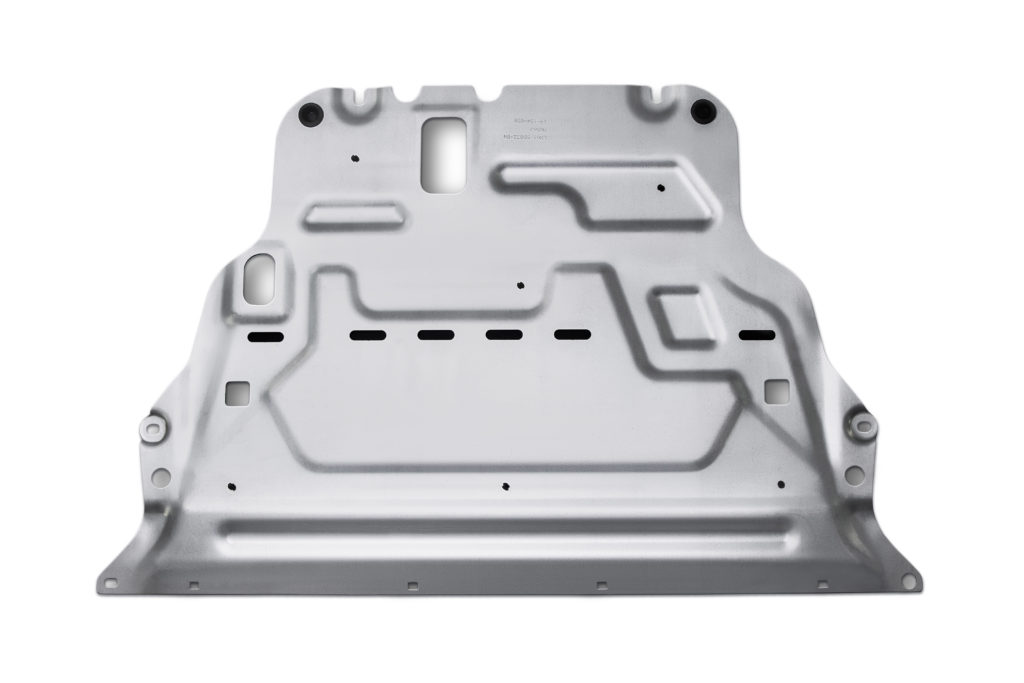 A few other items possibly of interest to collision repairers:
• Your detailers might like it. "To make post-adventure cleanups simple, fast and painless, select Bronco models come with washable rubberized floors with integrated drains and marine-grade vinyl seating surfaces that resist mildew," Ford wrote. "Instrument panel surfaces are wipeable, with seamless silicone rubber on the dash-mounted hero switches, while rubber touchpoints protect against dirt and water."
• Tow hooks are exposed in the front and rear of the vehicle.
• All 2021 Broncos come standard with four-wheel drive. Ford said it will offer up to seven driving modes.
• An optional trail mapping system works online or offline, "allowing users to select one of hundreds of available curated trail maps to map out and then track, capture and share their adventures with others," according to Bronco consumer marketing manager Mark Grueber.
• Ford's advanced driver assistance system suite Co-Pilot360 appears to be optional, though the Bronco comes standard with "AdvanceTrac" including Roll Stability and Trailer Sway Control features. An optional "Trail Toolbox" platform includes low-speed trail cruise control, torque vectoring for tighter off-road turning and "Trail One-Pedal Drive acceleration/braking control" for rock crawling.
• Ford said the 2021 Bronco started "with a life-size digital scan of a first-generation model that served to influence the proportions and design of the all-new Bronco," which is kind of cool.
The 2021 Bronco will reach dealerships in spring 2021 with a base price of $29,995, while the Bronco Sport will go on sale later this year. Ford called the SUV "the flagship of an all-new family of rugged off-road vehicles."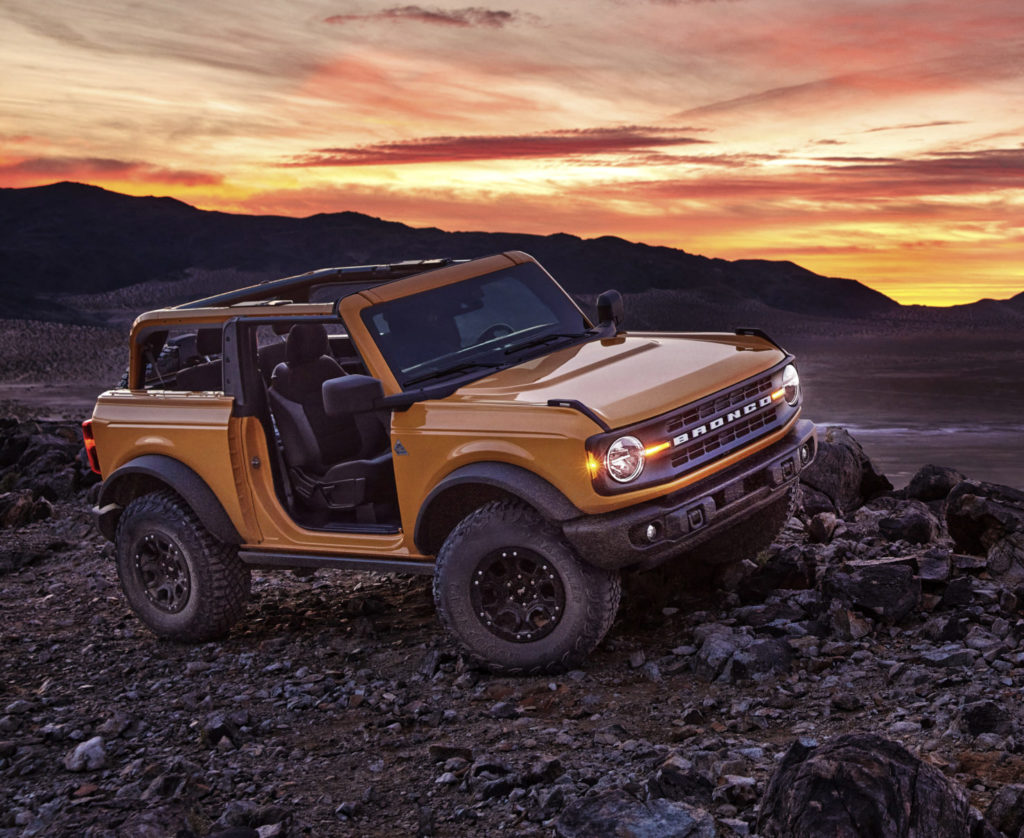 More information:
"ALL-NEW 2021 BRONCO TWO-DOOR AND FIRST-EVER FOUR-DOOR MODELS: BUILT WILD SUVS WITH THRILLING 4X4 CAPABILITY, READY FOR FUN"
Ford, July 13, 2020
"ALL-NEW FORD BRONCO SPORT RUGGED SMALL SUV EQUIPPED FOR TRAILS WITH STANDARD 4X4 AND BUILT WILD CAPABILITY AND CONFIDENCE"
Ford, July 13, 2020
Images:
A preproduction 2021 Ford Bronco Black Diamond sporting the Sasquatch package is shown. It has a "Cyber Orange Metallic Tri-Coat" paint job, according to Ford. (Provided by Ford)
A 2021 Ford Bronco frame is shown carrying a 2.7-liter EcoBoost V-6, 10-speed automatic transmission and the Sasquatch suspension and tires package. (Provided by Ford)
The rear of a 2021 Bronco frame is shown. (Provided by Ford)
Forged aluminum control arms on a 2021 Bronco chassis are shown. (Provided by Ford)
Preproduction 2021 Ford Broncos are shown. (Provided by Ford)
A 2021 Ford Bronco Sport front bash plate is shown. (Provided by Ford)
Share This: