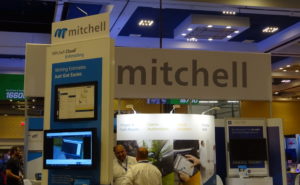 Mitchell told the Collision Industry Conference on Thursday that it wasn't the culprit when auto body customer vehicle information makes its way to CARFAX.
"Mitchell has never" shared U.S. data with the vehicle history company, said Jack Rozint, senior vice president of sales and service, repair for Mitchell auto physical damage solutions.
"We have no plans and never will," he said.
Any information on a U.S. claim or repair that appeared on CARFAX "did not, and will not, come from Mitchell," Rozint said.
Rozint also on Thursday taught repairers how to reduce their risk of estimate information leaking out to vehicle history check companies through other business partners.
Vendors can more efficiently serve collision repairers by developing software able to handle estimate information delivered through the industry's EMS or BMS digital messaging standards. Sometimes, a vendor won't even need to wait for a collision repairer to manually transmit such estimate data; instead, a "data pump" installed locally on a shop's computer will automatically capture and send over any estimate files found there. Such indiscriminate data exporting can mean a vendor is obtaining details for repairs they're not even involved in.
It's been speculated that some data pumps and repairer business partners on the other end are one source of collision information leaking out to vehicle history companies.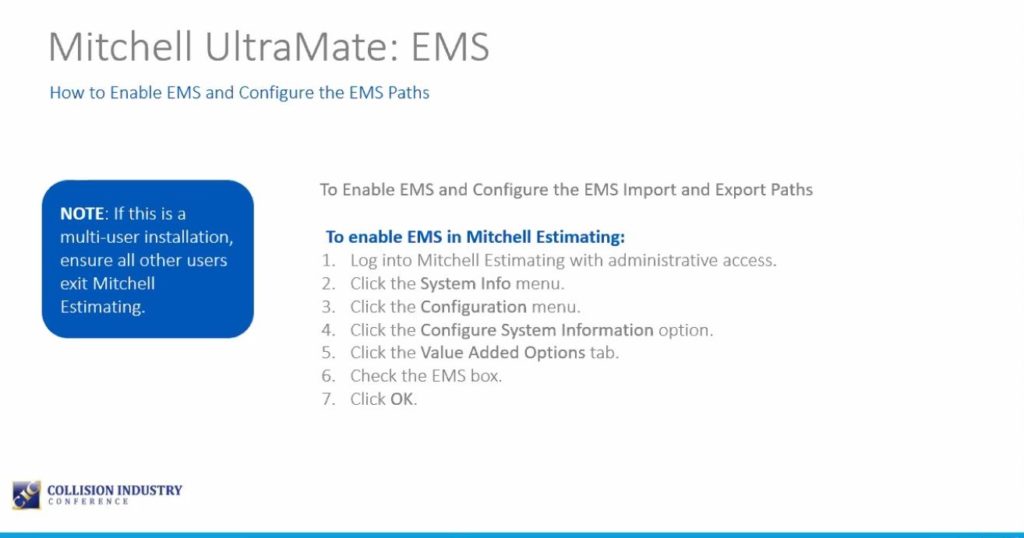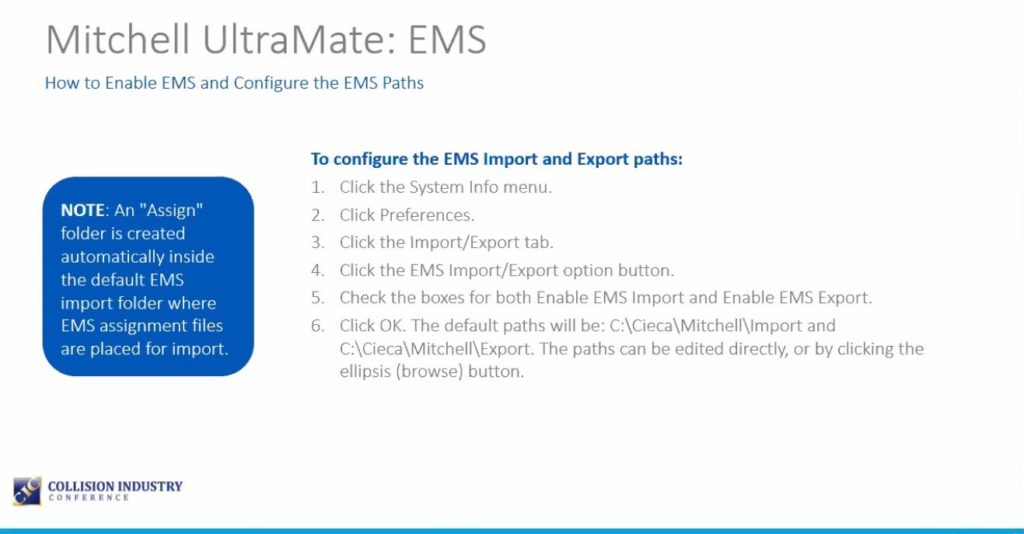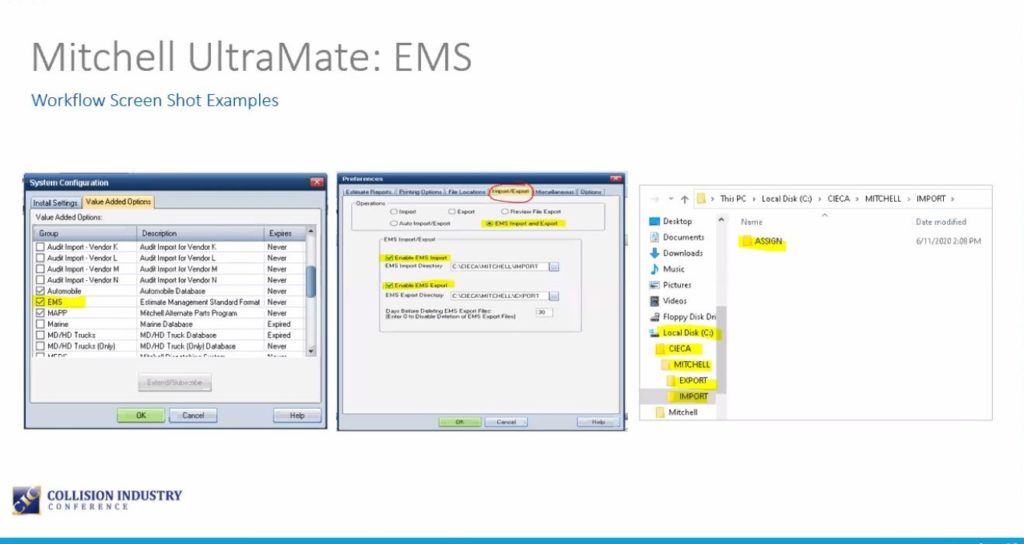 Rozint presented the steps for setting up or changing a directory for EMS file exports in UltraMate. Based on Rozint's description, this could allow a repairer a clean slate of sorts by breaking the links for forgotten or unwanted data pumps.
Essentially, the shop would tell UltraMate to save EMS files in a different spot on your computer. Reinstall or redirect data pumps for any vendors you wish to retain so their software knows to look for estimate information at the new location. Any forgotten or unwanted data pumps would be adrift, futily checking the old location and overlooking all the new EMS files stored somewhere else. (Rozint also showed how to shut off EMS exports entirely.)
On Mitchell Cloud Estimating, the repairer might have an even greater level of security. Rozint said the information provider permits exports in either the EMS or BMS message formats. The neutral industry software organization CIECA — which invented both — urges everyone to use the latter.
The older, obsolete (but still used) EMS standard transmits all estimate information, while the BMS format only shares the fields needed for a specific process, according to CIECA. The potential might remain for a vendor to disseminate data in a way a repairer wouldn't like, but at least that vendor has less of your information on hand.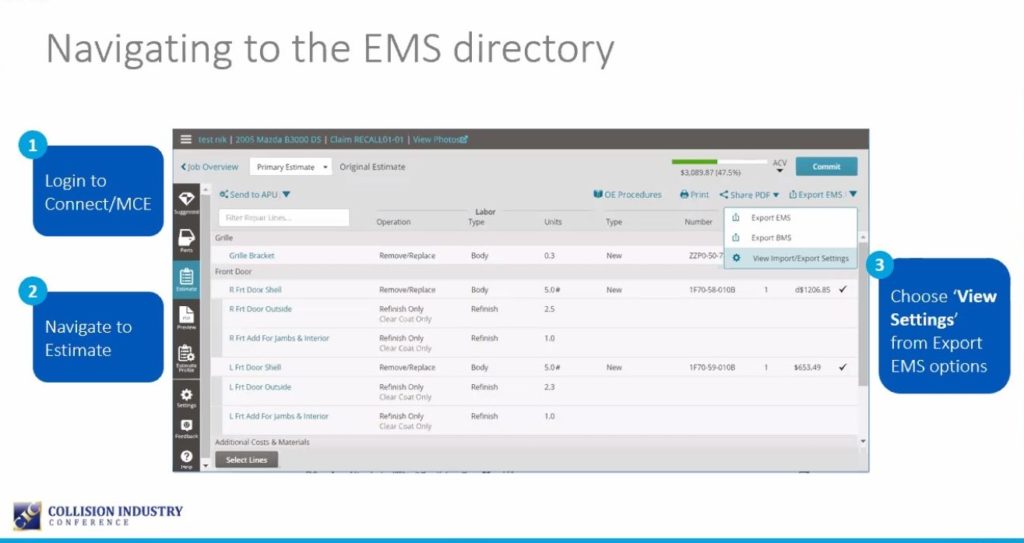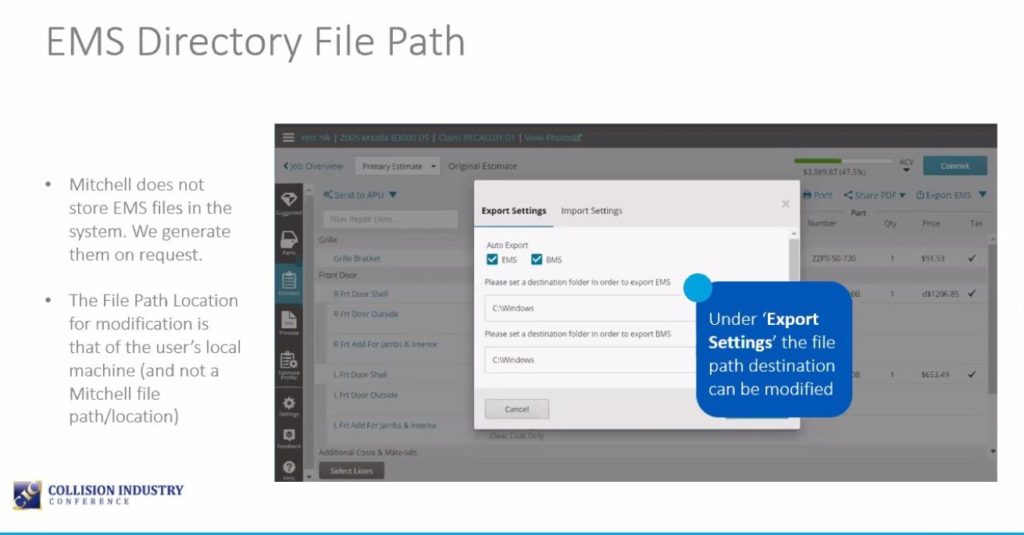 Asked about BMS support on Mitchell UltraMate, Rozint said that while "a lot of users" still work in that software, Mitchell wasn't enhancing it anymore, and it would someday join the ranks of extinct software. Users were switching to Cloud Estimating, and any shops who sought to adopt BMS and enjoy the latest software features should do so, he said.
For repairers who need additional help setting up their data exports, Rozint also provided contact information for Mitchell tech support. Call 1-800-448-4401 and select Option 2.
Mitchell's announcement adds another industry giant to the list of companies confirming they're not the source of leaks to vehicle history companies. PartsTrader, OEConnection and CCC also have reassured repairers in public statements over the past year.
CCC quality repair and market development Vice President Dan Risley, who hosted Rozint in his Data Access, Privacy & Security Committee session Thursday, told the audience that information providers can offer tools to help users protect data. But this ability to assist only applied to information contained within their estimating platforms.
"Once it leaves, we have no control over that," Risley said. The next layer of data security was "gonna have to come from you," he said. Shops need to contact the parties receiving their data and receive the same reassurances of privacy, he said.
Asked if an information provider could build a means of searching for software looking at EMS or BMS files, Risley said he could take the idea back to CCC as a suggestion. But CCC still couldn't protect against what happened once the data was transmitted externally, he said. What was the shop's business partner doing with the information the shop provided it?
"When it leaves the shop" could be "the biggest elephant in the room," Risley said.
More information:
Mitchell Collision Industry Conference presentation slides
Collision Industry Conference, July 23, 2020
Images:
The Mitchell booth at SEMA 2019 is shown. (John Huetter/Repairer Driven News)
Jack Rozint, senior vice president of sales and service, repair for Mitchell auto physical damage solutions, presented the steps for setting up or changing a directory for EMS file exports in UltraMate during the Collision Industry Conference on July 23, 2020. (Screenshot from slide on virtual CIC)
Jack Rozint, senior vice president of sales and service, repair for Mitchell auto physical damage solutions, showed how to handle BMS and EMS file exports in Mitchell Cloud Estimating during the Collision Industry Conference on July 23, 2020. (Screenshot from slide on virtual CIC)
Share This: