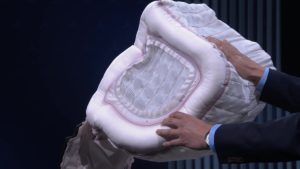 Calling it a first for the automotive industry, Mercedes recently announced the next-generation S-Class offered an optional rear airbag designed to handle the different sizes and seating of passengers there.
"Especially in the S-Class, the most important people often sit in the rear of the vehicle," Mercedes automated driving Vice President Michael Hafner said in a Wednesday video. "Could be the boss. Could be kids."
Unlike a front airbag, "it's not the complete cushion" that inflates, Hafner said. The system's gas canister only inflates the tubes snaking around the bag; the bulk of the structure just draws in ambient air through patented valves in the skin.
"The comparatively small volume of the tubes allows rapid deployment of a relatively large airbag volume," Mercedes wrote in an news release Wednesday. But the difference in slack between the airbag parts also means that when the more rigidly inflated tubes encounter an object, they wrap around it rather than attempt to push on it.
The design recognizes that rear seat occupants could be adults or children, or children sitting in car seats facing either direction, Hafner said.
"That's why we need a very, very flexible structure," Hafner said.
The rear airbags themselves are built into the rear of the front seats and are able to protect the back seat's two lateral occupants.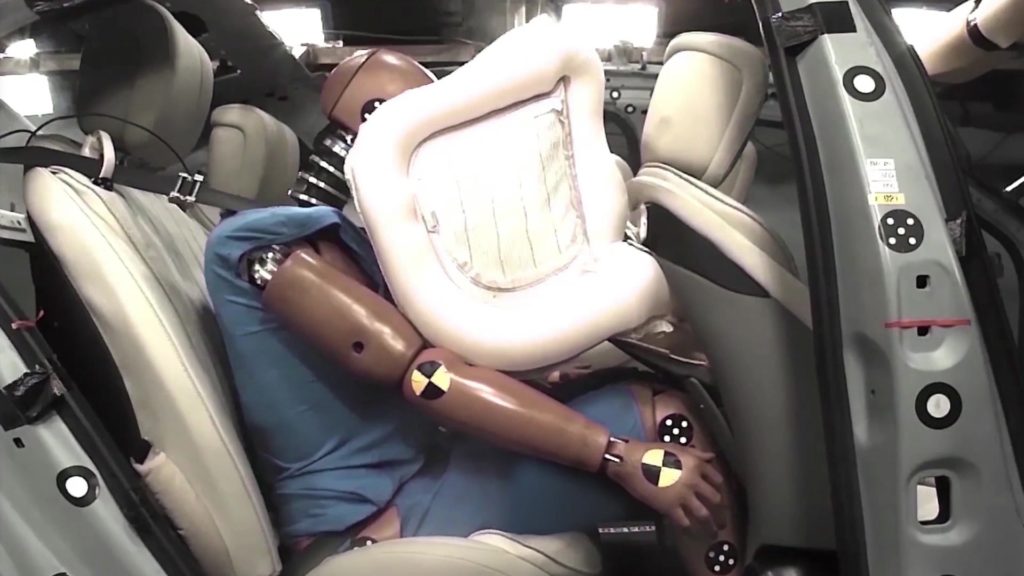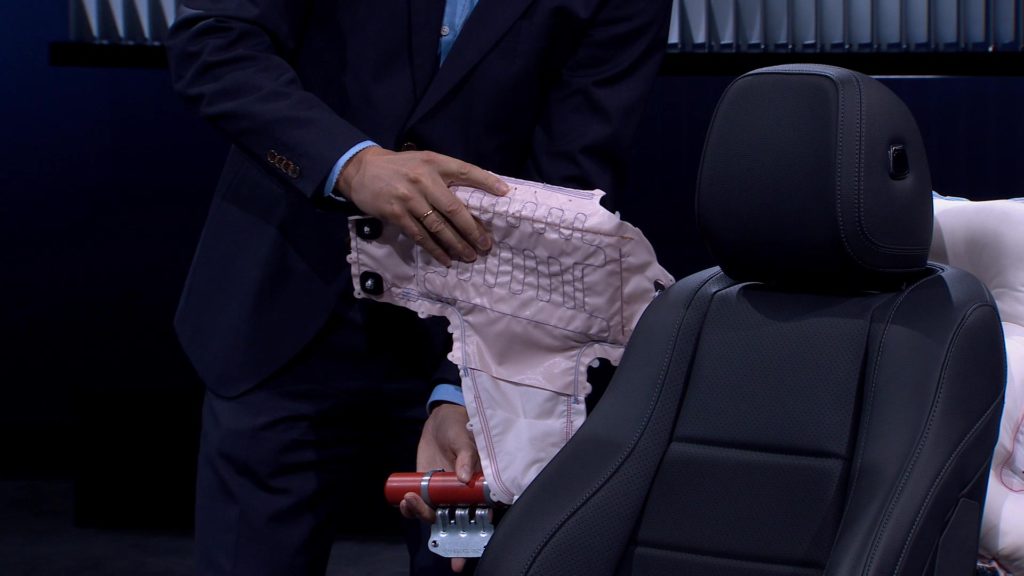 Mercedes in a news release July 24 said rear passengers could also receive "an optional Belt Bag and inflatable seatbelt" too.
In other S-Class SRS news, Mercedes said "a camera can now be used to detect a child seat on the front passenger seat for the first time. A belt fastening message for the child seat appears in the central display before the driver pulls away."
The front driver and passenger seats also act as an airbag of sorts if radar sensor data lead the S-Class to anticipate it's about to be T-boned. Mercedes' PRE-SAFE Impulse Side system uses air cushions within the front seats seats to push the driver or passenger towards the vehicle center and away from the anticipated point of impact.
Mercedes said it also upgraded the PRE-SAFE Impulse Side system for next-generation S-Classes sporting the optional E-Active Body Control suspension.
If the system predicts a side impact, the suspension will lift the S-Class body up to 8 cm (3 inches), Mercedes body and safety Vice President Thomas Hellmuth explained in the video. He said this height is contingent on the triggering time and the chassis' setting during normal conditions. The elevation can be achieved in a "few tenths of a second," Mercedes said.
Hellmuth said hiking up the car like this redirects crash energy from the doors to the sill. "The deformation of the side can be reduced," he said. Both front and rear passengers can benefit from this, he said.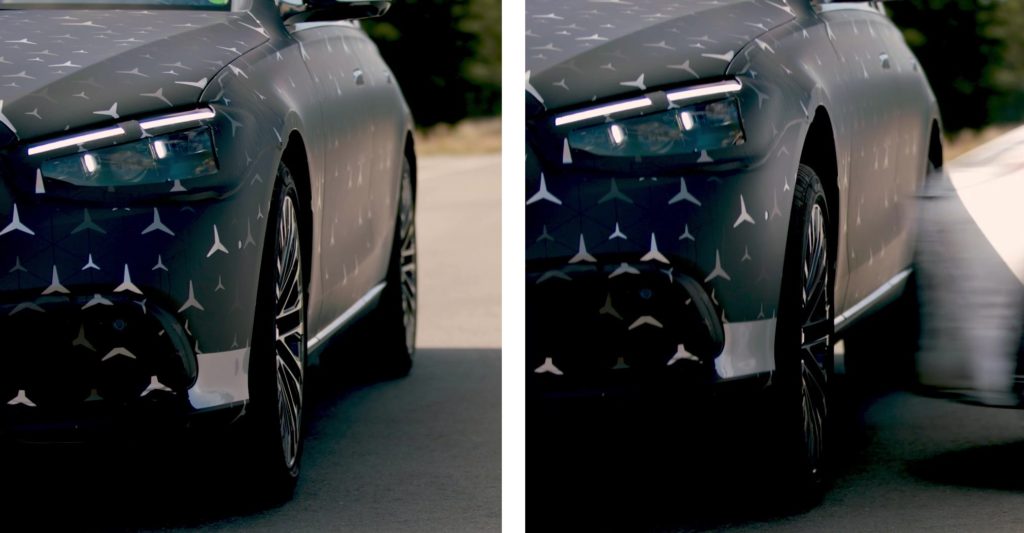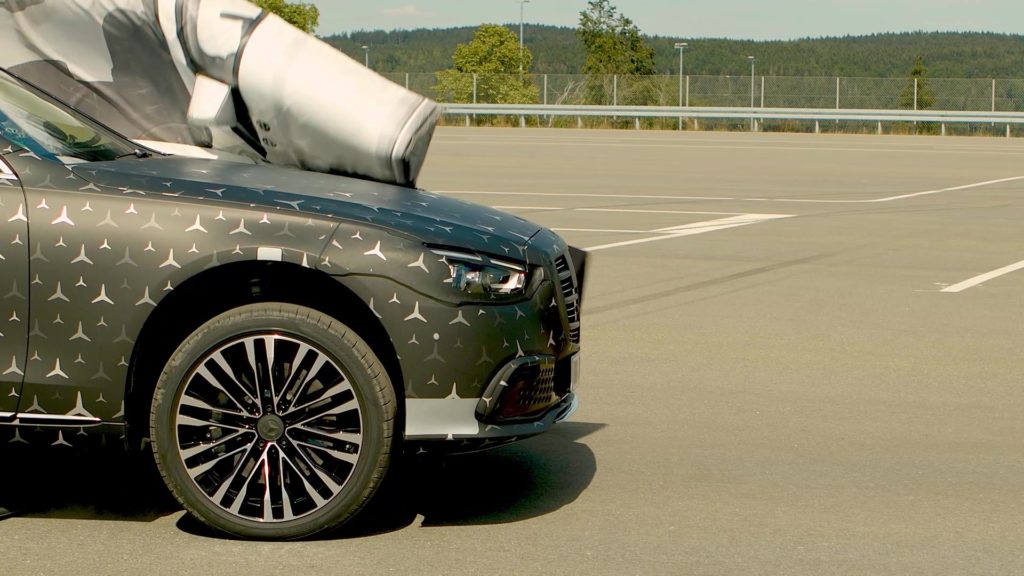 "Innovation by Intelligence" video
Mercedes, July 29, 2020
Mercedes OEM repair procedures
Images:
Calling it a first for the automotive industry, Mercedes in July 2020 announced the next-generation S-Class offered an optional rear airbag designed to handle the different sizes and seating of passengers there. (Screenshot from Mercedes video)
The next-generation Mercedes S-Class offers an optional rear airbag that is housed in the front seat and uses a canister of air. (Screenshot from Mercedes video)
Mercedes upgraded the PRE-SAFE Impulse Side system for next-generation S-Classes sporting the optional E-Active Body Control suspension. The car can automatically hike the body up by as much as 3 inches if a side impact crash is likely. (Screenshots from Mercedes video)
Share This: